The latest issue of Illuminations, our free monthly web app that showcases upcoming new series and one-shots, is now available to read online here!
Here's a taster of what's inside…
Featured Titles
BPRD: THE DEVIL YOU KNOW #1
DARK HORSE COMICS
Mike Mignola, Scott Allie, Laurence Campbell, Duncan Fegredo
Before they were vanquished by the BPRD, Lovecraftian monsters created a Hell on Earth. Now Liz Sherman leads a crew through monster-infested ruins on the most important rescue mission of her life. As society tries to rebuild, strange cults vie for influence, and a demon emerges to lead the way…
DARK DAYS: THE CASTING #1
DC COMICS
Scott Snyder, James Tynion IV, Andy Kubert, John Romita, Scott Williams, Jim Lee
The Joker's surprise attack threatens to lay waste to all of Batman's carefully laid plans. Will the Dark Knight be able to regain the trust of his closest allies, Green Lantern and Duke, and prevent the forces of darkness from consuming the DC Universe?! Will Hawkman's warning stop our heroes from peering into the abyss?
The great comics event of summer 2017 is on its way, courtesy of superstar writers Scott Snyder and James Tynion IV with art by a master class of comics artists: Andy Kubert, Jim Lee and John Romita Jr.!
TEENAGE MUTANT NINJA TURTLES / USAGI YOJIMBO
IDW PUBLISHING
Stan Sakai
The Teenage Mutant Ninja Turtles are teleported to a world of talking animals – the world of Usagi Yojimbo! When the samarai rabbit embarks on a quest to save Japan and the deadly Jei blocks his path, a Turtle team-up may be the only chance for survival!
LAZARUS: X PLUS 66 #1
IMAGES
Greg Rucka, Eric Trautmann, Steve Lieber, Michael Lark
In the wake of "Cull and setting the stage for "Fracture," the sixth storyline of the critically acclaimed Lazarus, this series takes us into the year +66 with six separate stories.
Casey Solomon has caught the eye of the Lazarus, but gaining the Family's attention can be as much a curse as a blessing. Will Dagger Selection destroy Casey, or will survival mean something worse?
JAMES BOND: KILL CHAIN #1
DYNAMITE
Andy Diggle, Luca Casalanguida, Greg Smallwood
When a counterespionage operation in Rotterdam goes catastrophically wrong, James Bond finds himself in the crosshairs of a plot to smash NATO. Someone is assassinating allied agents, and 007 is the next target in the kill chain. Having kept the peace for decades, the old alliance is collapsing, pitting MI6 against its former ally – the CIA!
Dynamite Entertainment proudly presents the return of writer Andy Diggle (James Bond: Hammerhead, The Losers, Green Arrow: Year One) and artist Luca Casalanguida (James Bond: Hammerhead) as they plot the return of James Bond's oldest and deadliest foe: SMERSH!
Novel Ideas
Our selection of nineteen recommended graphic novels include the following top reads:
DREDD – ANDERSON: THE DEEP END

JANE (HC)

MAGE: THE HERO DISCOVERED VOL.1

SIXPACK AND DOGWELDER: HARD TRAVELIN' HEROZ

STAR WARS: DARTH MAUL
Biff's Bit
"…When I saw the cover to issue one of Nick Fury my heart leapt. A beautiful stylised cover acknowledged the first volume of Nick Fury: Agent of S.H.I.E.L.D. and the mind blowing art of Jim Steranko. To this day, the first few issues of that series remain the very best comics I ever read during my teenage years. With this cover promising much, and with James Robinson writing, I hoped that maybe, just maybe, I and the comic world would be in for a treat…" – excerpt
Top 20 Graphic Novel Chart
April's best-selling graphic novels include Hellboy, Batman, Superman, World Of Tanks, Aliens, Justice League and Wonder Woman…
Hit the image below to access the web app!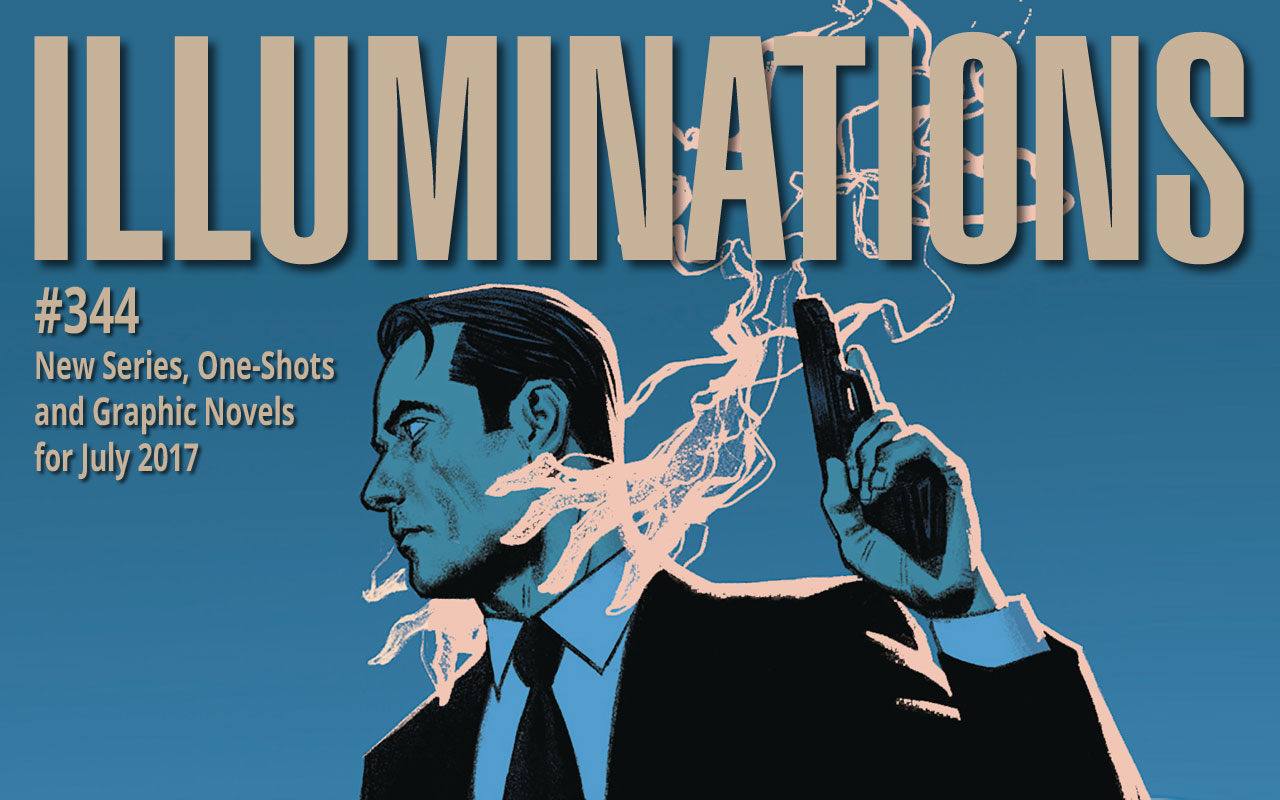 Visit our Illuminations page, for previous issues.