#344
New Series, One-Shots
and Graphic Novels
for July 2017

New Comic Series and One-Shots for July...
DARK HORSE COMICS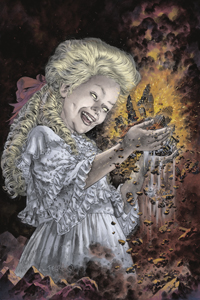 BPRD: THE DEVIL YOU KNOW #1
Mike Mignola, Scott Allie, Laurence Campbell, Duncan Fegredo
Before they were vanquished by the BPRD, Lovecraftian monsters created a Hell on Earth. Now Liz Sherman leads a crew through monster-infested ruins on the most important rescue mission of her life. As society tries to rebuild, strange cults vie for influence, and a demon emerges to lead the way...
In Shops: Jul 26, 2017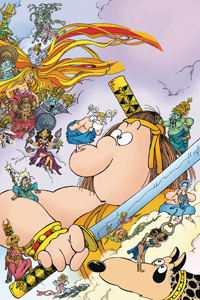 GROO: PLAY OF THE GODS #1
Sergio Aragones, Mark Evanier, Sergio Aragones
Shakespeare wrote, "The play's the thing." Or was that Nathan Lane? Either way, the play matters, whether you be man or god... or even Groo.
In this, the first installment in the newest Groo miniseries (which is continued from the last Groo miniseries), the stupidest hero in the comic book shop finds himself in a new village... a village where you pray to the proper god or you pray for your life. And even the other gods know that they are all players.
It's from the award-winning team of Sergio Aragonés and Mark Evanier, with lettering by Stan Sakai, coloring by Tom Luth, and a running commentary by the gods above.
In Shops: Jul 12, 2017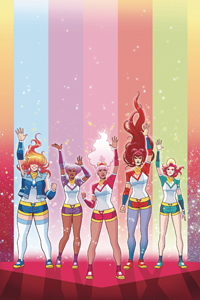 ZODIAC STARFORCE: CRIES OF THE FIRE PRINCE #1
Kevin Panetta, Paulina Ganucheau
An elite group of teenage girls with magical powers have sworn to protect our planet against dark creatures... as long as they can get out of class! Known as the Zodiac Starforce, these high-school girls aren't just combating math tests-they're also battling monsters!
After defeating a former ZS member and her mean-girl minions, the girls thought they'd get a little break! But a new big bad's come out to play, and demons are starting to overrun the downtown!
In Shops: Jul 05, 2017
DC COMICS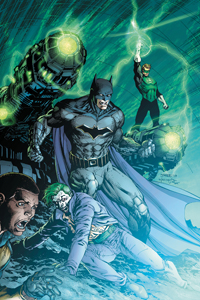 DARK DAYS: THE CASTING #1
Scott Snyder, James Tynion IV, Andy Kubert, John Romita, Scott Williams, Jim Lee
The Joker's surprise attack threatens to lay waste to all of Batman's carefully laid plans. Will the Dark Knight be able to regain the trust of his closest allies, Green Lantern and Duke, and prevent the forces of darkness from consuming the DC Universe?! Will Hawkman's warning stop our heroes from peering into the abyss?
The great comics event of summer 2017 is on its way, courtesy of superstar writers Scott Snyder and James Tynion IV with art by a master class of comics artists: Andy Kubert, Jim Lee and John Romita Jr.!
In Shops: Jul 12, 2017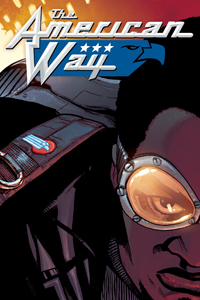 AMERICAN WAY: THOSE ABOVE AND BELOW #1
John Ridley, Georges Jeanty
It's been a decade since the Civil Defense Corps was exposed as a fraud created by the U.S. Government for propaganda purposes. While most of the heroes who survived the catastrophe have retired or disappeared, the New American still carries on, trying to keep communities safe amid the social turmoil of the 1970s. But with the nation split in two over civil rights and the changing political landscape, this isn't easy. Some of the American's former colleagues are on opposite sides of the law: Amber Waves joined a group of domestic terrorists, while Missy, a.k.a. Ole Miss, has thrown her hat into the political ring. As the ground shifts beneath his feet and new threats arise, which side will the American choose?
This sequel to the hit miniseries by the original team of writer John Ridley - Oscar-winning screenwriter of 12 Years a Slave and creator of TV's American Crime - and artist Georges Jeanty (Buffy the Vampire Slayer: Season Eight, Serenity: No Power in the 'Verse) moves the story forward in history, factoring in how real-life events might be affected by the presence of superheroes, and how those events change the heroes in turn.
In Shops: Jul 05, 2017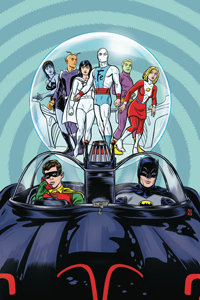 BATMAN '66 MEETS THE LEGION OF SUPER HEROES #1
Lee Allred, Michael Allred
In pursuit of the time-traveling criminal known as Universo, the super-powered kids from the 30th century travel back to the 1960s to enlist the aid of the "greatest teen superhero ever" - Robin, the Boy Wonder! But Batman's hard-boiled nemesis Egghead has stolen one of their unattended time bubbles and taken off to the Legion's own time period. Looks like Batman has to head to the far-flung future with one group of heroes while Robin stays in the swinging sixties with another. Holy time-travel paradox!
In Shops: Jul 19, 2017
IDW PUBLISHING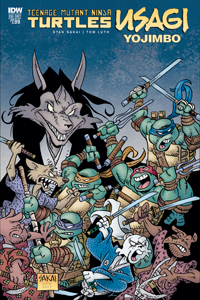 TEENAGE MUTANT NINJA TURTLES / USAGI YOJIMBO
Stan Sakai
The Teenage Mutant Ninja Turtles are teleported to a world of talking animals - the world of Usagi Yojimbo! When the samarai rabbit embarks on a quest to save Japan and the deadly Jei blocks his path, a Turtle team-up may be the only chance for survival!
In Shops: Jul 12, 2017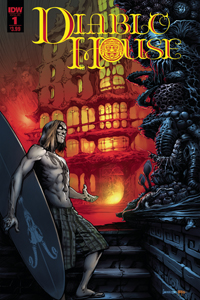 DIABLO HOUSE #1
Ted Adams, Santiperez
Located along the sleepy coastal town of La Jolla, California, Diablo House lets you make your dreams come true - if you dare. Surf-bum and Diablo House host, Riley, takes us into his home and shares the stories of the people who let their desire come at the cost of all else.
Inspired by the classic horror comics of the past!
In Shops: Jul 19, 2017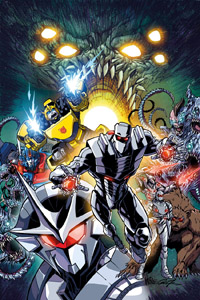 ROM VS TRANSFORMERS: SHINING ARMOR #1
John Barber, Christos Gage, Alex Milne
Meet the universe's only Cybertronian Solstar Knight! Hundreds of years ago, Rom discovered Stardrive, the sole survivor of a doomed space probe. Stardrive committed herself to protecting the galaxy from the Dire Wraiths... but when the Decepticon called Starscream makes a deadly deal, Rom and the Transformers are forced into a collision course... with Stardrive caught between two worlds!
In Shops: Jul 19, 2017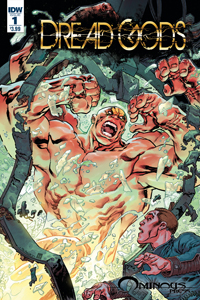 DREAD GODS #1
Ron Marz, Bart Sears, Tom Raney
Ominous Press launches with the first of three limited series set in a science-fiction / fantasy universe of epic heroes and insidious villains. In Dread Gods, gods in a fantasy world discover they're actually monsters in a post-apocalyptic landscape.
Acclaimed creators Ron Marz and Tom Raney join with art master Bart Sears to usher in adventure like no other! Includes a backup tale by Bart Sears, and a wealth of added content.
In Shops: Jul 26, 2017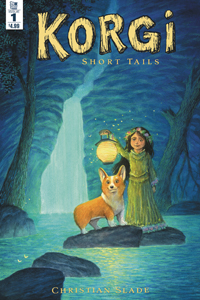 KORGI: SHORT TALES #1
Christian Slade, Christian Slade
Korgi: Short Tails is a 48-page comic book collecting all seven Korgi stories from Free Comic Book Day, together with a brand-new adventure called "Cloud Cat." A robot loses its head, finger-puppets battle, a dragon learns to breathe fire, and Sprout the Korgi (of course) stuffs himself with delicious treats! Slade's lovingly detailed pen-and-ink drawings bring his fantasy world to life in small slices, all bound up within a new fully-painted cover.
In Shops: Jul 12, 2017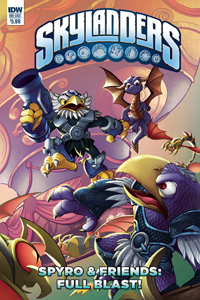 SKYLANDERS: SPYRO AND FRIENDS - FULL BLAST
Ron Marz, David Rodriguez, Various, Jack Lawrence
Join Spyro and his fellow Skylanders as they embark on all-new adventures!
Stealth Elf, Eruptor, Jet-Vac and all your favorites are here; ready to battle Kaos and all the various vile villains of the land!
In Shops: Jul 05, 2017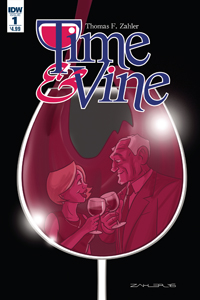 TIME AND VINE #1
Thom Zahler
A grade school history teacher, looking for a respite from her life's problems, finds the ultimate escape when the owner of a local winery reveals its secret to her: drink the right glass of wine in the right tasting room, and travel back in time to the year it was bottled. Together, they'll journey through the history of the 200-year old winery... as well as their own.
In Shops: Jul 05, 2017
IMAGE COMICS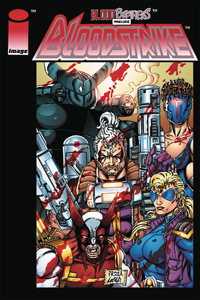 BLOODSTRIKE #1
Rob Liefeld, Eric Stephenson, Danny Miki, Dan Fraga
1993's original Bloodstrike #1.
Celebrate the 25th anniversary of Image Comics with a bloody delightful remastered edition of 1993's Bloodstrike #1, illustrated by Dan Fraga and Danny Miki over layouts from Rob Liefeld, dramatically recolored by color wizard Thomas Mason (X-Men)!
In Shops: Jul 26, 2017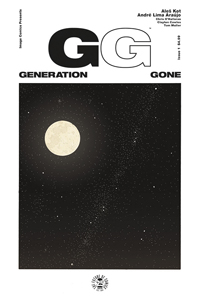 GENERATION GONE #1
Ales Kot, Andre Araujo, Chris O'Halloran
America, 2020. Three young hackers with nothing to lose. A secretive scientist with a plan. One final job.
What happens when you're poor, angry, and get superpowers you never asked for? Skins + Unbreakable = Generation Gone, sort of - if you also include multiple trips to the sun, weird black goo, a breakup fight inside a nuclear factory, love, hate, anger, loss... and survival.
Generation Gone is for every kid struggling out there. It's about what it means to be young in the USA, 2017.
In Shops: Jul 19, 2017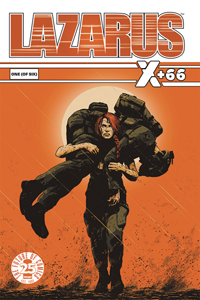 LAZARUS: X PLUS 66 #1
Greg Rucka, Eric Trautmann, Steve Lieber, Michael Lark
In the wake of "Cull and setting the stage for "Fracture," the sixth storyline of the critically acclaimed Lazarus, this series takes us into the year +66 with six separate stories.
Casey Solomon has caught the eye of the Lazarus, but gaining the Family's attention can be as much a curse as a blessing. Will Dagger Selection destroy Casey, or will survival mean something worse?
In Shops: Jul 19, 2017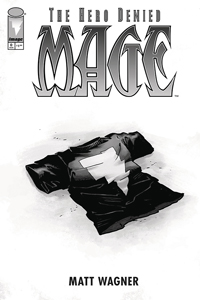 MAGE: THE HERO DENIED #0
Matt Wagner
Matt Wagner returns with the third and final volume of his epic fantasy trilogy - Mage: The Hero Denied. This long-awaited conclusion follows the adventures of the reluctant everyman hero Kevin Matchstick, who, after encountering a shaggy and beguiling wizard, discovers he is the reincarnation of the legendary Pendragon and able to wield the power of the mystical weapon, Excalibur. The story picks up several years after the fateful climax of The Hero Defined and finds Kevin beginning to once again doubt the virtue of his actions and the course of his destiny.
This introductory, half-sized issue #0 continues Mage's tradition of an "Interlude" short-adventure, bridging the gap between this series and the previous storyline. It also acts as a perfect jumping-on spot for new readers.
In Shops: Jul 12, 2017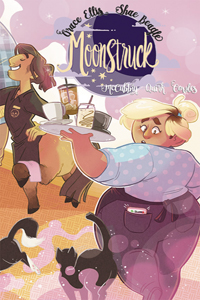 MOONSTRUCK #1
Grace Ellis, Kate Leth, Shae Beagle
A new ongoing series from Lumberjanes creator Grace Ellis and talented newcomer Shae Beagle that tells a story of monsters, romance, and magical hijinks! The first arc also includes an additional short story with artist Kate Leth!
Fantasy creatures are living typical, unremarkable lives alongside humans, and barista Julie strives to be the most unremarkable of all. Normal job, normal almost-girlfriend, normal... werewolf transformations that happen when she gets upset? Yikes! But all bets are off when she and her centaur best friend Chet find themselves in the middle of a magical conspiracy. Will Julie and Chet be able to save their friends? Is Julie's dogged determination to be normal a lost cause? Who's going to watch the coffee shop while our heroes are out saving the world??
These questions and more will be answered in Moonstruck, coming July 19 from Image Comics.
In Shops: Jul 19, 2017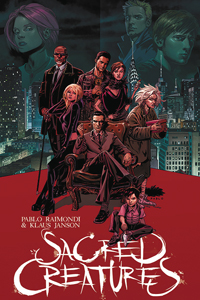 SACRED CREATURES #1
Pablo Raimondi, Klaus Janson, Pablo Raimondi
When the supernatural forces maintaining the fragile balance of power in this world start to unravel, Josh Miller, a young college grad and expecting father, is caught in the middle of a vast conspiracy threatening to tear apart the foundations of humanity as we know it. As myth and reality collide, Josh finds himself on the frontline of a battle against an enemy dating back to the beginning of time itself.
Comic legends Klaus Janson (Daredevil, Dark Knight Returns) and Pablo Raimondi (X-Factor, Book of Doom) proudly present Sacred Creatures, their first-ever creator-owned series, with a monster-sized first issue featuring 66 pages of color art!
In Shops: Jul 05, 2017
MARVEL COMICS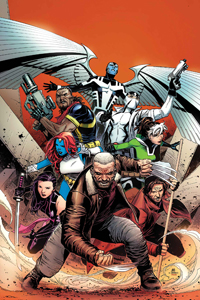 ASTONISHING X-MEN #1
Charles Soule, Jim Cheung
Only the X-Men can save us! An ancient evil is attacking the world's most powerful minds. It will have them by the time you finish this sentence, and a moment later, it will have us all. A band of X-Men discovers the truth behind the threat, but there is no time left. Psylocke, Old Man Logan, Bishop, Archangel, Fantomex, Rogue and Gambit will attempt to save a world that hates and fears them. Why? Because they are the X-Men.
From blockbuster writer Charles Soule and joined by a roster of superstar artists beginning with Jim Cheung. Astonishing X-Men. It's the X-book you need.
In Shops: Jul 19, 2017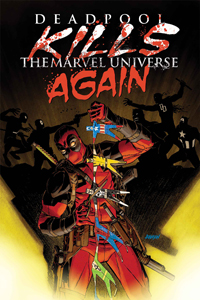 DEADPOOL KILLS THE MARVEL UNIVERSE AGAIN #1
Cullen Bunn, Dalibor Talajic, Dave Johnson
Remember the time Deadpool went a little too crazy and killed the entire Marvel Universe? Well, this isn't that. This is a different time.
Writer Cullen Bunn and artist Dalibor Talajic - A.K.A. the creators behind Deadpool Kills The Marvel Universe - have reunited for another tale of Deadpool taking out all of your faves in the most horrific ways possible! It's gonna hurt him more than it hurts you... and you're gonna love it!
In Shops: Jul 05, 2017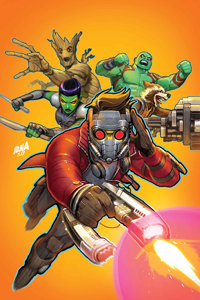 GUARDIANS OF THE GALAXY: THE TELLTALE SERIES #1
Fred Van Lente, Salva Espin, David Nakayama
An all-new prequel to the interactive episodic game Marvel's Guardians of the Galaxy: The Telltale Series!
A group of cultists have taken over the planet Titan, turning it into a proverbial hive of scum and villainy, all worshipping its most infamous native son, the cosmic tyrant Thanos! Luckily for the Guardians of the Galaxy, it's also the target of their newest heist! Hired by a mysterious buyer, our band or ragtag misfits will have to get in and get out without being sliced and diced by a planet full of crazies. Easier said than done!
Join Star-Lord, Drax, Gamora, Rocket and Groot on an action-packed, laugh-filled adventure that's not only being created in conjunction with Telltale, but also leads directly to the new smash hit game!
In Shops: Jul 26, 2017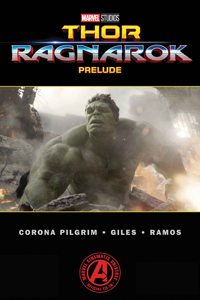 MARVEL'S THOR: RAGNAROK - PRELUDE #1
Will Pilgrim, J. L. Giles
The Incredible Hulk's Marvel Cinematic Universe debut!
Bruce Banner has been trying to put the past behind him as he learns to control the powerful beast inside him. But as General Ross continues to hunt the fugitive Banner, it's only a matter of time before the Hulk will smash!
Join us for part one of our lead-up to 2017's cinematic event Marvel's Thor: Ragnarok with this brand-new comic adaptation of the smash hit The Incredible Hulk!
In Shops: Jul 05, 2017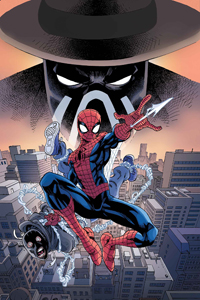 SPIDER-MAN: THE MASTER PLAN #1
Robbie Thompson, Nathan Stockman
Crime does pay!
Everything's going perfectly for Peter Parker... he's got some time off and landed tickets to the hottest Broadway show in town... which means there's another shoe ready to drop somewhere...
Join everyone's favorite web-slinger in an all-new story against his classic foe The Crime Master! Also including a special reprinting of Amazing Spider-man #2, featuring the first appearance of The Vulture!
In Shops: Jul 05, 2017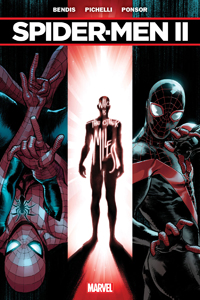 SPIDER-MEN II #1
Brian Michael Bendis, Justin Ponsor, Sara Pichelli
This is it, True Believers! The moment five years in the making is finally here! The first time Peter Parker and Miles Morales met ended with a question - Who is the Miles Morales of the Marvel Universe?!
Now that the Miles you know and love is with Peter in the Marvel Universe, you're finally going to get that answer to who the other Miles Morales is! And that's just the tip of the iceberg as Brian Michael Bendis and Sara Pichelli bring you the next heart-stopping adventure for both Peter Parker and Miles Morales!
In Shops: Jul 12, 2017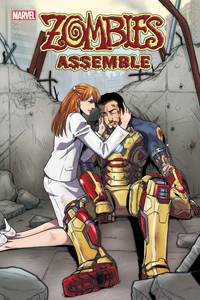 ZOMBIES ASSEMBLE #0
Yusaku Komiyama, Kiichi Mizushima
You've seen Earth's Mightiest Heroes face off against a raging zombie virus - now, go back to the beginning in this special prelude issue of the epic manga adaptation!
The Avengers risk their lives to make the world a safer place for all, oftentimes suffering severe injury and great loss. When Tony Stark faces a more personal threat - one leveled against Pepper Potts - the risk is too great to ignore, and he's forced to act fast. What lengths will Tony go to in order to keep Pepper safe? Iron Man is an important part of his life, but can he figure out a way to replace the armor and step away from being an Avenger, if that's what it takes? There are some things more menacing than monsters.
In Shops: Jul 12, 2017
SELECTED INDEPENDENT PUBLISHERS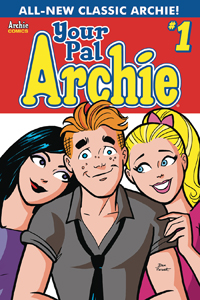 ALL-NEW CLASSIC ARCHIE: YOUR PAL ARCHIE #1
ARCHIE COMICS
Ty Templeton, Dan Parent
Classic-style Archie makes his return in this all-new, all-ages comic from Ty Templeton and Dan Parent!
Issue #1 features one of five connecting variant covers by Les McClaine. Collect them all to create one giant image of Pop's Chock'lit Shop!
In Shops: Jul 26, 2017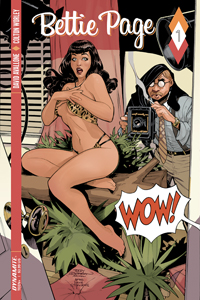 BETTIE PAGE #1
DYNAMITE
David Avallone, Colton Worley, Terry Dodson
She's more modest than Ms. Blaise, but peels more than Ms. Emma. She out-vamps Vampirella, but she's sweeter than Honey West. She put the mod in model, and the bangs in bang-bang. Now the world can know the truth: her classified adventures back in 1951 Hollywood have been declassified.
Dynamite, David Avallone and Colton Worley are proud to present The Secret Diary of Bettie Page, in handy comic book form.
In Shops: Jul 19, 2017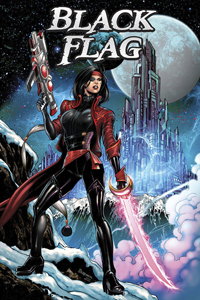 BLACK FLAG #1
ZENESCOPE
Joe Brusha, Tom Derenick
One hundred years in the future the "age of pirates" has returned as mankind reaches out for the stars. Schooners have been replaced by star ships and these pirates wield space age weaponry, but they are as bloodthirsty and ruthless as their predecessors were centuries before them.
Experience a new universe of swashbuckling action and adventure in the vast reaches of space!
In Shops: Jul 26, 2017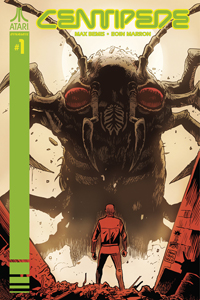 CENTIPEDE #1
DYNAMITE
Max Bemis, Eoin Marron, Francesco Francavilla
Based on the classic Atari game!
When a terrifying creature from beyond the stars attacks his planet, Dale's journey begins. But he is not out to save his world. It is already too late for that. As the lone survivor, the only thing he wants is revenge!
Writer Max Bemis (Worst X-Man Ever, Foolkiller) and artist Eoin Marron (Sons of Anarchy: Redwood Original) bring you a tale of survival and vengeance like you've never seen before.
In Shops: Jul 12, 2017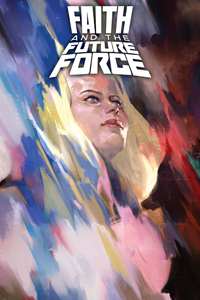 FAITH AND THE FUTURE FORCE #1
VALIANT
Jody Houser, Stephen Segovia, Barry Kitson, Jelena Kevic Djurdjevic
A spectacular summer event!
This summer, every second counts when acclaimed writer Jody Houser (Mother Panic, Star Wars: Rogue One), explosive artist Stephen Segovia (Ninjak, Action Comics), comics legend Barry Kitson (Fantastic Four), and special surprise guests push Faith into a centuries-spanning fight for existence alongside the greatest heroes of the Valiant Universe...past, present, and future!
Faith "Zephyr" Herbert - former member of Unity, current Harbinger Renegade, and Los Angeles' #1 superhero - is the universe's last, best chance at survival! Centuries from today, a devious artificial intelligence has unleashed a blistering attack on the very foundations of time ...one that is unwriting history from beginning to end! Now, with her options exhausted, Neela Sethi, Timewalker - the self-appointed protector of what is and will be - has returned to the 21st century to recruit Earth's greatest champions of today and tomorrow to oppose this existential threat... and she needs Faith to lead them! But why Faith? And why now?
This July, fly to the farthest edges of the future in a death-defying race to save time itself as Faith leads the charge alongside Valiant's greatest heroes... and becomes a new legend for the ages!
In Shops: Jul 26, 2017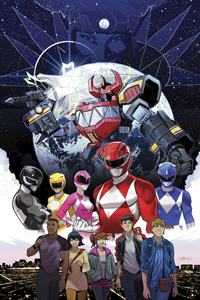 GO GO POWER RANGERS #1
BOOM! STUDIOS
Ryan Parrott, Dan Mora
The untold, personal story of what happens to Jason, Kim, Trini, Zack, and Billy following in the days after they first became Power Rangers.
Fighting evil is hard, but surviving high school may be even harder-welcome to real life in Angel Grove.
In Shops: Jul 26, 2017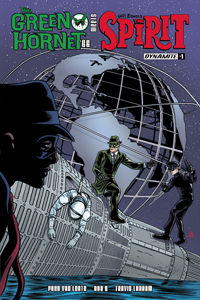 GREEN HORNET '66 MEETS THE SPIRIT #1
DYNAMITE
Fred Van Lente, Bob Q, Mike Allred, Laura Allred
Another challenge for The Green Hornet, his aide Kato, and their rolling arsenal, The Black Beauty!
On police records a wanted criminal, The Green Hornet is really Britt Reid, owner/publisher of The Daily Sentinel. Reid and Kato have traveled to Central City to participate in the futuristic World's Fair, to get the skinny on the "Newspaper of Tomorrow," a device capable of predicting headlines before events happen! But isn't that a dangerous power for the press to wield... and say, who's that blue-suited skulker in the shadows?
In Shops: Jul 05, 2017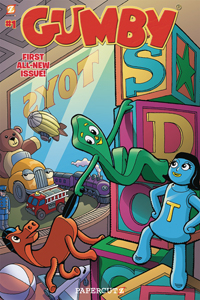 GUMBY #1
PAPERCUTZ
Ray Fawkes, Kyle Baker, Jolyon Yates, Jeff Whitman, Rick Geary
Gumby, Pokey and the gang are back with new adventures for the first time in over ten years!
Newly reimagined stories bring the magic of the classic clay boy to a new generation. First, moon creatures invade the toy store where Gumby lives! Gumby and his friends must muster up the courage to contain these triangular foes. Also featuring more stories of the flexible green gumbino told by today's top storytellers like Ray Fawkes and Kyle Baker!
In Shops: Jul 05, 2017
JAMES BOND: KILL CHAIN #1
DYNAMITE
Andy Diggle, Luca Casalanguida, Greg Smallwood
When a counterespionage operation in Rotterdam goes catastrophically wrong, James Bond finds himself in the crosshairs of a plot to smash NATO. Someone is assassinating allied agents, and 007 is the next target in the kill chain. Having kept the peace for decades, the old alliance is collapsing, pitting MI6 against its former ally - the CIA!
Dynamite Entertainment proudly presents the return of writer Andy Diggle (James Bond: Hammerhead, The Losers, Green Arrow: Year One) and artist Luca Casalanguida (James Bond: Hammerhead) as they plot the return of James Bond's oldest and deadliest foe: SMERSH!
In Shops: Jul 19, 2017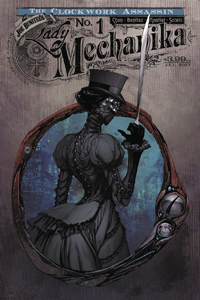 LADY MECHANIKA: THE CLOCKWORK ASSASSIN #1
BENITEZ
Joe Benitez, M. M. Chen, Martin Montiel, Joe Benitez
The murder of a former colleague forces Lewis to confront the ghosts of his past. But will the incidents in the present haunt his future forever - as well as Lady Mechanika's? A brand new three-issue mini-series!
In Shops: Jul 05, 2017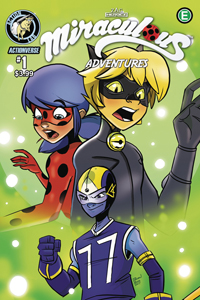 MIRACULOUS ADVENTURES #1
ACTION LAB
Bryan Seaton, Nicole D'Andria, Brian Hess
The first original illustrated story based on Zag Entertainment's Miraculous: Tales of Ladybug and Cat Noir.
When Adrien outplays a lacrosse player, Hawk Moth akumitizes him. Becoming Replay, he gains the ability to control time around him. Will Ladybug and Cat Noir be fast enough to defeat him? Or will he stop their heroics once and for all?
In Shops: Jul 12, 2017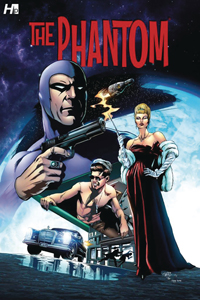 THE PHANTOM: PRESIDENT KENNEDY'S MISSION #1
HERMES PRESS
Ron Goulart, Sean Joyce, Malena Molina, Scott Brooks
The year is 1962, and the Phantom returns once again in a new adventure! There's a possible world war with Russia looming on the horizon, and newly minted President John F. Kennedy calls upon his old friend Kit Walker for help!
In this all-new Phantastic adventure, veteran Phantom script writer Ron Goulart returns with artist Sean Joyce, a new comer to the Phantom and to comic books, but no newcomer to the art world!
This five book story arc (each issue to be released every month and a half) has something for every Phan - history with JFK, Russian femme fatales, espionage, lost U.S. astronauts on a secret mission, Singh pirates, and, of course The Phantom, Diana, and Devil!
Journey back to the swingin' 1960s with The Phantom!
In Shops: Jul 19, 2017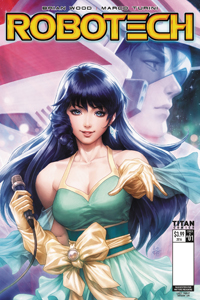 ROBOTECH #1
TITAN COMICS
Brian Wood, Marco Turini, Stanley Lau
Harmony Gold's cult '80s television series Robotech returns for all-new adventures!
Written by Brian Wood (DMZ, Briggs Land, Northlanders) and illustrated by Marco Turini, this new comic series will delight original fans and newcomers alike, featuring classic characters Rick, Lisa, Minmei, Roy, Claudia, and Gloval!
In Shops: Jul 26, 2017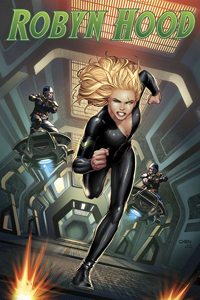 ROBYN HOOD: THE HUNT #1
ZENESCOPE
Joe Brusha, Sean Chen
Robyn has finally taken down the monsters and villains that have plagued New York for far too long. Now, with the streets safe again, Robyn unfortunately isn't going to get to enjoy them.
After being transported to an otherworldly, high tech, maximum security prison, she must fight for her life from some of the very creatures she has placed there. Will she survive with enough of herself intact to get back to the city she calls home? Find out, in Robyn Hood: The Hunt!
In Shops: Jul 05, 2017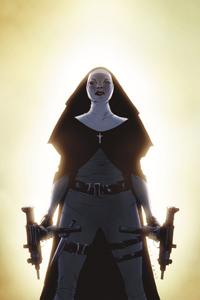 SISTERS OF SORROW #1
BOOM! STUDIOS
Kurt Sutter, Courtney Alameda, Jae Lee
Kurt Sutter (Sons of Anarchy, Mayans MC) brings this all-new original tale of revenge and recovery to comics with novelist Courtney Alameda (Shutter) and breakthrough artist Hyeonjin Kim.
By day, Dominique, Greta, Misha, and Sarah run a nonprofit women's shelter. At night, they each don a nun's habit and move through Los Angeles hunting down violent abusers who have escaped justice. Their increasingly public vigilantism has earned them the nickname Sisters of Sorrow, and has drawn the ire of L.A.'s notorious anti-crime task force.
In Shops: Jul 05, 2017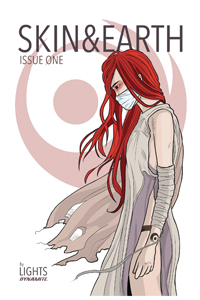 SKIN AND EARTH #1
DYNAMITE
Lights
Skin And Earth is a story of a girl looking for hope in a hopeless world. Caught between romance and cults, gods and mortals, and just trying to find a good borscht, Enaia Jin is lead down a dark path by new lovers that reveal a twisted fantasy world and her own true nature. Set in a post-apocalyptic future where corporations rule, this adventurous tale of loneliness, deceit and self-discovery begins here!
Written and drawn by alt-pop phenomenon Lights, Skin And Earth ties directly into her next full length album, released in Fall 2017 on Warner Bros Records.
In Shops: Jul 12, 2017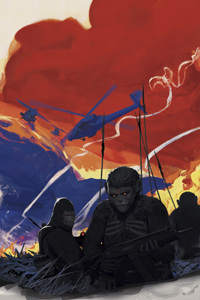 WAR FOR THE PLANET OF THE APES #1
BOOM! STUDIOS
David Walker, Jonas Scharf, Mikhail Borulko
San Francisco lies in ruin, as the war for survival between man and ape rests on the shoulders of one solitary soul.
Prequel to the upcoming Fox film!
In Shops: Jul 12, 2017
(GRAPHIC) NOVEL IDEAS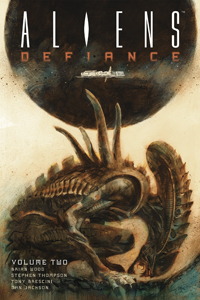 ALIENS: DEFIANCE VOL.2
DARK HORSE COMICS
Brian Wood, Stephen Thompson, Massimo Carnevale
Colonial Marine Private First Class Zula Hendricks is AWOL and on a mission to prove her mettle by eradicating the Alien species. She must battle with xenomorphs, fend off space pirates, and elude the insidious Weyland-Yutani corporation that wants their freighter back, all while facing rehabilitation from an old war injury.
Collects Aliens: Defiance #7-12.
In Shops: Sep 13, 2017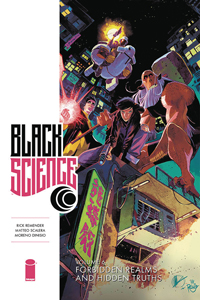 BLACK SCIENCE VOL.6
IMAGE COMICS
Rick Remender, Matteo Scalera, Moreno DiNisio
After years adrift in the chaotic Eververse, the McKay family finally reunites in their home dimension. But it's far from the happy end they expected. To save all there is and ever will be, the Dimensionauts need to cut deeper into the Onion than ever before!
Rick Remender and Matteo Scalera present the sixth chapter of the runaway pulp sci-fi smash hit Black Science!
Collects Black Science #26-30.
In Shops: Jul 19, 2017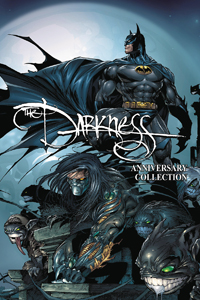 DARKNESS / BATMAN: 20TH ANNIVERSARY CROSSOVER COLLECTION
IMAGE COMICS
Garth Ennis, Scott Lobdell, Jeph Loeb, Ron Marz, David Finch, Clarence Lansang, Tyler Kirkham, Marc Silvestri
Celebrating the 25th anniversary of Image Comics and the 20th anniversary of The Darkness, this special volume collects The Darkness: Origins (#1-6 and the preview), The Darkness / Batman and The Darkness / Superman! This is a one-time printing in honor of the anniversaries, so don't miss out!
In Shops: Jul 05, 2017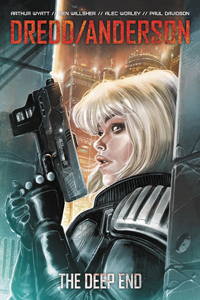 DREDD - ANDERSON: THE DEEP END
2000AD
Arthur Wyatt, Alec Worley, Paul Davidson, Ben Willsher
When the dust settles, the body count rises! Continuing the story of the cult 2012 movie Dredd. After the brutal day in which Ma Ma and her gang were brought down telepath-Judge Anderson is trying to adjust to the brutal life of a Street Judge. After investigating a claim of demonic possession, she finds herself at odds with a merciless drug cartel. Soon after, when lethal radioactive storms from the post-apocalyptic wasteland known as the Cursed Earth hit the city, they bring more than just dust into Mega-City One. When unexplained killings coincide with the storms, Judge Dredd is forced to hunt a mysterious mutant and take his ruthless brand of justice into the Cursed Earth.
Collects Dredd: Dust #1-2 and Anderson: The Deep End one-shot.
In Shops: Jul 12, 2017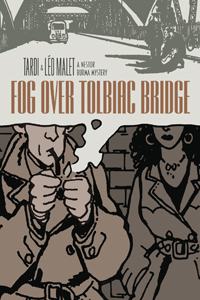 FOG OVER TOLBIAC BRIDGE (HC)
FANTAGRAPHICS BOOKS
Jacques Tardi
Fog Over Tolbiac Bridge is the first of four major graphic novels adapted by Tardi from the legendary French crime writer Léo Malet's original "Nestor Burma" novels. Tardi's stylish use of mechanical gray tones provides the book with a lovely period feel which, combined with Tardi's usual obsessive visual research, gives it a uniquely personal, authentic quality. Tardi's adaptation is a cracking good detective yarn and a milestone in comics history.
In Shops: Jul 26, 2017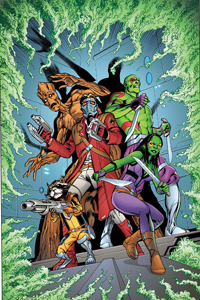 GUARDIANS OF THE GALAXY: MOTHER ENTROPY
MARVEL COMICS
Jim Starlin, Alan Davis
Two celebrated talents take on the Guardians of the Galaxy!
The Guardians owe everyone on Knowhere money, so they're forced to do a job for the local police. But that causes them to run afoul of Pip the Troll and a mysterious entity known only as Mother Entropy - and that's when the fun begins! Mother Entropy puts Pip and the Guardians to the test, to determine which of them will rule on her behalf in this plane of reality! But where does everyone's favorite Titan, Thanos, come in? And how about Gladiator and the Shi'ar? The final test will involve - what else - a no-holds-barred brawl at Starlin's Bar! Who will be the last Guardian standing to face a monstrous villain all on their lonesome?
Collecting Guardians Of The Galaxy: Mother Entropy #1-5.
In Shops: Aug 16, 2017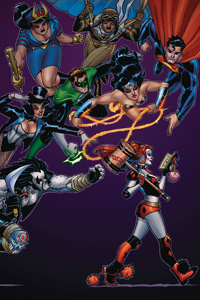 HARLEY'S LITTLE BLACK BOOK (HC)
DC COMICS
Amanda Conner, Jimmy Palmiotti, John Timms, Mauricet, Neal Adams, Dave Johnson, Joseph Michael Linsner, Billy Tucci, Simon Bisley
It's the sensational team-up series in which Harley meets (and annoys) DC's greatest heroes and villains! Harley meets up with Wonder Woman, Green Lantern, Lobo and more! But can she keep up with beings of this caliber?
Collects Harley's Little Black Book #1-6.
In Shops: Aug 02, 2017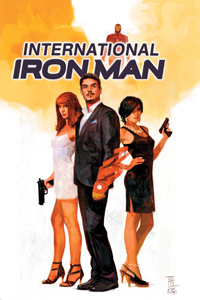 INTERNATIONAL IRON MAN
MARVEL COMICS
Brian Michael Bendis, Alex Maleev
The award-winning creative team that turned Daredevil's life upside down sets its sights on Iron Man! But who is Tony Stark? Since learning he was adopted, this question has cast a shadow over his life. Now, it's time to uncover his true legacy - a journey that will carry Tony into new directions as both a man and an armored adventurer. Alongside unlikely quasi-ally Doctor Doom, Iron Man will discover answers to questions he never knew existed! But as a new international crime boss beats him at every turn, can Tony unravel the mystery of his past before deadly history repeats itself? Revelations will send him reeling - and even if Iron Man makes it out alive, his new standing in the Marvel Universe might be the death of him!
Collecting International Iron Man #1-7.
In Shops: Aug 09, 2017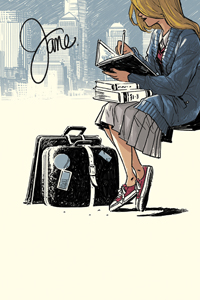 JANE (HC)
BOOM! STUDIOS
Aline Brosh McKenna, Ramon K. Perez
A powerful modern day reimagining of Charlotte Brontë's classic novel Jane Eyre.
Jane learns that in the world of New York's elite, secrets are the greatest extravagance and she must decide if she should trust the man she loves or do whatever it takes to protect her best friend from the consequences of his deception.
In Shops: Sep 13, 2017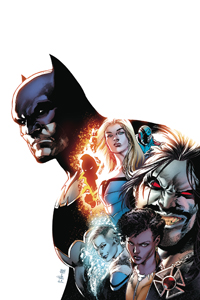 JUSTICE LEAGUE OF AMERICA VOL.1: THE EXTREMISTS
DC COMICS
Steve Orlando, Felipe Watanabe, Ivan Reis, Joe Prado
The new Justice League of America is here - and now, in these stories from issues #1-6 of the new series, they're going to meet the Extremists - self-proclaimed saviors from another Earth, they thirst for peace, prosperity and total submission to the will of their leader, Lord Havok! How can the newly assembled JLA stop this group of misguided maniacs before the Extremists unleash their own unique- and dangerous - brand of law and order on our chaotic world?
In Shops: Aug 09, 2017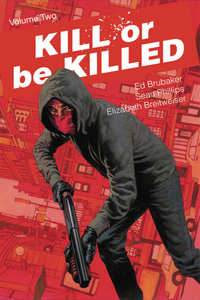 KILL OR BE KILLED VOL.2
IMAGE COMICS
Ed Brubaker, Elizabeth Breitweiser, Sean Phillips
Brubaker and Phillips' bestselling series keeps on hitting, as our vigilante hero goes deeper into the darkness, and the NYPD begin to realize there's a masked man killing bad guys all over town. Both a thriller and a deconstruction of vigilantism, Kill Or Be Killed is unlike anything this award-winning team has done before.
Collects Kill Or Be Killed #5-10.
In Shops: Jul 26, 2017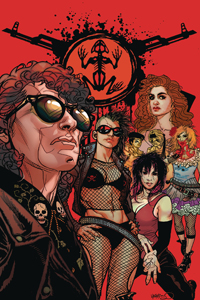 THE LOST BOYS
DC COMICS
Tim Seeley, Scott Godlewski, Tony Harris
The stakes are raised in this nostalgic and unstoppable sequel to the '80s cult classic vampire film, The Lost Boys.
Santa Carla, California, is on edge. The eccentric coastal town and haven for the undead was finally returning to "normal" after its last supernatural scuffle left the local coven's head vampire dead and gave newcomers Michael and Sam Emerson a housewarming both violent and bizarre. Now the brothers must team up with militant vampire hunters Edgar and Allan Frog when a new gang of ruthless, stunning, life-sucking nightcrawlers known as the Blood Belles emerges to collect Michael's love interest and their lost sister, Star.
Collects The Lost Boys #1-6.
In Shops: Aug 09, 2017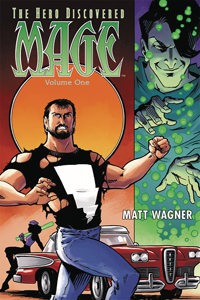 MAGE: THE HERO DISCOVERED VOL.1
IMAGE COMICS
Matt Wagner, Sam Kieth
The first of two volumes reprinting the classic early issues of creator Matt Wagner's epic fantasy trilogy. The Hero Discovered reveals the fledgling adventures of the reluctant everyman hero, Kevin Matchsick. After encountering a shaggy and beguiling wizard, Kevin soon discovers that he is more than he ever imagined.
This seminal work has found an enduring popularity with readers for decades and marks creator Matt Wagner's emergence as a powerful story-teller. With the release of the final part of the Mage trilogy, this series will spark interest with new readers and older fans alike.
In Shops: Jul 12, 2017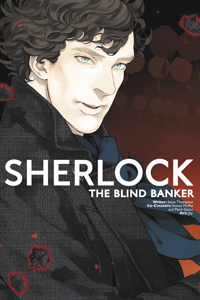 SHERLOCK: THE BLIND BANKER
TITAN COMICS
Stephen Thompson, Jay
Collecting the brilliant manga adaptation of the fanatically followed TV show, starring Benedict Cumberbatch (Doctor Strange) and Martin Freeman (The Hobbit).
In Shops: Sep 13, 2017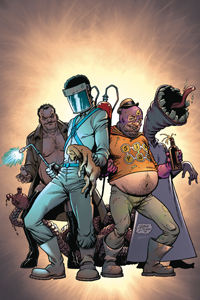 SIXPACK AND DOGWELDER: HARD TRAVELIN' HEROZ
DC COMICS
Garth Ennis, Russell Braun, Steve Dillon
When John Constantine comes calling, Dogwelder finds himself face to face with destiny as the truth about his powers and origin suddenly seem to lie within his grasp. Could his journey of discovery be just what Sixpack needs to snap Section Eight out of its funk? Now the pair are off on the road trip from hell, leaving a trail of mayhem (and empty bottles and canine corpses) from Gotham City to Egypt to outer space.
This title collects Sixpack And Dogwelder: Hard-Travelin' Heroz #1-6.
In Shops: Aug 16, 2017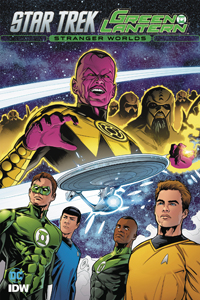 STAR TREK / GREEN LANTERN VOL.2 :STRANGER WORLDS
IDW PUBLISHING
Mike Johnson, Angel Hernandez
The galaxy-spanning crossover epic continues in this sequel to the blockbuster Star Trek / Green Lantern: The Spectrum War!
Captain Kirk and Hal Jordan lead the combined might of Starfleet and the Lantern Corps on an all-new adventure against new foes!
In Shops: Sep 13, 2017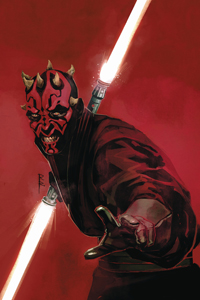 STAR WARS: DARTH MAUL
MARVEL COMICS
Cullen Bunn, Chris Eliopoulos, Luke Ross, Rod Reis
Raised on hate, fear and anger - steeped in the ways of darkness - and trained to kill! Darth Maul's time as apprentice to Darth Sidious has long been cloaked in shadows; now, at last, his tale of revenge is revealed! It's a story of rage unleashed as Darth Maul prepares for his first encounter with the hated Jedi. But when a Jedi Padawan is captured by sinister forces, why is Maul so determined to find her? And what's the role of the band of bounty hunters that includes Cad Bane and Aurra Sing? Get to know the galaxy's deadliest Zabrak like never before!
Collecting Darth Maul #1-5.
In Shops: Aug 23, 2017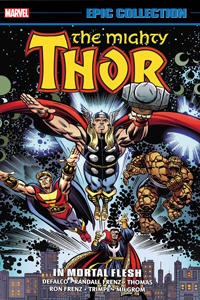 THOR: IN MORTAL FLESH - EPIC COLLECTION
MARVEL COMICS
Various
To spare a life, Thor makes the ultimate sacrifice! With the fate of his friend Eric Masterson in the balance, Thor steps in - and finds himself once again bonded to a mortal form! But which deadly foe will bring about such dire straits? Could it be Quicksand? The maniacal Mongoose? A new Executioner? Or as an untethered Asgard drifts into the Negative Zone, Annihilus? As a new era begins for Thor, another legendary hero returns: Zounds, it's Hercules! It will take the combined might of these godly friends, plus She-Hulk, to face not one but two Dooms! In another heavyweight bout, Thor takes on the Juggernaut - with the New Warriors lending a hand! Plus: The High Evolutionary! Doctor Strange! The Thing! Tales of Asgard! Beta Ray Bill! And Ulik joins the Wrecking Crew!
Collecting Thor (1966) #401-418 and Annual #14.
In Shops: Aug 02, 2017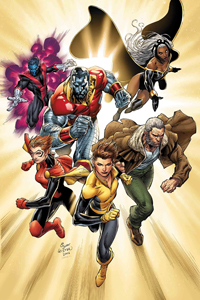 X-MEN - GOLD VOL.1: BACK TO BASICS
MARVEL COMICS
Marc Guggenheim, Ardian Syaf
In the wake of war with the Inhumans, the X-Men are at a crossroads. Where do they go from here? Luckily, one beloved X-Man has the answer! Xavier's dream comes full circle as Kitty Pryde returns to lead the team into a golden future! Storm, Colossus, Nightcrawler, Rachel Grey and Old Man Logan renew their mission to protect a world that hates and fears them as the next chapter in the saga of the X-Men begins! But a revamped Brotherhood of Evil Mutants isn't far behind - and when their rampage through New York City begins, some surprisingly familiar faces will be among their ranks! Who has turned their backs on the X-Men... and why?
Collecting X-Men: Gold (2017) #1-6.
In Shops: Aug 23, 2017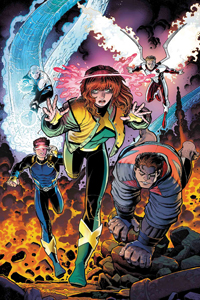 X-MEN - BLUE VOL.1: STRANGEST
MARVEL COMICS
Cullen Bunn, Jorge Molina, Matteo Buffagni, Arthur Adams
Like a bolt from the blue, the original five X-Men reunite - like never before! And this time, Jean Grey is in charge! Cyclops, Iceman, Angel and Beast follow her into action, bringing mutant criminals to justice and restoring a heroic sheen to their team. But how well can they do that when their new mentor is their one-time archenemy? That's right - Magneto has joined the original X-Men! And not everyone can put old rivalries aside. The X-Men encounter the new Marauders, Mister Sinister and the delights of Madripoor - but with tensions rising, can the team come together to be a cohesive force for good? Or will ulterior motives and personal quests derail the entire enterprise? At the end of the day, who can be trusted?
Collecting X-Men: Blue #1-6.
In Shops: Aug 23, 2017
BIFF'S BIT
NOT JUST A GOOD COMIC FROM MARVEL, AN EXCELLENT COMIC... NICK FURY
Nick Fury and S.H.I.E.L.D. hold a very special place in my heart. The stories from Strange Tales #135-150 were so imaginative, exciting and thrilling to this ten year old as he first started reading comics. Secret organisations fighting evil, believable villains like the Fixer - an electronics and mechanical genius who tried to infiltrate S.H.I.E.L.D. in #141 - fantastic machines, Nicky Fury's flying car and that master stroke of invention... Life Model Decoys (LMD). This was the stuff that legends are made of. Then when Jim Steranko took on the art, the one-shot Fury wiped the continuity set by the six-issue miniseries Nick Fury Vs S.H.I.E.L.D. and Volume 2 of Nick Fury: Agent Of S.H.I.E.L.D.. Now S.H.I.E.L.D. was actually secretly run by HYDRA? Give me a break! That was bad, but Marvel have topped this madness with currently having Captain America as a prominent HYDRA agent. However, that is a digression...
When I saw the cover to issue one of Nick Fury my heart leapt. A beautiful stylised cover acknowledged the first volume of Nick Fury: Agent of S.H.I.E.L.D. and the mind blowing art of Jim Steranko. To this day, the first few issues of that series remain the very best comics I ever read during my teenage years. With this cover promising much, and with James Robinson writing, I hoped that maybe, just maybe, I and the comic world would be in for a treat. James Robinson is the British genius behind the classic DC series Starman that ran for 81 issues from 1994 to 2001 where super heroics took a back seat. The series was masterfully character driven and the reformed villain, Shade, allowed for an examination of many a human flaw and for discussions on the very meaning of good and bad. If he could bring the same level of layered writing and examination to Nick Fury, then this will be a 'must-read' for years.
From the opening page, as Nick climbs the steps to a casino, a classic nine-panel page imparting so much with few words begins to build the tension and set the beat for the action to come. From the first page until the last, with it's psychedelic art and inventive use of panels, here was a wonderfully paced tale with a myriad of panel layouts which all - yes all - add to the story and draw the reader in. While this wasn't Steranko, it was a showcase for equally gifted artist ACO and suitably skilful inker Hugo Petrus.
This ten-year-old boy has grown up to own a chain of comic shops in the UK and he will be making sure this comic is brought to the attention of all his customers. Nick Fury gets a Biff 10 out of 10! Pure wonderment! Thank you so very much James, ACO, Hugo and team. You have brought the magic back!
MESSAGE FOR THE MONTH:
One of the biggest evils in the world is to do nothing. There is an election coming, every vote counts. Make sure yours counts!

Graphic Novel Top 20 Chart: March 2017
April's best-selling graphic novels include Hellboy, Batman, Superman, World Of Tanks, Aliens, Justice League and Wonder Woman
Show me the Graphic Novel Top 20 Chart