The latest issue of Illuminations, our free monthly web app that showcases upcoming new series and one-shots, is now available to read online here!
Here's a taster of what's inside…
Featured Titles
BRIGGS LAND: LONE WOLVES #1
DARK HORSE COMICS
Brian Wood, Mack Chater, Matthew Woodson
Isaac Briggs, fresh off a tour in Afghanistan and struggling to reintegrate, finds solace hiking the old forest trails. When two random backpackers wander onto the Land, an innocent situation quickly turns dangerous and Isaac's military training takes a turn down a dark path.
Welcome to Briggs Land, nearly a hundred square miles of rural wilderness, representing the largest antigovernment secessionist movement in the United States.
Brian Wood's critically acclaimed series returns for the next chapter in an even more relevant postelection America.
DARK DAYS: THE FORGE #1
DC COMICS
Scott Snyder, James Tynion IV, Andy Kubert, John Romita, Scott Williams, Jim Lee
Darkness comes to the DC Universe with the mystery of the Forge!
Aquaman, The Flash and more of DC's pantheon of heroes suspect Batman of hiding a dark secret that could threaten the very existence of the multiverse!
It's an epic that will span generations-but how does it connect to the origins of one of DC's most legendary heroes?
The great comics event of summer 2017 is about to begin courtesy of superstar writers Scott Snyder and James Tynion III and illustrated by a master class of comics artists: Andy Kubert, Jim Lee and John Romita Jr.! You do not want to miss this one!
MY LITTLE PONY: THE MOVIE – PREQUEL #1
IDW PUBLISHING
Ted Anderson, Andy Price
This fall, My Little Pony: The Movie hits theaters, and this prequel mini-series is your first look at the fantastic adventure to come! Each issue will focus on a new character from the upcoming movie!
Danger looms over Equestria as a new villain debuts!
CROSSWIND #1
IMAGE COMICS
Gail Simone, Cat Staggs
Fan-favorite creators Gail Simone and Cat Staggs make their stunning Image debut with this mind-bending new ongoing series!
A slick and ruthless Chicago hitman. A smart but downtrodden Seattle housewife. When an inexplicable event strikes these two random strangers, their bodies, souls, and lives are switched to potentially deadly effect. It's Freaky Friday meets Goodfellas!
PETER PARKER: SPECTACULAR SPIDER-MAN #1
MARVEL COMICS
Chip Zdarsky, Adam Kubert
Spider-Man returns to the friendly neighborhood!
The webslinging, wallcrawling wonder returns to New York City in the all-new Peter Parker: The Spectacular Spider-man. A companion series to the best-selling Amazing Spider-Man series, Peter Parker is going back-to-basics for big heroics in the Big Apple. Featuring adversaries old and new, be there as Spider-Man returns to his friendly neighborhood for his never ending battle against crime and the dreaed "Parker Luck".
RIVERS OF LONDON: DETECTIVE STORIES #1
TITAN COMICS
Ben Aaronovitch, Andrew Cartmel, Lee Sullivan, Mack Chater
Four self-contained magical crimes, as recounted by detective peter grant to his superiors!
Novel Ideas
Our selection of nineteen recommended graphic novels include the following top reads:
BATMAN / TEENAGE MUTANT NINJA TURTLES VOL.1

BLACK EYED PEAS PRESENTS MASTERS OF THE SUN: THE ZOMBIES CHRONICLES (HC)

CLUELESS VOL.1

DEAD INSIDE VOL.1

LOOSE ENDS
Biff's Bit
"… It has got to such a sad state of affairs that in our stores and many other stores across the UK, a Marvel relaunch is seen as a 'dropping off' point for readers and not a 'coming on board' stage … Well, I have just finished reading X-Men Gold #1 and I am happy to report this is an excellent start and a great comic read… [Marc Guggenheim]'s mission statement is to get back to basics …" – excerpt
Top 20 Graphic Novel Chart
See March's best-selling graphic novels including Saga, Harley Quinn, BPRD, Pellucidar, Deathstroke, Cannibal, Batgirl, Astro City and Legend Of Zelda…
Hit the image below to access the web app!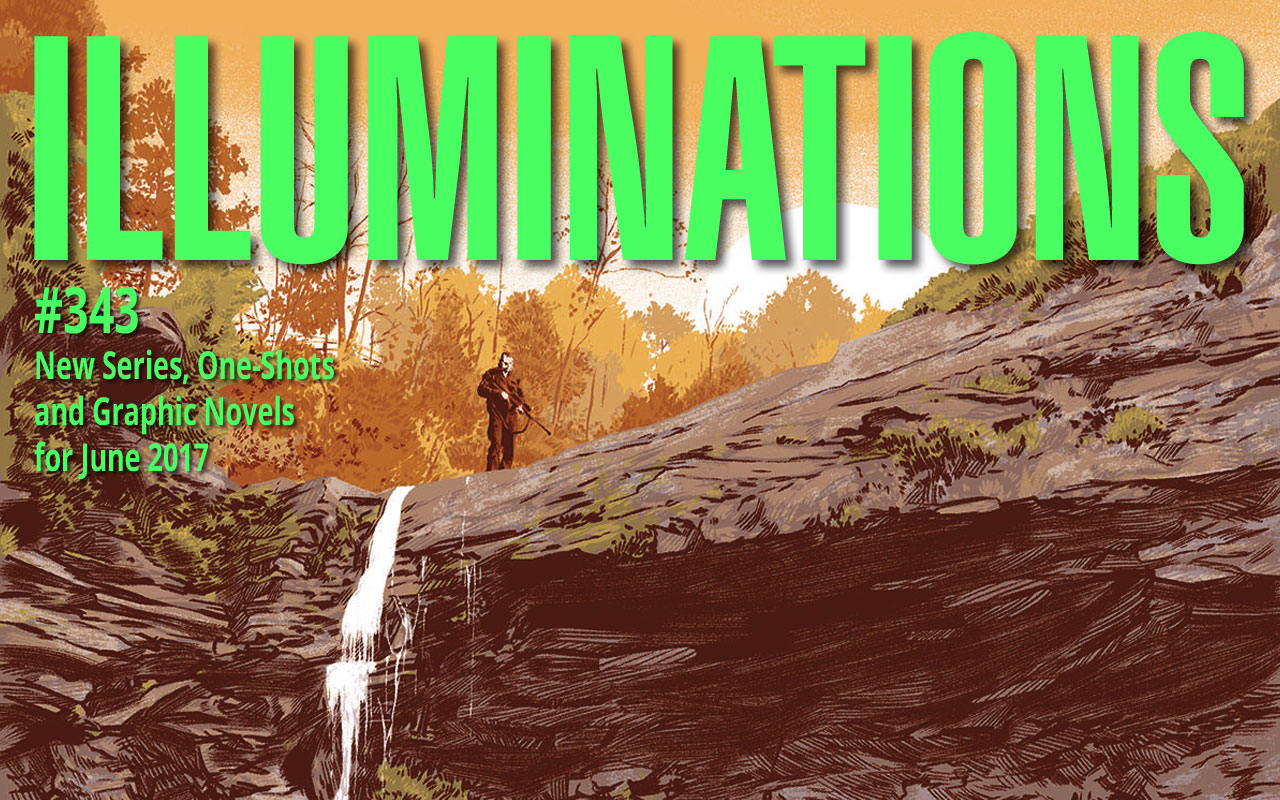 Visit our Illuminations page, for previous issues.