#343
New Series, One-Shots
and Graphic Novels
for June 2017

New Comic Series and One-Shots for June...
DARK HORSE COMICS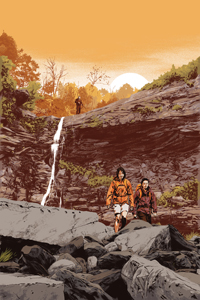 BRIGGS LAND: LONE WOLVES #1
Brian Wood, Mack Chater, Matthew Woodson
Isaac Briggs, fresh off a tour in Afghanistan and struggling to reintegrate, finds solace hiking the old forest trails. When two random backpackers wander onto the Land, an innocent situation quickly turns dangerous and Isaac's military training takes a turn down a dark path.
Welcome to Briggs Land, nearly a hundred square miles of rural wilderness, representing the largest antigovernment secessionist movement in the United States.
Brian Wood's critically acclaimed series returns for the next chapter in an even more relevant postelection America.
In Shops: Jun 14, 2017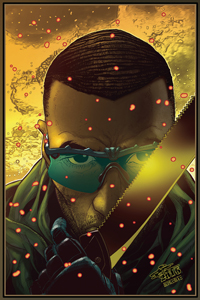 BLANKSHOT #1
Alex De Campi, Chris Cross
Marcus King: modern-day Robin Hood or terrorist? Maybe both? When Marcus comes face to face with an adversary who knows all of his carefully buried truths, he's forced to become the man he has always pretended to be. And punch a small army of dudes. And blow up stuff. Lots of stuff.
Written by Eisner nominee Alex de Campi (Archie vs Predator) with art by ChrisCross (Convergence: Justice League of America).
In Shops: Jun 28, 2017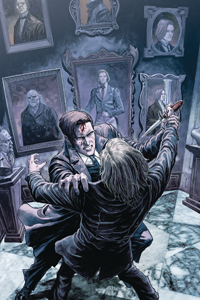 STRANGE CASE OF THE DISAPPEARING MAN #1
Cole Haddon, Sebastian Cabrol
Inspector Thomas Adye of Scotland Yard is determined to return to normalcy after his run-in with Edward Hyde and Jack the Ripper, and the bizarre cases he's confronted since-including his most recent, and cold, strange case... the disappearing man.
In his investigations, Adye is drawn to a gentleman on a constant quest to experience life in new and vibrant ways. Seduced by the man's philosophies, Adye begins down an uncertain path that may put him in more danger than he's ever imagined.
Features horror legends Dorian Gray, Mr. Hyde, the Invisible Man, and many more!
Written by Cole Haddon (Dracula TV series)!
In Shops: Jun 21, 2017
DC COMICS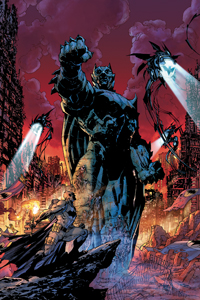 DARK DAYS: THE FORGE #1
Scott Snyder, James Tynion IV, Andy Kubert, John Romita, Scott Williams, Jim Lee
Darkness comes to the DC Universe with the mystery of the Forge!
Aquaman, The Flash and more of DC's pantheon of heroes suspect Batman of hiding a dark secret that could threaten the very existence of the multiverse!
It's an epic that will span generations-but how does it connect to the origins of one of DC's most legendary heroes?
The great comics event of summer 2017 is about to begin courtesy of superstar writers Scott Snyder and James Tynion III and illustrated by a master class of comics artists: Andy Kubert, Jim Lee and John Romita Jr.! You do not want to miss this one!
In Shops: Jun 14, 2017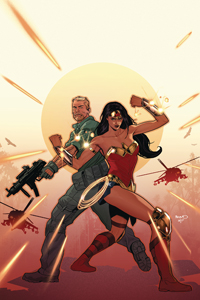 WONDER WOMAN: STEVE TREVOR #1
Tim Seeley, Christian Duce, Paul Renaud
When Wonder Woman saved Steve Trevor from dying on the shores of Themiscyra, his life-and hers-changed forever! In this special issue, learn more about the tumultuous partnership these two have had over the years... and get a hint at where it's going in the future! Have these two finally admitted they're meant for each other? Or do the Fates have other ideas?
In Shops: Jun 07, 2017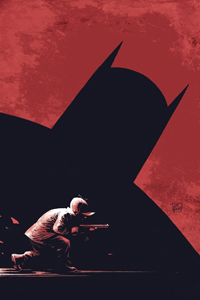 BATMAN / ELMER FUDD - SPECIAL #1
Tom King, Byron Vaughns, Lee Weeks
After a chance meeting with billionaire Bruce Wayne, Elmer Fudd's obsession quickly escalates into stalking Batman through the dark alleys and high-class social settings of Gotham City. Welcome to Bat Season! And the bonus Looney Tunes backup story features DC characters written by Tom King and artwork by Byron Vaughns.
In Shops: Jun 28, 2017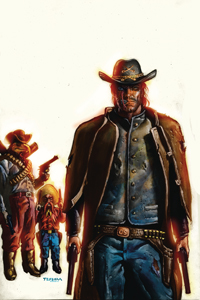 JONAH HEX / YOSEMITE SAM - SPECIAL #1
Jimmy Palmiotti, Bill Matheny, Dave Alvarez, Mark Texeira
When miner Yosemite Sam strikes it rich, word gets out as everyone comes gunning for his wealth! To protect himself and his new riches, he hires bounty hunter Jonah Hex - but the man protecting him may be his worst nightmare! And the bonus Looney Tunes backup story features DC characters written by Bill Matheny and artwork by Dave Alvarez.
In Shops: Jun 28, 2017
LEGION OF SUPER HEROES / BUGS BUNNY - SPECIAL #1
Sam Humphries, Juan Ortiz, Scott Hanna, Juan Ortiz, Karl Kesel, Tom Grummett
The Legion of Super-Heroes always thought they had taken their inspiration from the 21st Century's Superboy. But when they try to bring that hero into their future time, the team discovers to their surprise the caped champion isn't who-or even what-they expected! And the bonus Looney Tunes backup story features DC characters with story and art by Juan Ortiz!
In Shops: Jun 14, 2017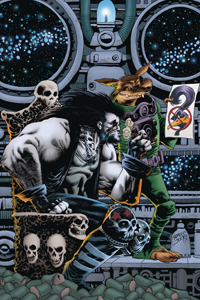 LOBO / ROAD RUNNER - SPECIAL #1
Bill Morrison, Bill Morrison, Kelley Jones
Wile E. Coyote travels to the far reaches of space to hire Lobo to hunt down and kill his greatest nemesis of all time, the Road Runner. And when the Coyote and Lobo are after him, the Road Runner knows if they catch him - he's through. And the bonus Looney Tunes backup story features DC characters with story and art by Bill Morrison!
In Shops: Jun 21, 2017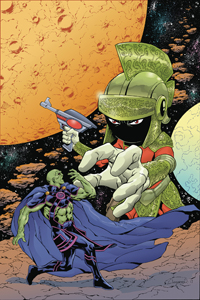 MARTIAN MANHUNTER / MARVIN THE MARTIAN - SPECIAL #1
Steve Orlando, Frank J. Barbiere, Jim Fanning, Jerome K. Moore, John Loter, Aaron Lopresti
Martian Manhunter tries to halt Marvin the Martian's determination for world domination. J'onn is conflicted with his own Martian identity as he attempts to stop the hapless, determined Marvin from blowing Earth to bits in order to gain a clear view of Venus. And the bonus Looney Tunes backup story features DC characters written by Jim Fanning with art by John Loter!
In Shops: Jun 14, 2017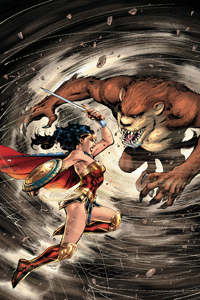 WONDER WOMAN / TASMANIAN DEVIL - SPECIAL #1
Antony Bedard, Barry Kitson, Ben Caldwell, Jim Lee
Not since the twelve labors of Hercules has a Greek warrior faced as great a danger and as destructive a peril as the Tasmanian Devil! And the bonus Looney Tunes backup story features DC characters with story by Tony Bedard and art by Ben Caldwell!
In Shops: Jun 21, 2017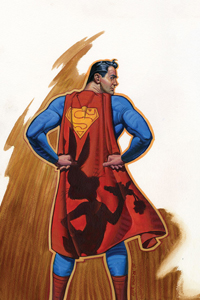 DC LOONEY TUNES: 100 PAGE SPECTACULAR #1
Mark Evanier, Joe Staton, Mike DeCarlo, Tom Palmer, Steve Rude
The miniseries from 2000 that first united the best-known heroes from two very different universes is back in a single issue collection featuring Superman / Buggs Bunny #1-4!
All the Looney Tunes are making their way into the DC Universe thanks to Mr. Mxyzptlk and the Do-Do - and only Superman stands a chance of keeping the universes apart... with the help of a certain wascally wabbit!
In Shops: Jun 07, 2017
IDW PUBLISHING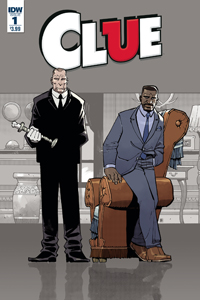 CLUE #1
Paul Allor, Nelson Daniel, Gabriel Rodriguez
When the mysterious Mr. Boddy turns up dead at his own dinner party, everyone's a suspect! Miss Scarlett, Colonel Mustard, Mrs. Peacock, Professor Plum-all the familiar faces from the famous board game are back, with a couple new twists. But will Boddy's Body be the last to fall, or is it just the beginning? Follow the clues and solve the mystery in IDW's new Clue series!
A new take on the classic detective game - with new designs by artist Nelson Daniel updating all the classic characters!
Features three alternate endings! To help you get a clue, we've hidden multiple endings to this first issue across the regular and subscription variants that will help you solve the case!
In Shops: Jun 21, 2017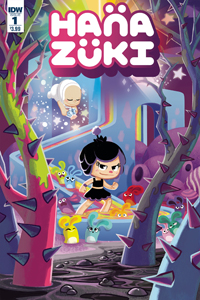 HANAZUKI: FULL OF TREASURES #1
David Mariotte, Nico Pena
"A Moonflower is Born". The origin of Hanazuki!
Based on the new digital-first show, Hanazuki: Full of Treasures comes a comic retelling of the birth of Hanazuki! On a distant moon, Hanazuki is the new protector of a group of cutie-pies known as Hemkas and the guardian of special treasures that will turn back the forces of darkness!
Based on the first episode of Hanazuki: Full of Treasures, which has over 2 million views on YouTube!
In Shops: Jun 07, 2017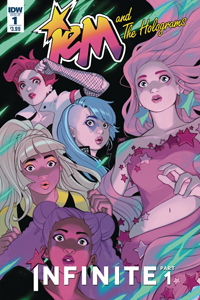 JEM AND THE HOLOGRAMS: INFINITE #1
Kelly Thompson, Stacey Lee
The first-ever Jem / Misfits Crossover Event begins here and now with "Infinite" Part One!
Now a happy quintet, Jem and The Holograms are stronger than ever, which is a good thing because they're about to embark on an adventure unlike anything they'd ever imagined possible. After a public fight with The Misfits at a charity event, a strangely dressed Techrat shows up and takes them to a whole new world... literally. And it is going to change everything!
In Shops: Jun 14, 2017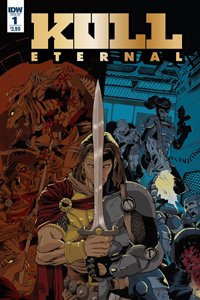 KULL: ETERNAL #1
Tom Waltz, Luca Pizzari
Robert E. Howard's legendary barbarian king returns! The evil Serpent Men have attempted to infiltrate and enslave mankind from the time of the very first humans... only to be defeated at every turn by the Elder Race's ultimate warrior... Kull of Atlantis! And now they must call on Kull once more, as the Serpent Men make a last-ditch gambit to first conquer America... and then the world. Kull's long journey has come full circle - once a small boy who lost Old Atlantis to a monstrous cataclysm... now a modern warrior who must save the New Atlantis from monstrous creatures!
Robert E. Howard's legendary barbarian king as you've never seen him before, written by Tom Waltz (Teenage Mutant Ninja Turtles) and illustrated by Luca Pizzari (Marvel's Black Knight).
Action, adventure, romance, and political intrigue spanning the ages!
In Shops: Jun 14, 2017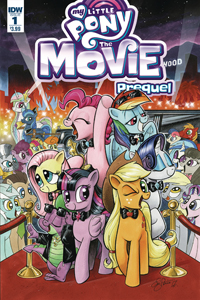 MY LITTLE PONY: THE MOVIE - PREQUEL #1
Ted Anderson, Andy Price
This fall, My Little Pony: The Movie hits theaters, and this prequel mini-series is your first look at the fantastic adventure to come! Each issue will focus on a new character from the upcoming movie!
Danger looms over Equestria as a new villain debuts!
In Shops: Jun 28, 2017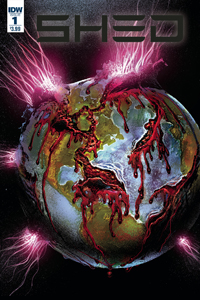 SHED #1
Obie Scott Wade, Ken Spevergav, Steve Beach
Not since the Neanderthal have humans been forced to share Earth with a Homo-genus-cousin, and we slaughtered them into extinction. This time they may be our only savior. As Earth sheds her filthy Homo sapiens, she breeds the Sarx, a skinless hominid who worship a science-based God they call Connectome.
In Shops: Jun 14, 2017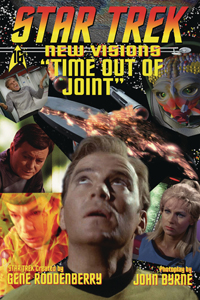 STAR TREK - NEW VISIONS: TIME OUT OF JOINT
John Byrne, John Byrne
Captain Kirk is torn from his timeline. Every corner he turns, every door he opens, throws him into a different day, a different year-and a different danger.
In Shops: Jun 21, 2017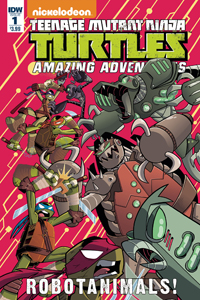 TEENAGE MUTANT NINJA TURTLES - AMAZING ADVENTURES: ROBOTANIMALS #1
Caleb Goellner, Chad Thomas
Baxter Stockman is looking to become the new major villain on the streets! His first step to world domination? Turn the Mutanimals into robots!!
If you dug the Batman / TMNT Adventures books, you'll get a major kick out of the next adventures of the TMNT from the current Nickelodeon cartoon!
In Shops: Jun 21, 2017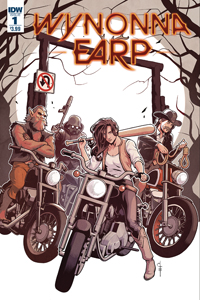 WYNONNA EARP: SEASON ZERO #1
Beau Smith, Angel Hernandez, Chris Evenhuis
Outlaws. Mavericks. Werewolves. These are The Banditos, the gang Wynonna ran with in her wildest, pre-Black Badge days. Somebody, or something is killing them off, one by one. It's up to Wynonna to return to her roots, and find out why! Telling the never-before-seen story of Wynonna's outlaw past-only hinted at on Syfy's Wynonna Earp TV series - finally revealed here!
In Shops: Jun 14, 2017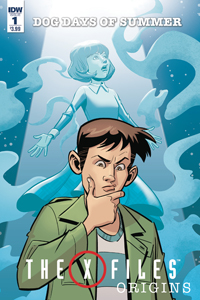 X-FILES - ORIGINS II: DOG DAYS OF SUMMER #1
Jody Houser, Matthew Dow Smith, Chris Fenoglio, Corin Howell
Before the FBI, before the X-Files, they were just two teenagers in search of the truth. On Martha's Vineyard, a strange encounter with a deaf girl sends 13-year-old Fox Mulder on the hunt for a mysterious signal. While in San Diego, young Dana Scully looks into a plane crash somehow tied to the man she helped put in jail. Two kids, two mysteries, one conspiracy that threatens the future of humanity.
The hit miniseries of last summer returns!
In Shops: Jun 28, 2017
IMAGE COMICS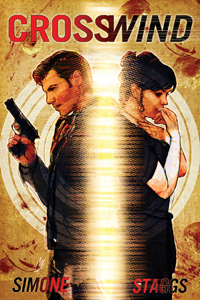 CROSSWIND #1
Gail Simone, Cat Staggs
Fan-favorite creators Gail Simone and Cat Staggs make their stunning Image debut with this mind-bending new ongoing series!
A slick and ruthless Chicago hitman. A smart but downtrodden Seattle housewife. When an inexplicable event strikes these two random strangers, their bodies, souls, and lives are switched to potentially deadly effect. It's Freaky Friday meets Goodfellas!
In Shops: Jun 21, 2017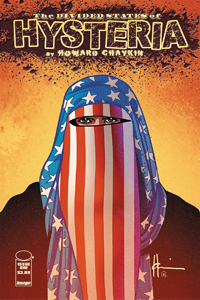 DIVIDED STATES OF HYSTERIA #1
Howard Chaykin
An America sundered. An America enraged. An America terrified. An America shattered by greed and racism, violence and fear, nihilism and tragedy...
...and that's when everything really goes to hell.
In Shops: Jun 07, 2017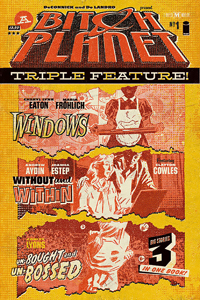 BITCH PLANET: TRIPLE FEATURE #1
Cheryl Lynn Eaton, Andrew Aydin, Conley Lyons, Maria Frohlich, Joanna Estep, Valentine DeLandro
Deconnick and De Landro Present: The Triple Feature!
Ripped directly from the world of Bitch Planet, a crack team of creators spin three teeth-clenching tales of rage, revolution, and ridicule. Plus: Essays, letter column, and more!
100% Grade A satire. Accept no substitutes.
In Shops: Jun 14, 2017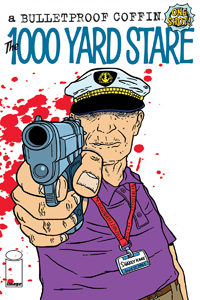 BULLETPROOF COFFIN: THOUSAND YARD STARE
David Hine, Shaky Kane
The long-awaited sequel to The Bulletproof Coffin!
When indie publisher Image Nation hires Shaky Kane to write and draw his own comic book, the artist finally finds himself free from the tedium of visualizing the geriatric ramblings of washed-up hack, David Hine. See the awful consequences as jealous rivalry leads to a bloody showdown on the convention floor.
In Shops: Jun 07, 2017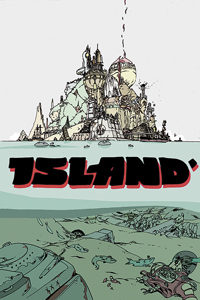 ISLAND #1
Brandon Graham, Emma Rios, Ludroe, Kelly Sue DeConnick, Emma Rios, Ludroe, Brandon Graham
Pretty Deadly artist Emma Rios and King City, Prophet and Multiple Warheads writer/artist Brandon Graham bring you a new ongoing comics magazine. Each issue holds three issue-length chapters of new work from various creators around the globe. Printed oversized with no ads!
In Shops: Jul 15, 2015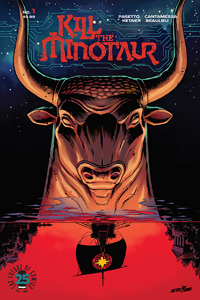 KILL THE MINOTAUR #1
Chris Pasetto, Christian Cantamessa, Lukas Ketner, Jean-Francois Beaulieu
Athens lost the war to Crete. Now, they pay tribute to King Minos by sacrificing their best citizens to his unearthly labyrinth. Conspirators believe Theseus can be the hero they need to end the mad king's bloody reign... but no one on this world has ever encountered anything like the savage minotaur.
Chris Pasetto, Christian Cantamessa (Red Dead Redemption) and Lukas Ketner (Witch Doctor) reinvent the most fearsome beast of all with this horrific tale of heroism. Each issue features 30 pages of story!
In Shops: Jun 14, 2017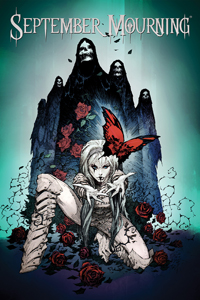 SEPTEMBER MOURNING VOL.1
Mariah McCourt, Emily Lazar, Sumeyye Kesgin, Marc Silvestri
September Mourning has no past that she can remember, only a strange and shadowy present filled with the voices of the dead. Turned into a unique hybrid by the former Reaper of the lonely, injured, and abused, September Mourning is the only human/reaper to exist. Tasked with reaping the souls of the "worthless" by her mysterious tattoo, September hides and protects them until she can help them realize the last thing they had left undone in life. Whether it's aiding souls to expose abusers, find lost loves, or settle old debts, in each case September is guided by voice of the Skullfly, which only she can hear.
In Shops: Jun 14, 2017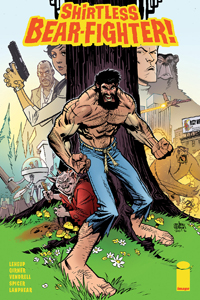 SHIRTLESS BEAR-FIGHTER #1
Jody LeHeup, Sebastian Girner, Nil Vendrell, Mike Spicer, Andrew Robinson
After being betrayed by the bears that raised him, the legendary Shirtless Bear-Fighter wanders the forest he's sworn to protect, fistfighting bears, eating flapjacks, and being the angriest man the world has ever known!
When wild-eyed, super-strong bears attack the citizens of Major City, Shirtless ventures into the human world to do what he does best... punch those bears in the face! But all is not as it seems. Someone is manipulating Shirtless... and only by confronting the demons of his past can Shirtless hope to save his future!
A heart-filled, hilarious, tall tale for the ages... you don't want to miss Shirtless Bear-Fighter!
In Shops: Jun 21, 2017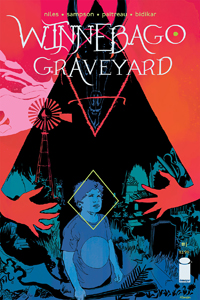 WINNEBAGO GRAVEYARD #1
Steve Niles, Alison Sampson, Stephane Paitreau, Jordie Bellaire, Aditya Bidikar
An American family traveling on vacation finds themselves stranded in a small town with a sinister secret.
In Shops: Jun 14, 2017
MARVEL COMICS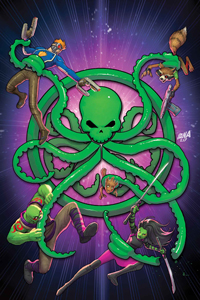 ALL NEW GUARDIANS OF THE GALAXY - ANNUAL #1
Chad Bowers, Chris Sims, Danilo Beyruth, David Nakayama
"Secret Empire" tie-in!
The Chitauri invasion has arrived, and Captain Marvel and Earth's heroes are outnumbered. Now it's up to the Guardians of the Galaxy to find reinforcements! There may be a weapon that could turn the tide of the battle, but in order to obtain it, the Guardians will have to rely on the help of the last alien Star-Lord ever wanted to see again... Yondu Udonta!
In Shops: Jun 28, 2017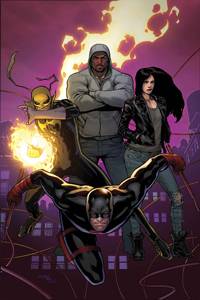 DEFENDERS #1
Brian Michael Bendis, David Marquez
Daredevil! Luke Cage! Jessica Jones! Iron Fist! Individually, these four heroes have been on the front lines of the battle to keep the streets of the city safe and secure! But now, with a deadly enemy from the dim past making a major move to unite the underworld, they will need to become more - they will need to become Defenders!
Brian Michael Bendis and David Marquez unite to bring you the next great super-team, in the tradition of New Avengers!
In Shops: Jun 14, 2017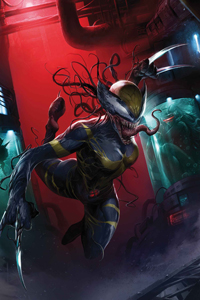 EDGE OF VENOMVERSE #1
Matthew Rosenberg, Roland Boschi, Francesco Mattina
The series that sets up the epic Venom event of 2017 starts here! Each issue introduces another major Venomized character that will feed into "Venomverse" itself!
This issue, the young mutant clone designated X-23 collides with a cryogenic tube containing a strange alien symbiote during her frenzied escape from The Facility. Bonding with the alien enhances her already considerable abilities and aids in her escape, but it begins to alter her mind! On the run from the very people that made her, can X-23 hold it together or is she doomed to give in to Venom!
In Shops: Jun 28, 2017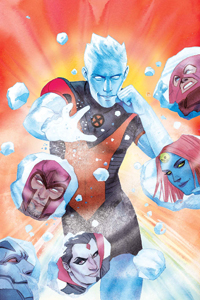 ICEMAN #1
Sina Grace, Alessandro Vitti, Kevin Wada
Bobby Drake has been in the super hero game longer than most. But while reflecting on what he's accomplished over the years, he realizes that the legacy he's built is a few good one-liners and a string of failed relationships. Not only that, but now a younger version of himself has emerged from the timestream and he's more put together than Bobby ever was: already a world-class hero in his own right, but also totally comfortable in his own skin, complete with a relationship with a handsome Inhuman to boot.
In this new ongoing series penned by Sina Grace (Burn the Orphanage, Self-Obsessed) and drawn by Alessandro Vitti (Secret Warriors), Bobby realizes that the time is never or now, and sets out to build a life and legacy he can be proud of... and be the best Iceman he can be!
In Shops: Jun 07, 2017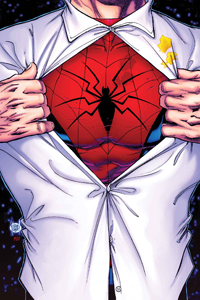 PETER PARKER: SPECTACULAR SPIDER-MAN #1
Chip Zdarsky, Adam Kubert
Spider-Man returns to the friendly neighborhood!
The webslinging, wallcrawling wonder returns to New York City in the all-new Peter Parker: The Spectacular Spider-man. A companion series to the best-selling Amazing Spider-Man series, Peter Parker is going back-to-basics for big heroics in the Big Apple. Featuring adversaries old and new, be there as Spider-Man returns to his friendly neighborhood for his never ending battle against crime and the dreaed "Parker Luck".
In Shops: Jun 21, 2017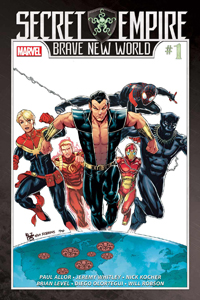 SECRET EMPIRE: BRAVE NEW WORLD #1
Paul Allor, Jeremy Whitley, Nick Kocher, Brian Level, Diego Olortegui, Will Robson, Paulo Sequiera
Steve Rogers - Captain America, liberty's most dedicated defender - is actually the Supreme Leader of Hydra. Faced with this adversity, the world's heroes have two choices: stand and fight or fall in line. See how Earth's protectors come to grips this earth-shattering revelation in an action packed first issue featuring Gwenpool, Giant-Man and Steve's oldest allies, The Invaders!
In Shops: Jun 07, 2017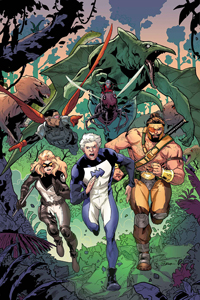 SECRET EMPIRE: UNDERGROUND #1
Jeremy Whitley, Eric Koda, R.B. Silva
From a hidden base in the Rocky Mountains a coallition of heroes have staged a resistance against Hydra and their former friend, Steve Rogers. Up until now, their successes have been few-but they may have discovered a way to end the long natinoal nightmare. The only catch? They've got to brave the dangers of the Savage Land!
In Shops: Jun 07, 2017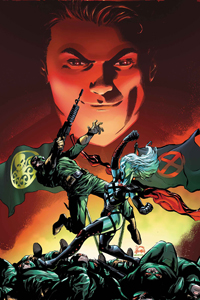 SECRET EMPIRE: UNITED #1
Jim Zub, Ario Anindito, Ryan Stegman
Steve Rogers has finally brought peace to the planet, securing the borders of the land that he loves against any and all threats. And his peace will be maintained-by any means necessary. So when skirmishes break out on the outskirts of mutant-controlled territory, Hydra's supreme leader takes matters into his own hands...
In Shops: Jun 14, 2017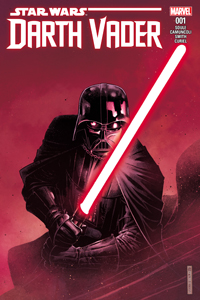 STAR WARS: DARTH VADER #1
Charles Soule, Giuseppe Camuncoli, Jim Cheung
The most fearsome villain of all time returns with an all-new series!
When Anakin Skywalker fell, both to the pull of the dark side and to the blade of Obi-Wan Kenobi, he rose back up, more machine than man. Having lost everything that was once dear to him, the former chosen one must take his first steps into a darker world... as Darth Vader, Dark Lord of the Sith! Join Vader as he learns a new way - the way of Darth Sidious and his newly formed Empire... the way of the dark side.
In Shops: Jun 07, 2017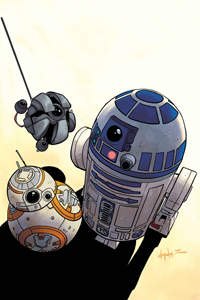 STAR WARS: DROIDS UNPLUGGED #1
Chris Eliopoulos, Chris Eliopoulos
Collecting three stories featuring everyone's favorite droids!
What adventures did the probe droids in The Phantom Menace get into when Darth Maul wasn't looking? Luke's got a mission for R2-D2! But can the astromech complete it in time? And all BB-8 wants is to help... two Resistance soldiers fall in love!
In Shops: Jun 28, 2017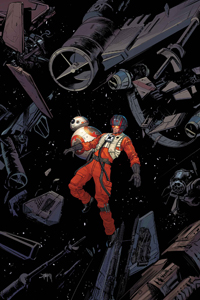 STAR WARS: POE DAMERON - ANNUAL #1
Robert P. Thompson, Nicole Virella, Dan Mora
Poe Dameron has never been one to follow the rules. So when he disobeys a direct order from General Leia Organa and gets stranded in First Order space... ...with no ship and little oxygen... ...how will he survive?
In Shops: Jun 21, 2017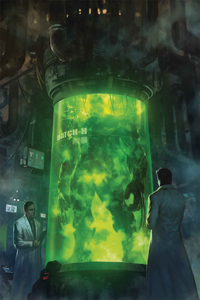 WEAPONS OF MUTANT DESTRUCTION #1
Greg Pak, Mahmud A. Asrar, Skan
For years, the Weapon X program has engineered the deadliest mutant killers on planet Earth, until they mysteriously vanished. Now, the Weapon X program is back, and it's deadlier than ever, and it isn't to use mutants for their lethal ends. Under the leadership of its mysterious new director, Weapon X has a new mission - eradicate all mutants! And they're starting their hunt with the most dangerous group of mutants on planet Earth - Old Man Logan, Sabretooth, Domino, Lady Deathstrike, Warpath and... the Hulk?! But with an army of genetic cyborgs at their disposal, this may just be the beginning...
In Shops: Jun 21, 2017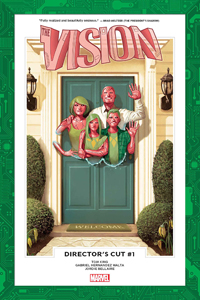 VISION #1 - DIRECTORS CUT
Tom King, Gabriel Hernandez Walta, Michael Del Mundo
One of the most surprising super-hero stories ever told, now better than ever! Experience Tom King and Gabriel Hernandez Walta's masterpiece... re-presented with bonus behind-the-scenes content!
Behold the Visions! They're the family next door, and they have the power to kill us all. What could possibly go wrong?
Collecting Vision (2015) #1-2, plus extras - including Tom King's original series pitch, script excerpts, character designs and sketches by Gabriel Hernandez Walta, cover sketches by Mike del Mundo and more.
In Shops: Jun 14, 2017
SELECTED INDEPENDENT PUBLISHERS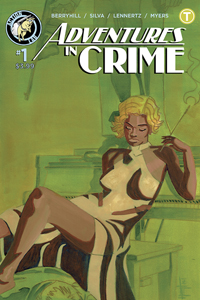 ADVENTURES IN CRIME #1
ACTION LAB
Shane Berryhill, Hoyt Silva
Golden Age Comics creator Jack Levi places his life in jeopardy when he begins a secret affair with the femme fatale mistress of his mob boss publisher.
Adventures in Crime places a noir-action spin on the classic love triangle tale, and serves as 'comics-on-comics' the way films like Argo and Hail, Caesar! served as 'Hollywood-on-Hollywood'.
In Shops: Jun 07, 2017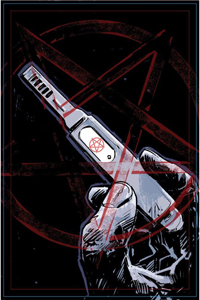 BABYTEETH #1
AFTERSHOCK COMICS
Donny Cates, Garry Brown
Sadie Ritter is sixteen years old, nine months pregnant, and scared out of her sweet nerdy mind. Having a baby that young is tough, but with the support of her loving family behind her, everything should be okay. Oh yeah, and also her baby is the antichrist and it's going to break open the barriers between the earthly and demonic planes and unleash eternal suffering to all of humankind. Other than that, though... should be fine.
From the writer of Buzzkill, Paybacks, Redneck and the break-out hit God Country comes a pulse-pounding new series with art from The Revisionist's Garry Brown!
In Shops: Jun 14, 2017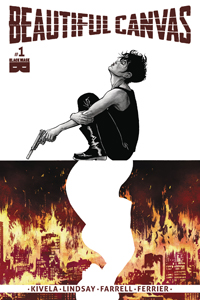 BEAUTIFUL CANVAS #1
BLACK MASK COMICS
Ryan Lindsay, Sami Kivela
Lon Eisley is a hitwoman hired to kill a small child a few days after discovering her girlfriend pregnant. In a bold declaration of uncertainty, she saves the boy and hits the road, despire the fact her boss clearly wanted him dead for a reason. This warped crime dystopia delves into the emotional dichotomy of creator/destroyer as Lon tries to connect the two very different worlds she now inhabits.
From Sami Kivela (Chum) and Ryan K Lindsay (Negative Space, DC Writers Workshop) comes a gonzo tale of personal discovery, animal/hybrid hit troupes, and reactive pyrokinesis.
In Shops: Jun 28, 2017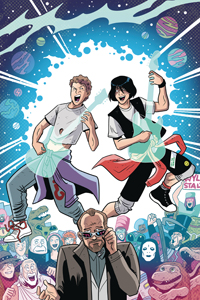 BILL AND TED SAVE THE UNIVERSE #1
BOOM! STUDIOS
Brian Joines, Bachan, Derek Charm
The Wyld Stallyns are back, and this time they're travelling across the whole universe! Bill and Ted have been kidnapped by a bodacious alien and are handed over to... their long-lost family?!
Brian Joines and Bachan (Bill And Ted Go To Hell) team up once more for an all-new Bill And Ted adventure.
In Shops: Jun 21, 2017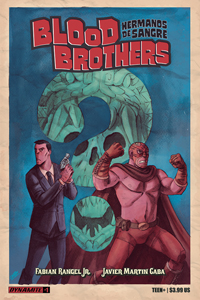 BLOOD BROTHERS #1
DYNAMITE
Fabian, Jr. Rangel, Javier Caba
Diego and Gabriel Soliz are two unusual brothers just trying to do their job in an even more unusual city. What's their job? They're detectives in a city populated by creatures from mythology and fantasy. When an Aztec skull is stolen from the museum, the Blood Borthers are assigned to the case!
In Shops: Jun 28, 2017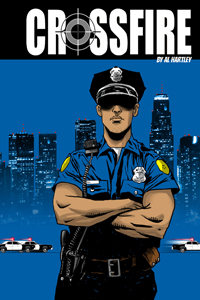 CROSSFIRE
ANTARCTIC PRESS
Al Hartley, Al Hartley, Ben Dunn
Antarctic Press teams up with Truthmonger Comics Group to bring you a special restored edition of Crossfire by former Archie, Atlas and Marvel artist, Al Hartley!
From deep within the vaults of comic-book history comes an urban crime adventure from the perspective of a spiritual cop who never gives up and never gives in! With art restored by Ben Dunn and helmed by Art Greenhaw, by permission of the Al Hartley Estate, we bring you a resurrected classic for fans of Silver Age and Bronze Age crime comics!
In Shops: Jun 28, 2017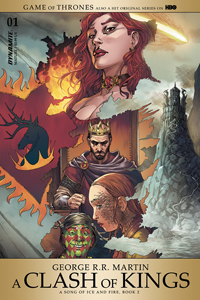 GAME OF THRONES: CLASH OF KINGS #1
DYNAMITE
George R. R. Martin, Landry Quinn Walker, Mel Rubi, Mike S. Miller
George R. R. Martin's A Song of Ice and Fire saga continues in the official comic book adaptation by Dynamite Entertainment!
Following the events of A Game of Thrones, Westeros is embroiled in civil war, while Daenerys Targaryen - as heir to the Targaryen dynasty, seeks to reclaim the Iron Throne. Arya, with the help of Yoren, a brother of the Night's Watch, has escaped from King's Landing, but the road to the Wall brings its own dangers. Meanwhile, Sansa attends a tournament on the sadistic King Joffrey's name-day, and Bran, in Winterfell, suffers from strange dreams of wolves...
In Shops: Jun 07, 2017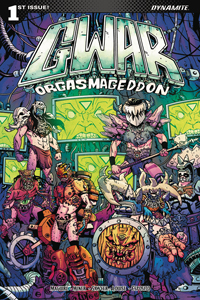 GWAR: ORGASMAGEDDON #1
DYNAMITE
Matt Maguire, Matt Miner, Jonathan Brandon Sawyer
From the depths of outer space to the frozen wasteland of Antarctica, punk rock and heavy metal's most shocking and blasphemous band of intergalactic blood spewing alien monsters has returned to kill everything and respect nothing in the pages of Gwar: Orgasmageddon!
Banished to the past by the cold and calculating Mr. Perfect, the heroes of Gwar trample through time like a deranged Bill and Ted on bath salts - antics ensue as they stomp and smash and shape human history to what we accept as our current reality.
Co-written by Gwar themselves and Matt Miner (Toe Tag Riot, Critical Hit), Gwar: Orgasmageddon is a love letter to comics, grindhouse movies, and heavy metal - sure to appeal to the most die-hard fan and the comics fanboy/fangirl intrigued by the prospect of social awareness drowned in geysers of blood and alien goo.
In Shops: Jun 07, 2017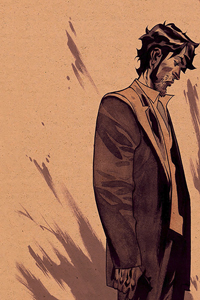 JAZZ MAYNARD #1
MAGNETIC PRESS
Raule, Roger Ibanez Ugena
Jazz Maynard is a trumpeter; he also hides a variety of skills best kept secret. It's these skills he uses when he discovers his long-lost sister is in the grip of New York sex traffickers. On a mission to her rescue and return her home, a labyrinth of trouble opens up beneath his feet, dropping him into a web of intrigue and danger that most men would not survive. Jazz Maynard is not most men.
In Shops: Jun 21, 2017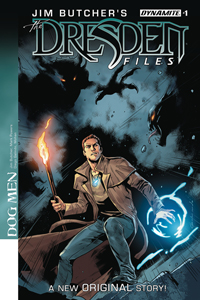 JIM BUTCHER'S DRESDEN FILES: DOG MEN #1
DYNAMITE
Jim Butcher, Mark Powers, Diego Galindo
Jim Butcher's worldwide bestselling Dresden Files saga continues in this original limited series!
Harry Dresden is a man on the edge - and that is something that can be dangerous to friend and foe alike. He's been drafted by a senior member of the White Council of Wizards to investigate a series of murders in rural Mississippi. As always, there's more afoot than is immediately apparent. The question is, will Harry's state of mind keep him from seeing it, and will his actions lead him into direct conflict with the wizard who's depending on his help?
In Shops: Jun 14, 2017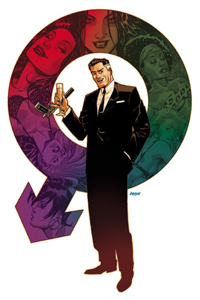 JIMMY'S BASTARDS #1
AFTERSHOCK COMICS
Garth Ennis, Russell Braun, Dave Johnson
Jimmy Regent, Britain's number one super-spy, has got it all: intrigue, adventure, a license to shoot whoever he likes and beautiful women falling at his feet. He also has a new partner who isn't quite as impressed by Jimmy as all other women appear to be. Now, there's a price to pay for Jimmy's multiple romantic conquests - the results of which are about to come calling in the worst possible way...
From the creator and writer of Preacher and The Boys comes the brand-new series that had to be told at AfterShock Comics.
In Shops: Jun 07, 2017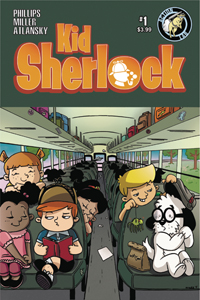 KID SHERLOCK #1
ACTION LAB
Justin Phillips, Sean Miller
John Watson doesn't feel like he really fits in as the new student at Baker Elementary. If if wasn't bad enough being the only dog, it seems he has already gained the attention of the class bully, Kyle. Out in the play yard, Watson feels even more alone until he meets a young boy named Sherlock Holmes. While quite clever, Sherlock is often so lost in his own thoughts that he is oblivious to the people around him. However, when Watson shows an interest in Sherlock's work it sparks the beginning of an adventure Sherlock never expected, friendship. Their first mission, identify the bad smell that has been afflicting their classroom.
In Shops: Jun 15, 2017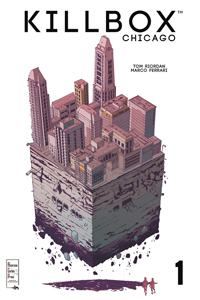 KILLBOX: CHICAGO #1
AMERICAN GOTHIC
Tom Riordan, Marco Ferrari
It's back! American Gothic Press' gritty saga of rage and violence takes to the streets of Chicago, where new contestants - and one old - are preparing for a new game. Meanwhile, having escaped Los Angeles, Timothy, Sasha, and Emi seek help from the yakuza in San Francisco. But a mysterious trio of masked killers is hot on their trail, and confrontation could get ugly.
Tom Riordan and artist Marco Ferrari take Killbox in a new and terrifying direction!
In Shops: Jun 21, 2017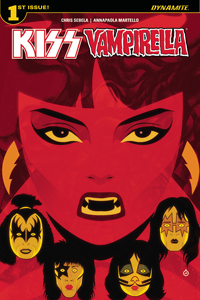 KISS / VAMPIRELLA #1
DYNAMITE
Christopher Sebela, Annapaola Martello, Juan Doe
L.A. is a strange town on the best of days, but in the summer of 1974, the City of Angels feels especially demonic. As temperatures soar and wildfires burn, all sorts of strange creatures are drawn to town, including Vampirella. While Vampi goes out and hunts down monsters all across La La Land - defending humanity from evil - she's also killing it every night on stage as a member of the all-girl rock group Witchkraft - defending rock 'n' roll from a dying scene. Help arrives in the form of four creatures who've just flown into town: The Starchild, The Demon, The Spaceman and The Catman. Away from their home turf and trying to record their new album, Kiss discovers that all their favorite L.A. bands have mysteriously broken up, disappeared, sold out, or gone crazy. Led by a driver who moonlights in the occult and haunted by satanic strangers dressed in black, Kiss finds themselves drawn into a web conspiracy that threatens to kill rock 'n' roll itself.
In Shops: Jun 07, 2017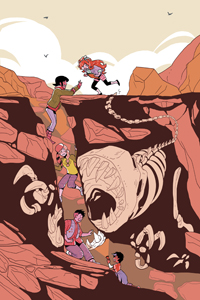 LUMBERJANES - 2017 SPECIAL: FAIRE AND SQUARE #1
BOOM! STUDIOS
Holly Black, Marina Julia, Gaby Epstein, Ru Xu
The Lumberjanes versus... a dragon?? Featuring Holly Black (Spiderwick Chronicles)!
In Shops: Jun 14, 2017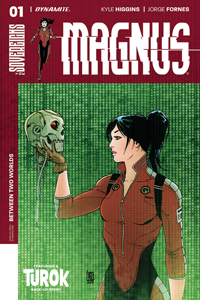 MAGNUS #1
DYNAMITE
Kyle Higgins, Chuck Wendig, Jorge Fornes, Alvaro Sarreseca, Giuseppe Camuncoli
Do humans dream of owning electric sheep? Artificial intelligences, rather than becoming our overlords, have settled into an uneasy symbiosis with humanity - they work for us as our colleagues and servants, earning vacation-time they spend in a boundless digital universe running on human-maintained server farms. But not all AIs are cool with the deal. Enter Magnus - a human psychologist tasked with navigating both worlds in order to bring recalcitrant AIs back into productive society...
Bonus Turok story, Chapter Three! The all-new saga of the all-new Turok continues: He's a man on a mission, possessed, and he won't let anyone or anything get in his way!
In Shops: Jun 07, 2017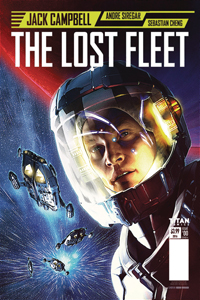 LOST FLEET: CORSAIR #1
TITAN COMICS
Jack Campbell, Andre Siregar, Alex Ronald
Jack Campbell, the author behind the Lost Fleet novels, is now bringing his best-selling sci-fi series to comics. The Lost Fleet: Corsair features all the engaging character elements that have helped make the Lost Fleet novels such an incredible success – but this time, the series' epic space battles are brought to stunning life thanks to incredible visuals from Andrew Siregar (Sevara), complimented by color work by Sebastian Cheng (Orphan Black, The X-Files).
Imprisoned by the Syndics, Michael Geary's one chance lies in Destina Aragon – determined commander of a regiment of hardened soldiers now caught up in a wide scale rebellion within Syndic space. Seeking to escape both their prison and Syndic space, will Geary and Aragon join forces to get home – or will the hatreds stirred by a decades-old war kill them both?
In Shops: Jun 07, 2017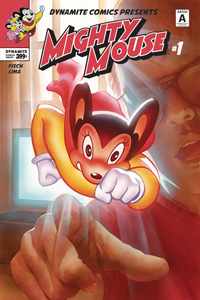 MIGHTY MOUSE #1
DYNAMITE
Sholly Fisch, Igor Lima, Alex Ross
You're the world's greatest hero, exiled to another dimension with no way back. Trapped in an alien world, where not even the laws of physics work the way they should. The only person who even believes you exist is a young kid whom no one will listen to. Yet, you're the shining light that this drab, cynical world needs to restore its color and life. Oh - and you're a cartoon mouse. Here comes Mighty Mouse to save the day, in his most unexpected adventure yet... right here, in the real world!
In Shops: Jun 07, 2017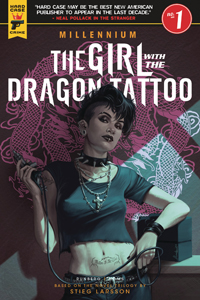 MILLENNIUM: THE GIRL WITH THE DRAGON TATTOO #1
TITAN COMICS
Sylvain Runberg, Jose Homs, Claudia SG Iannicello
Facing prison time for slander, discredited journalist Mikel Blompkvist is hired by a reclusive industrialist to investigate an unresolved family disappearance. Aided by the mysterious computer hacker, Lisbeth Salander, the two soon discover a brutal trail of murder, deception and dark secrets leading right up to the present day.
In Shops: Jun 28, 2017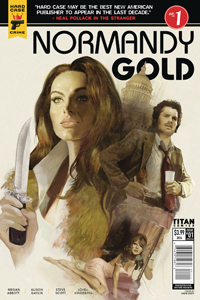 NORMANDY GOLD #1
TITAN COMICS
Alison Gaylin, Megan Abbot, Steve Scott, Fay Dalton
When her younger sister is found at the center of a brutal murder case, tough-as-nails sheriff Normandy Gold is forced to dive headfirst into the seedy world of 1970s prostitution.
In Shops: Jun 14, 2017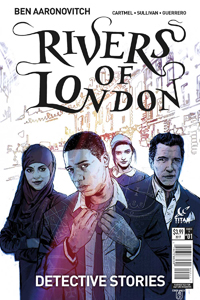 RIVERS OF LONDON: DETECTIVE STORIES #1
TITAN COMICS
Ben Aaronovitch, Andrew Cartmel, Lee Sullivan, Mack Chater
Four self-contained magical crimes, as recounted by detective peter grant to his superiors!
In Shops: Jun 07, 2017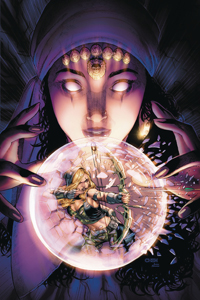 ROBYN HOOD / TAROT
ZENESCOPE
Joe Brusha, Sean Chen
The Order of Tarot has long existed in the shadows but now it has emerged to take its place as the ruler of Earth and the surrounding realms of power. But there are still a couple of people who stand in the way of the Order's reign... Robyn and Mystere are about to be pulled into a deadly game of survival by a mysterious gypsy that seeks to destroy them both.
In Shops: Jun 07, 2017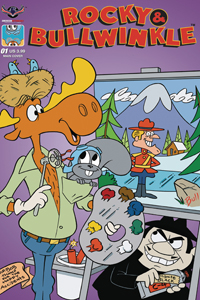 ROCKY AND BULLWINKLE SHOW #1
AMERICAN MYTHOLOGY
Todd Livingston, Jacob Greenawalt, S. L. Gallant
Hey Rocky, watch me pull a rabbit out of my hat! That staple of Saturday morning cartoon shenanigans, The Rocky And Bullwinkle Show, is back in all its satirical slapsticky joy! The entire misfit cast of Jay Ward's wonderful series are here - Rocket J. Squirrel, Bullwinkle the Moose, Mr. Peabody And Sherman, Dudley Do-Right and everyone's favorite Russian hooligans, Boris and Natasha!
American Mythology celebrates the return of a one-of-a kind comic book with adventures and high jinx that are fresh and funny while remaining true to the look and format of the classics!
In Shops: Jun 21, 2017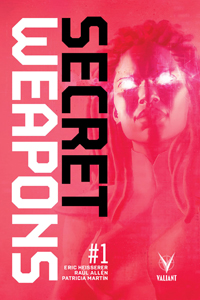 SECRET WEAPONS #1
VALIANT
Eric Heisserer, Raul Allen
Academy Award-nominated screenwriter Eric Heisserer (Arrival) joins Harvey Award-nominated artist Raúl Allén (Wrath of the Eternal Warrior) for Valiant's next prestige format limited series, starring Livewire and an extraordinary new team of heroes!
The government has dispatched Amanda McKee - the technopath codenamed Livewire - to investigate the ruins of a secret facility formerly run by Toyo Harada, the most powerful telepath on Earth and her former mentor. In his quest for world betterment at any cost, Harada sought out and activated many potential psiots like himself. Those who survived, but whose powers he deemed to have no value to his cause, were hidden away at this installation. But Livewire, having studied Harada's greatest strengths and learned his deepest weaknesses, senses opportunity where he once saw failure. A young girl who can talk to birds... A boy who can make inanimate objects gently glow... To others, these are expensive failures. But, to Livewire, they are secret weapons... in need of a leader. Now, as a mechanized killer called Rexo seeks to draw them out, Livewire and her new team of cadets will be forced to put their powers into action... in ways they never could have imagined...
In Shops: Jun 28, 2017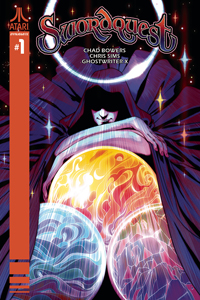 SWORDQUEST #1
DYNAMITE
Scott Kowalchuk, Chris Sims, Ghostwriter X, Goni Montes
The Atari Age returns to comics with the most unexpected story of the year: SwordQuest!
The red-hot team of Chris Sims, Chad Bowers, and Ghostwriter X (Down Set Fight) have a new game - and the stakes have never been higher!
In Shops: Jun 21, 2017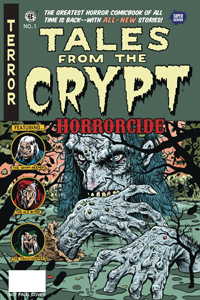 TALES FROM THE CRYPT: HORRORCIDE #1
SUPER GENIUS
Larry Hama, Mike Mayhew, Miran Kim, Jolyon Yates, Michael Golden
An all-new three-issue series of the legendary EC comic, that's exercising its Demon-given right to commit Horror!
Special Guest Writer/Editor Larry Hama invites you to witness three terror-tales that you may never forget-no matter how hard you try! First, The Crypt-Keeper takes us into Alice Hernandez's dark bedroom to introduce us to "The Ghost in the Closet"! How she got there and who she is, will shock you! The Old Witch also takes you to another world to meet "Baku the Reaver," a fearless black barbarian who dares to defy the gods in a mad power play that may can Baku more than he can imagine. Finally, The Vault-Keeper brings us back in time to medieval France to encounter "Etienne the Strangler"!
In Shops: Jun 28, 2017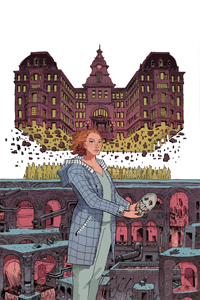 UNSOUND #1
BOOM! STUDIOS
Cullen Bunn, Jack Cole
Ashli's first day as a nurse at Wiermont Psychiatric Hospital turns into a nightmare as a bloody riot sends her fleeing into the bowels of the hospital. Her descent takes her to a hellish world populated by lunatics and monsters, cloaked in a secret history of black magic and heinous scientific experiments.
In Shops: Jun 07, 2017

(GRAPHIC) NOVEL IDEAS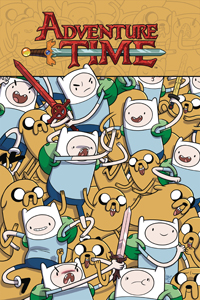 ADVENTURE TIME VOL.12
BOOM! STUDIOS
Christopher Hastings, Ian McGinty
Finn and Jake wake up in a bizarre world inside of BMO, and it looks like BMO is determined to give them the best game of their lives!
Collects issues #54-57.
In Shops:
Aug 23, 2017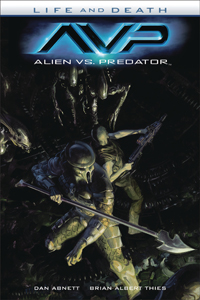 ALIEN VS PREDATOR: LIFE AND DEATH
DARK HORSE COMICS
Dan Abnett, Brian Thies, David Palumbo
Three women face deadly choices as the graphic novel cycle of "Life and Death" comes to its conclusion, intersecting with the previous "Fire and Stone" story cycle to create a massive tale of humanity's confrontation with the galaxy's three greatest terrors!
Collects the four-issue series Alien vs Predator: Life and Death and the double-sized Prometheus - Life and Death: Final Conflict.
In Shops: Aug 09, 2017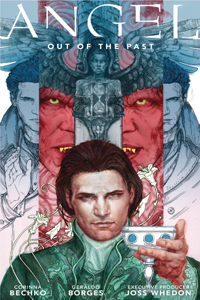 ANGEL - SEASON 11 VOL.1: OUT OF THE PAST
DARK HORSE COMICS
Corinna Bechko, Geraldo Borges, Scott Fischer
Angel, a reformed vampire cursed with a soul, is tormented by a vision linking his shameful past to something very big - and very bad - that is coming. As Angel and his friend Fred begin trying to solve the mystery, the goddess Illyria gives Angel some insight and incentive. Then she really gets involved, and Angel discovers that it might be possible to change the future by changing the past.
Collects issues #1-4 of the series.
In Shops: Aug 09, 2017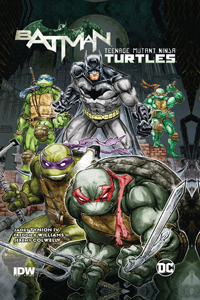 BATMAN / TEENAGE MUTANT NINJA TURTLES VOL.1
DC COMICS
James Tynion IV, Freddie Williams II
The sold-out, smash-hit six-issue miniseries co-published with IDW is now available in paperback!
It all starts in Gotham City, as a series of deadly raids leads Batman to believe he is up against a group of highly trained ninjas. Somehow, the Foot Clan has crossed over to another dimension-but they haven't come alone: Leonardo, Raphael, Donatello and Michelangelo are on their trail!
In Shops: Jul 19, 2017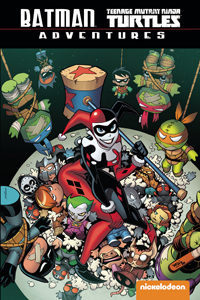 BATMAN / TMNT ADVENTURES
IDW PUBLISHING
Matthew K. Manning, Jon Sommariva
The animated worlds of the current Teenage Mutant Ninja Turtles Nickelodeon cartoon and Batman: The Animated Series collide in this outstanding mini-series featuring fan-favorite characters from both universes! Villains start to mysteriously escape Arkham and Batman seeks to track them down, but he discovers that they have left Gotham completely... and gone to the New York City of the Teenage Mutant Ninja Turtles!
Featuring the first Batman: The Animated Series new material since 2004 when The Batman Adventures concluded.
In Shops: Jul 12, 2017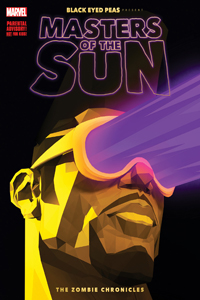 BLACK EYED PEAS PRESENTS MASTERS OF THE SUN: THE ZOMBIES CHRONICLES (HC)
MARVEL COMICS
Will.I.Am, Damion Scott
From the mind of Will.i.am comes this retro futuristic B-Boy Zombie Thriller, fusing together the unlikeliest of genres with ease!
Masters Of The Sun mixes L.A. Gang culture, B-Boy-ism and Egyptology to tell the heroic tale of a Hip-Hop group from East L.A. who must battle an ancient, alien God sent to earth to continue a Black Curse which turns drug dealers and gangsters into zombies. With a deep love of the Hip-Hop culture, Zulu-X and his crew go head-to-head with a nefarious ancient order that has infiltrated the inner cities to settle an ancient score. What happens next can only be described as the perfect blend of action, ancient wisdom and street-smarts all rolled into one epic adventure.
Boasting one of the most eclectic ensemble cast of characters, Masters of The Sun delivers a powerful social allegory in the form of a new movement... #stayWOKE!!!
In Shops: Jul 19, 2017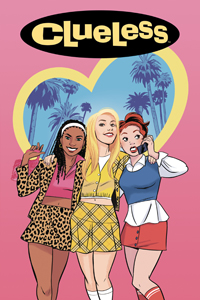 CLUELESS VOL.1
BOOM! STUDIOS
Amber Benson, Sarah Kuhn, Siobhan Keenan, Natacha Bustos
Your favorite girls from Beverly Hills are back in an all-new adventure!
It's senior year and Cher, Dionne, and Tai find themselves in a bit of a crisis of self... where are they meant to go, and what are they meant to do after high school? Luckily they have all year - and each other's help - to figure it out!
In Shops: Aug 23, 2017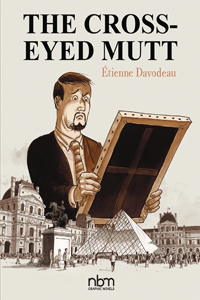 THE CROSS-EYED MUTT (HC)
NBM
Etienne Davodeau, Etienne Davodeau
By the author of The Initiates and Lulu Anew!
A raucous satirical comedy that asks: Who decides what makes a work of art worthy of being in a major museum? Fabian is supervisor at the Louvre. He loves his job. He also loves Mathilde. When it comes time, she presents him to her family in their vast country house and not without some apprehension, as the Benion clan is a bit special. The fact that Fabian works in the Louvre is a welcome coincidence, since they just found in the attic a painting by an ancestor in the nineteenth century. It's a sorry representation of a cross-eyed mutt. What is the value? ask the Benion. Is this an eyesore or a masterpiece? Fabian, pretty embarrassed, punts on the question. So for the Benion, case closed, if it's not an eyesore then no doubt it has its place on the walls of the Louvre!
In Shops: Jun 28, 2017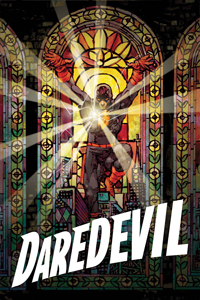 DAREDEVIL - BACK IN BLACK VOL.4: IDENTITY
MARVEL COMICS
Charles Soule, Ron Garney, Goran Sudzuka, Marc Laming, Dan Panosian
There's a bounty on Daredevil's head big enough to bring out every contract killer in New York City. But you'll never believe who the client is - or who takes on the hit! Then, the answer to the questions everyone has been asking! How did Matt Murdock put his double-identity genie back in the bottle? What price did he have to pay? And who got left behind in the process? The full story is about to be revealed - and so will the depths to which Daredevil is willing to sink! But once the tale of heartbreak and burned bridges is told, it may be impossible for Matt to claw his way back! It's all leading up to a brand-new chapter for DD - and a fight unlike any he's faced before!
Collecting Daredevil (2015) #15-20.
In Shops: Jul 19, 2017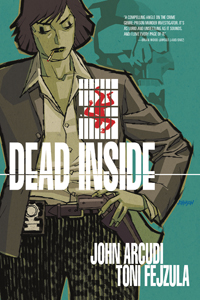 DEAD INSIDE VOL.1
DARK HORSE COMICS
John Arcudi, Toni Fejzula, Dave Johnson
The Jail Crimes Division of the Sheriff's Office in Mariposa County investigates crimes committed inside county jails. With a limited number of suspects who can't escape, these are usually easy cases to solve-but not this one. As detective Linda Caruso gets closer to the heart of the case, she discovers uncomfortable truths about her friends, her job, and her community.
Collects issues #1-5.
In Shops: Aug 02, 2017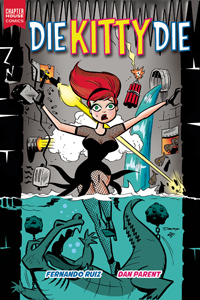 DIE KITTY DIE (HC)
CHAPTERHOUSE COMICS
Dan Parent, Fernando Ruiz, Darwyn Cooke
The hit comic collected in a hardcover!
Kitty Ravencraft, a beautiful and magical young witch, is the star of her own popu-lar comic book. When her greedy, publicity-starved publisher wants to in-crease in-terest in her comic book, he does what many comic book publishers do nowadays - he sets out to kill his main character, Kitty! Even worse, he decides to really spike sales by killing the real Kitty in real life! The question is though, how do you kill a witch?
In Shops: Mar 08, 2017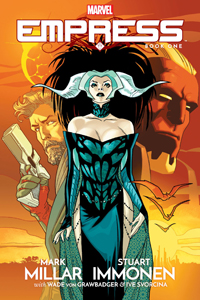 EMPRESS - BOOK 1
MARVEL COMICS
Mark Millar, Stuart Immonen
Imagine you're married to the worst bad guy from your favorite sci-fi movie. An alien dictator feared throughout the universe, who will kill you if you leave - but you need to escape for the sake of your three children. That's the life of Queen Emporia. All she has is her wits, her bodyguard and three guns to get her kids across the galaxy - and her husband Morax's forces are in hot pursuit. Easy, right? Their desperate race for their lives will take them through interplanetary war zones, across dead worlds and into the path of monstrous beasts! Danger piles upon danger when slavers circle and a tribal priestess thirsts for a blood sacrifice! All the while, Morax executes anyone and everyone in his way. Welcome to Empress, your new favorite comic!
Collecting Empress #1-7.
In Shops: Jul 05, 2017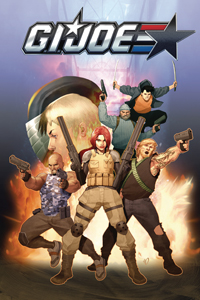 GI JOE
IDW PUBLISHING
Aubrey Sitterson, Giannis Milonogiannis, Ariel Olivetti
GI Joe finds a new role in a world of globalization, Transformers and aliens! After the events of "Revolution", the GI Joe team returns to the fray and their mission has become a global one - leading the charge against invading Transformers and other aliens. But when a US military defense base goes dark, Scarlett has reason to suspect that these enemy forces may have infiltrated GI Joe. It's up to her, Roadblock, Rock 'n Roll, Quick Kick, Wild Bill and Shipwreck to move in and root out any traitors before the facility falls into the wrong hands!
Collects issues #1-4 and the GI Joe: Revolution one-shot.
In Shops: Jul 12, 2017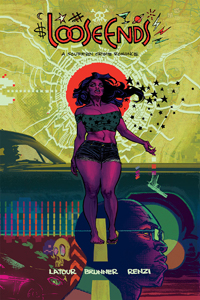 LOOSE ENDS
IMAGE COMICS
Jason Latour, Chris Brunner, Rico Renzi
No one seemed to notice Sonny Gibson as he stepped back into "The Hideaway," a dusty little honky-tonk nestled off the Carolina highway. But before the night was over, Sonny would be on the run-from the law, from criminals, and even from himself.
Loose Ends is a gritty, slow-cooked, Southern crime romance that follows a winding trail down Tobacco Road, through the war-torn streets of Baghdad, and into the bright lights and bloody gutters of South Florida.
From Jason Latour, co-creator of Eisner-winning Southern Bastards and the writer of Spider-Gwen, Chris Brunner (Southern Bastards, Batman: Legends Of The Dark Knight) and Rico Renzi (Spider-Gwen, Squirrel Girl).
Collects Loose Ends #1-4.
In Shops: Jul 05, 2017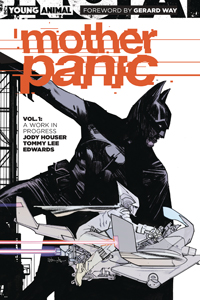 MOTHER PANIC VOL.1: WORK IN PROGRESS
DC COMICS
Jody Houser, Jim Krueger, Shawn Crystal, Phil Hester, Tommy Lee Edwards
There's a new vigilante on the streets of Gotham City and she's got her own brand of violent justice. Enter Mother Panic! By day, Violet Paige is a celebutante with a bad attitude and a temper to match, whom no one suspects of having anything lying beneath the surface of her outrageous exploits. But Violet isn't just another bored heiress in the upper echelons of Gotham City's elite. Motivated by her traumatic youth, Violet seeks to exact vengeance on her privileged peers as the terrifying new vigilante known only as Mother Panic.
Collects issues #1-6 of this new series!
In Shops: Jul 26, 2017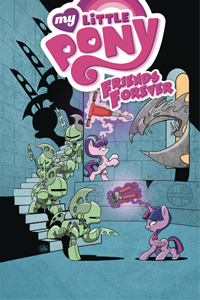 MY LITTLE PONY: FRIENDS FOREVER VOL.9
IDW PUBLISHING
Thom Zahler, Rob Anderson, Christina Rice, Agnes Garbowska, Tony Fleecs, Jay P. Fosgitt
Friends Forever celebrates the magic of friendship in these stand-alone tales featuring all of your favorite characters. Share adventures with Pinkie Pie and Cheese Sandwich, Twilight Sparkle and Starlight Glimmer, Rainbow Dash and Soarin, and more.
Collects issues #34-38.
In Shops: Jul 05, 2017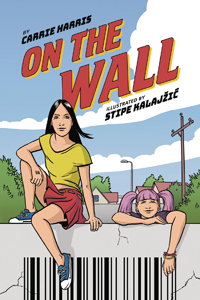 ON THE WALL
ONE PEACE BOOKS
Carrie Harris, Stipe Kalajzic
Mirror, mirror on the wall. Who's the biggest loser of them all? Mira Mason has the world's most useless superpower: she can pass through shiny objects. Super-lame, right? Being a teenager is tough enough without throwing a useless power into the mix. It's silly to be scared of a girl who can phase through a salad fork with the greatest of ease. All she wants to do is put the resident mean girl in her place and convince her crush that she exists. But someone with a power like hers is popping out of mirrors to spy on local girls like a total creeper.
In Shops:
Jun 07, 2017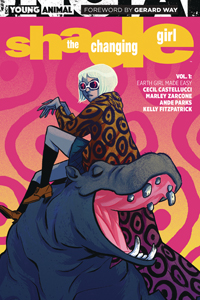 SHADE THE CHANGING GIRL VOL.1: EARTH GIRL MADE EASY
DC COMICS
Cecil Castellucci, Asher Powell, Marley Zarcone, Gilbert Hernandez, Mirka Andolfo, Becky Cloonan
On the planet Meta, young Loma steals the madness coat that once belonged to Rac Shade and makes a break across galaxies to take up residence in a new body: Earth girl Megan Boyer. Only now Loma learns that Megan was a bully whom everyone hated, and Loma has to survive high school with the ever-growing and uncontrollable madness at her side-not to mention there are people back on her homeworld who might just want Shade's coat back.
Collects issues #1-6.
In Shops: Jul 12, 2017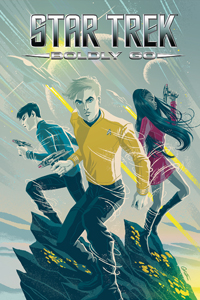 STAR TREK: BOLDLY GO VOL.1
IDW PUBLISHING
Mike Johnson, Tony Shasteen, George Caltsoudas
All-new Star Trek series following the adventures of Captain Kirk and the iconic crew! New worlds! New species! New ships! And a new danger unlike anything the Federation has encountered before! Boldly go into a new era of Star Trek!
Collects issues #1-6!
In Shops: Jul 19, 2017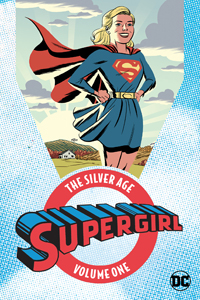 SUPERGIRL: THE SILVER AGE VOL.1
DC COMICS
Otto Binder, Jerry Siegel, Al Plastino, Jim Mooney, Michael Cho
In these stories from Action Comics #252-284, Supergirl adjusts to life on Earth with her adoptive parents. The stories alternate between small-town slice-of-life tales, tales of Supergirl's efforts to master her new powers, and time-traveling jaunts into the far future and past. Plus, don't miss an early appearance of the Legion of Super-Heroes!
In Shops: Jul 19, 2017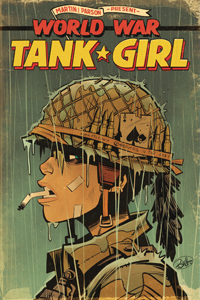 TANK GIRL: WORLD WAR TANK GIRL
TITAN COMICS
Alan Martin, Brett Parson
With a few bars of gold left, and Sub Girl's uneasy feeling that she left something behind, Tank Girl hires her scientist friend to reinvent time travel. The Third Reich have no idea what is coming their way!
In Shops:
Sep 20, 2017
BIFF'S BIT
GOOD NEWS: A CHANGE OF DIRECTION FROM MARVEL
As long term followers of my musings know, I have found the recent years of Marvel output very dispiriting. There are excellent comics, but the constant changing of style, direction, lack of contact with the readers via letters pages, reboots to return to issue #1 (to artificially boost sales), universe altering events happening every few months, and a lack of attention to any real character and cast development have caused a drop in sales and lost the company many, many previously long term readers. It has got to such a sad state of affairs that in our stores and many other stores across the UK, a Marvel relaunch is seen as a 'dropping off' point for readers and not a 'coming on board' stage.
How is this good news?
Well I have just finished reading X-Men Gold #1 and I am happy to report this is an excellent start and a great comic read. At the back of the comic there is a wonderful six page summary of the last fifty years in short succinct panel recaps - text and art - to bring everyone, new and old, up to speed with past events. Then a 'hello' from writer Marc Guggenheim, which explained to me why the book felt so good. His mission statement is to get back to basics. The X-Men are no longer facing numerous existential threats and are instead going back to saving a world that hates them. He wants to write stories that have the feel of days past, but with modernity too.
The comic itself was a fast paced read that had the characters, especially Kitty Pryde who exuded confidence, knowing exactly how she was going to resolve the appearance of Terrax The Tamer. This reminded me of how in the early days Cyclops acted and commanded total respect from all of the original team. A successful intervention was then rounded off by coming face-to-face with a very bigoted response from the gathered crowd. This time, instead of questioning why, they even attempted to help and accepted that this was the first step on a long road to acceptance. Then followed some down time littered with humour and characterisation, plus a 'Danger Room' sequence - always a favourite of mine. The last page cliffhanger produced the appearance of the Brotherhood Of Evil Mutants - a modern group, not Magneto, Toad and ensemble. This holds so much promise that I hope the rest of the new Marvel releases are going to take the same or similar approach.
TIPS FOR THE MONTH
Garth Ennis has never failed to deliver great comics, adult in content, but great comics. His new title, Jimmy's Bastards from Aftershock, looks to promise more of his unique take on genres. The 'hero', Jimmy Regent, is Britain's number one super-spy so expect sex, violence and mayhem!
My other one to look out for is from Image called September Mourning. The title is the lead character's name and she has no past that she can remember. Her mind is filled with the voices of the dead and in her capacity as a reaper of the lonely, she is tasked with collecting the souls of the 'worthless' to hold until she can help them realise the last thing they left unfinished in their life. It boasts lovely cover art by Marc Silvestri with interior art by Sumeyye Kesgin. This female artist, based in Istanbul, has a vibrant and exciting art style which looks well suited to the premise of the character. Writer Mariah McCourt has sixteen years of comic experience with work on Fables, Lucifer and Trueblood to name a few. Check it out in June 2017.
Happy Easter and don't forget that the Easter Bunny is watching you, so be good!

Graphic Novel Top 20 Chart: March 2017
See March's best-selling graphic novels including Saga, Harley Quinn, BPRD, Pellucidar, Deathstroke, Cannibal, Batgirl, Astro City and Legend Of Zelda...