The latest issue of Illuminations, our free monthly web app that showcases upcoming new series and one-shots, is now available to read online!
Illuminations #342 – What's inside?
Featured Titles
MASS EFFECT: DISCOVERY #1
DARK HORSE COMICS
Jeremy Barlow, John Dombrow, Kate Niemczyk, Gabriel Guzman
A young Turian military recruit goes undercover in order to infiltrate the mysterious Andromeda Initiative – and ultimately retrieve a scientist who's made a potentially devastating discovery. Tying in to the highly anticipated release of Mass Effect: Andromeda, writers Jeremy Barlow and John Dombrow and artist Gabriel Guzmán team up to create the next exciting chapter of the Mass Effect comics series!
BUG: THE ADVENTURES OF FORAGER #1
DC COMICS
Lee Allred, Michael Allred
An all-new 'Young Animal' miniseries begins!
Forager is just one of the Hive before he breaks out of his cocoon and finds himself in a mysterious house in an unknown realm. There he meets all kinds of strange creatures: a ghostly girl, a talking teddy bear and otherworldly weirdos that have literally jumped out of his worst nightmares. But these interdimensional oddballs are nothing compared to the evil General Electric, who is on the hunt for a reality-bending metal that could alter the fabric of life itself. To stay one step ahead of him and preserve the multiverse, Forager must travel through alternate dimensions to seek the metal and, hopefully, catch up with that cagey stuffed bear. If he does it, will he finally be able to distinguish himself as a New God?
DC's 'Young Animal' celebrates Jack Kirby's centenary with this new six-issue miniseries – and who better to tackle this task than the Eisner Award-winning Allred clan! Featuring scripts by Lee Allred (Batman '66), art by Michael Allred (Silver Surfer) and colors by Laura Allred (Lady Killer), Bug! is truly a family affair.
STAR TREK – THE NEXT GENERATION: MIRROR BROKEN #1
IDW PUBLISHING
Scott Tipton, David Tipton, J. K. Woodward
The Star Trek mini-series event of the year kicks off!
Captain Jean-Luc Picard will stop at nothing to get his hands on the Empire's newest warship, the ISS Enterprise, be it lies, deception… or murder. With enemies and allies around every corner, Picard's quest to help the Enterprise and restore the Empire to glory will not be an easy one. Good thing he has a crew onboard who will also stop at nothing to ensure total victory – at any cost.
ETERNAL EMPIRE #1
IMAGE COMICS
Sarah Vaughn, Jonathan Luna
Jonathan Luna (Alex + Ada, The Sword, Spider-Woman: Origin) and Sarah Vaughn (Alex + Ada, Deadman: Dark Mansion of Forbidden Love, Ruined) return with Eternal Empire, a fantasy epic!
The Eternal Empress has waged war against the countries of Saia for over one hundred years and now her sights are set on the last country standing. Within the brutal Empire's workforce, a young woman receives strange visions that give her the courage to escape her fate… or run straight toward it.
ALL NEW GUARDIANS OF THE GALAXY #1
MARVEL COMICS
Gerry Duggan, Aaron Kuder
A new era of cosmic adventure begins here!
The Guardians of the Galaxy have taken off into space once more, on their biggest and weirdest misadventures yet! Kicking things off with the biggest heist they've ever tried, we join Star-Lord, Rocket Raccoon and company as they blast their way through the galaxy, the peacekeepers of the Nova Corps hot on their tails. And once they find themselves caught in a war between The Collector and The Grandmaster, there will hardly be time to explain why Groot can't grow any bigger, what Gamora is searching for or why Drax has sworn off violence! But don't worry, we will – with a new twice-monthly schedule, All-New Guardians of the Galaxy has space for all your Marvel Cosmic needs!
CALEXIT #1
BLACK MASK COMICS
Matt Pizzolo, Amancay Nahuelpan
What if a fascist, autocratic President took over the United States? And what if that President lost California, the sixth largest economy on Earth, by nearly 2-to-1… a margin of almost 3 1/2 million votes? What if the day after that President took power, the largest mass demonstration in history occurred, and the state with the largest turnout was California. And then, the following week, two of the largest international airports in the world, California's LAX and SFO, were blockaded by protesters? What if California refused to be ruled?
From the creators of Young Terrorists, Matteo Pizzolo (Godkiller) and Amancay Nahuelpan (Clandestino), comes this tale of resisting oppression, punching Nazis, protecting each other, kicking ass, and demanding liberty for all.
Novel Ideas
Our selection of nineteen recommended graphic novels include the following top reads:
DOCTOR APHRA VOL.1: APHRA

JOSIE AND THE PUSSYCATS VOL.1

JUSTICE LEAGUE VS SUICIDE SQUAD (HC)

PROVIDENCE: ACT 2 (LIMITED HC)

SERENITY VOL.5: NO POWER IN THE 'VERSE (HC)
Biff's Bit
"…This month my top tip is for their new series Pestilence, written by Frank Tieri and drawn by Oleg Okunev. The scene is the 14th century, the time is that of the Black Death – a supposed plague that swept through Europe killing millions. However, it is really the first non-recorded Zombie infestation of man! Check this out. I think it will be a good one…." – excerpt
Top 20 Graphic Novel Chart
See February's best-selling graphic novels including Superman, Outcast, Seven To Eternity, Snotgirl, Daredevil, Nameless, Sex, Batman and Civil War II…
Hit the image below to access the web app!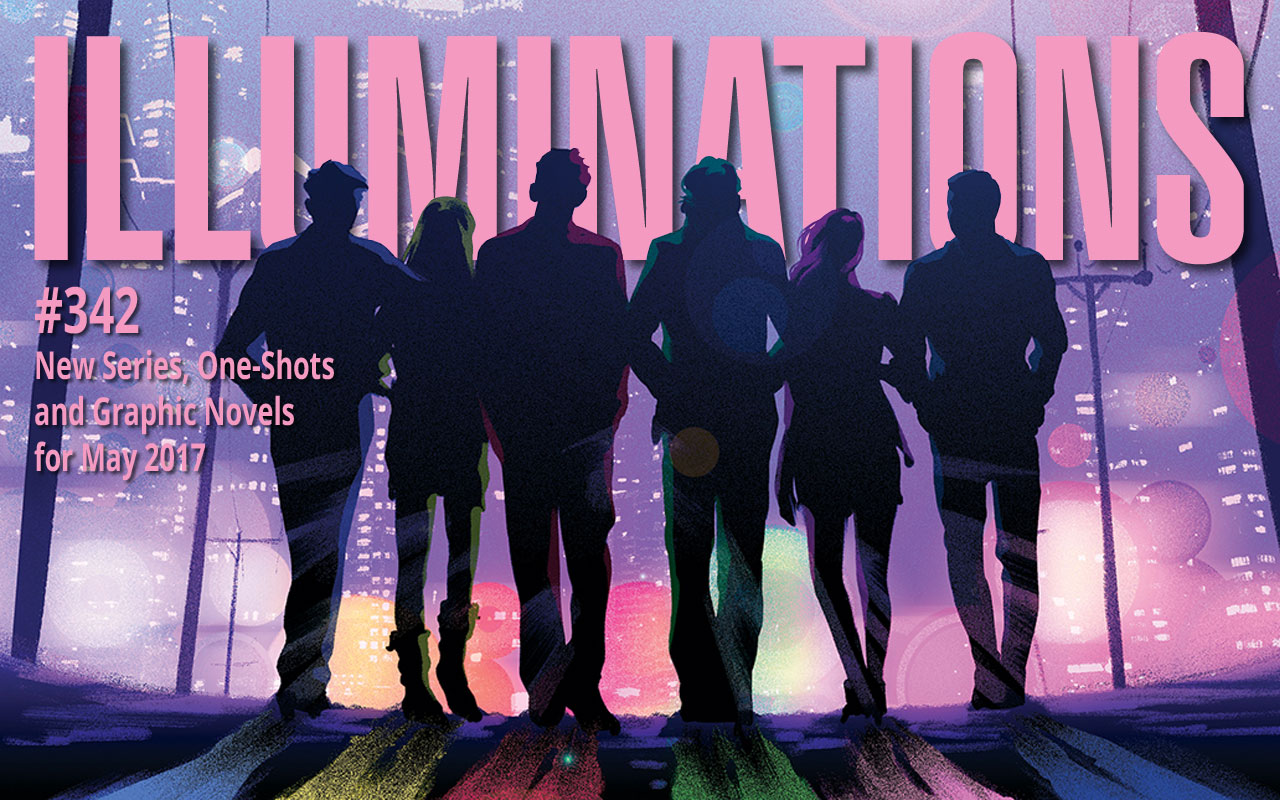 Visit our Illuminations page, for previous issues.