#342
New Series, One-Shots
and Graphic Novels
for May 2017

New Comic Series and One-Shots for May...
DC COMICS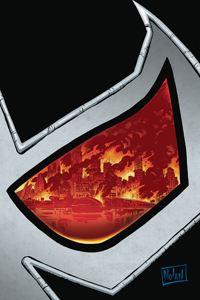 BANE: CONQUEST #1
Chuck Dixon, Graham Nolan
The co-creators of Bane make a triumphant return to the character, with a twelve-issue series that will push him to the limit!
Bane is seeking to create a global criminal empire with the help of his original gang, Bird, Trogg, and Zombie. The Man Who Broke The Bat moves beyond Gotham to find new cities to conquer and new enemies to crush. He won't stop until he stands at the top of the world of crime! For Bane, it's all about Conquest.
In Shops: May 03, 2017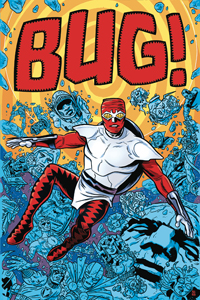 BUG: THE ADVENTURES OF FORAGER #1
Lee Allred, Michael Allred
An all-new 'Young Animal' miniseries begins!
Forager is just one of the Hive before he breaks out of his cocoon and finds himself in a mysterious house in an unknown realm. There he meets all kinds of strange creatures: a ghostly girl, a talking teddy bear and otherworldly weirdos that have literally jumped out of his worst nightmares. But these interdimensional oddballs are nothing compared to the evil General Electric, who is on the hunt for a reality-bending metal that could alter the fabric of life itself. To stay one step ahead of him and preserve the multiverse, Forager must travel through alternate dimensions to seek the metal and, hopefully, catch up with that cagey stuffed bear. If he does it, will he finally be able to distinguish himself as a New God?
DC's 'Young Animal' celebrates Jack Kirby's centenary with this new six-issue miniseries - and who better to tackle this task than the Eisner Award-winning Allred clan! Featuring scripts by Lee Allred (Batman '66), art by Michael Allred (Silver Surfer) and colors by Laura Allred (Lady Killer), Bug! is truly a family affair.
In Shops: May 10, 2017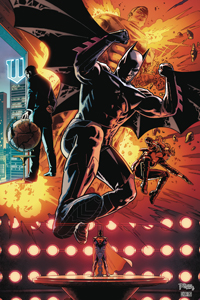 INJUSTICE 2 #1
Tom Taylor, Bruno Redondo, Juan Albarran, Jim Lee, Scott Williams
The all-new prequel to the highly anticipated Injustice 2 video game begins here!
Original Injustice writer Tom Taylor continues the story from the hit series Injustice: Gods Among Us. Superman is imprisoned, and it's up to Batman to put the world back together. But with Superman's iron-fisted regime eliminated, other forces rise up to fill the void. And Batman doesn't have a lot of allies left to help stop them.
In Shops: May 03, 2017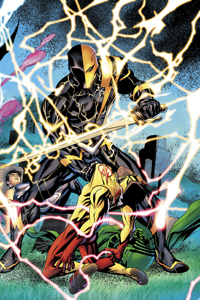 TEEN TITANS: LAZARUS CONTRACT - SPECIAL #1
"The Lazarus Contract" finale!
The conclusion to the epic crossover is here, with consequences of which will be felt for years to come! What does the future hold for the Titans teams after this game-changing run-in with their greatest enemy? Find out here as we set the stage for the next era of Titans, Teen Titans and Deathstroke!
In Shops: May 31, 2017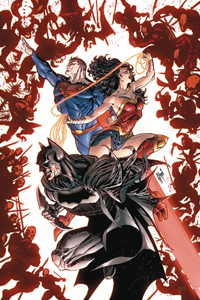 TRINITY - ANNUAL #1
Rob Williams, Guillem March
You don't betray Ra's al Ghul and legendary sorceress Circe and just walk away. That's what Lex Luthor is about to learn the hard way. Now, he has to unite with his former Justice League teammates if he wants to stay alive. Meanwhile, the Trinity fear this ordeal will push Lex back to the dark side.
In Shops: May 31, 2017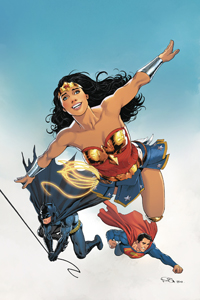 WONDER WOMAN - ANNUAL #1
Greg Rucka, Liam Sharp, Nicola Scott
The world of the Amazing Amazon expands in a collection of short stories that take Wonder Woman around the globe!
In the days after "Year One," Diana comes face-to-face with Superman and Batman for the first time, as illustrated by "Year One" artist Nicola Scott... and years later, Liam Sharp brings you the story of how their friendship has evolved!
In Shops: May 31, 2017
IDW PUBLISHING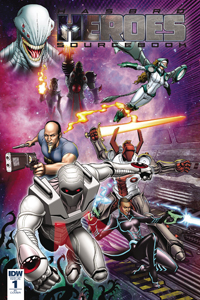 HASBRO HEROES SOURCEBOOK #1
John Barber, Various, Robert Atkins, Various, Fico Ossio
If you're new to the Hasbro Universe or a long-time fan, this book is for you! Featuring a veritable ton of bios on your favorite characters, from A to D, plus papercraft projects, a map of the new GI Joe Headquarters and an exclusive story featuring Rock 'n' Roll and his fateful encounter with the Cold Crawlers!
Featuring writing and art by some of today's top talent including John Barber, Guido Guidi, Aubrey Sitterson, Fico Ossio, Chris Ryall, Jack Lawrence, Brandon Easton, Steve Kurth, Cullen Bunn, Robert Atkins, Mairghread Scott, David Messina, and Jimmy Johnston!
In Shops: May 10, 2017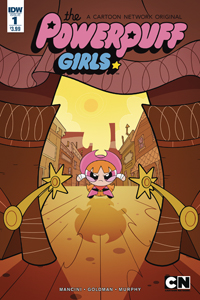 POWERPUFF GIRLS: TIME TIE #1
Haley Mancini, Jake Goldman, Philip Murphy
Mojo Jojo has decided that because he can never destroy the Powerpuff Girls, he'll do the next best thing: zap them into another time!!! He uses his patented "Time Tie" to blast the three little heroes back into three separate eras in the past. Can the girls find their way back to the present before Mojo can fulfill his mission: The complete destruction of Townsville!
In Shops: May 10, 2017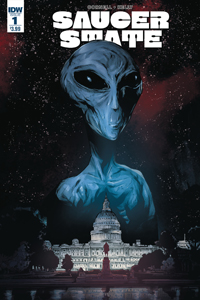 SAUCER STATE #1
Paul Cornell, Ryan Kelly
She was abducted by aliens. Now she's the President. She's going to use the power of that office to find out what really happened. But will they let her?
Saucer State is the sequel to and the conclusion of the Hugo Award nominated Saucer Country. It's House of Cards does The X-Files. It's a bulletin from the brightest timeline. She will break the world to find who hurt her. And new readers can start here.
In Shops: May 10, 2017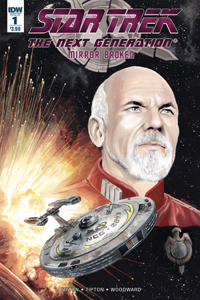 STAR TREK - THE NEXT GENERATION: MIRROR BROKEN #1
Scott Tipton, David Tipton, J. K. Woodward
The Star Trek mini-series event of the year kicks off!
Captain Jean-Luc Picard will stop at nothing to get his hands on the Empire's newest warship, the ISS Enterprise, be it lies, deception... or murder. With enemies and allies around every corner, Picard's quest to help the Enterprise and restore the Empire to glory will not be an easy one. Good thing he has a crew onboard who will also stop at nothing to ensure total victory - at any cost.
In Shops: May 10, 2017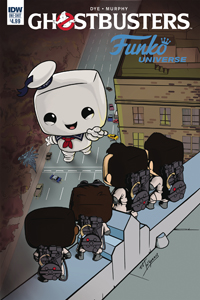 GHOSTBUSTERS: FUNKO UNIVERSE
Troy Dye, Philip Murphy, Eddie Irizarry
An ancient Japanese prophecy foretold that when the Masters of the Four Winds unite, they would become unstoppable. Instead, the four masters killed each other in battle, proving the prophecy false. More than 600 years later, an ancient shuriken is unearthed, releasing the spirit of one of the masters to seek out and resurrect the other three in order to fulfill the prophecy. Now, the only thing that stands between the undead ninja and the destruction of the land of the living is... the Ghostbusters!
In Shops: May 10, 2017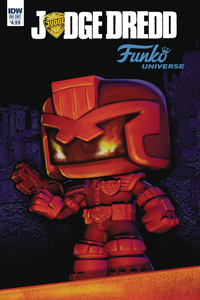 JUDGE DREDD: FUNKO UNIVERSE
John Layman, Francesco Gaston, Rob Schwartz
Check out the funkiest Dredd of all-time as Funko takes over Mega-City One!
Perps like Judge Death and the Angel Gang may strike fear in the hearts of citizens, but Judge Dredd is here to stop them! And he may be cute but never forget - he is the law!
In Shops: May 31, 2017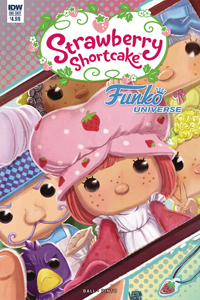 STRAWBERRY SHORTCAKE: FUNKO UNIVERSE
Georgia Ball, Valentina Pinto
Journey back to Strawberryland with Funko Pop and old friends like Blueberry Muffin, Huckleberry Pie and of course, Strawberry Shortcake!
Wherever she goes, trouble and the Purple Pie Man of Porcupine Peak are sure to follow on a berry sweet Funko adventure.
In Shops: May 03, 2017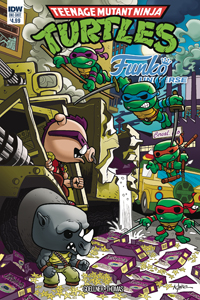 TEENAGE MUTANT NINJA TURTLES: FUNKO UNIVERSE
Caleb Goellner, Nico Pena
The Funko craze comes to Teenage Mutant Ninja Turtles!
Funko-style Teenage Mutant Ninja Turtles get wind of a new Shredder-inspired cereal and go to the source to investigate the bad-guy based breakfast! An absurd and hilarious adventure awaits!
In Shops: May 24, 2017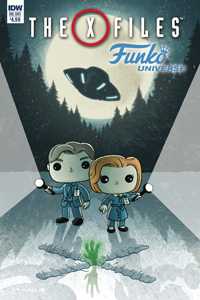 X-FILES: FUNKO UNIVERSE
Derek Fridolfs, Denton J. Tipton, Mike Raicht, Matthew Dow Smith, Chris Fenoglio, Troy Little, Pamela Lovas, Charles Paul Wilson
A bevy of talented creators seek the truth - and some laughs - with this Funko version of your favorite FBI agents! After this, you'll believe that Scully and Mulder couldn't be any cuter!
Featuring art by fan favorites such as Troy Little (Powerpuff Girls) and Charles Paul Wilson III (Stuff of Legend)!
In Shops: May 17, 2017
IMAGE COMICS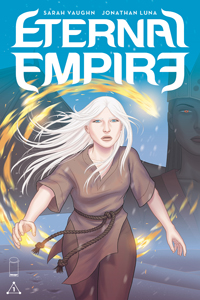 ETERNAL EMPIRE #1
Sarah Vaughn, Jonathan Luna
Jonathan Luna (Alex + Ada, The Sword, Spider-Woman: Origin) and Sarah Vaughn (Alex + Ada, Deadman: Dark Mansion of Forbidden Love, Ruined) return with Eternal Empire, a fantasy epic!
The Eternal Empress has waged war against the countries of Saia for over one hundred years and now her sights are set on the last country standing. Within the brutal Empire's workforce, a young woman receives strange visions that give her the courage to escape her fate… or run straight toward it.
In Shops: May 03, 2017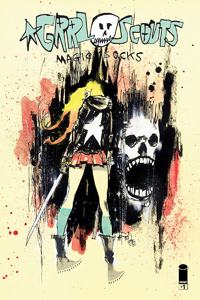 GRRL SCOUTS: MAGIC SOCKS #1
Jim Mahfood
Jim Mahfood (Tank Girl, Clerks) debuts his first new creator-owned work in years with the glorious return of Grrl Scouts!
Join Gwen, Daphne, and Rita as they reunite for a pulse-pounding psychedelic adventure through the streets of Freak City. This first issue is stuffed to the gills with an action-packed story, bonus art, soundtrack, sketchbook, and a behind-the-scenes comic thingy. Plus, a variant cover by the one and only Skottie Young! Pure fun! Pure flavor!
In Shops: May 17, 2017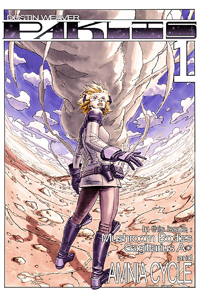 PAKLIS #1
Dustin Weaver
Do you accept the life you've been handed, or do you step into the unknown, even as it leads you into the shadows? In this new anthology series from writer/artist Dustin Weaver, the characters in three mind-bending stories find themselves faced with this question.
In "Mushroom Bodies," Greg struggles with knowing what's real and fears becoming complacent in a world of human insects.
In the first installment of "sagittarius A*," war hero Linus Rad is on a mission to the center of the galaxy to learn the dark secrets of his dead father's scientific experiments.
In the first chapter of "Amina Cycle," Tara, a young Jet-Wing pilot, goes AWOL in the war against the Nuriel in order to help Amnia, a mysterious alien with no memory of where she came from and a desperate need to stop a terrible disaster! When Amnia disappears, it sends Tara on an adventure into the Shadow Zone.
Step into the unknown. Journey into the shadows. There you'll find Paklis.
In Shops: May 31, 2017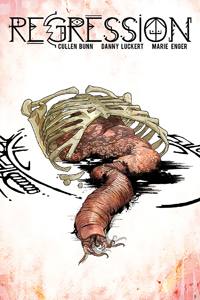 REGRESSION #1
Cullen Bunn, Danny Luckert, Marie Enger
Adrian is plagued by ghastly waking nightmares. To understand and possibly treat these awful visions, Adrian reluctantly agrees to past life regression hypnotherapy. As his consciousness is cast back through time, Adrian witnesses a scene of horrific debauchery and diabolism. Waking, he is more unsettled than before, and with good reason-something has followed him back. Adrian descends into a world of occult conspiracy, mystery, reincarnation, and insanity from which there is no escape.
Presented by Cullen Bunn (Harrow County, The Sixth Gun, The Empty Man), Danny Luckert (Haunted) and Marie Enger (Pistolwhip, 2 Sisters), Regression is a tale of supernatural terror and intrigue unlike any horror comic you've ever experienced.
In Shops: May 10, 2017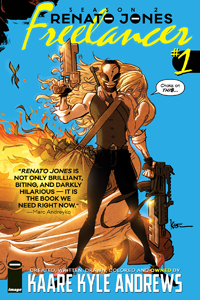 RENATO JONES - SEASON TWO #1
Kaare Andrews
"The Freelancer", Part One. Mysterious vigilante Renato Jones showed the One% that, for all their money, for all their power, they are not untouchable. But now they're pushing back, and the resulting class warfare may be more than even Renato can handle. When full-time villains control the whole world, the only hero who can take on the job is self-employed...a Freelancer.
Kaare Kyle Andrews proudly presents Season Two of the most dangerous comic on the planet!
In Shops: May 10, 2017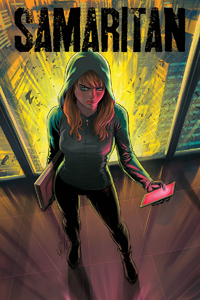 SAMARITAN #1
Matt Hawkins, Atilio Rojo
A woman with a vendetta decides she's going to take down the largest military contractor in the world and has the means and a plan that just might work. How do you bankrupt one of the richest, most technologically advanced and successful companies in the world? You steal all their research and give it away to everyone. Can she survive long enough to pull it off with the entire U.S. government trying to kill her?
In Shops: May 24, 2017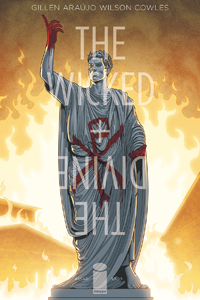 WICKED + DIVINE: 455 AD #1
Kieron Gillen, Andre Araujo, Jamie McKelvie, Matt Wilson
"City Of God". Nothing lives forever, be it man, god, or empire, but that doesn't mean you have to go quietly. Join us as Lucifer refuses to fiddle while the Roman Empire burns.
The critically acclaimed The Wicked + The Divine inevitably vandalizes history as it turns to the Sack of Rome. Showcasing the epic art of André Lima Araújo (Avengers AI, Man Plus), the special is NOT included in the forthcoming fifth volume of The Wicked + The Divine.
In Shops: May 17, 2017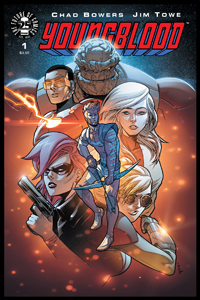 YOUNGBLOOD #1
Chad Bowers, Jim Towe
"Youngblood Reborn" Part One. Debut anniversary issue! 25 years ago, Youngblood launched the Image Revolution and turned the comics world on its head! Now the original blockbuster hit series returns with an all-new cast and a brand-new mission!
When a young hero goes missing, his friend's search for answers leads to some unexpected allies. Together, they'll do whatever it takes to find him… even if it means resurrecting the world's most infamous super-team.
Gear up, strap in, and get ready to rediscover comics' most extreme universe with creators Chad Bowers (X-Men '92, Deadpool: Bad Blood) and newcomer Jim Towe!
In Shops: May 03, 2017
MARVEL COMICS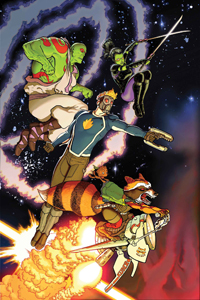 ALL NEW GUARDIANS OF THE GALAXY #1
Gerry Duggan, Aaron Kuder
A new era of cosmic adventure begins here!
The Guardians of the Galaxy have taken off into space once more, on their biggest and weirdest misadventures yet! Kicking things off with the biggest heist they've ever tried, we join Star-Lord, Rocket Raccoon and company as they blast their way through the galaxy, the peacekeepers of the Nova Corps hot on their tails. And once they find themselves caught in a war between The Collector and The Grandmaster, there will hardly be time to explain why Groot can't grow any bigger, what Gamora is searching for or why Drax has sworn off violence! But don't worry, we will - with a new twice-monthly schedule, All-New Guardians of the Galaxy has space for all your Marvel Cosmic needs!
In Shops: May 03, 2017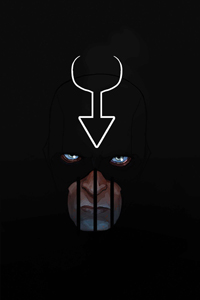 BLACK BOLT #1
Saladin Ahmed, Christian Ward
The King of the Inhumans' first solo series!
Black Bolt imprisoned! But by who? And where exactly? The answers to both will shock you! But to learn those answers, Black Bolt must first win a fight to the death with a fellow inmate - The Absorbing Man!
Award-winning science fiction writer Saladin Ahmed (Throne of the Crescent Moon) crafts a story as trippy as it is action-packed, with truly mind-bending art from the one and only Christian Ward!
In Shops: May 03, 2017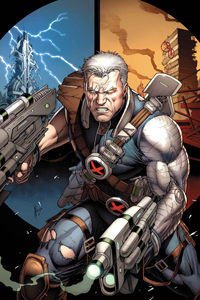 CABLE #1
James Robinson, Carlos Pacheco, Dale Keown
Walk softly...And carry a big gun!
Cable sees the mighty mutant return on a brand-new mission... with all of time in the balance! When Cable picks up the trail of a threat in the timestream, he sets off on a high-speed, history-spanning chase to save reality as we know it. From prehistory to modern day, whether it's a six-gun duel at high noon or a high-tech sword fight in an ancient land, Cable is the only man who can keep history from unraveling!
In Shops: May 31, 2017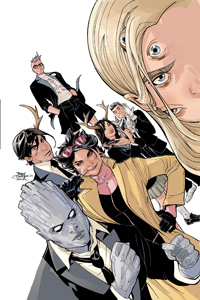 GENERATION X #1
Christina Strain, Amilcar Pinna, Terry Dodson
The Xavier Institute for Mutant Education and Outreach has opened its doors and is ready to foster the next generation of heroes and diplomats! But this time around, the X-Men recognize an unfortunate truth: not all mutants are created equal. Some mutants are not made to fight Sentinels or serve as ambassadors on behalf of their kind. Some mutants will just be lucky to survive another day in a world that hates and fears them. And who better to mentor mutantkind's lovable losers than perpetual sidekick Jubilee? But will Jubilee and Generation X survive the experience??
In Shops: May 17, 2017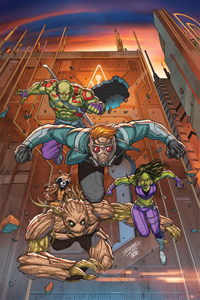 GUARDIANS OF THE GALAXY: MISSION BREAKOUT #1
Christopher Hastings, Tigh Walker, Ron Lim
The Collector's many-worlds-famous collection is opening its doors to the public - and you won't believe the star attraction. Only the Guardians can break through Taneleer Tivan's security and break out! The Marvel Universe story of Disney's newest, raddest ride!
In Shops: May 03, 2017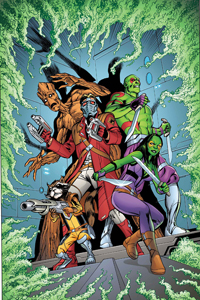 GUARDIANS OF THE GALAXY: MOTHER ENTROPY #1
Various
The Guardians owe everyone on Knowhere money, so they're forced to do a job for the local police. But that gets them running afoul of Pip the Troll and a mysterious entity known only as Mother Entropy. And that's when the fun begins.
In Shops: May 03, 2017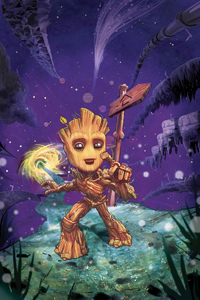 I AM GROOT #1
Christopher Hastings, Flaviano, Marco D'Alfonso
Groot in his own series, smaller and better than ever!
When the Guardians of the Galaxy get caught in a wormhole, a smaller-than-normal Groot is separated billions of light-years away from the team. Falling to a planet below, Groot discovers he is on an entirely alien and unknown world full of strange creatures and societies. Seriously underdeveloped and with nobody who can understand him, Groot will need to make the journey to the center of this world and find the way back to his family!
In Shops: May 24, 2017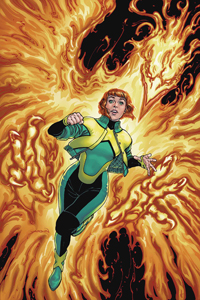 JEAN GREY #1
Dennis Hopeless, Victor Ibanez, David Yardin
When a teenage Jean Grey traveled through time and arrived in the present, she learned the terrible fate that befell her predecessor: Possessed by a cosmic entity called the Phoenix, Jean was trapped in an endless cycle of life and death. Determined to escape that future, Jean set out to write her own destiny. But now, she's visited by a premonition that the Phoenix is coming for her... and in this new ongoing series by Dennis Hopeless (All-New X-Men, Spider-Woman, X-Men: Season One) and Victor Ibanez (Extraordinary X-Men, Storm), she's going to fight tooth and nail to escape becoming its next victim!
In Shops: May 03, 2017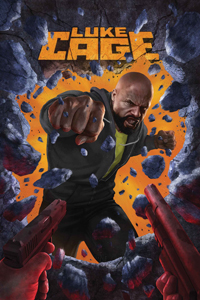 LUKE CAGE #1
David Walker, Nelson Blake, Rahzzah
Caged vengeance!
Dr. Noah Burstein, the man who made Luke Cage into the unbreakable hero he is today, is dead. When Luke goes down to New Orleans for the funeral, he finds The Big Easy to be pretty &$#% difficult. Mysterious billionaires, a woman with a secret, amped-up gangs and a shadowy figure all lead Luke to the conclusion that there's more to his father-figure's death than meets the eye. He's looking for answers, and it's a bad day for anyone in his way!
In Shops: May 17, 2017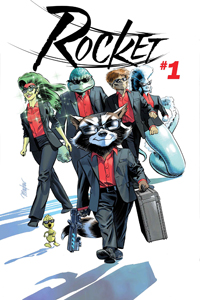 ROCKET #1
Al Ewing, Adam Gorham, Mike Mayhew
Get ready for a life of spacecrime!
It's a dirty universe out there, even when you're not regularly mistaken for trash-foraging vermin. And it's about to get dirtier. He thought his paws were clean, that he was on the up-and-up. But then an old flame swam back into his life, and he was back in the game... the heist game. If you need a safe cracked, a vault busted or a score taken... ask for Rocket. Just don't call him a raccoon.
In Shops: May 10, 2017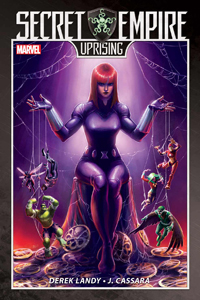 SECRET EMPIRE: UPRISING #1
Derek Landy, Joshua Cassara, Rafael Albuquerque
Classified!
The Secret Empire will champion you!
In Shops: May 31, 2017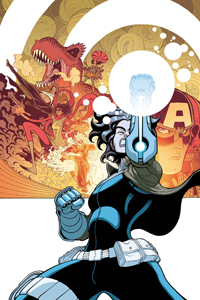 SECRET WARRIORS #1
Matthew Rosenberg, Javi Garron, Tradd Moore
A "Secret Empire" tie-in!
Captain America has been revealed to be an agent of Hydra - and he's coming after Inhumans! S.H.I.E.L.D. Agent Daisy Johnson, a.k.a. Quake, wants no part of Hydra, so she goes underground, teaming up with Ms. Marvel, Moon Girl and Devil Dinosaur, Karnak and Inferno to set things right - for the Inhumans, but also for the entire country!
Penned by rising star Matthew Rosenberg (Kingpin, Rocket Raccoon, 4 Kids Walk Into A Bank) and drawn by the immensely talented Javier Garrón (Death of X, Inhumans vs X-Men), Secret Warriors is one part coming-of-age story, one part spy-thriller, all action and all heart. Don't miss the next (and final?) generation of Inhumans as they take the Marvel Universe by storm!
In Shops: May 10, 2017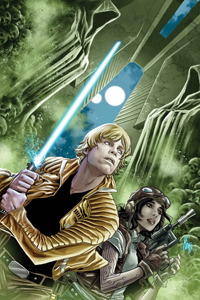 STAR WARS: SCREAMING CITADEL #1
Kieron Gillen, Marco Checchetto
"The Screaming Citadel" - Part 1. Rebel pilot and rogue archaeologist wander side by side into the darkest shadows of the galaxy as Luke Skywalker reluctantly teams up with Doctor Aphra!
The Doctor makes Luke an offer he can't afford to pass up... one that leads him to a very rare gathering at the heart of the infamous Screaming Citadel. Will Luke find what he's looking for? Can Aphra be trusted? Or will they both wind up victims of the Citadel's Queen?
In Shops: May 10, 2017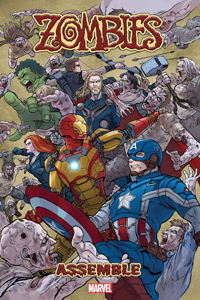 ZOMBIES ASSEMBLE #1
Yusaku Komiyama, Jim Zub
The original manga is adapted into English for the first time!
Time and again, the Avengers have assembled to save the Earth from destruction. But they've never had to face a threat as gruesome and undead as this one! Now, Earth's Mightiest Heroes must fight to contain an outbreak of horrifying zombies, and stop them from spreading across the Earth! But not all of the Avengers will escape uninfected...
In Shops: May 10, 2017
SELECTED INDEPENDENT PUBLISHERS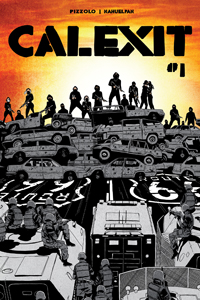 CALEXIT #1
BLACK MASK COMICS
Matt Pizzolo, Amancay Nahuelpan
What if a fascist, autocratic President took over the United States? And what if that President lost California, the sixth largest economy on Earth, by nearly 2-to-1... a margin of almost 3 1/2 million votes? What if the day after that President took power, the largest mass demonstration in history occurred, and the state with the largest turnout was California. And then, the following week, two of the largest international airports in the world, California's LAX and SFO, were blockaded by protesters? What if California refused to be ruled?
From the creators of Young Terrorists, Matteo Pizzolo (Godkiller) and Amancay Nahuelpan (Clandestino), comes this tale of resisting oppression, punching Nazis, protecting each other, kicking ass, and demanding liberty for all.
In Shops: May 31, 2017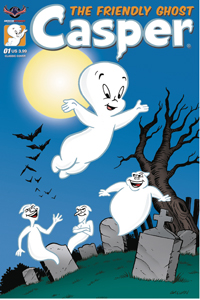 CASPER THE FRIENDLY GHOST #1
AMERICAN MYTHOLOGY
S.A. Check, John Gallagher, Mike Wolfer, John Gallagher, Bill Galvan
Casper the friendly ghost, the friendliest ghost you know. Casper and his friends Wendy the Good Little Witch and Hot Stuff the Little Devil are back!
The lovable Harvey classic returns to comics to delight kids of all ages with brand new adventures in the original beloved style. Generations of today's artists grew up on these wonderful characters and now they have an opportunity to contribute colorful new stories to their legacy. This fun first issue features three new exciting Casper stories with his friends Wendy and Hot Stuff!
Join us on Casper's journey with main cover by Adrian Ropp, Spooky variant by Mike Wolfer, Classics cover by Bill Galvan, a Blank Sketch cover, and a special Retro Animation variant cover!
In Shops: May 24, 2017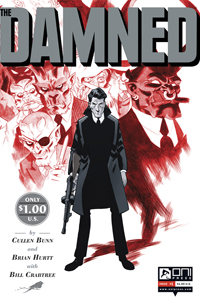 DAMNED #1
ONI PRESS
Cullen Bunn, Brian Hurtt
"Ill-Gotten" - Part 1. In a Prohibition-era world where demonic princes pull the strings that make crime families dance, Eddie is a mortal with two things working for him. First of all, he can't die. Well, he can and does, quite often, but he doesn't stay down for long. Second, Eddie runs the Gehenna Room, a nightclub with a strict "no demons allowed" policy. But blessings and curses don't look all that different these days, and failing to tell the two apart can get a guy killed-over and over again in Eddie's case. So when one of Eddie's old pals shows up seeking sanctuary, Eddie knows he's in for a double-cross, and that means walking the line between salvation and damnation once more.
In Shops: May 03, 2017
HEROCATS: MIDNIGHT OVER STELLER CITY VOL.2 #1
ACTION LAB
Kyle Puttkammer, Alex Ogle
The claws of justice are back! Midnight is forced to deal with the fallout of a prison break at the Taurus County Jail. Can Midnight corral the criminals so Stellar City can sleep safe and sound? With the help of fellow Hero Cat, Cassiopeia, they might just have a chance!
In Shops: May 10, 2017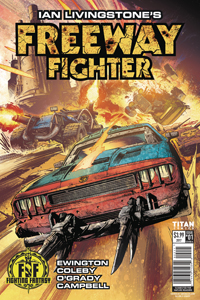 IAN LIVINGSTONE'S FREEWAY FIGHTER #1
TITAN COMICS
Andi Ewington, Simon Coleby
New story based on the cult-followed series of game books written by Andi Ewington (Exmortis, Sunflower) and illustrated by Simon Coleby (Judge Dredd, The Royals). Speed into the world of danger, death and fast cars!
In Shops: May 17, 2017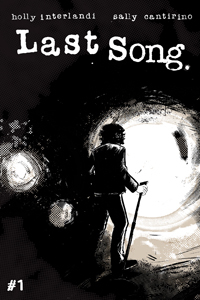 LAST SONG #1
BLACK MASK COMICS
Holly Interlandi, Sally Cantirino
Nicky Marshall was saved by rock and roll - or so he likes to think. An awkward upbringing and turmoil following his father's suicide led Nicky to form a band called Ecstasy with his childhood friend Drey. The music takes them to Los Angeles, raw and gritty and teeming with personalities.
Nicky thinks they're ready for stardom, but no one's ever ready for stardom. This first of four oversized issues begins in the 1980s, grows out of grassroots clubs and introduces Ecstasy to the world - whether it's ready for them or not.
From the brand new team of Holly Interlandi on scripts and Sally Cantirino on pencils and inks, this unique, heartbreaking story is about letting the music in... how it changes you and affects everyone around you, for better and worse.
In Shops: May 31, 2017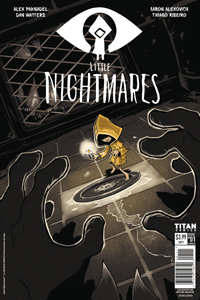 LITTLE NIGHTMARES #1
TITAN COMICS
Alex Paknadel, Dan Watters, Aaron Alexovich
Enter the terrifying and unpredictable comic series based on one of the most hotly-anticipated games of 2017!
With the comic written by Alex Paknadel (Arcadia, Assassin's Creed) and Dan Watters (Limbo, Assassins Creed) and illustrated by Aaron Alexovich (Invader Zim, Serenity Rose), the game follows Six, a young girl in a yellow raincoat, as she explores the horrifying world of The Maw, looking for a way out!
In Shops: May 03, 2017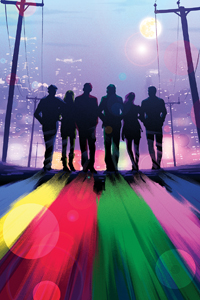 MIGHTY MORPHIN POWER RANGERS - 2017 ANNUAL #1
BOOM! STUDIOS
Kyle Higgins, Ross Thibodeaux, Marguerite Bennett, Trey Moore, James Kochalka, Jorge Corona, Rod Reis, Rob Guillory, Huang Danlan, Terry Moore, Goni Montes
The future of Mighty Morphin Power Rangers starts here as Tommy makes a choice that will have huge consequences for the team; Mighty Morphin Black Power Rangers from all across dimensions meet to face off against a deadly foe; and secret origins are revealed!
In Shops: May 10, 2017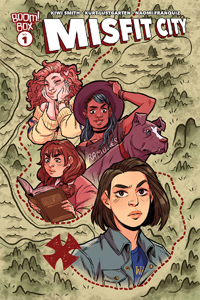 MISFIT CITY #1
BOOM! STUDIOS
Kiwi Smiith, Kurt Lustgarten, Naomi Franquiz
Nothing's happened in Wilder's hometown since they filmed that cult kids' adventure movie there in the 80s... but that's ancient history. Until one day, she and her friends come upon a centuries-old pirate map drawn by someone named Black Mary... and find out there might be some real adventure in their tiny town after all!
In Shops: May 10, 2017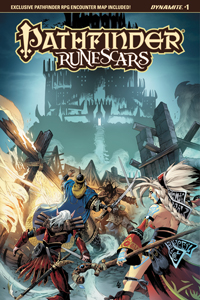 PATHFINDER: RUNESCARS #1
DYNAMITE
Wes Schneider, Ediano Silva, Jonathan Lau
An exciting new Pathfinder adventure begins! The Pathfinder heroes receive a desperate plea to unmask a killer stalking the chaos-gripped city of Korvosa. A new queen has ascended the city's Crimson Throne, and now deadly armored Hellknights and Gray Maidens clash in the streets. With the help of a cagey adventuring detective, the heroes race down the perilous trail of a brutal murderer - only to realize that the next target might be one of their own!
Dare the magic and monsters of gothic Korvosa in the first sword-swinging issue from Pathfinder co-creator F. Wesley Schneider (Pathfinder: Hollow Mountain, Bloodbound), with art from Ediano Silva (Grimm Fairy Tales, Hellchild: The Unholy). Contains pull-out poster map and official Pathfinder RPG bonus encounter!
In Shops: May 24, 2017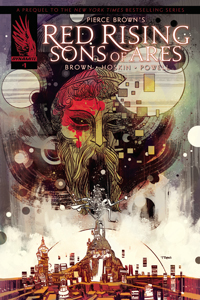 PIERCE BROWN'S RED RISING #1
DYNAMITE
Pierce Brown, Rik Hoskin, Eli Powell, Toby Cypress
From the world of the best-selling young adult series Red Rising comes a story of love and loss and rage!
In the future, when mankind has spread across the stars, the hierarchy of man is dictated by the color of one's caste. The Golds rule all, but what will happen when one falls for a lowly Red? See how a forbidden love will set the course of events for the future and lead to the formation of the formidable Sons of Ares!
Written by author Pierce Brown (The Red Rising Trilogy) and Rik Hoskin (Heroes of Skyrealm, Brandon Sanderson's White Sand), with art by Eli Powell (Yakuza Demon Killers, The 13th Artifact), comes the in-continuity story of revolution and Red Rising!
In Shops: May 10, 2017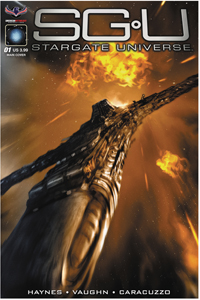 STARGATE UNIVERSE: BACK TO DESTINY #1
AMERICAN MYTHOLOGY
Greg LaRocque, Mark L. Haynes, J. C. Vaughn, Chris Scalf
Stargate Universe begins right where Season Two of the acclaimed science fiction TV series ended, with the crew and unwilling passengers of Destiny set to cross a vast expanse of space with no margin for error. With almost all of the willing and unwilling crew of the ancient starship Destiny in suspended animation, only Eli Wallace is left awake to repair his own stasis pod before time runs out. While he races against time, a new and unexpected danger threatens the fragile plan designed to keep everyone alive and away from the aliens who had been pursuing them. What strange new menace confronts Eli, Colonel Young, Doctor Rush and the others? You'll have to pick up this issue to find out!
Join the Stargate Atlantis writing team of Mark L. Haynes and J.C. Vaughn and The Land That Time Forgot and Marvel's Gorilla-Man artist Giancarlo Caracuzzo for the return of Dr. Rush, Colonel Young, Camile Wray, Eli Wallace and the rest! Stargate Universe kicks off right here!
Stargate Universe comes with five covers, main cover by legendary artist Greg LaRocque, Character Designs premium cover by interior artist Giancarlo Caracuzzo, a Photo cover, a Blank Sketch cover and an exclusive Flashback Photo variant cover!
In Shops: May 31, 2017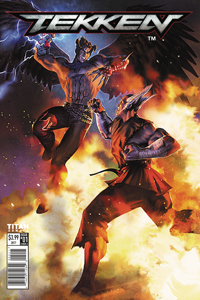 TEKKEN #1
TITAN COMICS
Cavan Scott, Andie Tong, Alex Ronald
An all new comic series based on the iconic fighting game franchise, written by Cavan Scott (Doctor Who, Vikings) and illustrated by Andie Tong!
This sensational new comic series will tap into Tekken's rich history, and will feature memorable characters from the celebrated video game canon including Heihachi Mishima, Yoshimitsu, Nina Williams and Paul Phoenix.
In Shops: May 03, 2017

(GRAPHIC) NOVEL IDEAS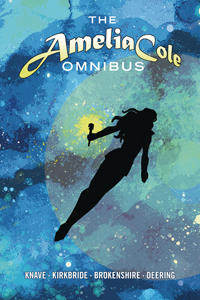 AMELIA COLE - OMNIBUS
IDW PUBLISHING
Adam P. Knave, D.J. Kirkbride, Nick Brokenshire
Magic do-gooder Amelia Cole travels between a world of science and a world of magic - until she's trapped in a blended world where the mages reign over non-mages. Now she's The Protector, and the responsibility to set things right is hers! She'll take on social injustice as well as the occasional giant corgi and demon mugger, while an ancient darkness encroaches-one that threatens all three worlds! It'll be up to Amelia, her magic pipe wrench, eight foot techno-golem Lemmy, and their strange and wonderful friends to protect everyone, save everything, and give hope to mage and non-mage alike!
Collects all 30 issues!
In Shops: Jun 14, 2017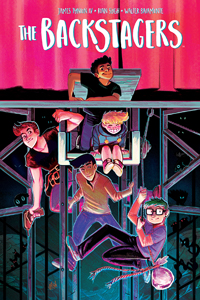 BACKSTAGERS VOL.1
BOOM! STUDIOS
James Tynion IV, Rian Sygh, Veronica Fish
James Tynion IV (Detective Comics, The Woods) teams up with artist Rian Sygh (Munchkin, Stolen Forest) for an incredibly earnest story that explores what it means to find a place to fit in when you're kinda an outcast.
When Jory transfers to an all-boys private high school, he's taken in by the lowly stage crew known as the Backstagers. Hunter, Aziz, Sasha, and Beckett become his new best friends and introduce him to an entire magical world that lives beyond the curtain that the rest of the school doesn't know about, filled with strange creatures, changing hallways, and a decades-old legend of a backstage crew that went missing and was never found.
Collects the first four issues.
In Shops: Jul 19, 2017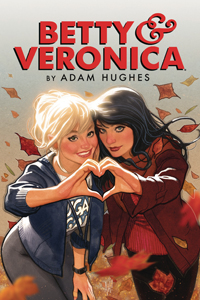 BETTY AND VERONICA BY ADAM HUGHES VOL.1
ARCHIE COMICS
Adam Hughes, Jose Villarrubia, Jack Morelli
Betty and Veronica by Adam Hughes Volume 1 collects legendary artist Adam Hughes' iconic three issue run of the all-new Betty and Veronica comic series!
Betty and Veronica are America's sweethearts... until they turn on each other! Friendships will shatter. Cities will burn. Nails will be broken.
In Shops: May 10, 2017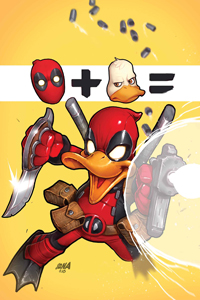 DEADPOOL THE DUCK
MARVEL COMICS
Stuart Moore, Jacopo Camagni, David Nakayama
What do you get when you take one cynical anthropomorphic duck (named Howard) and cross him with the mouthiest mercenary in the Marvel Universe? Deadpool the Duck, that's what!
When Wade Wilson accepts a mission from S.H.I.E.L.D. to capture a high-profile E.T., the snatch-and-grab turns out to be much more complicated than he anticipated. One unfortunate wrong-place-at-the-wrong-time accident leaves Deadpool and Howard fighting for control of their shared body - as the cutest merc the Marvel Universe has ever seen! But how is nefarious megacorporation Roxxon mixed up in all this? And what about Rocket Raccoon? Can Howard and Deadpool work together to get their own bodies back? Or will Wade forever be trapped in a duck he never made?!
Collecting Deadpool The Duck #1-5.
In Shops: May 31, 2017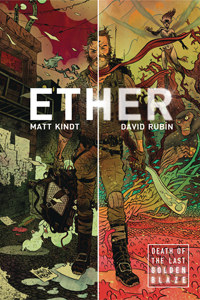 ETHER VOL.1: DEATH OF THE LAST GOLDEN BLAZE
DARK HORSE COMICS
Matt Kindt, David Rubin
A science-minded adventurer gets mixed up in the mysteries of a fantasy world in this charming new adventure from an award-winning creative team.
Boone Dias is an interdimensional explorer, a scientist from Earth who has stumbled into great responsibility. He's got an explanation for everything, so of course the Ether's magical residents turn to him to solve their toughest crimes. But maybe keeping the Real and the Abstract separate is too big a job for just one man.
Collects issues #1-#5.
In Shops: Jul 19, 2017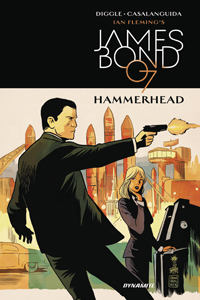 JAMES BOND: HAMMERHEAD (HC)
DYNAMITE
Andy Diggle, Luca Casalanguida, Francesco Francavilla
Bond is assigned to hunt down and eliminate Kraken, a radical anti-capitalist who has targeted Britain's newly-upgraded nuclear arsenal. But all is not as it seems. Hidden forces are plotting to rebuild the faded glory of the once-mighty British Empire, and retake by force what was consigned to history. 007 is a cog in their deadly machine - but is he an agent of change, or an agent of the status quo? Loyalties will be broken, allegiances challenged. But in an ever-changing world, there's one man you can rely on: Bond. James Bond.
In Shops: May 03, 2017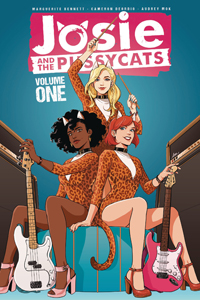 JOSIE AND THE PUSSYCATS VOL.1
ARCHIE COMICS
Maruerite Bennett, Cameron DeOrdio, Audrey Mok
Josie and the Pussycats Volume 1 is the first collection of an all-new take on the world's biggest comic book band.
Maruerite Bennett and co-writer Cameron DeOrdio team with Audrey Mok to retell the origin and story behind the music for Josie, Valerie, and Melody.
Collects issues #1-5.
In Shops: May 24, 2017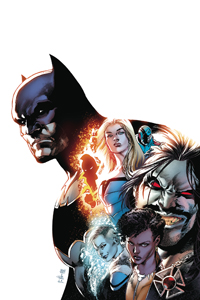 JUSTICE LEAGUE OF AMERICA: THE ROAD TO REBIRTH
DC COMICS
Steve Orlando, Jody Houser, Mirka Andolfo, Stephen Byrne, Jamal Campbell, Andy MacDonald, Ivan Reis, Joe Prado
Spinning out of Justice League Vs Suicide Squad, as a part of 'DC Universe: Rebirth', the most diverse Justice League of America ever returns!
Explore the roots of four very different metahumans in stories from Justice League Of America: Rebirth #1, Justice League Of America: Killer Frost #1, Justice League Of America: The Ray #1, Justice League Of America: The Atom #1 and Justice League Of America: Vixen #1.
In Shops: Jun 07, 2017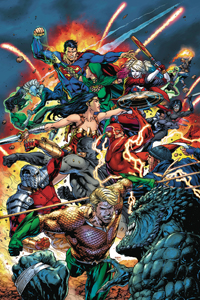 JUSTICE LEAGUE VS SUICIDE SQUAD (HC)
DC COMICS
Joshua Williamson, Rob Williams, Tim Seeley, Riley Rossmo, Tony S. Daniel, Jesus Merino, Fernando Pasarin, Robson Rocha, Howard Porter, Giuseppe Cafaro, Christian Duce, Jason Fabok
The wildly popular Justice League Vs Suicide Squad is here in this title collecting stories from Justice League Vs Suicide Squad #1-6, Suicide Squad #8-10 and Justice League #12-13.
The Justice League has discovered the existence of the Suicide Squad, and the World's Greatest Heroes can't let that stand! But Amanda Waller and Task Force X won't go down without a fight!
In Shops: Jun 21, 2017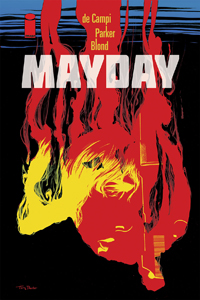 MAYDAY
IMAGE COMICS
Alex De Campi, Blond, Tony Parker
April 1971. The CIA is handed the espionage coup of the decade when a KGB general defects with a list of all Soviet intelligence assets in Asia. Including spies within the US Army in Vietnam. All Jack Hudson has to do is get the defector and his microfilm from Hong Kong to California... and keep Palm Springs' overzealous FBI office from turning everything into a freakshow. All Codename: Felix has to do is kill the defector and get the microfilm back to the USSR, by any means possible. Easy, right? Now throw in a beautiful woman, a fast car, and a whole lot of drugs.
The bloody new thriller from Alex De Campi (No Mercy, Grindhouse, Archie Vs Predator), Tony Parker (This Damned Band) and Blond!
Collects Mayday #1-5.
In Shops: May 17, 2017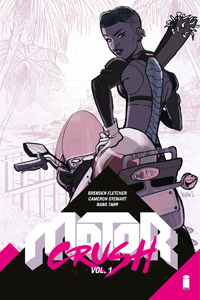 MOTOR CRUSH VOL.1
IMAGE COMICS
Brenden Fletcher, Cameron Stewart, Babs Tarr
The team behind the critically acclaimed revamp of Batgirl returns with an exciting sci-fi action-adventure series!
By day, Domino Swift competes for fame and fortune in a worldwide motorcycle racing league. By night, she cracks heads of rival gangs in brutal bike wars to gain possession of a rare, valuable contraband: an engine-boosting "machine narcotic" known as Crush.
Collects Motor Crush #1-5.
In Shops: Jun 14, 2017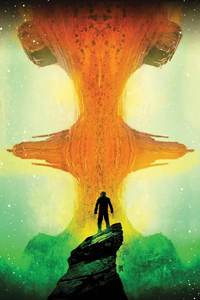 OLD MAN LOGAN VOL.4: OLD MONSTERS
MARVEL COMICS
Jeff Lemire, Filipe Andrade, Andrea Sorrentino
Jubilee is missing! And to find her, Logan must team up with the supernatural super-team known as the Howling Commandos! But as a monster war begins, will the old man who was Wolverine be prepared for what this investigation will uncover? Follow Logan to Romania and discover Dracula's dastardly plot that endangers the whole world! The stakes are high, but can the Commandos trust Logan to make the tough calls with Jubilee's (undead) life in the balance? And after a disaster, Logan will be trapped in the cold void of space, hunted by the Brood... but somehow also back in the dystopian Wastelands of his future past! What madness is this? Find out, along with Alpha Flight, Danny Cage and Logan's adopted Hulk Baby!
Collecting Old Man Logan (2016) #14-18.
In Shops: May 31, 2017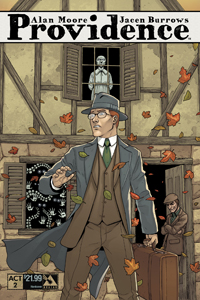 PROVIDENCE: ACT 2 (LIMITED HC)
AVATAR PRESS
Alan Moore, Jacen Burrows
The second arc of Providence is unveiled in this special hardcover-only edition.
Robert Black came looking for a story but what he found is a world of misery and woe. He's becoming a broken man, only beginning to accept the horrors of the Lovecraftian world are real and hiding in plain sight.
Alan Moore's quintessential horror series has set the standard for a terrifying reinvention of the works of H.P. Lovecraft. It is being universally hailed as one of Moore's most realized works in which the master scribe has controlled every iota of the story, art, and presentation. The result has been a masterpiece like no other and a true must-have addition to his essential works in the field.
We present a collected Providence: Act 2 hardcover edition that contains Providence issues #5-8, and all the back matter, in this one-time printing of this edition.
In Shops: May 31, 2017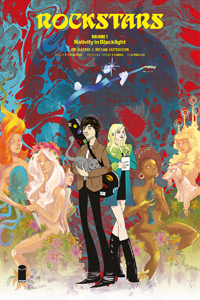 ROCKSTARS VOL.1: NATIVITY IN BLACKLIGHT
IMAGE COMICS
Joe Harris, Megan Hutchison
When a pattern of unsolved "groupie" murders from the 1970s resumes in present-day Los Angeles, nobody makes the connection except Jackie Mayer, a rock nerd with a strange connection to music's urban legends and a mysterious ability to "see" what most people miss. Together with a muckraking music writer and his loyal cat, Jackie uncovers an underground conspiracy involving a legendary band, demonic possession, and sacrifices to the dark gods of rock.
Fan-favorite Joe Harris (Great Pacific, The X-Files) and the mega-talented Megan Hutchison deliver a crash course in rock 'n' roll's untold mysteries, secret histories, and seedy underbellies.
Collects Rockstars #1-5.
In Shops: Jun 14, 2017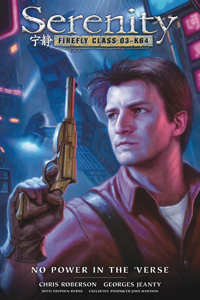 SERENITY VOL.5: NO POWER IN THE 'VERSE (HC)
DARK HORSE COMICS
Chris Roberson, Georges Jeanty, Stephen Byrne, Dan Dos Santos
When a call for help to find a missing friend takes them to an Alliance post on the Outer Rim, the Serenity crew encounter a new force building strength to fight the battle of the Browncoats. Discovering that their friend is in Alliance custody and that an Alliance Operative is on the way, Mal strikes an uneasy partnership for a daring rescue.
Collects issues #1-6 of the series and the 2016 Free Comic Book Day story "Serenity: The Warrior and the Wind."
In Shops: Jul 26, 2017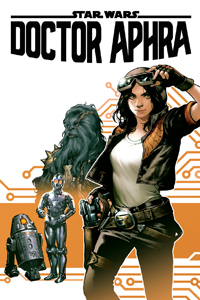 STAR WARS - DOCTOR APHRA VOL.1: APHRA
MARVEL COMICS
Kieron Gillen, Kev Walker, Karmome Shirahama
Following her time in the clutches of Darth Vader, Doctor Aphra has barely escaped with her life. If the Dark Lord of the Sith ever learns of her survival, he'll hunt her to the ends of the galaxy. But for now, it's time for a return to what she does best. With droids Triple-Zero and BeeTee-One in tow, she's off in search of rare artifacts from the galactic center to the Outer Rim - and everywhere in between. Aphra's got debts to pay, after all. Just as long as she can stay one step ahead of the Empire, some bounty hunters... and just about everyone else in the galaxy!
Collecting Doctor Aphra #1-6.
In Shops: Jun 21, 2017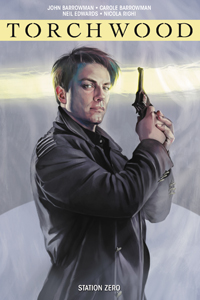 TORCHWOOD: STATION ZERO
TITAN COMICS
John Barrowman, Carol Barrowman, Neil Edwards
The members of the Torchwood Institute fight to protect the earth from extraterrestrial and supernatural threats! Written by Captain Jack himself - John Barrowman - and Carole Barrowman! Illustrated by Neil Edwards (Doctor Who: Four Doctors)!
Collects Vol.2 issues #1-4!
In Shops: Jul 19, 2017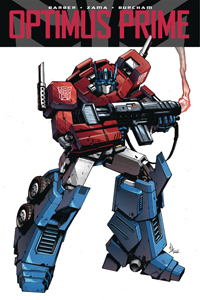 TRANSFORMERS: OPTIMUS PRIME VOL.1
IDW PUBLISHING
John Barber, Alex Milne, Kei Zama
"Revoluiton" is over - but the danger to Earth is just beginning. As Optimus Prime pulls Earth into the larger universe, he's painted a target on Earth... and a new alien incursion begins when a corkscrew shaped craft drills into our world!
Collects issues #1-6.
In Shops: Jun 07, 2017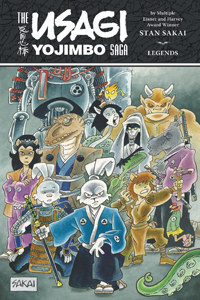 DARK HORSE COMICS
USAGI YOJIMBO SAGA: LEGENDS
Stan Sakai
Dark Horse presents the quintessential companion to the Usagi Yojimbo Saga series - Usagi Yojimbo Saga: Legends!
In this volume, Usagi takes on a myriad of opponents, but never loses sight of the warrior's code: truth, honor, loyalty, and sacrifice. Collects some of the rabbit ronin's most exhilarating stories, including Senso, Yokai, and the long-out-of-print Space Usagi!
This volume collects issues #1-3 of the Dark Horse comic book series Space Usagi: Warrior, issues #1-3 of the Mirage comic book series Space Usagi: Death and issues #1-3 of Space Usagi: White Star Rising, stories from issue #47 of the Mirage comic book series Teenage Mutant Ninja Turtles, issue #3 of the Fantagraphics Books comic book series Usagi Yojimbo Color Special, Dark Horse graphic novel Yokai, issues #1-6 of the Dark Horse comic book series Usagi Yojimbo: Senso and "Gagged" from CBLDF Anthology 2014.
In Shops: Jul 26, 2017
BIFF'S BIT
BATMAN AND FLASH #21
You would expect the return of the Watchmen to the 'DC: Rebirth' universe, which kicks off in issue #21 of both Batman and Flash, to be a reason for excitement and anticipation, but it has caused innumerable headaches for UK retailers. In the first instance, we were informed that there would be a lenticular cover produced for both issues. However, these special editions would be unavailable to European comic shops due to the appearance of the copyright protected 'smiley face' logo. A shame, but we would be able to have the regular and variant covers, plus an exclusive European variant.
Now, at the last hour, our orders for the regular covers have been cancelled as well, once again citing an appearance of the restricted 'smiley' logo. Instead, we will just be getting the original variant covers and the European variant.
This problem does not affect issue #22 of both titles as, fortunately, they do not feature the 'smiley' logo ...at least as far as we know.
Those of you who look through the Diamond Previews catalogue may have noticed that there was no information published for Batman #21 and #22 or Flash #21 and #22, keeping us further in the dark and leading to near panic among Batman and Flash fans! As I type this, we are no more in the loop than anyone else. It is reasonable safe to assume there will be second and maybe third printings for these issues. How many of these will be available in Europe will depend on the content of the covers.
We do believe the return of the Watchmen will be a huge and exciting thing, we just haven't been able to sing to our customers about it, having been treated like mushrooms.
AFTERSHOCK
Aftershock - no, not the follow up to an earthquake - are an independent publisher that is consistently publishing some well written and intriguing titles. Last month saw the solicitation of Eleanor and The Egret written by John Layman with art by Sam Keith, a delightfully drawn and offbeat series that includes an oversized Egret as a painting eating pet.
This month my top tip is for their new series Pestilence, written by Frank Tieri and drawn by Oleg Okunev. The scene is the 14th century, the time is that of the Black Death - a supposed plague that swept through Europe killing millions. However, it is really the first non-recorded Zombie infestation of man! Check this out. I think it will be a good one.
TRUMPED AGAIN and AGAIN
Last month we saw the resignation of Michael Flinn, President Donald Trump's National Security Advisor, due to his liaising with Russian officials (the enemy!) and then lying about it. This month it is the newly appointed Attorney general Jefferson Sessions who has been caught out, having done the self same thing!
Looks like the USA is becoming a part of the Soviet Union!

Graphic Novel Top 20 Chart: February 2017
See February's best-selling graphic novels including Superman, Outcast, Seven To Eternity, Snotgirl, Daredevil, Nameless, Sex, Batman and Civil War II...