The latest issue of Illuminations, our free monthly web app that showcases upcoming new series and one-shots, is now available to read online!
Illuminations #341 – What's inside?
Featured Titles
ALIENS: DEAD ORBIT #1
DARK HORSE COMICS
James Stokoe
After a horrific accident strikes a space station, an engineering officer must use all available tools – a timer, utility kit, and his wits – to survive an attack from the deadliest creature known to man.
Orc Stain creator James Stokoe pens a thrilling and claustrophobic Aliens story: Dead Orbit!
BATMAN / THE SHADOW #1
DC COMICS
Scott Snyder, Steve Orlando, Riley Rossmo
Two of history's greatest vigilantes are reunited at last! Murder has come to Gotham City, and Lamont Cranston appears to be the culprit… but he's been dead for over fifty years! Batman will go to the ends of the Earth to unravel the mystery of Cranston's life, but the mysterious Shadow will do everything in his power to stop him from learning too much…
The superstar team of writers Scott Snyder and Steve Orlando and artist Riley Rossmo brings you a dark and twisty modern noir like nothing you've seen before, with a brand-new villain unlike any either hero has faced! This is the unmissable crime series of 2017, so get on board now!
Co-published with Dynamite.
MY LITTLE PONY: LEGENDS OF MAGIC #1
IDW PUBLISHING
Jeremy Whitley, Brenda Hickey
The origins of cutie marks, friendships, magic and more are available in this new ongoing series devoted to revealing the secret history of Equestria! In this opening story arc, we travel back in time to uncover the secrets of Starswirl the Bearded and his magical friends! From seasoned My Little Pony writer Jeremy Whitley, creator of Princeless and writer on Marvel's The Unstoppable Wasp!
BLACK CLOUD #1
IMAGE COMICS
Jason Latour, Ivan Brandon, Greg Hinkle, Matt Wilson
Zelda was born in a world of dreams, and hers burned bigger than anyone had ever seen. Now she's on the run in our world, the dreams broken in her hands. But the pieces are for sale, the rich and the powerful are buying, and suddenly her world isn't the only place Zelda's running from.
From the creators that brought you Spider-Gwen, Southern Bastards and Drifter, and the incredible colorist of The Wicked + The Divine, comes a place where dreams come true – and today, they go to war.
MONSTERS UNLEASHED #1
MARVEL COMICS
Cullen Bunn, David Baldeon, Arthur Adams
The first fantastic issue of Marvel's newest heroes!
From acclaimed writer Cullen Bunn, known for his work on Deadpool, Uncanny X-Men and more, comes a high-action sci-fi series centered on a team of monstrous and monstrously massive do-gooders including Kid Kaiju, Aegis, Slizzik, Scragg, Hi-Vo and Mekara. Now teaming up with vampire-hunter Elsa Bloodstone, the series unfolds as the team takes on gargantuan creatures and protects the planet from ruin and disaster. However, can they be accepted by the rest of the Marvel Universe and allowed to help, or will they be deemed dangerous as well?
DOCTOR WHO: GHOST STORIES #1
TITAN COMICS
George Mann, Ivan Rodriguez, Mariano Laclaustra
Follow the Ghost, from the stunning 2016 Doctor Who Christmas Special, "The Return of Doctor Mysterio", into a brand-new, galaxy-spanning adventure with the Doctor!
An all-new adventure with the Ghost, Lucy Fletcher, and the Doctor. What part of the Ghost's secret origin returns to threaten the universe? And a superhero needs… A super-villain! Meet the Ghost's dark shadow…!
Novel Ideas
Our selection of sixteen recommended graphic novels include the following top reads:
ARCHIE VOL.3

BUFFY – THE HIGH SCHOOL YEARS: PARENTAL PARASITE

JESSICA JONES VOL.1: UNCAGED

MY LITTLE PONY: FRIENDS FOREVER – OMNIBUS VOL.2

SAGA – DELUXE EDITION VOL.2 (HC)

WONDER WOMAN VOL.2: YEAR ONE
Biff's Bit
"…American Gods, the comic series, is now available UK. You can order both #1 and #2 from us this month. I am not sure as I type this who holds the UK rights, but an agreement has been reached and comic shops can now be supplied the comics. Common sense has triumphed! Unfortunately we are still being prevented from having the Batman #21 and Flash #21 lenticular covers…" – excerpt
Top 20 Graphic Novel Chart
January's best-selling graphic novels include Batman, Harley Quinn, Kill Or Be Killed, Han Solo, Flash, Chew and Neil Gaiman's Troll Bridge…
Hit the image below to access the web app!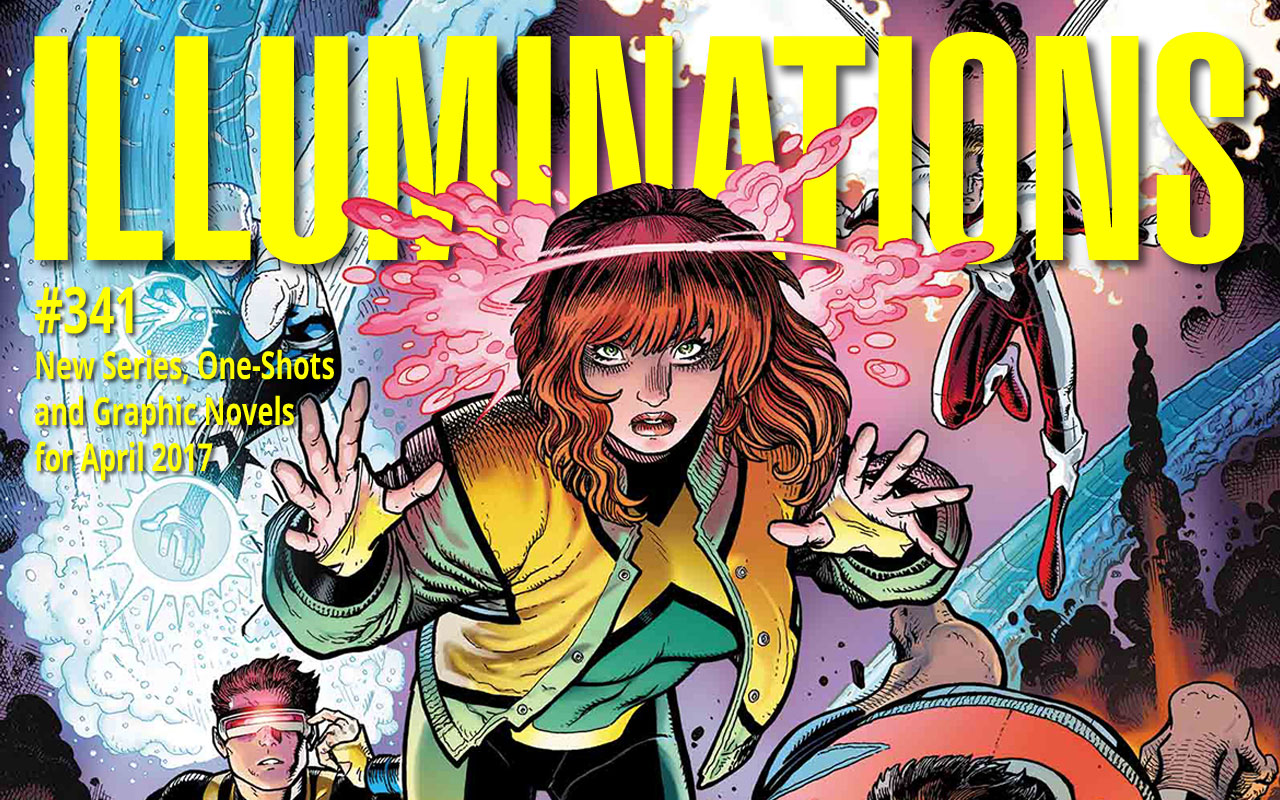 Visit our Illuminations page, for previous issues.