#341
New Series, One-Shots
and Graphic Novels
for April 2017

New Comic Series and One-Shots for April...
DARK HORSE COMICS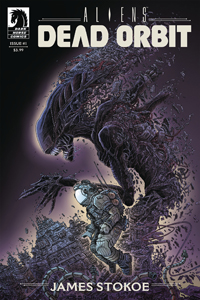 ALIENS: DEAD ORBIT #1
James Stokoe
After a horrific accident strikes a space station, an engineering officer must use all available tools - a timer, utility kit, and his wits - to survive an attack from the deadliest creature known to man.
Orc Stain creator James Stokoe pens a thrilling and claustrophobic Aliens story: Dead Orbit!
In Shops: Apr 26, 2017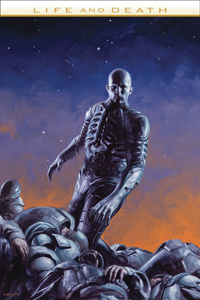 PROMETHEUS: LIFE AND DEATH (ONE-SHOT)
Dan Abnett, Brian Thies, David Palumbo
The final installment of the "Life and Death" saga!
The surviving Colonial Marines on the planet LV-223 face a final battle with an injured and enraged Engineer-and, somewhere out in space, three trapped humans seek to change the course of the Engineer's ship... and possibly the history of humanity!
In Shops: Apr 26, 2017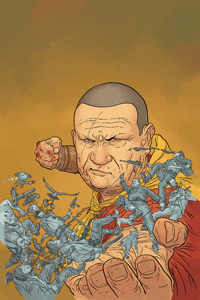 SHAOLIN COWBOY: WHO'LL STOP THE REIGN #1
Geof Darrow
Who doesn't like Surf and Turf? Well, what do you do when Surf and Turf doesn't like you??? The Eisner Award-losing and -winning drawing room talkfest, The Shaolin Cowboy, returns and will try to answer those questions as the titular hero of the series finds that his road to hell is paved not with good intentions but old nemeses hell bent on bloody revenge... again!!!
In Shops: Apr 19, 2017
DC COMICS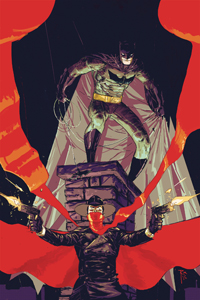 BATMAN / THE SHADOW #1
Scott Snyder, Steve Orlando, Riley Rossmo
Two of history's greatest vigilantes are reunited at last! Murder has come to Gotham City, and Lamont Cranston appears to be the culprit... but he's been dead for over fifty years! Batman will go to the ends of the Earth to unravel the mystery of Cranston's life, but the mysterious Shadow will do everything in his power to stop him from learning too much...
The superstar team of writers Scott Snyder and Steve Orlando and artist Riley Rossmo brings you a dark and twisty modern noir like nothing you've seen before, with a brand-new villain unlike any either hero has faced! This is the unmissable crime series of 2017, so get on board now!
Co-published with Dynamite.
In Shops: Apr 26, 2017
IDW PUBLISHING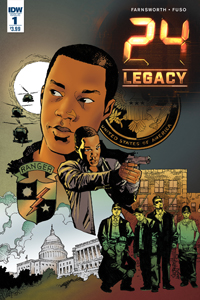 24 - LEGACY: RULES OF ENGAGEMENT #1
Christopher Farnsworth, Antonio Fuso, Georges Jeanty
The clock has been reset with 24: Legacy, and this limited series will explore the past of its new leading character, Eric Carter, who led the elite squad responsible for killing an infamous terrorist leader and, consequently, forced into hiding. But before he was a national hero and a wanted man, Carter learned the Rules of Engagement in the streets of Iraq and Washington, D.C. hoods.
Based on the new hit iteration of the 24 franchise, executive produced by Manny Coto and Evan Katz, writers of the show, with covers by Georges Jeanty (Serenity), each issue will have a photo cover variant featuring the cast of the show!
Written by Christopher Farnsworth, journalist, screenwriter and the author of The President's Vampire series.
In Shops: Apr 26, 2017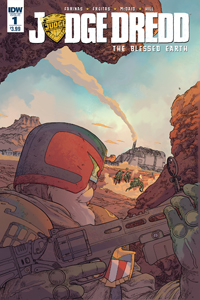 JUDGE DREDD: BLESSED EARTH #1
Ulises Farinas, Erick Freitas, Dan McDaid
It has been 10 years since the events of Mega-City Zero,and Judge Dredd continues his mission to restore order to a lawless land. The mystery of "The Blessed Earth" begins to unfold here!
In Shops: Apr 26, 2017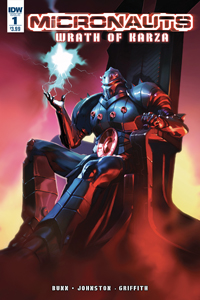 MICRONAUTS: WRATH OF KARZA #1
Cullen Bunn, Jimmy Johnston, Andrew Griffith, Alex Ronald
As one universe dies, another is invaded!
Microspace - the home of the Micronauts - is collapsing. But Baron Karza has discovered a new universe in which the people of Microspace would thrive, a new universe in which he would rule! The first world to be conquered is Earth, and the first enemies to be targeted are the Transformers, GI Joe, M.A.S.K. and ROM!
In Shops: Apr 19, 2017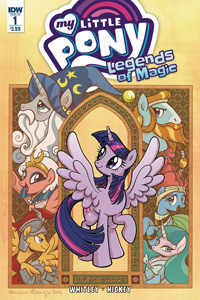 MY LITTLE PONY: LEGENDS OF MAGIC #1
Jeremy Whitley, Brenda Hickey
The origins of cutie marks, friendships, magic and more are available in this new ongoing series devoted to revealing the secret history of Equestria!
In this opening story arc, we travel back in time to uncover the secrets of Starswirl the Bearded and his magical friends!
From seasoned My Little Pony writer Jeremy Whitley, creator of Princeless and writer on Marvel's The Unstoppable Wasp!
In Shops: Apr 19, 2017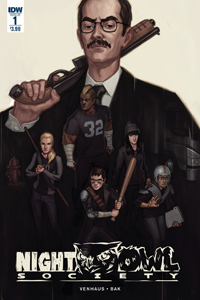 NIGHT OWL SOCIETY #1
Bak Venhaus, Pius Bak
When David's only friend at school is killed by the local mob boss, David and his misfit friends take matters into their own hands by sneaking out at night to fight crime and take down the mob without getting killed... or grounded.
In Shops: Apr 19, 2017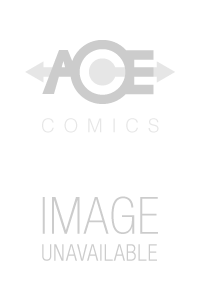 REAL SCIENCE ADVENTURES #1
Brian Clevinger, Lo Baker, Scott Wegener
A group of Women Airforce Service Pilots banded together after World War II and became the daring "Flying She-Devils." Food and fuel are in short supply, but the She-Devils have a plan: take it from Mad Jack, the pirate king of the Pacific. What could go wrong? Also a never-before-seen short featuring The Sparrow!
From the pages of Atomic Robo, the Flying She-Devils embark on a new daring adventure!
In Shops: Apr 05, 2017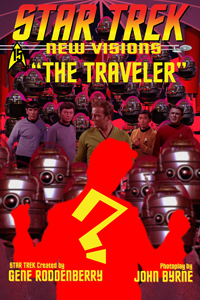 STAR TREK - NEW VISIONS: THE TRAVELER
John Byrne
A mysterious Traveller is pursued by a ruthless robotic horde. Or is he? Jim Kirk must answer that question before his ship and crew are lost!
In Shops: Apr 05, 2017
YO-KAI WATCH #1
Eric M. Esquivel, Cory Hamscher, Dono Almara
The hit anime, manga and toy sensation from Japan comes to North American comics! Join Nate and his Yo-Kai, Whisper, as they battle against ill-intentioned Yo-Kai causing terrible trouble in their hometown!
In Shops: Apr 05, 2017
IMAGE COMICS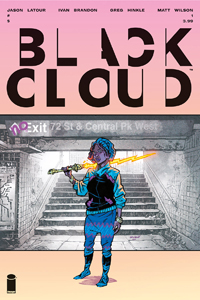 BLACK CLOUD #1
Jason Latour, Ivan Brandon, Greg Hinkle, Matt Wilson
Zelda was born in a world of dreams, and hers burned bigger than anyone had ever seen. Now she's on the run in our world, the dreams broken in her hands. But the pieces are for sale, the rich and the powerful are buying, and suddenly her world isn't the only place Zelda's running from.
From the creators that brought you Spider-Gwen, Southern Bastards and Drifter, and the incredible colorist of The Wicked + The Divine, comes a place where dreams come true - and today, they go to war.
In Shops: Apr 05, 2017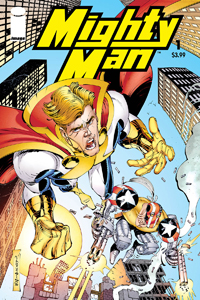 MIGHTY MAN (ONE-SHOT)
Erik Larsen, Nikos Koutsis
Seven-year-old Betty Bradford has inherited the mantle of the World's Mightiest Man! Now she trains to take on the role of the world's greatest superhero and faces her biggest challenge ever! Mighty Man comes with our highest possible recommendation!
In Shops: Apr 05, 2017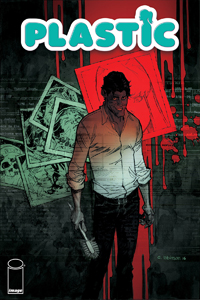 PLASTIC #1
oug Wagner, Daniel Hillyard, Laura Martin, Andrew Robinson
Retired serial killer Edwyn Stoffgruppen is in love with Virginia, a girl he "met online." Her affection quiets his vile urges. Together, they tour the back roads of America in their LTD, eating doughnuts and enjoying their healthy appetites for each other. Life is good ...until a Louisiana billionaire kidnaps Virginia, forcing Edwyn to kill again in exchange for her freedom.
Oh, and did we mention that Virginia is a sex doll?
In Shops: Apr 19, 2017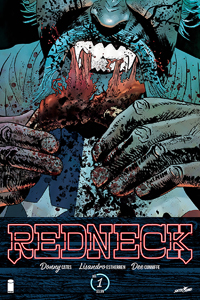 REDNECK #1
Donny Cates, Lisandro Estherren, Dee Cunniffe
The Bowmans are vampires who have quietly run the local barbecue joint in their small town for years, living off cow's blood. Their peaceful coexistence ends as generations of hate, fear, and bad blood bubble to the surface - making it impossible to separate man from monster!
Critically acclaimed writer Donny Cates (God Country) and artist Lisandro Estherren serve up the tale of a different kind of family just trying to get by, deep in the heart of Texas.
In Shops: Apr 19, 2017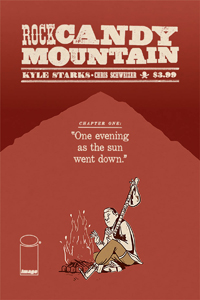 ROCK CANDY MOUNTAIN #1
Kyle Starks
Eisner-nominated comic creator, Kyle Starks (Sexcastle), would like to invite you to enter the magical world of hobos. The world's toughest hobo is searching through post-World War II America for the mythological Rock Candy Mountain, and he's going to have to fight his way to get there. Lots of hobo fights. So many hobo fights.
A new action-comedy series full of high action, epic stakes, magic, friendships, trains, punching, kicking, joking, a ton of hobo nonsense, and the Literal Devil. Yeah. The Literal Devil.
In Shops: Apr 05, 2017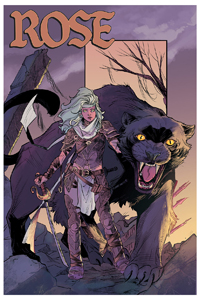 ROSE #1
Meredith Finch, Ig Guara
A classic fantasy tale about a girl trying to restore balance to a broken world. Rose must connect with her Khat - Thorne - to become the Guardian the world needs. But things aren't easy for Rose and Thorne, the powerful sorcerous Drucilla has many powerful and demonic allies-all of them focused on stopping one scared little girl who's desperately trying to stay alive and do what's right.
Written by Meredith Finch (Wonder Woman, Little Mermaid) and drawn by fan-favorite artist Ig Guara (Batman: Arkham Knight, Blue Beetle, The Ravagers).
In Shops: Apr 12, 2017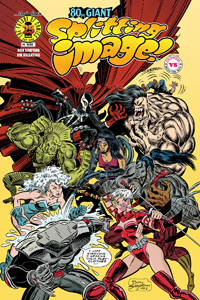 SPLITTING IMAGE - 80-PAGE GIANT
Don Simpson, Jim Valentino, Larry Marder, Bob Burden
To celebrate Image Comics' 25th Anniversary - the original parody book by Don Simpson that skewers the formation of Image and the bozos that founded it! And here's the rub - it's all true!! (Well, mostly, sort of.) Plus, as a super-special bonus (because we had more pages to fill), we include the Normalman / Megaton Man Special by Simpson, Valentino, Marder and Burden! Square-bound even! Never before reprinted (and we can certainly see why)! A piece of history at your fingertips (now go wash your hands)!
In Shops: Apr 26, 2017
MARVEL COMICS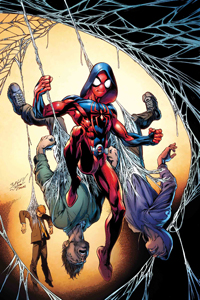 BEN REILLY: SCARLET SPIDER #1
Peter David, Mark Bagley
One of the most controversial characters in comics has returned - and the controversy has only begun! In the aftermath of "The Clone Conspiracy", Ben has a new take on life... and he's not the same Scarlet Spider he was before. Come witness what will be the most talked about comic of the year!
In Shops: Apr 26, 2017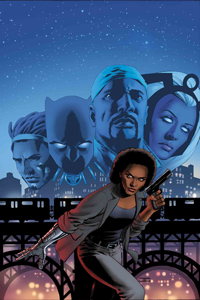 BLACK PANTHER CREW #1
Ta-Nehisi Coates, Butch Guice, John Cassaday
Black Panther, Storm, Luke Cage, Misty Knight and Manifold band together to take on a dangerous wave of street-level threats in this new ongoing series by co-writers Ta-Nehisi Coates (New York Times best-selling author of Between the World and Me and Marvel's Black Panther) and Yona Harvey (Black Panther: World of Wakanda), and legendary artist Butch Guice!
The death of a Harlem activist kicks off a mystery that will reveal surprising new secrets about the Marvel Universe's past and set the stage for a big story in the Marvel Universe's near future.
Fear, hate and violence loom, but don't worry, The Crew's got this: "We are the streets."
In Shops: Apr 12, 2017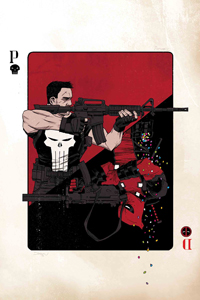 DEADPOOL VERSUS THE PUNISHER #1
Fred Van Lente, Pere Perez, Declan Shalvey
Frank Castle has an unstoppable will - a powerful drive to punish those who do wrong, rooted in the tragic killing of his family. Wade Wilson has an unstoppable mouth - an unthinking knack for annoying everyone around him, rooted in thinking he's funny. Both men, however, are among the deadliest on the planet. When they find themselves in disagreement over the criminal known as The Bank, they're in for one of the most brutal fights of their lives! Can Frank kill Wade over and over without ever dying once himself? Or will Wade bug him until he welcomes death?
In Shops: Apr 12, 2017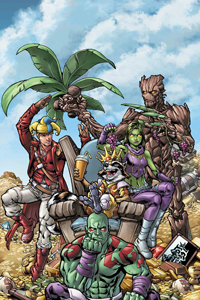 GUARDIANS OF THE GALAXY: DREAM ON #1
Marc Sumerak, Andrea Di Vito, Michael Ryan
The Guardians are done guarding the galaxy, yes?
When one of the galaxy's greatest bounty hunters targets the Guardians of the Galaxy, it's lights out for Star-Lord, Gamora, Drax, Rocket and Groot! But if Death's Head can make their dreams come true, will the Guardians fight back, or go along with his crazy plan? They might ...especially if it leads to the destruction of Thanos once and for all!
Also included - a special presentation of Guardians Of The Galaxy (1990) #1, featuring the first appearance of Taserface!
In Shops: Apr 19, 2017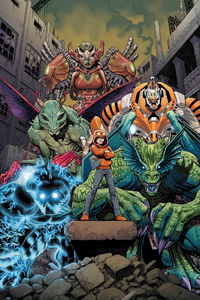 MONSTERS UNLEASHED #1
Cullen Bunn, David Baldeon, Arthur Adams
The first fantastic issue of Marvel's newest heroes!
From acclaimed writer Cullen Bunn, known for his work on Deadpool, Uncanny X-Men and more, comes a high-action sci-fi series centered on a team of monstrous and monstrously massive do-gooders including Kid Kaiju, Aegis, Slizzik, Scragg, Hi-Vo and Mekara. Now teaming up with vampire-hunter Elsa Bloodstone, the series unfolds as the team takes on gargantuan creatures and protects the planet from ruin and disaster. However, can they be accepted by the rest of the Marvel Universe and allowed to help, or will they be deemed dangerous as well?
In Shops: Apr 19, 2017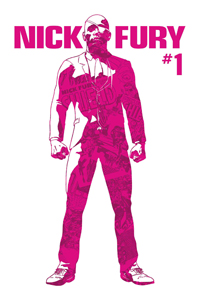 NICK FURY #1
Fury. Nick Fury.
The world is a dangerous place. And there's danger in drawing attention to your plans. When S.H.I.E.L.D. needs a lone agent to infiltrate, capture and remain anonymous, there's no one better than Nick Fury.
An all-new era for the superspy begins here, as Fury is sent on a top-secret mission to the French Riviera. He'll need to outmaneuver the enemy as the complex dance of espionage begins, but will he meet his match in the mysterious Frankie Noble? Grab the edge of your seat and don't let go - this caper's just getting started!
In Shops: Apr 19, 2017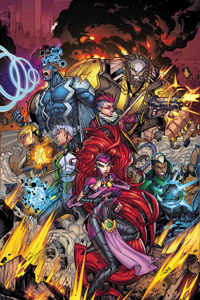 ROYALS #1
Al Ewing, Jonboy Meyers
The "Resurrxion" of the Inhumans begins!
A myth from the future. A quest to the far stars. A legend written across galaxies. Guided by the other-dimensional Kree warrior known as Marvel Boy, the Inhuman Royal Family departs on an odyssey across all creation on search for lost secrets - and the last hope - of their people.
Penned by fan-favorite Al Ewing (The Ultimates, New Avengers, Loki: Agent of Asgard) and drawn by the white-hot Jonboy Meyers (Teen Titans, Spawn), Royals is a Marvel-style space epic that takes the Inhuman Royal Family and plunges them into the unknown! The knowledge they seek could change the course of Inhuman destiny, but it cannot be attained without cost... for at the end of days, the Last Inhuman tells the tale of how seven left Earth for the stars... but only six returned.
In Shops: Apr 05, 2017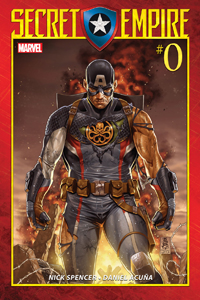 SECRET EMPIRE #0
Nick Spencer, Daniel Acuna
What if your greatest ally was secretly your greatest enemy? What if the most trustworthy, stalwart hero history has ever known has been planning in secret a massive betrayal? That time is now!
The Marvel Universe is under siege from within! Captain America, secretly a true believer in the cause of Hydra, has turned his back on the Super Hero community. Using the trust and respect he has gained over the years he has ascended to a position where he can enacts Hydra's ideals. The death of Jack Flag, the trial of Maria Hill, the second Civil War, the alien Chitauri Queen. All of the dominos of Captain America's plan have been laid out - and it will take only the slightest push to set them into action!
Now, the Avengers, the Champions, the Defenders, the Guardians of the Galaxy, the X-Men and more will be tested. As Hydra's grip tightens around the Marvel Universe, the heroes stand at the precipice of an unprecedented challenge. How will they Marvel Universe cope with this shattering betrayal by the most trusted among them?
In Shops: Apr 19, 2017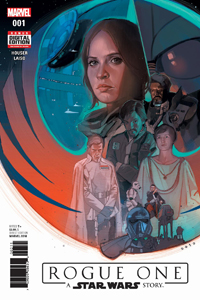 STAR WARS: ROGUE ONE #1
The Rebellion is here! The biggest movie of the year jumps from the big screen to the comic book page!
All looks lost for the Rebellion against the Empire as they learn of the existence of a new super-weapon – the Death Star. New heroes Jyn Erso and Cassian Andor set out on a desperate mission to steal the plans to destroy the new super-weapon.
Written by Jody Houser (Max Ride) and drawn by Emilio Laiso (Star Wars Annual, Hercules), join as the story is set up for the epic saga to follow…
In Shops: Apr 05, 2017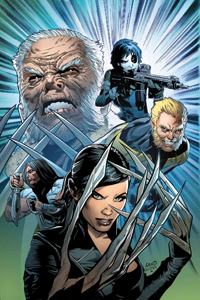 WEAPON X #1
Greg Pak, Greg Land
Decades ago, the Weapon X program produced the deadliest mutant killers on the planet. Now, with more research, more funding and more Adamantium at its disposal, the Weapon X program is creating new killers for old targets: Old Man Logan. Sabretooth. Lady Deathstrike. Weapon X isn't just experimenting on mutants anymore...it's eradicating them. All of them. Plus: Deadlier and more shadowy than ever, you won't believe who's taken the job as Director of Weapon X!
Reuniting X-Men: Phoenix - Endsong creative team Greg Pak (World War Hulk) and Greg Land (Uncanny X-Men)!
In Shops: Apr 12, 2017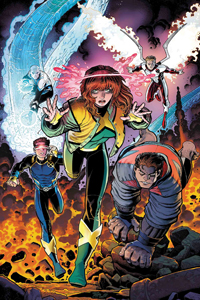 X-MEN: BLUE #1
Cullen Bunn, Jorge Molina, Matteo Buffagni, Arthur Adams
The originals! Join Marvel Girl, Cyclops, Beast, Iceman and Angel as they reclaim the title of X-Men.
After the world-shaking events of "IvX", the original five X-Men are here to bring mutant criminals to justice and restore a heroic sheen to their team. But with a new leader in Jean Grey and a new mentor in their "arch-frenemy" Magneto, will old rivalries and new conflicts tear these heroes apart?
In Shops: Apr 12, 2017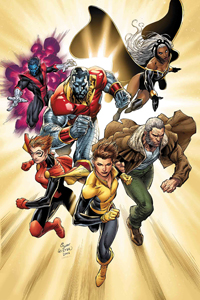 X-MEN: GOLD #1
Marc Guggenheim, Ardian Syaf
From the ashes of "Inhumans Vs X-Men", an all-new team of X-Men rises!
Xavier's dream comes full circle as Kitty Pryde takes the reins and assembles a squad of the most iconic X-Men to fight at her side. Storm. Colossus. Nightcrawler. Old Man Logan. Prestige. They are X-Men Gold! And they're on a mission to be Earth's finest heroes, even when that means defending those who hate and fear them.
Brought to you by an all-star creative team of Marc Guggenheim (X-Men, S.H.I.E.L.D., television's Arrow) and Ardian Syaf (Batgirl, Superman / Batman, Brightest Day), a new beginning for the strangest heroes of all starts here!
In Shops: Apr 05, 2017
SELECTED INDEPENDENT PUBLISHERS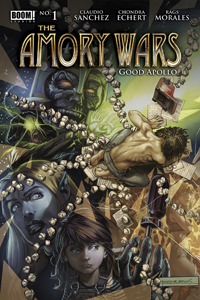 AMORY WARS III: GOOD APOLLO #1
BOOM! STUDIOS
Claudio Sanchez, Chondra Echert, Rags Morales
Coheed and Cambria frontman Claudio Sanchez (Translucid) and Chondra Echert team up with best-selling artist Rags Morales (Identity Crisis, Action Comics) for the long-awaited third installment of The New York Times best-selling series, The Amory Wars!
The evil Wilhelm Ryan remains in power. All those around Claudio Kilgannon are now convinced he is The Crowing, but is he? Ambellina believes she and The Crowing can save Heaven's Fence rather than destroying it. But with Ryan and a new, even bigger threat looming-can they succeed?
In Shops: Apr 05, 2017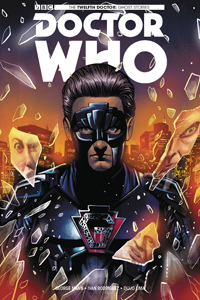 DOCTOR WHO: GHOST STORIES #1
TITAN COMICS
George Mann, Ivan Rodriguez, Mariano Laclaustra
Follow the Ghost, from the stunning 2016 Doctor Who Christmas Special, "The Return of Doctor Mysterio", into a brand-new, galaxy-spanning adventure with the Doctor!
An all-new adventure with the Ghost, Lucy Fletcher, and the Doctor. What part of the Ghost's secret origin returns to threaten the universe? And a superhero needs... A super-villain! Meet the Ghost's dark shadow...!
In Shops: Apr 05, 2017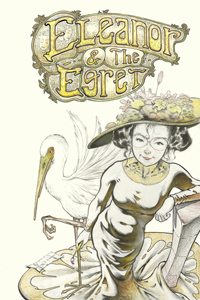 ELEANOR AND THE EGRET #1
AFTERSHOCK COMICS
John Layman, Sam Kieth
The most daring art thief in Paris has struck again, and the police have assigned their best detective to the case. His only clue? A single white feather left at the scene. Could this feather belong to the thief? To the thief's accomplice, an oversized talking egret? Or will his investigation lead him to somewhere even stranger? (Answer: all of the above.) Presenting a peculiar and unforgettable tale of birds and banditry, paintings and pets, larceny, love and... lamprey-wielding assassins?
From the legendary creator of The Maxx and co-creator of Sandman, Sam Kieth, and the considerably less-legendary creator of Chew, John Layman!
In Shops: Apr 05, 2017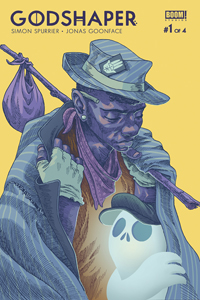 GODSHAPER #1
BOOM! STUDIOS
Simon Spurrier, Vinz Tabanas, Jonas Goonface
Written by Eisner Award-nominated writer Simon Spurrier (The Spire, X-Men Legacy) and illustrated by breakout talent Jonas Goonface, Godshaper introduces a vast world where there's a god for every person and a person for every god... though for Ennay, unfortunately exceptions may apply. People like him are Godshapers, godless social pariahs with the ability to mold and shape the gods of others. Paired with Bud, an off-kilter but affectionate god without a human, the two travel from town to town looking for shelter, a hot meal, and the next paying rock 'n' roll gig.
In Shops: Apr 12, 2017
GREATEST ADVENTURE #1
DYNAMITE ENTERTAINMENT
Bill Willingham, Cezar Razek, Cary Nord
In ancient days, Jason gathered the greatest heroes of his age and set out on the ultimate sea voyage. Now, in Tarzan's era, Jason Gridley does the same. The greatest heroes of the Edgar Rice Burroughs' universe come together as the crew of the good ship Venture, with none other than Tarzan as their captain. It's a race this time, against a battleship of dark hearted villains, and the fate of many worlds hangs in the balance.
In Shops: Apr 19, 2017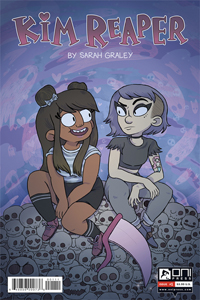 KIM REAPER #1
ONI PRESS
Sarah Graley
Like most university students, Kim works a part-time job to make ends meet. Unlike most university students, Kim's job is pretty dang cool: she's a grim reaper, tasked with guiding souls into the afterlife. Like most university students, Becka has a super intense unrequited crush. Unlike most university students, Becka's crush is on a beautiful gothic angel that frequents the underworld. Of course, she doesn't know that. Unaware of the ghoulish drama she's about to step into, Becka finally gathers up the courage to ask Kim on a date! But when she falls into a ghostly portal and interrupts Kim at her job, she sets off a chain of events that will pit the two of them against angry cat-dads, vengeful zombies, and perhaps even the underworld itself. But if they work together, they just might make it... and maybe even get a kiss in the bargain.
In Shops: Apr 05, 2017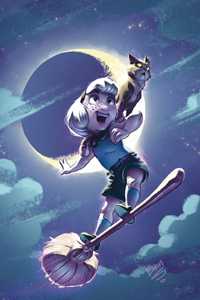 LITTLE SABRINA (ONE-SHOT)
ARCHIE COMICS
Art Baltazar, Franco
Little Sabrina encounters very colorful doppelgangers of her little kitty Salem! When she tries to use magic to whisk them back to wherever they came from she finds that their magic abilities are more than she bargained for!
In Shops: Apr 05, 2017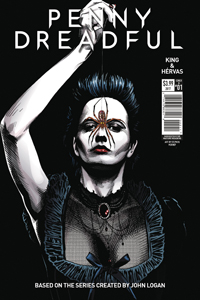 PENNY DREADFUL #1
TITAN COMICS
Chris King, Jesus Hervas, Stephen Mooney
The sell-out and critically acclaimed comic series returns! Continues the story directly after the devastating events of Penny Dreadful's season three TV finale!
Ethan Chandler (Josh Hartnett) finds himself unable to move on. As he searches desperately for meaning in a world without Vanessa (Eva Green), ancient words echo across the centuries, and he is called on once again to take up arms against the creatures crawling out of the night.
In Shops: Apr 05, 2017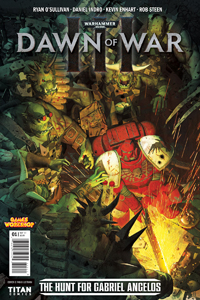 WARHAMMER 40000: DAWN OF WAR III #1
TITAN COMICS
Ryan O'Sullivan, Daniel Indro
Based on the military science fiction real-time strategy video game series, Dawn of War!
In Shops: Apr 19, 2017

(GRAPHIC) NOVEL IDEAS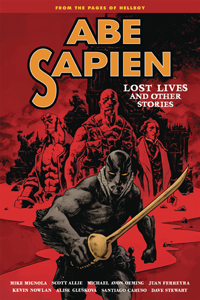 ABE SAPIEN VOL.9: LOST LIVES AND OTHER STORIES
DARK HORSE COMICS
Mike Mignola, Scott Allie, John Arcudi, Michael Avon Oeming, Mark A. Nelson, Juan Ferreyra, Kevin Nowlan, Alise Gluskova, Santiago Caruso, Sebastian Fiumara
These six stories trace the history and prehistory of Abe Sapien's adventures, from his earliest days in the Bureau with Hellboy (as drawn by Kevin Nowlan) through the frog war, featuring an appearance by deceased homunculus Roger, to his current evolved form, when he's looking back on his life as a man in 1850s England.
Collects the Abe Sapien one-shots #8, #15, #23, #27 and #30 and "Abe Sapien: Subconscious" from Dark Horse Presents (Volume 3) #11.
In Shops: Jun 07, 2017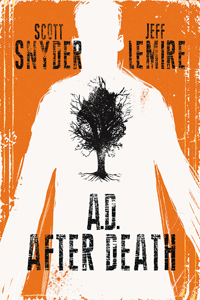 A.D.: AFTER DEATH (HC)
IMAGE COMICS
Scott Snyder, Jeff Lemire
What if we found a cure for death?
Two of comics' most acclaimed creators, Scott Snyder (Wytches, Batman, American Vampire) and Jeff Lemire (Descender, Plutona, Moon Knight, Sweet Tooth) unite to create an epic like no other, set in a future where a genetic cure for death has been found. Years after the discovery, one man starts to question everything, leading him on a mind-bending journey that will bring him face-to-face with his past and his own mortality.
A unique combination of comics, prose, and illustration, A.D.: After Death is an oversized hardcover graphic novel written by Snyder and fully painted by Lemire.
Collects A.D.: After Death #1-3.
In Shops: May 17, 2017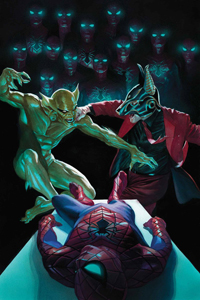 AMAZING SPIDER-MAN - WORLDWIDE VOL.5
MARVEL COMICS
Various
Death is no more as "The Clone Conspiracy" rocks the wall-crawler's world! And if things weren't bad enough for the Amazing Spider-Man, now Doctor Octopus has returned from the grave! How is he back? And what does he have to do with the Jackal? Another shocking return means big trouble for... the Scarlet Spider?! Where has Kaine been since the events of "Spider-Verse", and what role will he play in the Jackal's twisted plan? And while we're asking questions, what brought about the Jackal's radical rebrand - and what could draw a resurrected Gwen Stacy to his side? Plus: The globe-trotting Spider-Man heads to Mexico City, Cloak and Dagger head into action in Shanghai, and star of stage and screen Wayne Brady tries his hand at comics!
Collecting Amazing Spider-Man (2015) #20-24 and Annual (2016) #1.
In Shops: May 10, 2017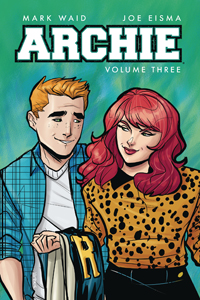 ARCHIE VOL.3
ARCHIE COMICS
Mark Waid, Joe Eisma
Introducing Cheryl Blossom! The fiery red-head takes center stage as Archie and Veronica's worlds are torn apart as the two are living thousands of miles away from each other. What will happen to the rest of Archie's friends in Riverdale? And just what kind of havoc will Cheryl Blossom wreak? All the answers and more in the third volume of the smash-hit Archie series!
Collects Archie #13-17.
In Shops: Apr 19, 2017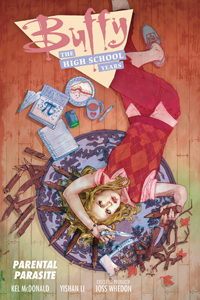 BUFFY - THE HIGH SCHOOL YEARS: PARENTAL PARASITE
DARK HORSE COMICS
Kel McDonald, Yishan Li, Scott Fischer
Buffy struggles to deal with her mom Joyce's newfound interest in spending time with her. Balancing that with her schoolwork, her friends, and her regular vampire-slaying duties is a challenge. However, when Joyce becomes hypnotized by a childlike demon that craves motherly care, Buffy experiences a new kind of sibling rivalry - except in Buffy's case, her "sibling" is actually a monster!
In Shops: Jun 28, 2017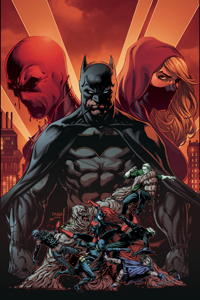 BATMAN - DETECTIVE COMICS VOL.2: VICTIM SYNDICATE
DC COMICS
James Tynion IV, Marguerite Bennett, Eddy Barrows, Alvaro Martinez, Ben Oliver, Jason Fabok
In these tales from Detective Comics #943-949, innocent victims maimed or broken by Batman's greatest enemies band together, and they blame Batman and his fellow crime-fighters for what happened to them just as much as they blame the psychopaths who hurt them. Batman and his newly trained allies must take on these troubled souls, but one of Batman's teammates can't help thinking they might have a point...
In Shops: May 10, 2017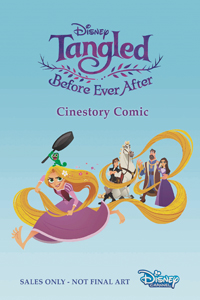 DISNEY'S TANGLED: BEFORE EVER AFTER - CINESTORY
JOE BOOKS
Various
Relive Rapunzel's journeys with Eugene, Pascal, Maximus, and new characters in the graphic novel-style retelling of the hilarious, highly-anticipated Disney's Tangled: Before Ever After!
Set between the original movie and the brand-new Disney's Tangled: The Series, fans rejoin Rapunzel as she acquaints herself with her parents, her kingdom, and the people of Corona. Now a princess, Rapunzel realizes that there is so much to learn about the world before she can truly accept her royal destiny, so she boldly puts her crown and marriage on hold to seek out epic adventures!
In Shops: Apr 19, 2017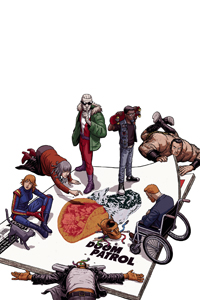 DOOM PATROL VOL.1: BRICK BY BRICK
DC COMICS
Gerard Way, Nick Derington
A blenderized reimagining of the ultimate series of the strange, Doom Patrol combines elements from classic runs, new directions and things that could not be. Our entry point is Casey Brinke, a young E.M.T. on the graveyard shift to abstract enlightenment, with a past so odd that she's not entirely sure what is real and what is not. Along with her partner, Sam Reynolds, the pair blaze a path through the city and its denizens, finding the only quiet that exists at 3 a.m. is the chaos of the brain. When the pair answer a hit-and-run call, they find themselves face to face with a familiar figure: Cliff Steele, a.k.a. Robotman.
This first Doom Patrol trade paperback collects issues #1-6.
In Shops: May 31, 2017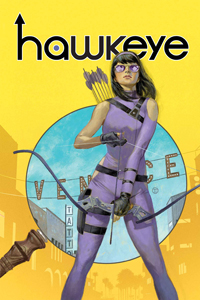 HAWKEYE VOL.1: KATE BISHOP
MARVEL COMICS
Kelly Thompson, Leonardo Romero, Julian Totino Tedesco
Your favorite Hawkeye in her own book at last! Kate Bishop, the former Young Avenger (who you'll remember from saving that other Hawkguy all the time and basically keeping his life in some semblance of order) is heading back out west to Los Angeles, with her bow and arrows and P.I. badge in tow. There are crimes to solve, and she's the best archer for the job! Her first case seems easy - a little too easy. Could it be she's uncovered a major conspiracy right off the bat? And when an unbearable hate wave spreads across L.A., it's up to the Guardian Angel of the City of Angels to calm down the entire town. The odds may be stacked against her, but this is where she thrives - nobody puts Katie in a corner!
Collecting Hawkeye (2016) #1-6.
In Shops: May 03, 2017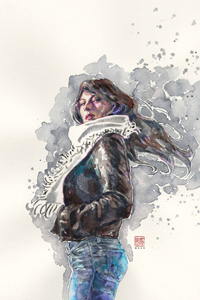 JESSICA JONES VOL.1: UNCAGED
MARVEL COMICS
Brian Michael Bendis, Michael Gaydos, David Mack
Jessica Jones is back in her own solo series! A lot has changed in the Marvel Universe since the last time she headlined her own book, and there are secrets hiding in the shadows - secrets only a special woman like Jessica Jones can hope to uncover. Alias Investigations is open for business, and of all the many mysteries to uncover, her new case may be the most dangerous one! Jessica has unearthed a new hidden evil - one so terrifying she was willing to rip her family apart to save them from it. But was her sacrifice enough? And is there any way to piece her life back together? From Jessica Jones' creators comes an all-new chapter in the world-famous private eye's ongoing adventures - one that answers some of the biggest questions about the new Marvel Now! Universe!
Collecting Jessica Jones #1-6.
In Shops: May 10, 2017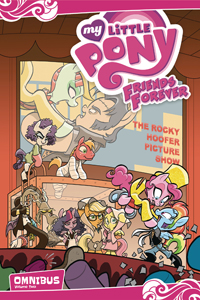 MY LITTLE PONY: FRIENDS FOREVER - OMNIBUS VOL.2
IDW PUBLISHING
Jeremy Whitley, Bobby Curnow, Ted Anderson, Christina Rice, Agnes Garbowska, Brenda Hickey, Jenn Blake, Jay P. Fosgitt
Friends Forever celebrates the magic of friendship in these stand-alone tales featuring all of your favorite characters. Share adventures with Princess Luna and Spike, Applejack and Mayor Mare, Twilight Sparkle and Big Mac, Rarity and The Cakes, and many more!
Collects issues #13-24.
In Shops: May 03, 2017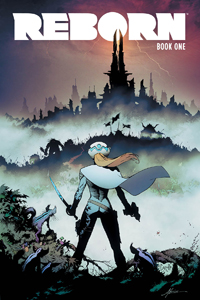 REBORN (HC)
IMAGE COMICS
Mark Millar, Jonathan Glapion, Greg Capullo
The Millar-Capullo smash-hit, sell-out Reborn is here. Where do you go when you die? Not heaven or hell - somewhere else. Somewhere you have to fight to survive. Somewhere the people from the past are waiting for you - the good and the bad.
Superstar creators Mark Millar and Greg Capullo join forces to create the sci-fi story of the year, collecting issues #1-6.
In Shops: Jun 21, 2017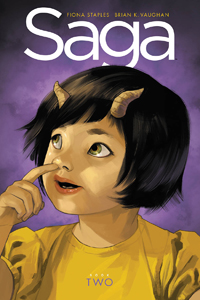 SAGA - DELUXE EDITION VOL.2 (HC)
IMAGE COMICS
Brian K. Vaughan, Fiona Staples
At long last, it's finally time for the second hardcover collection of Saga, the New York Times best-selling series praised by everyone from Alan Moore to Lin-Manuel Miranda! Created by the multiple Eisner Award-winning team of artist Fiona Staples (Mystery Society, North 40, Archie Comics) and writer Brian K. Vaughan (The Private Eye, Paper Girls, We Stand On Guard), Saga - Book Two continues the action-packed education of Hazel, a child born to star-crossed parents from opposite sides of a never-ending galactic war.
Collecting 18 issues of the smash-hit comic, this massive edition features a striking original cover from Fiona Staples, as well as a brand-new gallery of exclusive, never-before-seen Saga artwork from legendary creators including Cliff Chiang, Pia Guerra, Faith Erin Hicks, Karl Kerschl, Jason Latour, Sean Gordon Murphy, Steve Skroce, and more!
Collects Saga #19-36.
In Shops: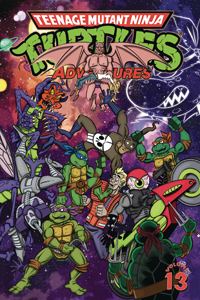 TEENAGE MUTANT NINJA TURTLES ADVENTURES VOL.13
IDW PUBLISHING
Dean Clarrain, Chris Allan, Steve Lavigne
The all-ages action continues in this collection of Teenage Mutant Ninja Turtles Adventures!
Collects issues #55-57 of the Archie Comics series and the back-up Mutanimals comics.
In Shops: May 03, 2017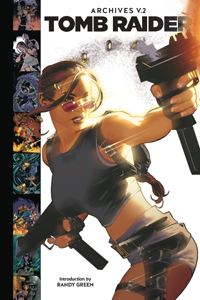 TOMB RAIDER ARCHIVES VOL.2 (HC)
DARK HORSE COMICS
Dan Jurgens, Francis Manapul, John Livesay, Billy Tan, Danny Miki, Victor Llamas, Andy Park, Jonathan Sibal
In pursuit of adventure - and the world's rarest treasures - Lara circles the globe... and even goes off the edge of the map. Journey along on her most memorable expeditions as she teams up with a treasure hunter from the future, faces off against Egyptian gods in the afterlife, and searches for love.
This deluxe oversized hardcover collects issues #16-24 and #26-34 of the 1999 Top Cow Tomb Raider series and features the art of superstar artists Adam Hughes, Michael Turner, Andy Park, Randy Green, Tony Daniel, and many more!
New writers John Ney Rieber, James Bonny, and Adam Hughes join Dan Jurgens in telling Lara's story, with an introduction by Tomb Raider all-star Randy Green!
In Shops: Jun 14, 2017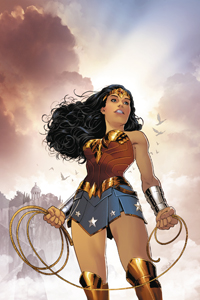 WONDER WOMAN VOL.2: YEAR ONE
DC COMICS
Greg Rucka, Bilquis Evely, Nicola Scott
The team of writer Greg Rucka and artist Nicola Scott weave the definitive and shocking tale of Diana's first year as Earth's protector. Paradise has been breached, Ares stirs and the Amazons must answer with a champion of their own... one who is willing to sacrifice her home among her sisters to save a world she has never seen. Wonder Woman's journey begins in this epic origin story!
Collects Wonder Woman #2, #4, #6, #8, #10, #12 and #14.
In Shops: May 03, 2017
BIFF'S BIT
GOOD NEWS
American Gods, the comic series, is now available UK. You can order both #1 and #2 from us this month. I am not sure as I type this who holds the UK rights, but an agreement has been reached and comic shops can now be supplied the comics. Common sense has triumphed! Unfortunately we are still being prevented from having the Batman #21 and Flash #21 lenticular covers. The good news though is that the issues themselves are still coming over. Now that would have been a problem.
SECRECY - A GOOD THING?
In January, Marvel comics solicited a graphic novel and gave no information about it except to say it was 'classified'. Unnanounced events were going to happen and this book would 'explain all'. However, it gave no hint as to the 'event' or it's ramifications. Not even to retailers. This was not cheap book, so we ordered none and and had no customer orders for it either, unsurprisingly.
This month Marvel are soliciting Secret Empire #0, again with no news as it is top secret. One can only assume this is linked into the current Captain America: Steve Rogers storyline wherein Captain America is actually a top Hydra agent! However, we are not going to bank on this. We have been caught out before with similar secrecy and been left with excess copies as the secret was no big deal and customer interest was low. It all depends on what actually happens and as we do not have a clue we will order conservatively.
We at ACE find this method of soliciting orders most odd. Basically, they are saying "Trust us, we are Marvel". As we all now know, we cannot trust corporate Marvel. We can trust the numerous excellent writers and artists working for this publisher, however the 'suits' so often let us and them down.
We feel that surprise is a good thing. Having a plot twist that actually shocks is absolutely brilliant and worth doing. If they feel this will sell really well then they should over-print and ship extras which can be returnable if they do not sell.
One classic case of this was over a decade ago when Marvel killed Captain America in issue #25 of the then current series. We did not expect this so did not order extras. Marvel had stated there would be a defining moment in that issue, but they say that each month about all of their characters. To compound this, in hindsight Marvel had managed to get huge press coverage in the USA and UK and we had scores of potential new customers coming in with no copies of issue #25 to sell them! Marvel did undertake a second print run which took four weeks to arrive. The moment was lost.
Will Secret Empire be a 'Death of Captain America'? We doubt it. A good comic? Most probably.
( - Since Biff has written this, Marvel have revealed details about 'Secret Empire', but it has always been common for them to solicit items as 'classified', with no information. - Ed.)
TRUMPED AGAIN
Well, every day is a new day for US President Donald Trump to say something outrageous or plain insensitive. For me, the resignation of Michael Flinn as his National Security Advisor is the defining moment for February. His sin? Liaising with Russian officials (the enemy) and then lying about it. Trump then follows this by attacking the FBI and CIA, not Russian officials. Kim Jong-Un step aside, the world's craziest dictator is in the USA!

Graphic Novel Top 20 Chart: January 2017
Take a look at January's best-selling graphic novels, including Batman, Harley Quinn, Kill Or Be Killed, Han Solo, Flash, Chew and Neil Gaiman's Troll Bridge...