The latest issue of Illuminations, our free monthly webzine that showcases upcoming new series and one-shots, is now available to read online!
From 2017 onwards, Illuminations is now published as an interactive, scrolling web app!
Illuminations #340 – What's inside?
Featured Titles
NEIL GAIMAN'S AMERICAN GODS: SHADOWS #1
DARK HORSE COMICS
Neil Gaiman, P. Craig Russell, Glenn Fabry
Neil Gaiman! P. Craig Russell! Scott Hampton! Shadow Moon just got out of jail, only to discover his wife is dead. Defeated, broke, and uncertain as to where to go from here, he meets the mysterious Mr. Wednesday, who employs him to serve as his bodyguard – thrusting Shadow into a deadly world of the supernatural, where ghosts of the past come back from the dead, and a brewing war between old and new gods hits a boiling point. The Hugo, Bram Stoker, Locus, World Fantasy, and Nebula award-winning novel and upcoming Starz television series by Neil Gaiman is adapted as a comic series for the first time!
SAVAGE THINGS #1
DC COMICS
Justin Jordan, Ibrahim Moustafa, John Paul Leon
25 years ago, a secret government organization kidnapped children and trained them to be chaos agents who went on to foment unrest and execute enemies of the state around the world. When these cold and unfeeling creations proved too difficult to control, the powers that be exterminated their kill squad with extreme prejudice. Too bad it didn't work. Now a rogue band of the worst monsters the world has ever known is cutting a swath of terror across the United States, threatening not just a disruption of the peace but to expose secrets their handlers never wanted to come to light. The only way to stop them is to call back the only man who ever walked away from them. His code name is Abel, and he's not afraid of getting his hands bloody. This new eight-issue miniseries from writer Justin Jordan (The Legacy of Luther Strode) and artist Ibrahim Moustafa (High Crimes) features the action of the Jason Bourne movies with the gruesome horror of classic grindhouse!
GHOSTBUSTERS 101 #1
IDW PUBLISHING
Erik Burnham, Dan Schoening
"Let's Do The Space-Warp Again!" Before they began investigating the supernatural, most of the original Ghostbusters were teachers… and they've decided it's time they start sharing their knowledge again. But when their first batch of students start poking around the firehouse and accidentally set in motion the merging of two universes (it's easier than you'd think) Venkman, Stantz, Zeddemore, and Spengler will need all the help they can get to put things right! And who do you think will Answer The Call? (If you guessed Holtzmann, Yates, Tolan, and Gilbert… you get a gold star!) It's a brand new inter-dimensional meeting of the minds, starting here!
ROYAL CITY #1
IMAGE COMICS
Jeff Lemire
Double-sized debut issue! New ongoing series written and illustrated by Jeff Lemire (Descender, A.D., Sweet Tooth). Royal City charts the lives, loves, and losses of a troubled family and a vanishing town across three decades. Patrick Pike, a fading literary star who reluctantly returns to the once-thriving factory town where he grew up, is quickly drawn back into the dramas of his two adult siblings, his overbearing mother, and his brow-beaten father, all of whom are still haunted by different versions of his youngest brother, Tommy, who drowned decades ago. Royal City is a return to the literary and thematic territory of Lemire's breakthrough graphic novel Essex County and is his most ambitious, and most personal, project to date.
X-MEN: PRIME #1
MARVEL COMICS
Marc Guggenheim, Ken Lashley, Ardian Syaf
"ResurrXion" begins here! In the wake of their war with the Inhumans, the X-Men are at a crossroads. Where do they go from here? Luckily, one beloved X-Men has the answer to that question: Xavier's dream comes full circle as Kitty Pryde returns to the X-Men, ready to lead them in their mission to protect a world that hates and fears them. The next chapter of the X-Men's saga starts here!
GRASS KINGS #1
BOOM! STUDIOS
Matt Kindt, Matt Kindt, Tyler Jenkins
From The New York Times bestselling writer Matt Kindt (Mind MGMT) and Peter Panzerfaust artist Tyler Jenkins comes a rural mystery series chronicling the tragic lives of the Grass Kings, three brothers and rulers of a trailer park kingdom, a fiefdom of the hopeless and lost, of the desperate poor seeking a promised land. Eldest brother Robert leads a grief-stricken life, having lost his daughter to a tragic accident, followed by his wife disappearing one morning never to return. When an enigmatic young woman named Maria flees to their community in search of safe haven, Robert takes her in. Will his decision lead to ruin and retribution dooming the Kingdom? Perfect for fans of True Detective: Season One or Scalped.
NANCY DREW AND THE HARDY BOYS #1
DYNAMITE
Anthony Del Col, Werther Dell'Edera, Fay Dalton
"The Big Lie" is a Nancy Drew and the Hardy Boys mystery unlike any other you've ever read… When the teenage brothers Frank and Joe Hardy are accused of the murder of their father – a detective in the small resort town of Bayport – they must team up with the femme fatale Nancy Drew to prove their innocence (and find the real guilty party in the process) in a twisting, hard-boiled tale, complete with double-crosses, deceit and dames. Inspired by new crime classics like Ed Brubaker's Fatale and Darwyn Cooke's Parker series, writer Anthony Del Col (Assassin's Creed, Kill Shakespeare) and artist Werther Dell'Edera (Batman: Detective Comics, House of Mystery) bring the iconic teen detectives into the modern age, and redefine noir for a new generation of readers!
Novel Ideas
Our selection of sixteen recommended graphic novels include the following top reads:
ALL STAR BATMAN VOL.1: MY OWN WORST ENEMY

LENNON: THE NEW YORK YEARS

JAMES BOND VOL.2: EIDOLON

SAGA VOL.7

TEENAGE MUTANT NINJA TURTLES UNIVERSE VOL.1

WALKING DEAD VOL.27: THE WHISPERER WAR
Biff's Bit
"…This is the year to celebrate the diversity of the comic medium, and what better way to do this than by buying an extra Image comic per month this year! 2017 marks the 25th anniversary of the founding of Image Comics and certain issues will be an incredible 25c(!) – you must at least try one of these issues and see what all the fuss is about!…" – excerpt
Top 20 Graphic Novel Chart
December's best-selling graphic novels include Batman, Star Wars, Paper Girls, Black Science, Buffy, Lone Wolf, Johnny Red and more!
Hit the image below to access the web app!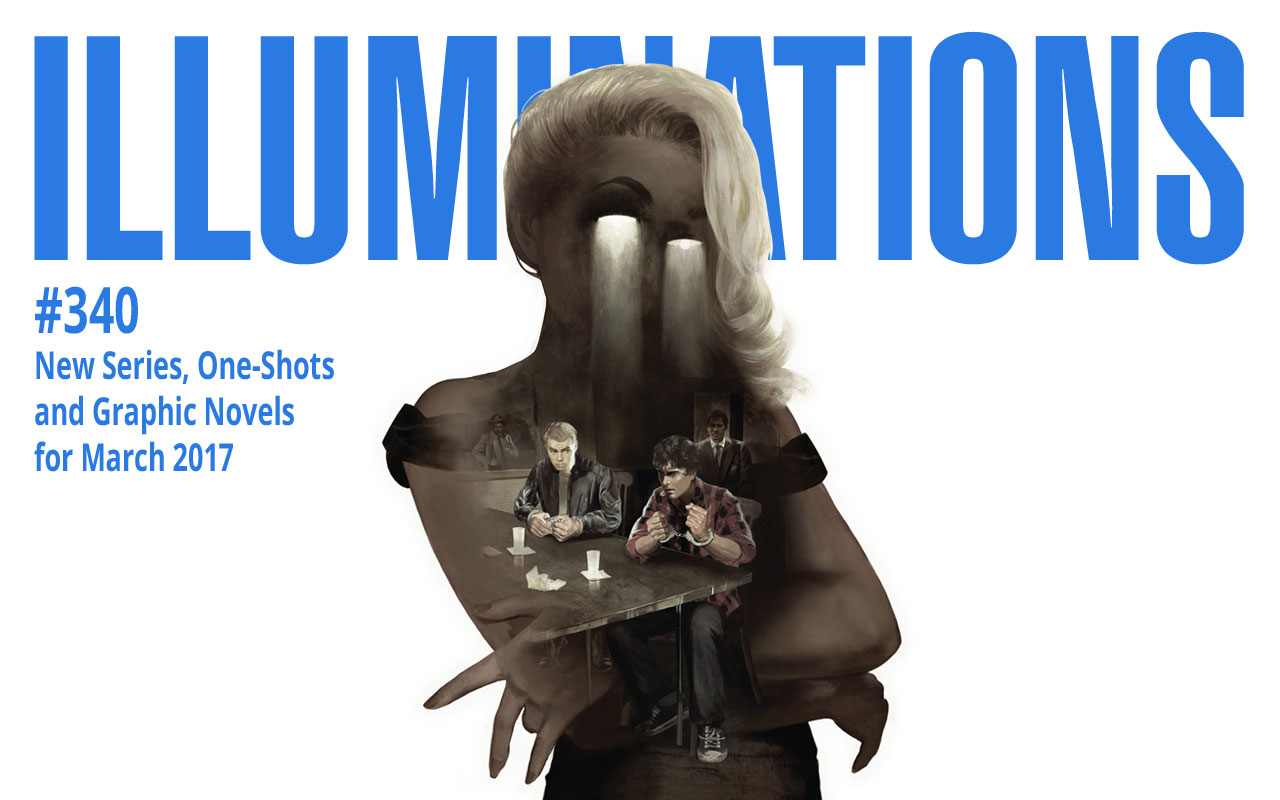 Visit our Illuminations page, for previous issues.