#340
New Series, One-Shots
and Graphic Novels
for March 2017
DARK HORSE COMICS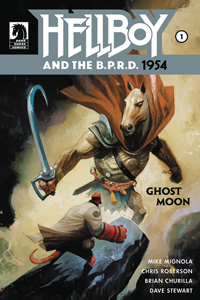 HELLBOY AND THE BPRD - 1954: GHOST MOON #1
Mike Mignola, Chris Roberson, Brian Churilla, Mike Huddleston
Hellboy hunts ancient Chinese demons in the Walled City of Hong Kong when an old friend of Bruttenholm's calls in a favor. A heavily researched look into the early days of the British spy network in the Far East, combined with Mignola's unique brand of supernatural adventure.
In Shops: Mar 08, 2017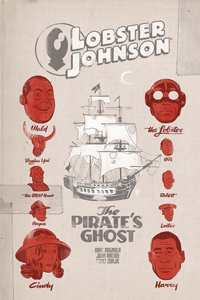 LOBSTER JOHNSON: THE PIRATE'S GHOST #1
John Arcudi, Mike Mignola, Tonci Zonjic
The New York Harbor Patrol are in over their heads when a ghostly pirate ship appears on the Hudson River, and the Lobster's hunt for a major mob boss may have something to do with it.
In Shops: Mar 29, 2017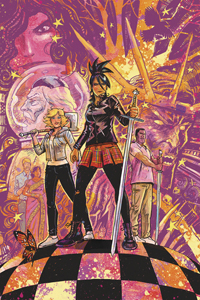 ONCE AND FUTURE QUEEN #1
Adam P. Knave, D.J. Kirkbride, Nick Brokenshire
It's out with the old myths and in with the new as a nineteen-year-old chess prodigy pulls Excalibur from the stone and becomes queen. Now, magic, romance, Fae, Merlin, and more await her! Lend her your axe as the creators of Amelia Cole start a new age of adventure!
In Shops: Mar 01, 2017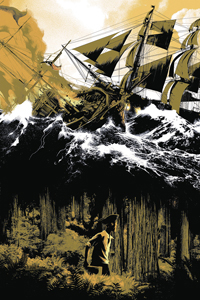 REBELS: THESE FREE AND INDEPENDENT STATES #1
Brian Wood, Andrea Mutti, Matt Taylor
In 1775, Seth Abbott fought to win his fellow Americans their independence. In 1794, his savant son, John, comes of age as their new nation faces multiple threats: high seas terrorism, fresh aggression from Britain, and intense political division at home. When Congress authorizes building America's first navy, the famous "six frigates," John Abbott signs up.
In Shops: Mar 22, 2017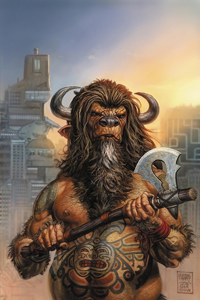 NEIL GAIMAN'S AMERICAN GODS: SHADOWS #1
Neil Gaiman, P. Craig Russell, Glenn Fabry
Neil Gaiman! P. Craig Russell! Scott Hampton! Shadow Moon just got out of jail, only to discover his wife is dead. Defeated, broke, and uncertain as to where to go from here, he meets the mysterious Mr. Wednesday, who employs him to serve as his bodyguard - thrusting Shadow into a deadly world of the supernatural, where ghosts of the past come back from the dead, and a brewing war between old and new gods hits a boiling point. The Hugo, Bram Stoker, Locus, World Fantasy, and Nebula award-winning novel and upcoming Starz television series by Neil Gaiman is adapted as a comic series for the first time!
In Shops: Mar 15, 2017
DC COMICS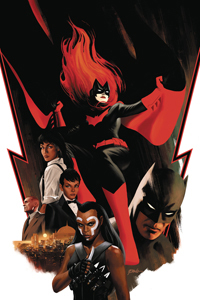 BATWOMAN #1
Marguerite Bennett, James Tynion IV, Steve Epting
"The Many Arms Of Death" part one! At last - Batwoman is back in her own ongoing series! On the island nation of Coryana, anything goes for members of the criminal underworld... and during her lost years after being drummed out of the military, Kate Kane found a kind of refuge there. But now, a deadly new bioweapon is available in the markets of Coryana, and Batwoman will have to face up to the things she did in those days... and the people she left behind, some of whom would be happier to see her dead than alive!
Writer Marguerite Bennett (DC Bombshells) is joined by James Tynion IV (Detective Comics) and superstar artist Steve Epting (Captain America, Velvet) to present an epic Batwoman story that will alter the course of her life forever! This one's unmissable!
In Shops: Mar 15, 2017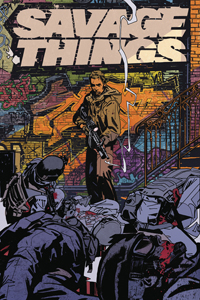 SAVAGE THINGS #1
Justin Jordan, Ibrahim Moustafa, John Paul Leon
25 years ago, a secret government organization kidnapped children and trained them to be chaos agents who went on to foment unrest and execute enemies of the state around the world. When these cold and unfeeling creations proved too difficult to control, the powers that be exterminated their kill squad with extreme prejudice. Too bad it didn't work. Now a rogue band of the worst monsters the world has ever known is cutting a swath of terror across the United States, threatening not just a disruption of the peace but to expose secrets their handlers never wanted to come to light. The only way to stop them is to call back the only man who ever walked away from them. His code name is Abel, and he's not afraid of getting his hands bloody.
This new eight-issue miniseries from writer Justin Jordan (The Legacy of Luther Strode) and artist Ibrahim Moustafa (High Crimes) features the action of the Jason Bourne movies with the gruesome horror of classic grindhouse!
In Shops: Mar 01, 2017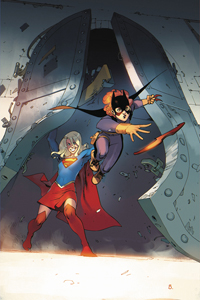 BATGIRL - ANNUAL #1
Hope Larson, Inaki Miranda, Bengal
Batgirl and Supergirl must team up to break into Arkham Asylum! In this all-new 'Rebirth' annual Batgirl must seek Supergirl's help to solve a mystery that leads them to the heart of the most insane insane asylum there is! But what they discover - and who they discover - in Arkham will lead to a much, much bigger story!
In Shops: Mar 29, 2017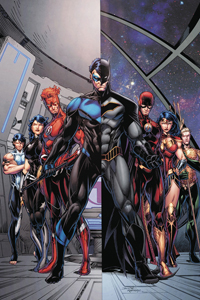 TITANS - ANNUAL #1
Dan Abnett, Minkyu Jung, Brett Booth, Norm Rapmund
When Dick, Wally, Donna and Garth awaken in an unfamiliar place, they find themselves face-to-face with their mentors: Batman, The Flash, Wonder Woman and Aquaman! Allied together against a common foe, the mentors and proteges must race against the clock to unlock the secret of their current predicament and save the planet from an alien invasion!
In Shops: Mar 29, 2017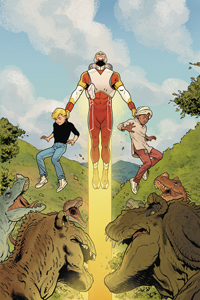 ADAM STRANGE / FUTURE QUEST - ANNUAL #1
Marc Andreyko, Jeff Parker, Dan DiDio, Steve Lieber, Phil Winslade, Evan "Doc" Shaner
After the events of the Death Of Hawkman miniseries, Adam Strange is blasted through multiple dimensions only to land on Earth! There, instead of super-powered beings and legendary crime fighters, he encounters a boy adventurer and his scientist father - and they're the only ones who can help him return home. Jonny Quest, Hadji, Dr. Quest and Race Bannon have a plan, but it's going to involve a dangerous trek through Dino Boy's Lost Valley of prehistoric threats! And in the backup feature starring Top Cat, breaking out of prison is challenging enough for a cat, but sometimes it means stumbling through a cosmic portal to planet Earth... and right into the hands of Batman!
In Shops: Mar 29, 2017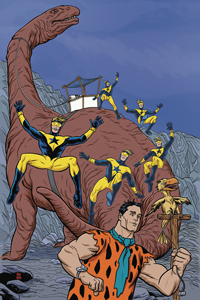 BOOSTER GOLD / THE FLINTSTONES - ANNUAL #1
Mark Russell, Amanda Conner, Jimmy Palmiotti, Rick Leonardi, Scott Hanna, Michael Allred
Welcome to the 25th century, where the Earth is a polluted post-industrial nightmare, most animals are extinct, and reptilian aliens are invading cities across the planet! In their time of need, the world's citizens turn to the time-traveling Booster Gold to save the day. To learn why these aliens are seeking revenge, Booster dives deep into the prehistoric past to see what happened the last time they hit the planet. In this bygone era, Fred Flintstone and Barney Rubble must help Booster learn the truth and return to his own time armed with the information that will bring down the invaders - if Booster can convince them to help him. No problem - we all know how persuasive Booster can be, right? Right?!
And in the backup feature starring The Jetsons, in a new twist on an old twist about our future, The Jetsons live in a world of robotics and gadgetry. But how does dying change when grandma's brain can be digitally imprinted onto a housecleaning robot?
In Shops: Mar 29, 2017
GREEN LANTERN / SPACE GHOST - ANNUAL #1
James Tynion IV, Christopher Sebela, Howard Chaykin, Ariel Olivetti
Trapped in a strange rift in time, Green Lantern and Space Ghost are forced to battle a variety of foes - and each other! And even if they manage to survive, they will be thrown into a world with no concept of interstellar travel - or even what an alien is! Stripped of their weapons by a xenophobic culture, the duo will have to battle to regain them - but what happens when Space Ghost dons the Emerald Ring and Hal Jordan put on the Power Bands? And in the backup feature, Ruff and Reddy were once the toast of nightclubs, variety shows, late night chat fests and Broadway. Learn how they became the comedic duo of yesterday... before they hit rock-bottom today!
In Shops: Mar 29, 2017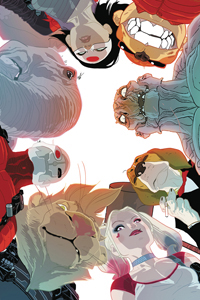 SUICIDE SQUAD / BANANA SPLITS - ANNUAL #1
Antony Bedard, Mark Russell, Ben Caldwell, Dale Eaglesham, Clyde Caldwell
"Suicide Splits"! Mistaken for metahumans, thrown in the bowels of Belle Reve, the animal rock band Banana Splits are recruited by Amanda Waller for a secret mission: to save the Suicide Squad! What follows is the weirdest team-up you never thought you'd see! How can Fleegle, Bingo, Drooper and Snorky stand up to Harley, Deadshot, Katana and Croc?! And in the backup feature, Snagglepuss is a Southern gothic playwright working with an ensemble cast of cultural figures, exploring an intensely creative time in the New York City theater scene of the 1950s...
In Shops: Mar 29, 2017
IDW PUBLISHING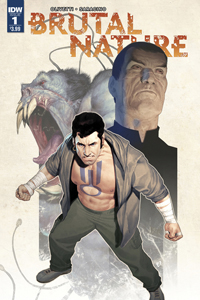 BRUTAL NATURE: CONCRETE FURY #1
Luciano Saracino, Ariel Olivetti
In the future, glistening buildings line the city's skyline. In the future, rich and powerful men wish to exploit power they don't fully comprehend. In the future, a new warrior emerges... a shapeshifter that will help the people rise against the forces of oppression!
Luciano Saracino and Ariel Olivetti return to the savage world of Brutal Nature!
In Shops: Mar 08, 2017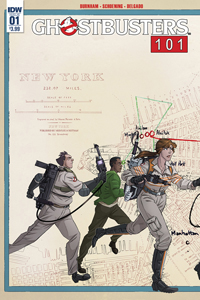 GHOSTBUSTERS 101 #1
Erik Burnham, Dan Schoening
"Let's Do The Space-Warp Again!" Before they began investigating the supernatural, most of the original Ghostbusters were teachers... and they've decided it's time they start sharing their knowledge again. But when their first batch of students start poking around the firehouse and accidentally set in motion the merging of two universes (it's easier than you'd think) Venkman, Stantz, Zeddemore, and Spengler will need all the help they can get to put things right! And who do you think will Answer The Call? (If you guessed Holtzmann, Yates, Tolan, and Gilbert... you get a gold star!) It's a brand new inter-dimensional meeting of the minds, starting here!
In Shops: Mar 22, 2017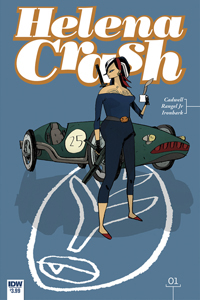 HELENA CRASH #1
Fabian Rangel, Warwick Johnson-Cadwell
From writer Fabian Rangel Jr (Space Riders) and artist Warwick Johnson-Cadwell (Tank Girl) comes a new pulse pounding, caffeine fueled, sword swinging, machine-gun firing, car crashing sci-fi adventure comic!
In a future where coffee is illegal, Helena is a courier, delivering black market goods to anyone who can afford her services. When Rojo, a ruthless crime boss, asks her to assassinate his rival, the alien mobster known as White Demon, Helena finds herself in the middle of a gang war! To survive, Helena must use all of her skills, and seek help from her friends to stay ahead of her enemies!
In Shops: Mar 29, 2017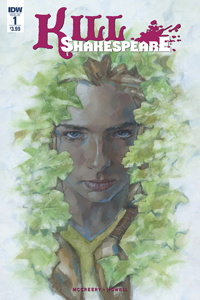 KILL SHAKESPEARE: PAST IS PROLOGUE - JULIET #1
Conor McCreery, Corin Howell, Simon Davis
Juliet lives! The newest chapter of the award-winning Kill Shakespeare series flashes back to five months after the death of Romeo, where Juliet is mourning yet another loved one - her mother. Now Juliet must discover who the murderer is, lest she becomes the next victim.
New series artist Corin Howell (Transformers, The Mighty Zodiac, X-Files: Scully) takes the reins in a tale perfect for new readers to the series.
In Shops: Mar 22, 2017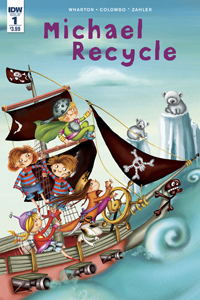 MICHAEL RECYCLE #1
Eleanor Wharton, Thomas Zahler, Alexandra Colombo
Join environmentally conscious kid crusader Michael Recycle as he makes the eco-friendly leap from books to comics! Michael's green adventures are about to get a whole lot messier when he faces threats to Earth's environment from all over the globe. In the premiere issue, Michael and Solar Lola team up with Bootleg Peg to stop the polar ice caps from completely melting in "Mission Meltdown"! Can the trio save the residents of the North Pole before it's too late?
In Shops: Mar 15, 2017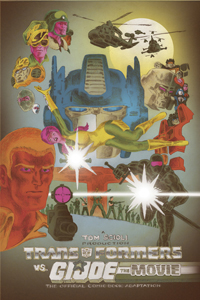 TRANFORMERS VS GI JOE: THE MOVIE - ADAPTATION
Tom Scioli
Imagine a world where the greatest comic book crossover of all time inspires a movie adaptation... and that movie adaptation inspires its own comic book! Visionary writer-artist Tom Scioli returns to the weird world of Transformers vs GI Joe and brings an even weirder twist to this new story: what would the comic book adaptation of the movie version of the comic book look like? It's time to find out in the most epic, scintillating, off-the-wall, exciting comic of 2017!
In Shops: Mar 08, 2017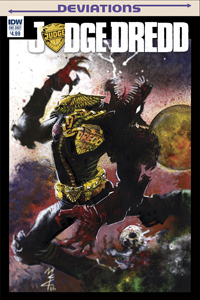 JUDGE DREDD: DEVIATIONS
John McCrea
In a world where Judge Dredd turned into a werewolf... and stayed that way! The legendary creator of Dogwelder, John McCrea, takes a sideways look at one of the more celebrated Dredd stories, "Cry of the Werewolf" by John Wagner and Alan Grant and the late, great Steve Dillon. Brace yourself for... "Howl of the Wolf!"
In Shops: Mar 08, 2017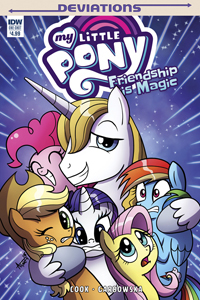 MY LITTLE PONY: DEVIATIONS
Katie Cook, Agnes Garbowska
In a world where Prince Blueblood becomes Celestia's star pupil, not Twilight Sparkle! What will happen when he journeys to Ponyville to get a lesson in friendship?
In Shops: Mar 01, 2017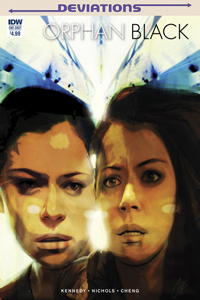 ORPHAN BLACK: DEVIATIONS #1
Heli Kennedy, Wayne Nichols, Cat Staggs
In a world where Sarah managed to save Beth from taking her own life! With this single twist of fate, the Clone Club comes together in a completely different way and the mystery of Project LEDA unfolds in new, exiting ways! See all your favorite characters return in an all-new light!
In Shops: Mar 29, 2017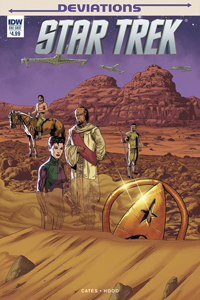 STAR TREK: DEVIATIONS
Donny Cates, Josh Hood
In a world where the Romulans discovered Earth before the Vulcans, Earth is now a brutal penal colony. Resistance fighter William Riker has uncovered a vast conspiracy, and together with his band of prisoner outlaws (you just might recognize a few!), must fight to rescue a mysterious prisoner in the darkest level of the Romulan dungeons. The only man on Earth that still holds the key to humanity's return to the stars!
In Shops: Mar 22, 2017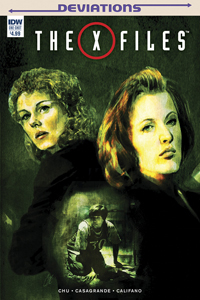 X-FILES: DEVIATIONS
Amy Chu, Elena Casagrande, Cat Staggs
In a world where young Fox Mulder was abducted by aliens and never returned, another Mulder takes up the crusade against deception! Agent Samantha Mulder returns with Agent Dana Scully to investigate a shadowy figure who may hold the truth behind the disappearance of Sam's brother Fox. Guest-starring the Lone Gunmen!
In Shops: Mar 15, 2017
IMAGE COMICS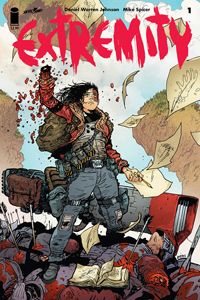 EXTREMITY #1
Daniel Warren Johnson
Series premiere! Thea dreams. Not of a better life, but of revenge on the clan that ruined her family. With ferocious battles between man, machines, and monsters ahead... who knows where her quest for vengeance will take her? Creator Daniel Warren Johnson (Space Mullet) and colorist Mike Spicer present a bold new vision, where the beauty and imagination of Studio Ghibli meet the intensity of Mad Max, in this all-new Skybound Original.
In Shops: Mar 01, 2017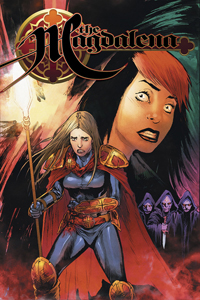 MAGDALENA #1
Tini Howard, Ryan Cady, Christian Dibari
Series premiere! The Magdalena has always defended the world from demonic evil, empowered by the blood of Jesus Christ and Mary Magdalene in her veins. But when a brush with death leaves her gravely wounded, Patience decides to seek out the next in the bloodline and train her replacement. The replacement, meanwhile, is having enough trouble with finding her purpose even without the whole holy-warrior gig.
In Shops: Mar 22, 2017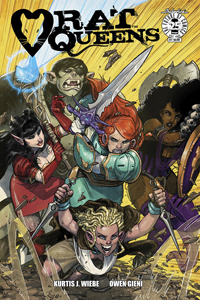 RAT QUEENS #1
Kurtis J. Wiebe, Owen Gieni
"Cat Kings And Other Garys" part one - new story arc! The Rat Queens are back! Betty, Violet, Dee, Braga, and Hannah return! Palisade is still a rat-infested troll's ass, and everyone still hates Gary. It's been a while since the Queens have done a good slaughter, so join them as they get back to the basics of killing monsters and drinking away the profits!
A fresh, soft reboot to the head for the Rat Queens with artist Owen Gieni!
In Shops: Mar 01, 2017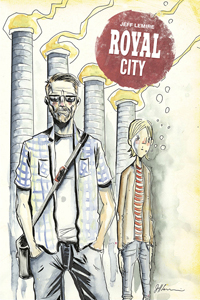 ROYAL CITY #1
Jeff Lemire
Double-sized debut issue! New ongoing series written and illustrated by Jeff Lemire (Descender, A.D., Sweet Tooth).
Royal City charts the lives, loves, and losses of a troubled family and a vanishing town across three decades. Patrick Pike, a fading literary star who reluctantly returns to the once-thriving factory town where he grew up, is quickly drawn back into the dramas of his two adult siblings, his overbearing mother, and his brow-beaten father, all of whom are still haunted by different versions of his youngest brother, Tommy, who drowned decades ago.
Royal City is a return to the literary and thematic territory of Lemire's breakthrough graphic novel Essex County and is his most ambitious, and most personal, project to date.
In Shops: Mar 01, 2017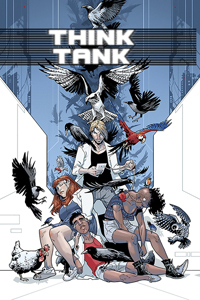 THINK TANK VOL.5 #1
Matt Hawkins, Rahsan Ekedal
New story arc! Several key NATO figures are assassinated... by animals? Someone has perverted Dr. David Loren's surface thought-reader and turned it into a device that sends animals on kill missions. Still recovering from his recent suicide attempt, Loren is forced back into the military game to help uncover who is behind this. His fragile relationship with Mirra Sway is tested even further when his father shows up... with a sister he didn't know he had.
In Shops: Mar 01, 2017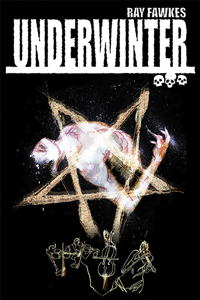 UNDERWINTER #1
Ray Fawkes
Series premiere! "Symphony," part one. Critically acclaimed creator Ray Fawkes launches his new monthly horror series: Underwinter, twisted portraits of our dark world, beginning with the perverse, topical "Symphony" - a beautifully painted tale of music and cruelty in the modern age.
In Shops: Mar 22, 2017
MARVEL COMICS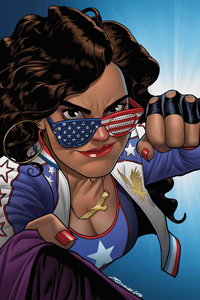 AMERICA #1
Gabby Rivera, Joe Quinones
At last! Everyone's favorite no-nonsense powerhouse, America Chavez, gets her own series! Written by critically-acclaimed young adult novelist Gabby Rivera (Juliet Takes A Breath) and drawn by all-star artist Joe Quinones (Howard The Duck), Marvel Comics' brand new America series shines a solo spotlight on the high-octane and hard-hitting adventures of the one and only America Chavez!
America has always been uncontestably awesome, and as the newly appointed leader of the Ultimates, she's now officially claimed her place as the preeminent butt-kicker of the Marvel Universe! But while leading a team of heroes and punching out big bads is great and all, it doesn't really leave much time for self-discovery... So what's a super-powered teenager do when she's looking for a little fulfillment? She goes to college! She just has to stop an interdimensional monster or two first, plus shut down a pesky alien cult that's begun worshipping her exploits!
In Shops: Mar 01, 2017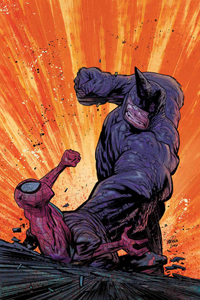 CLONE CONSPIRACY: OMEGA
Dan Slott, Christos Gage, Peter David, Cory Smith, Mark Bagley, Stuart Immonen, James Harren
"The Clone Conspiracy" is finished, but the impacts on Spider-Man's life is huge. The Rhino comes at Spider-Man with an intense fury and aims to pin the spider to the wall... permanently. What was the final fate of Ben Reilly? Or the Lizard? Witness the first chapter of the next big Spider-Book by Peter David and Mark Bagley!
In Shops: Mar 01, 2017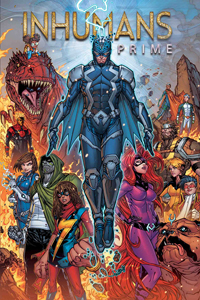 INHUMANS: PRIME #1
Al Ewing, Ryan Sook, Jonboy Meyers
"ResurrXion" begins here! In the wake of the awesome events of "IvX" - what will become of the Inhumans? In this oversized special issue - the trial of Maximus! The coming of Marvel Boy! And what is the dark secret of Black Bolt? A special bridging issue between the past of the Inhumans and their future - on Earth and in the stars!
In Shops: Mar 29, 2017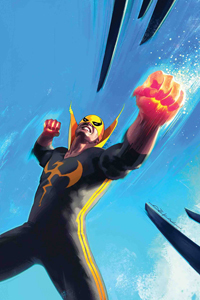 IRON FIST #1
Ed Brisson, Mike Perkins, Jeff Dekal
"The Gauntlet" starts here! K'un Lun is in ruins. The chi fueling Danny's fists is wavering. Is there a future for the Iron Fist? Danny Rand pushes himself to the breaking point, finding fights to prove his worth. But a bigger fight than he can handle may have found him...
In Shops: Mar 22, 2017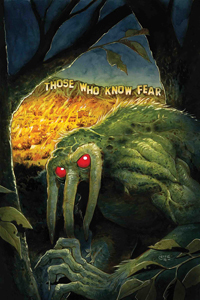 MAN-THING #1
R. L. Stine, German Peralta, Daniel Johnson, Tyler Crook
Marvel welcomes R.L. Stine! Beloved writer R.L. Stine (Goosebumps, Fear Street) brings his special brand of horror to Man-Thing!
After working for years, Man-Thing has regained his ability to speak and has taken Hollywood by storm... but when an ancient and mysterious danger threatens the swamp, Man-Thing is going to have to choose between his new life and celebrity, and the world he used to call home... Plus, a bone-chilling new horror story, written by the master himself, R.L. Stine, and illustrated by the incomparable Daniel Warren Johnson!
In Shops: Mar 08, 2017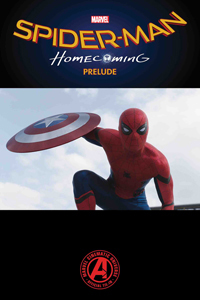 SPIDER-MAN: HOMECOMING - PRELUDE #1
Will Pilgrim, Todd Nauck
Your friendly neighborhood Spider-Man swings into the MCU! Peter Parker is just your average, nerdy, tech-loving teenager... until an unexpected turn of events lands him with the power to cling to walls and the proportionate strength of a spider!
Spider-Man's foray into the Marvel Cinematic Universe begins here, with part one of an adaptation of the blockbuster Marvel's Captain America: Civil War, which sees a rift between Captain America and Iron Man rend a schism between the Avengers... with Spider-Man in the middle of it all!
In Shops: Mar 01, 2017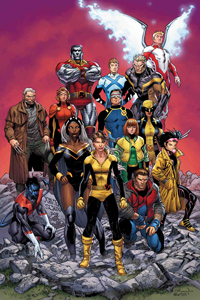 X-MEN: PRIME #1
Marc Guggenheim, Ken Lashley, Ardian Syaf
"ResurrXion" begins here! In the wake of their war with the Inhumans, the X-Men are at a crossroads. Where do they go from here? Luckily, one beloved X-Men has the answer to that question: Xavier's dream comes full circle as Kitty Pryde returns to the X-Men, ready to lead them in their mission to protect a world that hates and fears them. The next chapter of the X-Men's saga starts here!
In Shops: Mar 29, 2017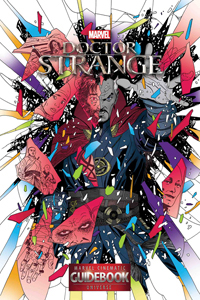 GUIDE TO THE MARVEL CINEMATIC UNIVERSE: MARVEL'S DOCTOR STRANGE
Mike O'Sullivan, The Ohotmu Team, Marcos Martin, Various
Doctor Strange introduces magic and mysticism to the Marvel Cinematic Universe, and the MCU Guidebooks are here to record every spell and incantation! Our comprehensive coverage of the fan-favorite Marvel Studios films and Marvel Television series continues as we reveal everything you need to know about Stephen Strange's big-screen debut! With fact sheets, movie-to-comic comparisons, and behind-the-scenes production art and stills, this issue is packed with profiles on Doctor Strange himself; friends and allies including Doctor Christine Palmer, Wong, Mordo and The Ancient One; foes such as Kaecilius and Dormammu; and mystical relics including the Cloak of Levitation and the Eye of Agamotto! And more! Relive the thrills of Marvel's Doctor Strange, and continue building your indispensable library of Cinematic Universe reference books!
In Shops: Mar 29, 2017
SELECTED INDEPENDENT PUBLISHERS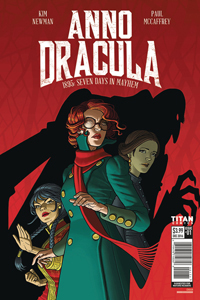 ANNO DRACULA #1
TITAN COMICS
Kim Newman, Paul McCaffrey
1895. Prince Dracula has ruled Great Britain for ten years, spreading vampirisn through every level of society. On the eve of Dracula's Jubilee, radical forces gather to oppose the tyrant. Kate Reed, vampire journalist and free-thinker, takes a seat on the revolutionary Council of Seven Days, though she learns that the anarchist group harbours a traitor in its midst. The Grey Men, Dracula's dreaded secret police, have been ordered to quash all resistance to the rule of the arch-vampire. With intrigue on all sides, the scene is set for an explosive addition to the Anno Dracula series.
In Shops: Mar 22, 2017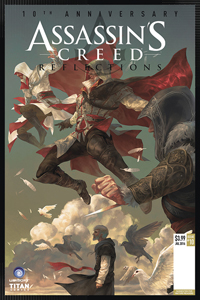 ASSASSINS' CREED: REFLECTIONS #1
TITAN COMICS
Ed Edginton, Valeria Luxfero, Sunsetagain
To mark ten glorious years of Assassin's Creed, Titan Comics are bringing together the franchise's best-loved characters for a celebratory series like no other! Get ready for four brand new adventures starring fan-favorite assassins like Edward Kenway and Altair, along with the series' celebrated Renaissance roof-crawler, Ezio Auditore da Firenze!
In Shops: Mar 08, 2017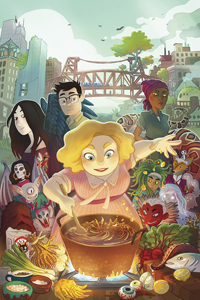 BRAVE CHEF BRIANNA #1
BOOM! STUDIOS
Sam Sykes, Selina Espiritu, Bridget Underwood
From fantasy author Sam Sykes (Aeons' Gate) comes a story about budding chef Brianna Jakobsson, who's trying to impress her father but whose best - and only - customers are monsters.
Brianna has big dreams of starting her own restaurant. When her ailing father, a celebrity restaurant magnate, poses a challenge to his only daughter and 15 sons, she sets out to create the best restaurant around! Thing is, the only city she can afford to set up shop in is Monster City.
Great for fans of Adventure Time and Steven Universe.
In Shops: Mar 01, 2017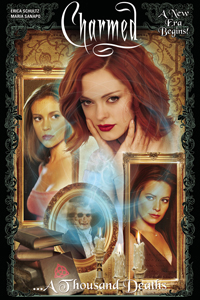 CHARMED #1
DYNAMITE
Erica Schultz, Maria Sanapo, Joe Corroney
Balancing work, witchcraft, and a life is never easy, and the Charmed Ones are stretched too thin. Meanwhile, a demon in the Underworld rallies the troops with a plan to take out the Charmed Ones forever.
In Shops: Mar 08, 2017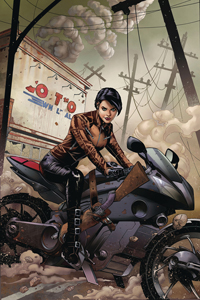 COURIER #1
ZENESCOPE
Ralph Tedesco, Drew Edward Johnson
In 2033 less than 1% of the population survived a devastating pandemic virus. Half of those who lived were immune while half of the survivors mutated into something disturbingly subhuman. Now decades later, the world has rebuilt in many ways but has become something else entirely. Strongholds of human survivors have been set up independently of one another across parts of what is formerly the United States. The rich live in highly guarded Utopias where technology and even an economy has been restored. However, the vast "wasteland" between strongholds is a very dangerous and unforgiving place where the poor are forced to live in areas where gangs, pirates and the mutated roam free. Couriers are key to the survival of the Strongholds and are paid handsomely to deliver valuables between them. Eve Harper is one of the best couriers there is, but when she takes a job to find a missing shipment for an extremely dangerous drug dealer named Gillings, Eve is forced to use every trick she's ever learned in order to survive the riskiest job of her life.
In Shops: Mar 29, 2017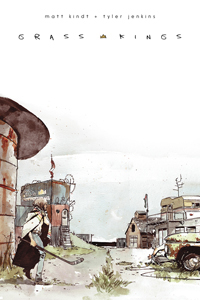 GRASS KINGS #1
BOOM! STUDIOS
Matt Kindt, Matt Kindt, Tyler Jenkins
From The New York Times bestselling writer Matt Kindt (Mind MGMT) and Peter Panzerfaust artist Tyler Jenkins comes a rural mystery series chronicling the tragic lives of the Grass Kings, three brothers and rulers of a trailer park kingdom, a fiefdom of the hopeless and lost, of the desperate poor seeking a promised land.
Eldest brother Robert leads a grief-stricken life, having lost his daughter to a tragic accident, followed by his wife disappearing one morning never to return. When an enigmatic young woman named Maria flees to their community in search of safe haven, Robert takes her in. Will his decision lead to ruin and retribution dooming the Kingdom?
Perfect for fans of True Detective: Season One or Scalped.
In Shops: Mar 08, 2017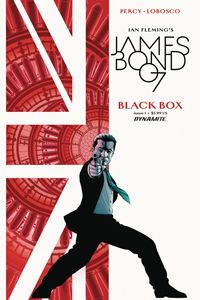 JAMES BOND: BLACK BOX #1
DYNAMITE
Ben Percy, Rapha Lobosco, John Cassaday
"Black Box", part one - "Whiteout". The next epic adventure for 007 kicks off in the snowbound French Alps, where Bond finds himself in the crosshairs of an assassin who targets other assassins. This is the first puzzle piece in a larger adrenaline-fueled mystery that will send Bond across the globe to investigate a digital breach that threatens global security.
In Shops: Mar 01, 2017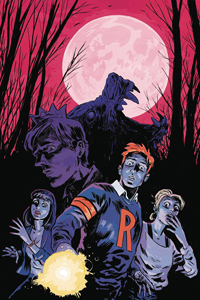 JUGHEAD: THE HUNGER (ONE-SHOT)
ARCHIE COMICS
Frank Tieri, Michael Walsh
Brand new one-shot special! Jughead Jones has always had an insatiable appetite... but what if his hunger came from a sinister place? When a murderous menace is on the prowl, taking the lives of some of the most well-known and esteemed inhabitants of Riverdale, Jughead and his family's dark legacy comes to light.
Join writer Frank Tieri (Wolverine) and artist Michael Walsh (Secret Avengers) for this horrifying one-shot for Teen+ readers.
In Shops: Mar 29, 2017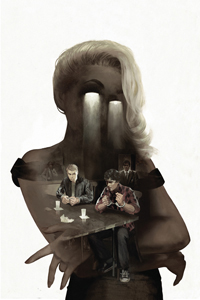 NANCY DREW AND THE HARDY BOYS #1
DYNAMITE
Anthony Del Col, Werther Dell'Edera, Fay Dalton
"The Big Lie" is a Nancy Drew and the Hardy Boys mystery unlike any other you've ever read...
When the teenage brothers Frank and Joe Hardy are accused of the murder of their father - a detective in the small resort town of Bayport - they must team up with the femme fatale Nancy Drew to prove their innocence (and find the real guilty party in the process) in a twisting, hard-boiled tale, complete with double-crosses, deceit and dames.
Inspired by new crime classics like Ed Brubaker's Fatale and Darwyn Cooke's Parker series, writer Anthony Del Col (Assassin's Creed, Kill Shakespeare) and artist Werther Dell'Edera (Batman: Detective Comics, House of Mystery) bring the iconic teen detectives into the modern age, and redefine noir for a new generation of readers!
In Shops: Mar 08, 2017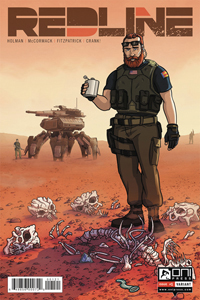 REDLINE #1
ONI PRESS
Neal Holman, Clayton McCormack, Kelly Fitzpatrick
Mars. The near future-ish. A bomb takes out a city block on Harrison Station. The media rush to blame the local terrestrials (re:aliens), however Superintendent Denton Coyle has a feeling that it may not be so simple... or maybe that feeling is Coyle's hangover gut bomb. It's unclear... like a 50/50 shot, it's a mistake or explosive diarrhea. Maybe it's both? In other words, it's yet another Tuesday on Mars.
In Shops: Mar 08, 2017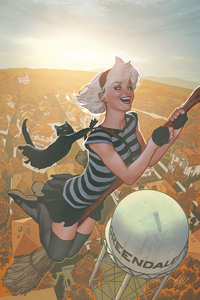 SABRINA THE TEENAGE WITCH (ONE-SHOT)
ARCHIE COMICS
Katie Cook, Franco, Andy Price, Adam Hughes
Brand new one-shot special! Sabrina is off to college for her first foray into "the real world." After years of being protectively home schooled by her aunts, she is ready to experience friends, boys, and parties-but a shocking revelation will rock her world in a way she never expected!
From writers Franco (Tiny Titans) and Katie Cook (My Little Pony: Friendship is Magic) and art by Andy Price (My Little Pony: Friendship is Magic)!
In Shops: Mar 22, 2017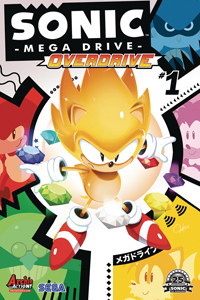 SONIC: MEGA DRIVE - OVERDRIVE
ARCHIE COMIC PUBLICATIONS
Ian Flynn, Matt Herms, Tyson Hesse, Sega
Sonic kicks things into "Overdrive"! The classic Sonic sensation comes to its startling finale!
Dr. Eggman has managed to gather up all seven of the Ancient Gears which will super-charge his latest creation - the Mega Drive! Now Sonic, Tails, Knuckles and Amy Rose are in a race against time to gather the Chaos Emeralds and stop Dr. Eggman before the vicious device launches!
Featuring cover art by rising star Tyson Hesse!
In Shops: Mar 01, 2017
(GRAPHIC) NOVEL IDEAS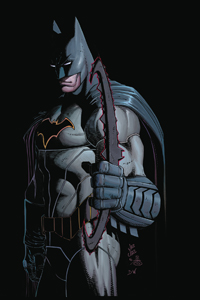 ALL STAR BATMAN VOL.1: MY OWN WORST ENEMY (HC)
DC COMICS
Scott Snyder, Declan Shalvey, John Romita, Danny Miki
Scott Snyder, the #1 New York Times best-selling author of Batman returns to the Dark Knight in All-Star Batman!
Batman finds himself trying to help his old friend Harvey Dent, a.k.a. the villainous Two-Face! The Dark Knight accompanies his sometime friend on a cross-country trip to fix his scarred face and end the Two-Face identity forever. But when the former Gotham City D.A. sets a plan into motion to free himself, what deadly secrets from the past will bubble to the surface?
Collects issues #1-5.
In Shops: Apr 19, 2017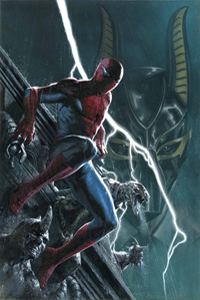 AMAZING SPIDER-MAN: THE CLONE CONSPIRACY (HC)
MARVEL COMICS
Various
The Jackal is back, and he's conquered mortality; now some of Spider-Man's firmest friends and fiercest foes are dead no more! Outmatched by his classic enemy's army, does the wall-crawler have a chance? Should he even stand in the way if Miles Warren holds the key to eternal life? If Peter Parker doesn't have the answers, ask... Otto Octavius! Shocks reverberate throughout Spidey's world as Silk gets drawn into the fray by a Spider-Woman back from the grave! Scarlet Spider faces Carrion! And a reborn Prowler works for the Jackal - but what role does the resurrected Madame Web play? All this plus... Gwen Stacy! It's the most death-defying Spider-Man event of all time!
Collecting Amazing Spider-Man (2015) #19-24, The Clone Conspiracy #1-5, The Clone Conspiracy: Omega, Silk (2015b) #14-17, Prowler (2016) #1-5 and material from Free Comic Book Day 2016 (Captain America) #1.
In Shops: Apr 12, 2017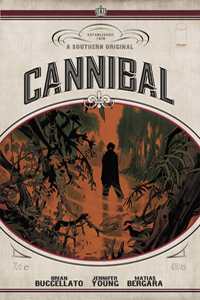 CANNIBAL VOL.1
IMAGE COMICS
Steve Buccellato, Jennifer Young, Matias Bergara
A category five hurricane sweeps through the Southeast, uprooting ancient mosquitoes carrying a virus that causes the infected to crave human flesh. One year later, with no cure in sight, the region has become split over what to do with the victims. For the Hansen family, the answer is simple: kill them. However, all of that changes when the virus infects people they love.
Cannibal is about a small Everglades town that is just trying to hold onto their everyday lives at the dawn of a cannibal pandemic. Told through the eyes of the Hansen family, it's an anti-apocalypse story about a community that is too damn stubborn to give in.
Collects Cannibal #1-4.
In Shops: Mar 08, 2017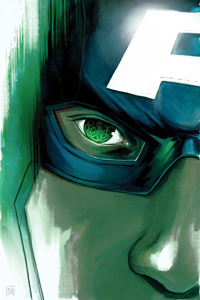 CAPTAIN AMERICA - STEVE ROGERS VOL.2: THE TRIAL OF MARIA HILL
MARVEL COMICS
Nick Spencer, Jesus Saiz, Rod Reis, Stephanie Hans
Hail Hydra! As Red Skull marches across Europe, S.H.I.E.L.D. falls apart at the seams - and the trial of Maria Hill begins! Steve Rogers opens a door - and the secret behind it will shake the Marvel Universe to its core! And as Captain America searches desperately for the cosmically powerful Kobik, he seeks aid from Avril Kincaid, the all-new Quasar! But threats soon begin to mount - one from beyond the stars, and another in the form of the unbeatable Taskmaster! He's learned Cap's greatest secret, so what will his next move be? And as Hill's trial reaches its dramatic conclusion, who will be the new head of S.H.I.E.L.D.?
Collecting Captain America: Steve Rogers #7-11.
In Shops: Apr 12, 2017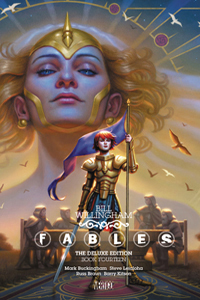 FABLES - DELUXE VOL.14 (HC)
DC COMICS
Bill Willingham, Mark Buckingham, Steve Leialoha, Andrew Pepoy, Russell Braun, Barry Kitson, Gary Erskine, Dan Dos Santos
In these tales from Fables #130-140, Rose Red, as the human avatar of Hope, is inspired to gather her own knights and re-form the Round Table right on the Fables' farm. Who will be her new recruits? As she tries to pull everyone together, a certain dead man has left his remains on the coroner's table. A new era begins as knights arrive from every corner of countless worlds - but is Snow White destined to bring it all crashing down?
In Shops: Apr 12, 2017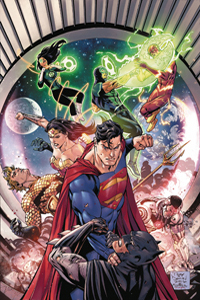 JUSTICE LEAGUE VOL.2: OUTBREAK
DC COMICS
Bryan Hitch, Matthew Clark, Tom Derenick, Jesus Merino, Neil Edwards, Tony S. Daniel, Sandu Florea
After the team's Green Lanterns use their mastery over fear to help the rest of the Justice League, they must face an even greater threat: An unknown villain who's hacking into the Justice League's computers, causing the Batcave's weapons and security systems to turn against the Dark Knight and the Watchtower satellite to plummet to Earth - with Cyborg trapped on board!
Collects Justice League #6-11.
In Shops: Apr 26, 2017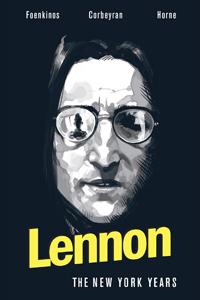 LENNON: THE NEW YORK YEARS (HC)
IDW PUBLISHING
David Foenkinos, Eric Corbeyran, Horne
In 1975 the most famous rock star in the world moved to New York City to raise his young family, in the process setting career, adoring fans, and creative contemporaries aside. During this reflective time he met with a psychoanalyst, worked to spread peace around the globe, celebrated his wife, and went about the daily business of being John Lennon. Then just five years later he was killed.
Lennon adapts David Foenkinos' legendary novel to graphic album form, with striking black-and-white illustrations by French artist Horne. Relive the defining moments and experiences that shaped pop music's - and popular culture's - most influential voice, as captured in this unique and moving graphic novel.
In Shops: May 10, 2017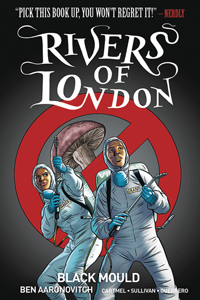 RIVERS OF LONDON: BLACK MOULD
TITAN COMICS
Ben Aaronovitch, Andrew Cartmel, Lee Sullivan
CSI meets Harry Potter in this fantastic new graphic novel from Ben Aaronovitch, writer of the bestselling Rivers of London supernatural police procedural crime novel series!
Something dark and slimy is dripping through the walls of suburban London. Not the usual stuff that smells funny and can be hell on the lungs, this mould is possessed by some dark power full of bad intentions. Looks like it's another case for London's one and only trainee wizard cop, Police Constable Peter Grant, and his reluctant partner, Sahra Guleed!
Collects the complete story arc from Rivers of London: Black Mould #1-5.
In Shops: May 31, 2017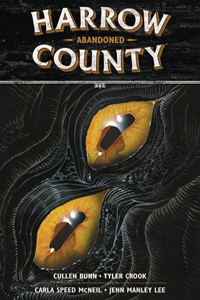 HARROW COUNTY VOL.5: ABANDONED
DARK HORSE COMICS
Cullen Bunn, Carla Speed McNeil, Tyler Crook
The Abandoned, a giant monster with haunting yellow eyes, rarely leaves his ramshackle cabin deep in the woods of Harrow County. But it wasn't always so. And when hunters travel to Harrow County in search of big game, they get a lot more than they bargained for. As Emmy meets more visitors from the outside world, she discovers secrets of her own past and the very foundations of Harrow County.
Collects issues #17-20 of the award-winning horror comic.
In Shops: May 24, 2017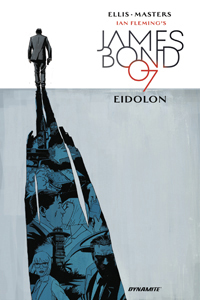 JAMES BOND VOL.2: EIDOLON (HC)
DYNAMITE
Warren Ellis, Jason Masters, Dom Reardon
James Bond is trapped in Los Angeles with a MI6 agent under fire and a foreign intelligence service trying to put them both in bags... and possibly more than one foreign intelligence service. And things may not be any safer in Britain, with bodies dropping and ghosts moving in the political mist...
Collecting issues #7-12 of the ongoing James Bond comic book series written by Warren Ellis, the New York Times bestselling author of Gun Machine and critically-acclaimed comic book writer (Iron Man, Planetary, Astonishing X-Men), and featuring artwork by Jason Masters (Wolverine, Batman Incorporated).
In Shops: Mar 01, 2017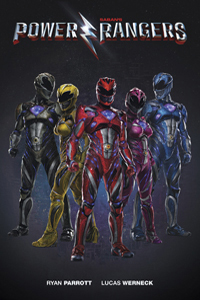 SABAN'S POWER RANGERS
BOOM! STUDIOS
Ryan Parrott, Lucas Werneck
From the publisher of the critically acclaimed Mighty Morphin Power Rangers comic series comes an original story set in the universe of the upcoming Power Rangers feature film!
This explosive, all-new tale picks up immediately after the events of Lionsgate's highly anticipated movie, in theaters March 24, 2017. See the film, then deep dive into the continued adventures of Jason, Kimberly, Trini, Zack, and Billy!
Written by Ryan Parrott (Star Trek: Starfleet Academy, Batman: Gates of Gotham) and illustrated by artist Lucas Werneck. Features an exclusive Previews cover edition by Greg Smallwood (Moon Knight) available only at your local comic book shop!
In Shops: Mar 29, 2017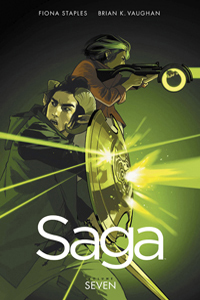 SAGA VOL.7
IMAGE COMICS
Brian K. Vaughan, Fiona Staples
From the worldwide bestselling team of Fiona Staples and Brian K. Vaughan, "The War for Phang" is an epic, self-contained Saga event!
Finally reunited with her ever-expanding family, Hazel travels to a war-torn comet that Wreath and Landfall have been battling over for ages. New friendships are forged and others are lost forever in this action-packed volume about families, combat, and the refugee experience.
Collects Saga #37-42.
In Shops: Mar 29, 2017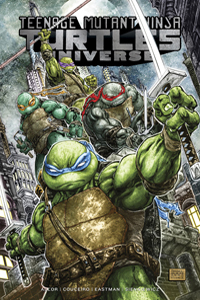 TEENAGE MUTANT NINJA TURTLES UNIVERSE VOL.1
IDW PUBLISHING
Kevin Eastman, Tom Waltz, Paul Allor, Chris Mowry, Damian Couceiro, Michael Dialynas, Bill Sienkiewicz
An all-new series that explores characters and story-lines that are pivotal to the IDW Teenage Mutant Ninja Turtles universe!
When a mysterious new mutant targets Baxter Stockman, it will be up to the Teenage Mutant Ninja Turtles to reluctantly save him. Little does everyone know that a larger trap is being laid by a new arch-foe! Plus a back-up story from Teenage Mutant Ninja Turtles co-creator Kevin Eastman and comics legend Bill Sienkiewicz!
Collects issues #1-5.
In Shops: Apr 19, 2017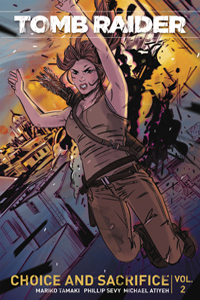 TOMB RAIDER VOL.2: CHOICE AND SACRIFICE
DARK HORSE COMICS
Mariko Tamaki, Phillip Sevy, Tula Lotay
Following the events of Rise of the Tomb Raider, Lara Croft's life hasn't gotten any easier! When Lara gets word that Sam Nishimura has escaped from a mental hospital, she drops everything to help her friend. But after an encounter with the Order of Trinity, she realizes that things are more complicated than she thought. Haunted by her memories of Yamatai, Lara is determined to rescue her friend. But the specter of Himiko the Sun Queen looms large in Sam's life, and threatens to consume her completely!
Collects issues #7-12.
In Shops: May 10, 2017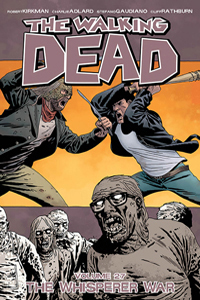 WALKING DEAD VOL.27: THE WHISPERER WAR
IMAGE COMICS
Robert Kirkman, Stefano Gaudiano, Cliff Rathburn, Dave Stewart, Charlie Adlard
The time has come. The forces are aligning. The war has begun! Has Rick brought about the demise of everything he's built? Or will he triumph once again? Know this... there will be a cost.
Collects The Walking Dead #157-162.
In Shops: Mar 01, 2017
BIFF'S BIT
Comic (and not-so-comic) related musings from our illustrious leader

The Year Ahead
Over the years there have always been a title or two that, for copyright or mature content reasons, have not been available in the UK. This covers Invader Zim, Over The Garden Wall, TMNT Adventures, Regular Show, Powerpuff Girls, Stevens Universe, Grandpa, Star Wars (when with Dark Horse), Black Kiss and many more. This year American Gods, the new Neil Gaiman comic, joins that illustrious group.
In years past I arranged purchase of said items in the USA and collated a large enough shipment together and brought them in for our customers. Now, due to the strength of the Dollar, this has become non-viable and for the last five months we have not been carrying any of these titles.
This was okay until this month when, not only was the new Neil Gaiman comic American Gods announced as not available in the UK, but the new Batman #21 lenticular cover is also unavailable for the UK! This cover has a Smiley Face with the blood streak associated with Watchmen. The reason for it's unattainability is that in the USA the Smiley Face is open for anyone to use as it is in the public domain. However, in Europe and the UK some enterprising firm has copyrighted this symbol and therefore will not allow the importation of this issue unless DC/Warner Brothers pays them money! It must be a large sum of money as DC are not paying and the UK are not getting the lenticular cover.
We are hoping that American Gods may become available if Dark Horse can strike an agreement with whoever holds the copyright for this title in Europe. When the copyright on Star Wars was an issue - it was held by Titan Comics - an agreement was reached where all the UK stores paid extra for each comic and this went to Titan. All stores just absorbed the hit. So far no news.
What a time for me to no longer have access to this material, damn Brexit!
Trumped
Well he is finally in the White House. Donald Trump, the arch psychopath, has actually done it. By saying what the people want to hear and just outright lying whenever his miss truths are 'outed', he has done it. His most recent classic is denying that fewer people attended his inauguration than the press reported. Actual camera evidence proves the truth, but he has told the media to stop lying and had a 'toadie' spout a warning to the media whilst giving the Trump version of events as gospel. This press conference then refused to take questions.
If this isn't the action of a despot then I'm a North Korean.
The good news is that after Trump cancelled the Trans-Pacific Partnership, the Dollar weakened a little, and as he continues on his crazed presidency I expect to see the Dollar weaken more and comics over here become cheaper again.
Image Comics 25th Anniversary
Back to the real business of comics. This is the year to celebrate the diversity of the comic medium, and what better way to do this than by buying an extra Image comic per month this year! 2017 marks the 25th anniversary of the founding of Image Comics and certain issues will be an incredible 25c(!) - you must at least try one of these issues and see what all the fuss is about!
Some titles are not my taste, but I can assure you that they are all excellent examples of their genre. The creators having full reign, including royalties, on their titles truly brings out the very best. Go on, try one this year!
Happy New Year, and don't forget that Valentine's day is approaching fast!