The latest issue of Illuminations, our free monthly web app that showcases upcoming new series and one-shots, is now available to read online here!
Here's a taster of what's inside…
Featured Titles
HALO: RISE OF ATRIOX #1
DARK HORSE COMICS
Cullen Bunn, Claire Roe, Aleksi Briclot
An anthology based on 2017's Halo Wars 2, the real-time strategy video game from 343 Industries, which introduced a new ruthless villain, Atriox.
Atriox, the legendary Brute under the command of the alien collective known as the Covenant, leads a Brute assault against a UNSC military outpost. Wave after wave of Brutes are lost attacking the human outpost defended by a group of UNSC marines, the ruthless Atriox soldiers on. As his comrades fall, Atriox's hatred for the Covenant grows.
This five-chapter anthology collects stories by acclaimed comics creators Cullen Bunn, Jody Houser, John Jackson Miller, Alex Irvine, Claire Roe, Josan Gonzalez, Jonathan Wayshak, and Tristan Jones.
Ties in to new Halo Wars 2 video game for Xbox One, released in February 2017.
DARK NIGHTS: METAL #1
DC COMICS
Scott Snyder, Danny Miki, Greg Capullo
The superstar Batman team of writer Scott Snyder and artist Greg Capullo reunite for a massive, universe-spanning event!
Dark Days: The Forge and The Casting hinted at dark corners of reality that have never been seen till now! Now, as Dark Nights: Metal begins, the Dark Multiverse is revealed in all its devastating danger-and the threats it contains are coming for the DC Universe!
Dark Nights: Metal is a DC event unlike any other – one that will push Batman, Superman and heroes of the Justice League beyond their limits to take on threats unlike any our world has ever seen! It will take the combined might of the World's Greatest Heroes as you've never seen them before to face what's coming their way!
FIRST STRIKE #1
IDW PUBLISHING
Mairghread Scott, David Rodriguez, Max Dunbar, Freddie Williams II
A Hasbro comic book event!
As Earth joins the intergalactic community, a massive explosion threatens the peace! A new COBRA – led by the worst villains to ever tangle with G.I. Joe, M.A.S.K. and the Transformers – is invading Cybertron and only Scarlett, Optimus Prime, G.I. Joe and the Autobots can save two worlds!"
The Hasbro comic book event of 2017 is here!
A perfect jumping on point for readers new and old!
An all-new explosive chapter in the Hasbro comic book line! Literally! There are explosions!
MAGE: THE HERO DENIED #1
IMAGE COMICS
Matt Wagner
Legendary writer / artist Matt Wagner returns for the third and final volume of his epic fantasy trilogy – Mage: The Hero Denied!
This first full-sized issue begins 10 years after the climax of Mage: The Hero Defined and finds the everyman hero Kevin Matchstick at an unexpected point in his life. It's been some time since he's utilized his powers as the reincarnated Pendragon, wielder of the mystical weapon Excalibur. Despite his reluctance to fulfill what two different Mages have declared as his destiny, dark forces have gathered to once again force Kevin into action. Throughout these events, Kevin keeps hoping for the same mystical guidance that has mentored him in the past. "Who is the third Mage?!"
Mage: The Hero Denied will be a 15-issue limited series climaxing in a double-sized finale. Newly repackaged editions of the previous books from the trilogy – Mage: The Hero Discovered and Mage: The Hero Defined – will be released over the course of the new series. Mage has been a perennial favorite with old and new readers alike for nearly three decades.
STAR WARS: MACE WINDU – JEDI OF THE REPUBLIC: #1
MARVEL COMICS
Matt Owens, Denys Cowan, Jesus Saiz
For over a thousand generations, the Jedi have been the peacekeepers of the galaxy… but now, at the dawn of the Clone Wars, they find themselves in a new role: generals in the Army of the Republic. As Mace Windu, one of the Jedi's greatest warriors, leads a small unit of Jedi into battle shortly after the war begins, the Jedi must make peace with their new role, or be lost to the violence around them!
Novel Ideas
Our selection of nineteen recommended graphic novels include the following top reads:
GRANDVILLE: FORCE MAJEURE

DARK KNIGHT III: THE MASTER RACE

OLD GUARD – BOOK 1: OPENING FIRE

CAPTAIN AMERICA: SECRET EMPIRE

CUSTOMER IS ALWAYS WRONG
Biff's Bit
"…In 1984, just three years into my retailing career, a comic came out that excited myself and all my customers – Mage: The Hero Discovered – from a new creative talent, Matt Wagner. The publisher, Comico, no longer exists, but both Matt and his title have gone on from strength to strength. Now, eighteen years after the last series – Mage: The Hero Defined – Image are publishing Mage: The Hero Denied. The original series were beautifully drawn with a slight cartoon feel and wonderful black inks. Magic, mystery and humanity were all wrapped up in an uplifting tale of endeavour against evil. To say that I am excited by this third and final series finally seeing print is an understatement…" – excerpt
Top 20 Graphic Novel Chart
May's best-selling graphic novels include Moonshine, Lady Mechanika, Harley Quinn, Batman, Flash, Dragon Ball, Star Wars, Deadpool and Roughneck
Hit the image below to access the web app!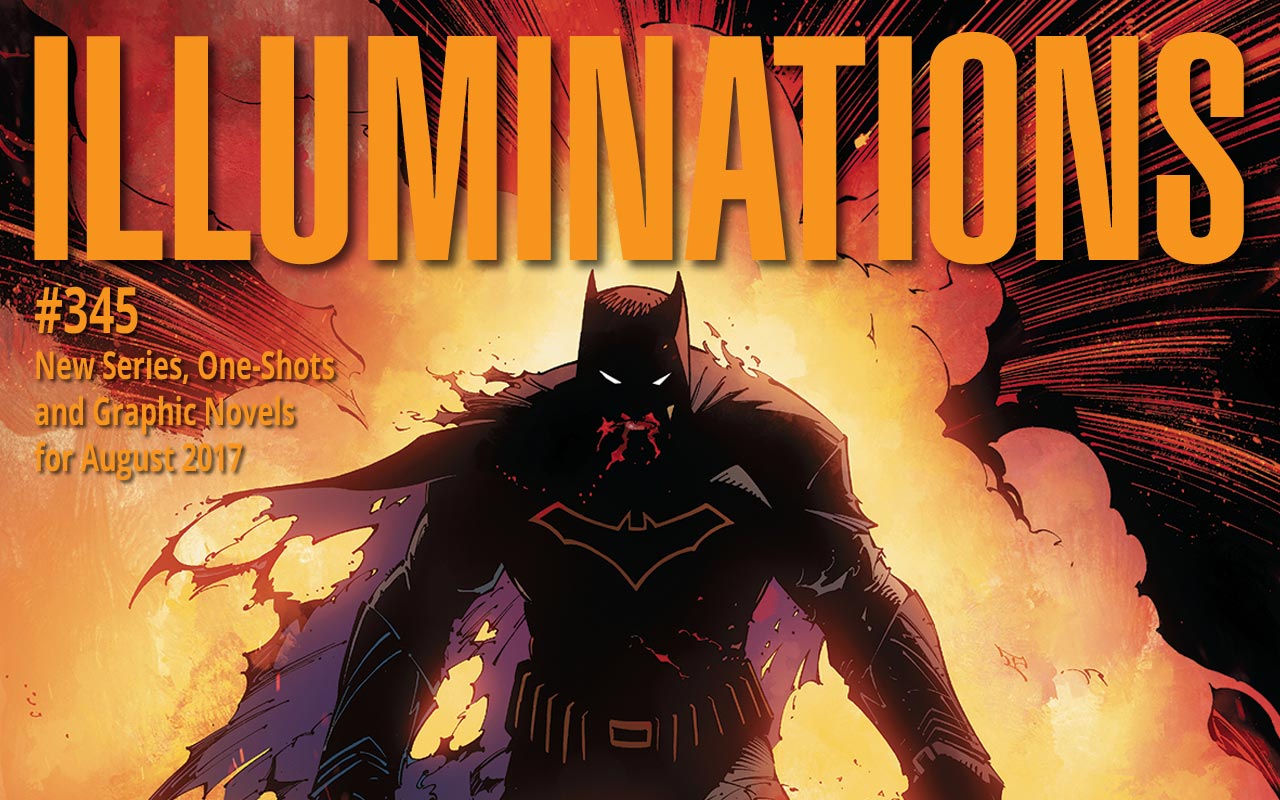 Visit our Illuminations page, for previous issues.