#345
New Series, One-Shots
and Graphic Novels
for August 2017

New Comic Series and One-Shots for August...
DARK HORSE COMICS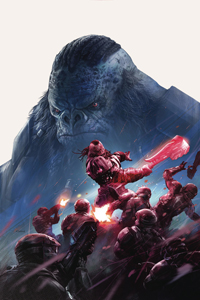 HALO: RISE OF ATRIOX #1
Cullen Bunn, Claire Roe, Aleksi Briclot
An anthology based on 2017's Halo Wars 2, the real-time strategy video game from 343 Industries, which introduced a new ruthless villain, Atriox.
Atriox, the legendary Brute under the command of the alien collective known as the Covenant, leads a Brute assault against a UNSC military outpost. Wave after wave of Brutes are lost attacking the human outpost defended by a group of UNSC marines, the ruthless Atriox soldiers on. As his comrades fall, Atriox's hatred for the Covenant grows.
This five-chapter anthology collects stories by acclaimed comics creators Cullen Bunn, Jody Houser, John Jackson Miller, Alex Irvine, Claire Roe, Josan Gonzalez, Jonathan Wayshak, and Tristan Jones.
Ties in to new Halo Wars 2 video game for Xbox One, released in February 2017.
In Shops: Aug 02, 2017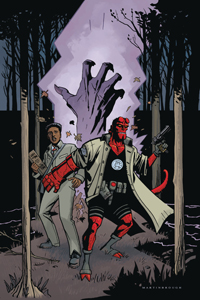 HELLBOY AND THE BPRD - 1955: SECRET NATURE - ONE-SHOT
Mike Mignola, Chris Roberson, Shawn Martinbrough
A missing group of teens in Oregon's backwoods leads Hellboy to confront a cryptozoological horror with origins similar to his own!
Stars Thief of Thieves artist Shawn Martinbrough!
In Shops: Aug 09, 2017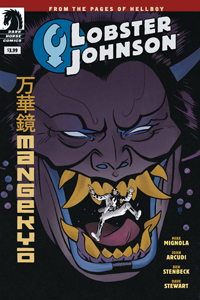 LOBSTER JOHNSON: MANGEKYO - ONE-SHOT
John Arcudi, Mike Mignola, Ben Stenbeck, Tonci Zonjic
The Lobster foils an attempted prison break, but must answer to the person behind it-the assassin, witch, and longtime enemy the Crimson Lotus, one of the most enigmatic villains of the Hellboy world.
In Shops: Aug 02, 2017
DC COMICS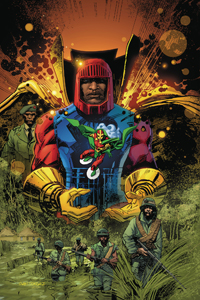 BLACK RACER AND SHILO NORMAN - SPECIAL #1
Reginald Hudlin, Denys Cowan, Bill Sienkiewicz
Shilo Norman has taken up the mantle of Mister Miracle, following the example of Scott Free by cheating death on a daily basis. But when he pushes himself to the limit, the Black Racer comes calling. Now Shilo is literally running from death itself and a cosmic chase leads both target and hunter across the universe. Also featuring a Fourth World era reprint!
In Shops: Aug 30, 2017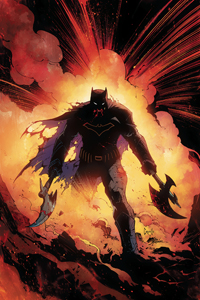 DARK NIGHTS: METAL #1
Scott Snyder, Danny Miki, Greg Capullo
The superstar Batman team of writer Scott Snyder and artist Greg Capullo reunite for a massive, universe-spanning event!
Dark Days: The Forge and The Casting hinted at dark corners of reality that have never been seen till now! Now, as Dark Nights: Metal begins, the Dark Multiverse is revealed in all its devastating danger-and the threats it contains are coming for the DC Universe!
Dark Nights: Metal is a DC event unlike any other - one that will push Batman, Superman and heroes of the Justice League beyond their limits to take on threats unlike any our world has ever seen! It will take the combined might of the World's Greatest Heroes as you've never seen them before to face what's coming their way!
In Shops: Aug 16, 2017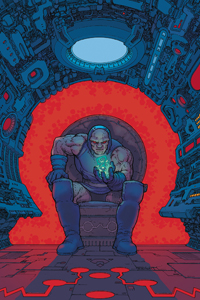 DARKSEID - SPECIAL #1
Mark Evanier, Sam Humphries, Scott Kolins, Steve Rude, Chris Burnham
Mark Evanier, longtime Kirby associate and biographer (Kirby: King of Comics), tells a tale starring one of Jack's greatest villains.
The latest daring escape from the orphanage of Granny Goodness leaves an infuriated Darkseid determined to capture and punish the escapees. The Lord of Apokolips puts his best hunter on the case, but one of Granny's students is unlike anyone he's encountered before. Plus, an untold tale of Omac by Humphries and Rude and a classic Kirby Fourth World tale!
In Shops: Aug 30, 2017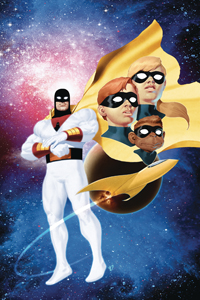 FUTURE QUEST: SHOWCASE #1
Jeff Parker, Ariel Olivetti
After the thrilling events of Future Quest, a new age of adventure begins!
First up, Space Ghost and his young wards Jan and Jace team up with the Herculoids to rebuild the mighty Space Force. Will they rise again to become defenders of the galaxy? Or is there something lurking in the shadows ready to stop them for good?
In Shops: Aug 16, 2017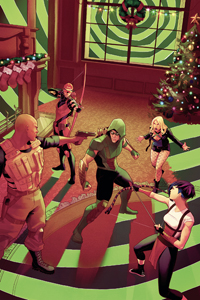 GREEN ARROW - ANNUAL #1
Ben Percy, Eleonora Carlini, Jamal Campbell
Christmas is a time for reflection, relatives and... revenge! So says Count Vertigo, who returns to Seattle to send Oliver Queen on a violent, mind-bending journey into his own past and future. The hidden secrets of Green Arrow are laid bare in this oversize special that tests the already tenuous bonds between Team Arrow, featuring the long-awaited returns of Shado, Diggle and the dark archer Merlyn!
In Shops: Aug 30, 2017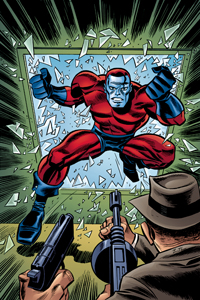 MANHUNTER - SPECIAL #1
Keith Giffen, Dan DiDio, Sam Humphries, Nick Bradshaw, Klaus Janson, Bruce Timm
Big-game hunter and private detective Paul Kirk has marshaled his skills to fight crime as the masked vigilante known as Manhunter. But now crime has reached epidemic proportions that may push him to the limits - and draw the attention of the Golden Age heroes Sandman and Sandy! Plus, a short story featuring Etrigan the Demon by writer Sam Humphries and artist Klaus Janson and a Golden Age reprint.
In Shops: Aug 23, 2017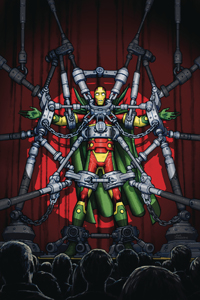 MISTER MIRACLE #1
Tom King, Mitch Gerads, Nick Derington
From the team behind The Sheriff Of Babylon and the Hugo Award-nominated writer of Vision comes a unique new take on one of Jack Kirby's most beloved New Gods.
Scott Free is the greatest escape artist that ever lived. So great that he escaped Granny Goodness' gruesome orphanage and the dangers of Apokolips to travel across galaxies and set up a new life on Earth with his wife, the former female fury known as Big Barda. Using the stage alter ego of Mister Miracle, he has made a career for himself showing off his acrobatic escape techniques. He even caught the attention of the Justice League, which counted him among its ranks.
You might say Scott Free has everything... so why isn't it enough? Mister Miracle has mastered every illusion, achieved every stunt, pulled off every trick - except one. He has never escaped death. Is it even possible? Our hero is going to have to kill himself if he wants to find out.
Written by Tom King (Batman) and illustrated by Mitch Gerads (The Punisher), this is a Mister Miracle unlike any you've read before.
In Shops: Aug 09, 2017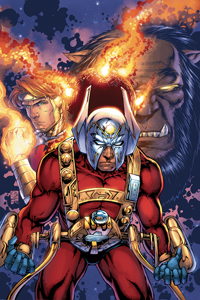 NEW GODS - SPECIAL #1
Shane Davis, Walter Simonson, Shane Davis, Michelle Delecki
In a feature length story, Orion and Lightray must come to the aid of Forager and his people, as Kalibak has established a brutal dictatorship over the Bug colony. In confronting his evil brother, Orion faces the darker side of his own nature. And, in a back-up story, master comics writer/artist Walter Simonson tells a tale of a young Orion and his friend Seagrin. Also includes a reprint of a classic New Gods tale by Jack Kirby!
In Shops: Aug 02, 2017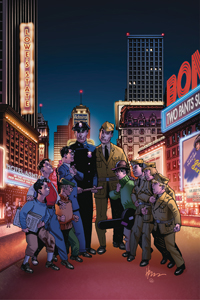 NEWSBOY LEGION AND BOY COMMANDOS - SPECIAL #1
Howard Chaykin
Jack Kirby's two wartime kid gangs share their first adventure together in a novel-length tale written and illustrated by Howard Chaykin!
When the Boy Commandos arrive in New York on the trail of a secret Axis agent, they're greeted as turf invaders by the crime-fighting Newsboys! Can these kids put aside their rivalry and join forces to protect the home front? Also features a Kirby reprint!
In Shops: Aug 09, 2017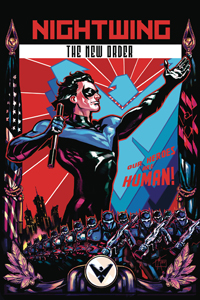 NIGHTWING: THE NEW ORDER #1
Kyle Higgins, Trevor McCarthy
Nightwing: The New Order is the story of a future world without "weapons" - where superpowers have been eliminated and outlawed. The man responsible? None other than Dick Grayson, a.k.a. Nightwing, now leader of a government task force called the Crusaders who are charged with hunting the remaining Supers. But when events transpire which turn the Crusaders' aim toward Grayson's own family, the former Boy Wonder must turn against the very system he helped create, with help from the very people he's been hunting for years - the last metahumans of the DC Universe.
Don't miss this bold new vision from the team behind the New York Times bestseller Batman: Gates Of Gotham!
In Shops: Aug 23, 2017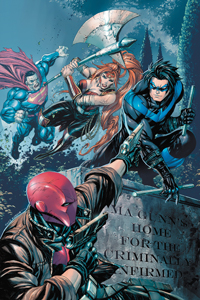 RED HOOD AND THE OUTLAWS - ANNUAL #1
"Brothers in Arms"!
When Red Hood discovers a new wave of criminal activity in Gotham City with a traveling circus at it's epicenter, he recruits Nightwing t help the Outlaws infiltrate the big top! Can the two would-be brothers put their differences aside and crack the case? Or will their division be the harbinger of their demise?
In Shops: Aug 30, 2017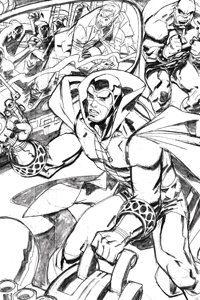 SANDMAN - SPECIAL #1
Dan Jurgens, Steve Orlando, Jon Bogdanove, Rick Leonardi, Paul Pope
Don't miss two new tales starring Jack Kirby's costumed Master of Nightmares from the 1970s.
Sandman, Brute and Glob battle an onslaught of dreams so powerful that they are invading the dreams of other people! Then, a grown-up Jed Walker returns to his childhood home, only to find himself haunted by dreams from the past. Plus, a seldom-seen Sandman story from the 1970s!
In Shops: Aug 16, 2017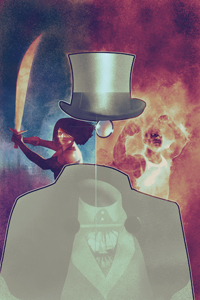 SUICIDE SQUAD: BLACK FILES #1
Mike W. Barr, Jai Nitz, Philippe Briones, Scot Eaton, Frazer Irving
Two members of Task Force X are back in these all-new adventures!
First up: "Revenge Of Kobra" by writer Mike W. Barr and artist Philippe Briones. To oppose the terrorist Kobra is to earn his undying hatred, and that's what the samurai Katana did when she killed his beloved Eve. Now, Kobra stalks Katana beyond the bounds of the Earth itself, to a supernatural world where he will steal from her everything that she has-including her very soul!
And in "Suicide Squad: Black", by writer Jai Nitz and artist Scot Eaton, Sebastian Faust, the U.S. government's top arcane operative, has gone rogue! To track down America's most dangerous magician, Amanda Waller assembles a special ops team unlike any other: an expendable coven of dark arts experts including El Diablo, Enchantress and Gentleman Ghost. They are Suicide Squad: Black, and they will take you to places where even the dead can die!
In Shops: Aug 02, 2017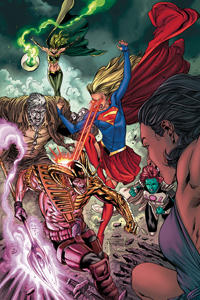 SUPERGIRL - ANNUAL #1
Steve Orlando, Steve Pugh, Robson Rocha, Daniel Henriques
"Emerald Eradication" Part Two!
With her powers out of control, Emerald Empress takes the upper hand over Supergirl! These deadly tactical strikes will rattle the Girl of Steel to the core!
In Shops: Aug 30, 2017
IDW PUBLISHING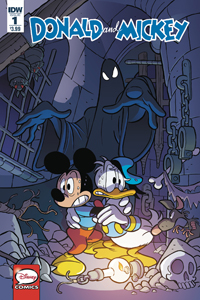 DONALD AND MICKEY #1
Andrea Castellan, Kari Korhonen, Jonathan Gray, Daniel Branca, Lorenzo Pastrovicchio, Andrea Freccero
Quackaroonie! In "Hot Sauce," Chef Donald gets a spicy shakedown from Duckburg's most wanted... Then it's Mickey Mouse vs "The Big Fat Flat Blot Plot" in a brand-new chiller by Andrea "Casty" Castellan!
It's a brand-new prestige-format Disney quarterly - with more of the fan favorite creators you want!
Andrea "Casty" Castellan brings back the Phantom Blot for a pulse-pounding new adventure!
In Shops: Aug 09, 2017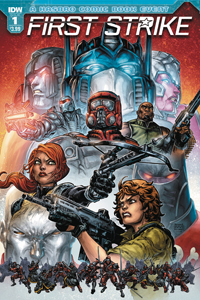 FIRST STRIKE #1
Mairghread Scott, David Rodriguez, Max Dunbar, Freddie Williams II
A Hasbro comic book event!
As Earth joins the intergalactic community, a massive explosion threatens the peace! A new COBRA - led by the worst villains to ever tangle with G.I. Joe, M.A.S.K. and the Transformers - is invading Cybertron and only Scarlett, Optimus Prime, G.I. Joe and the Autobots can save two worlds!"
The Hasbro comic book event of 2017 is here!
A perfect jumping on point for readers new and old!
An all-new explosive chapter in the Hasbro comic book line! Literally! There are explosions!
In Shops: Aug 09, 2017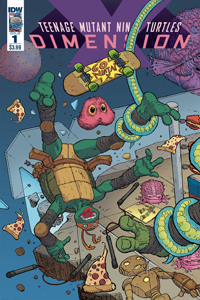 TEENAGE MUTANT NINJA TURTLES: DIMENSION X #1
Paul Allor, Pablo Tunica, Nick Pitarra
The Turtles journey to find a reclusive and indestructible empath - only to find that the assassin Hakk-R has found him first... and convinced him that the Turtles are the enemy!
Directly ties in to the exciting events of the main series, "The Trial of Krang!"
Continuing the events from Free Comic Book Day!
In Shops: Aug 02, 2017
IMAGE COMICS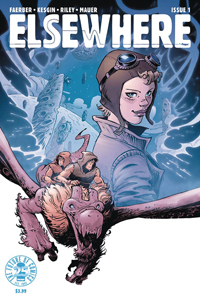 ELSEWHERE #1
Jay Faerber, Sumeyye Kesgin, Ron Riley
Copperhead writer Jay Faerber teams with rising star Sumeyye Kesgin to unveil Elsewhere - the fantastic story of what really happened to Amelia Earhart!
Mysteriously transported to a strange new world filled with flying beasts and alien civilizations, Amelia desperately struggles to return home. Along the way, she forges alliances and makes enemies as she goes from aviator to freedom fighter in a rebellion against a merciless warlord!
In Shops: Aug 02, 2017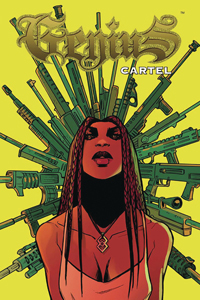 GENIUS CARTEL #1
Marc Bernardin, Adam Freeman, Rosi Kampe
Seventeen-year-old Destiny Ajaye took on the LAPD in her South Central Siege and paid for it - not with her life, but with her freedom. Now, Destiny is sequestered in the Madrasa Institute, a government school for prodigies. But will she use her gifts to wage war at the military's behest-or is she already planning another revolution?
From writers Marc Bernardin and Adam Freeman (Castle Rock, Alphas, X-Men Origins: Nightcrawler, The Authority, The Highwaymen) and rising-star artist Rosi Kampe, comes a sequel that promises to set Destiny's world - and ours - ablaze.
In Shops: Aug 16, 2017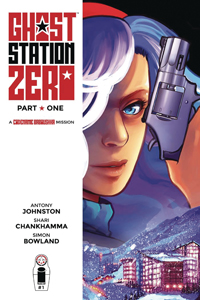 GHOST STATION ZERO #1
Antony Johnston, Shari Chankhamma
From the creator of Atomic Blonde - Baboushka's back for a brand-new mission!
"Ghost Stations" are abandoned Soviet bases from the Cold War, long forgotten and useless... or so people think! When an EON agent goes missing on the trail of a ghost station in the Swiss mountains, Mr. Clay turns to crime-boss-turned-blackmailed-international-superspy Baboushka to investigate - and what she finds is explosive!
In Shops: Aug 02, 2017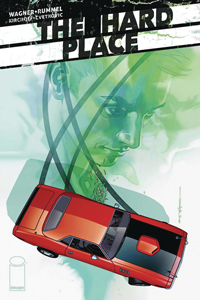 HARD PLACE #1
Doug Wagner, Nic Rummel, Charlie Kirchoff, Brian Stelfreeze
After five years in prison, AJ Gurney, a legendary wheelman in Detroit, has decided it's time to go straight. He returns home to work in his father's garage and disappear into anonymity.
But during a visit to the bank, AJ is recognized by two violent bank robbers, and they demand AJ be their getaway driver. To ensure his compliance, they take a young female hostage; unfortunately, she happens to be the daughter of a Russian crime lord. AJ now finds himself pursued by a bitter police department and hunted by every asset of the Russian mob. Without a doubt, he's in a very hard place.
In Shops: Aug 23, 2017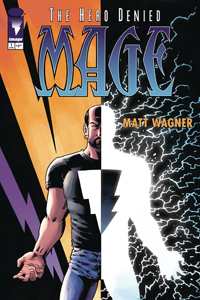 MAGE: THE HERO DENIED #1
Matt Wagner
Legendary writer / artist Matt Wagner returns for the third and final volume of his epic fantasy trilogy - Mage: The Hero Denied!
This first full-sized issue begins 10 years after the climax of Mage: The Hero Defined and finds the everyman hero Kevin Matchstick at an unexpected point in his life. It's been some time since he's utilized his powers as the reincarnated Pendragon, wielder of the mystical weapon Excalibur. Despite his reluctance to fulfill what two different Mages have declared as his destiny, dark forces have gathered to once again force Kevin into action. Throughout these events, Kevin keeps hoping for the same mystical guidance that has mentored him in the past. "Who is the third Mage?!"
Mage: The Hero Denied will be a 15-issue limited series climaxing in a double-sized finale. Newly repackaged editions of the previous books from the trilogy - Mage: The Hero Discovered and Mage: The Hero Defined - will be released over the course of the new series. Mage has been a perennial favorite with old and new readers alike for nearly three decades.
In Shops: Aug 16, 2017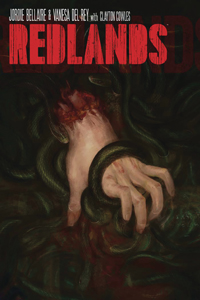 REDLANDS #1
Jordie Bellaire, Vanesa Del Rey
A brand-new horror book from the minds of Eisner Award-winner Jordie Bellaire (Pretty Deadly, Vision, Batman) and critically acclaimed artist Vanesa R. Del Rey (Zero, Scarlet Witch, Constantine) brings you to the sleepy, sunny town of Redlands, Florida. The police are failing to maintain control of their old-fashioned town, and a coven of killer witches plan to take everything from them. This summer, hide your bibles.
In Shops: Aug 09, 2017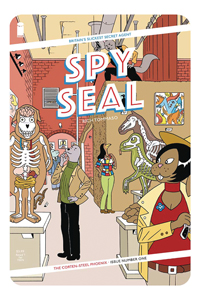 SPY SEAL #1
Rich Tommaso
Series premiere!
"The Corten-Steel Phoenix", Part One.
Journey into the thrilling world of international espionage as one of Britain's most covert MI-6 divisions, The Nest, recruits a brand-new secret agent to their team: Spy Seal!
An exciting new comic series-reminiscent of The Adventures of Tintin and Usagi Yojimbo - and created by She Wolf author, Rich Tommaso.
In Shops: Aug 16, 2017
MARVEL COMICS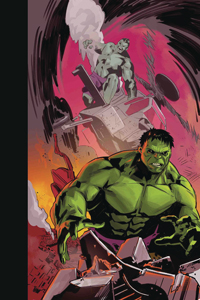 GENERATIONS: BANNER HULK AND TOTALLY AWESOME HULK #1
Greg Pak, Matteo Buffagni, Jorge Molina
Bruce Banner. Amadeus Cho. Both have carried the curse of the Hulk. Now they come face-to-face at last - but will they meet as friends or foes?
Fan-favorite Hulk scribe Greg Pak is joined by red-hot artist Matteo Buffagni (X-Men: Blue) for a time-bending tale that will finally answer the question on everyone's minds: Who is the strongest one there is?
In Shops: Aug 02, 2017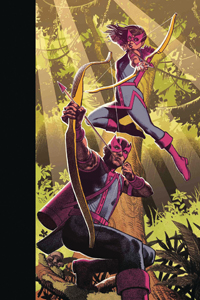 GENERATIONS: HAWKEYE AND HAWKEYE #1
Kelly Thompson, Stefano Raffaele, Greg Smallwood
Two archers. One-shot.
Kate Bishop, A.K.A. Hawkeye, finds herself smack-dab in the middle of a battle royal between the world's most skilled sharpshooters - including an inexplicably young Clint Barton, a.k.a. the other Hawkeye.
The prize? Bragging rights for being named the best, of course - oh, and you get to stay alive!
Unfortunately for Clint, several of his competitors are villains he's taken down, making him a primary target.
So, on top of figuring out where and when she is, Kate's got to find a way to win this little contest of skills and keep her not-so-old pal Clint out of the crosshairs... easy, peasy.
In Shops: Aug 30, 2017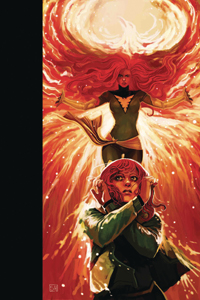 GENERATIONS: PHOENIX AND JEAN GREY #1
Cullen Bunn, R. B. Silva, Stephanie Hans
Teenage Jean Grey is willing to do whatever it takes to avoid the fate that befell her predecessor.
But when Jean is cast through time and comes face-to-face with the newly possessed Phoenix, will she find the key to saving herself... or learn that her fate is sealed?
In Shops: Aug 09, 2017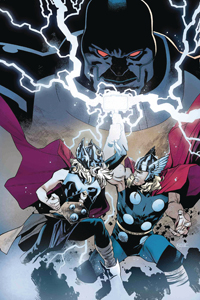 GENERATIONS: UNWORTHY THOR AND MIGHTY THOR #1
Jason Aaron, Mahmud A. Asrar
Her hammer, his axe: a worthy apocalypse.
When a battle goes south, Thor finds herself in ancient Egypt - facing a young Odinson!
A misguided party of Vikings has bitten off way more than they can spear. But when the prince of Asgard answers their cries for help, he ends up in a fight no axe alone can win! And Apocalypse is not one for mercy.
Can a not-yet-worthy god and a time-lost hero take on one of the world's most powerful mutants at the height of his empire? And what does their encounter mean for the future of two Thors?
In Shops: Aug 23, 2017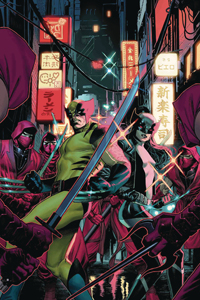 GENERATIONS: WOLVERINE AND ALL-NEW WOLVERINE #1
Tom Taylor, Ramon Rosanas, Jorge Molina
The team-up you've all been asking for!
The death of Wolverine shook the Marvel Universe... and the ascension of the All-New Wolverine reimagined what a healing factor and some Adamantium claws can do!
But the amazing combination of Logan and Laura is the duo you've been waiting for! Tom Taylor, the mind behind All-New Wolverine, brings you Generations... a double-Wolverine team-up for the ages!
In Shops: Aug 16, 2017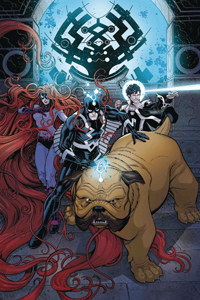 INHUMANS: ONCE FUTURE KINGS #1
Christopher Priest, Ryan North, Phil Noto, Gustavo Duarte, Nick Bradshaw
Someday, all of this will be yours!
A king in training. A brother destined for madness. These are the early days of the Boltagon legacy. When the king of the Inhumans is attacked, Black Bolt and Maximus spring into action to save their leader! But when Black Bolt loses control, what are the consequences for his future kingdom - or his own family? Plus, a two-page backup (in every issue!) starring Lockjaw, as told by Unbeatable Squirrel Girl writer Ryan North and artist supreme Gustavo Duarte!
In Shops: Aug 02, 2017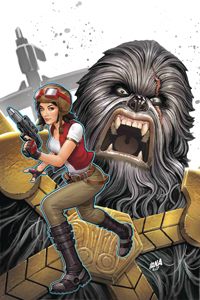 STAR WARS: DOCTOR APHRA - ANNUAL #1
Kieron Gillen, Marc Laming, David Nakayama
Doctor Aphra has a troubled past full of parental drama and war.
But what about her Wookiee shadow, Black Krrsantan?
Find out just how this Wookiee warrior is as frightening as they say...
...and then some!
In Shops: Aug 23, 2017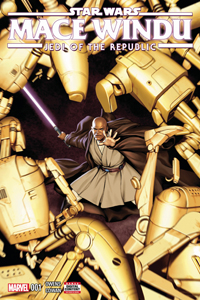 STAR WARS: MACE WINDU - JEDI OF THE REPUBLIC: #1
Matt Owens, Denys Cowan, Jesus Saiz
For over a thousand generations, the Jedi have been the peacekeepers of the galaxy... but now, at the dawn of the Clone Wars, they find themselves in a new role: generals in the Army of the Republic. As Mace Windu, one of the Jedi's greatest warriors, leads a small unit of Jedi into battle shortly after the war begins, the Jedi must make peace with their new role, or be lost to the violence around them!
In Shops: Aug 23, 2017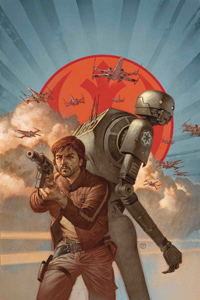 STAR WARS - ROGUE ONE: CASSIAN AND K2SO - SPECIAL #1
Duane Swierczynski, Fernando Blanco, Julian Totino Tedesco
Cassian Andor is one of the top intelligence agents in the ranks of the Rebel Alliance, ably assisted by his reprogrammed Imperial security droid, K-2SO.
But naturally, the two weren't always on the same side of the Galactic Civil War.
Now, for the first time, read the story of the pair's first contentious meeting! It is very likely not to go well.
In Shops: Aug 09, 2017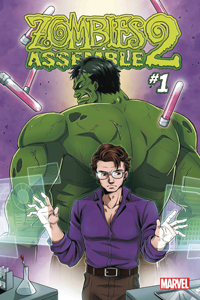 ZOMBIES ASSEMBLE 2 #1
Yusaku Komiyama, Jim Zub, Kiichi Mizushima
The Avengers face a threat even bigger and more menacing than they could have imagined as the desperate race to cure the zombie outbreak shifts into high gear! Caught in a massive explosion, Captain America, Hawkeye and Iron Man wake up in the midst of a city overrun by zombies. Miraculously, they haven't been turned, and they find themselves face-to-face with a mysterious scientist who claims to have a cure for the virus. But who is he really, and does he actually possess the antivirus that Bruce Banner has been struggling to create? More importantly: Is the Hulk immune to the zombie plague?
In Shops: Aug 09, 2017
SELECTED INDEPENDENT PUBLISHERS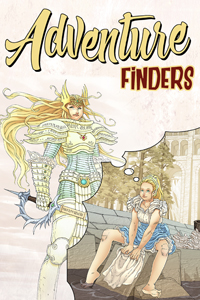 ADVENTURE FINDERS #1
ANTARCTIC PRESS
Rod Espinosa
Fantasy master Rod Espinosa weaves an action-paled story of a small-town girl and her friends who want to make it big as renowned fighters!
Clariette: part Barbie, part Xena, and all heart, out to make the world a better place. Ariarra: Pragmatic wandering cleric and healer, fiercely independent. Jolfe Endarion: Clari's cousin, an apprentice wizard with a love of adventure and good food. Together they set out in an age of constant warfare, across a world ruled by a monolithic empire, to battle enemies and monsters, make allies, save people in trouble, and find adventure, starting here in this gorgeous, epic, double-sized first issue!
In Shops: Aug 30, 2017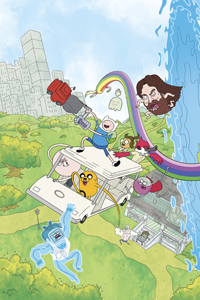 ADVENTURE TIME / REGULAR SHOW #1
BOOM! STUDIOS
Conor McCreery, Mattia Di Meo, Phil Murphy
It's a crossover for the ages in this mash-up of two of our favorite Cartoon Network shows!
When a powerful new villain threatens to conquer Adventure Time's Ooo, Princess Bubblegum sends Finn and Jake on a desperate quest to find The Power that can save the land - a power that Skips from Regular Show just happens to be hiding!
Finn and Jake's arrival only exacerbates an existing tension between Mordecai and Rigby, and the trip back to Ooo threatens to tear two sets of bros apart... forever.
In Shops: Aug 30, 2017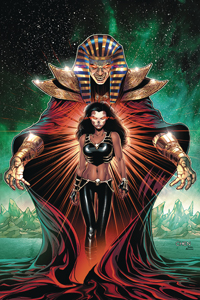 DANCE OF THE DEAD #1
ZENESCOPE
Joe Brusha, Sean Chen
The Shadowlands are a dark and mysterious place, filled with the most evil creatures that have ever haunted mankind's imagination. Now Mary Medina finds her trapped there with no means of an escape, lured by a powerful enemy, into a deadly dance with the dead.
In Shops: Aug 30, 2017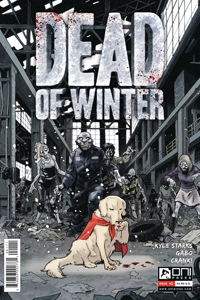 DEAD OF WINTER #1
ONI PRESS
Kyle Starks, Gabo, Brian Hurtt, Bill Crabtree
From the tabletop smash hit comes this new series starring beloved characters from Plaid Hat Games' Dead of Winter, written by Kyle Starks (the Eisner-nominated Sexcastle) and illustrated by Gabo (The Life After).
In the pantheon of heroes, none are more lovable and loyal than everyone's beloved good ol' dog, Sparky. Surviving in the wintery apocalypse of the undead, this former TV star turned zombie killing machine just wants to make friends and be a good boy. As his fellow survivors scavenge for supplies in the frigid wasteland, will Sparky be able to protect his companions from threats both undead and not yet undead?
In Shops: Aug 02, 2017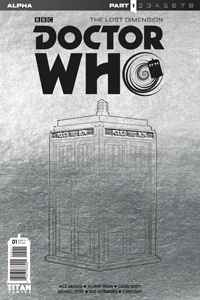 DOCTOR WHO: LOST DIMENSION ALPHA #1
TITAN COMICS
Cavan Scott, George Mann, Nick Abadzis, Rachael Stott
The Void has always existed: "No place. The silent realm. The lost dimension." The endless, empty space between universes. But the Void is no longer empty. A spark has been lit in the emptiness - a spark now grown into an entity powerful enough to shatter creation. The Void is hungry. And it is already here. This is a threat bigger than us. It's more than one Doctor can handle - and even the Doctors alone may not be enough! This is the lost dimension!
In Shops: Aug 30, 2017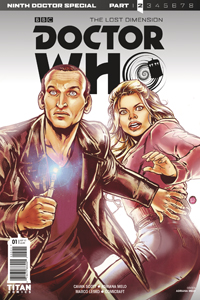 DOCTOR WHO: THE NINTH DOCTOR - YEAR TWO #1
TITAN COMICS
Nick Abadzis, George Mann, Cavan Scott, Cris Bolson, Adriana Melo
All-new series featuring the Ninth Doctor!
Tie-in issue with the brand new Doctor Who event!
In Shops: Aug 30, 2017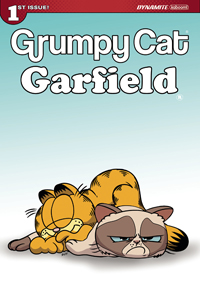 GRUMPY CAT / GARFIELD #1
DYNAMITE
Mark Evanier, Steve Uy
It's the inevitable meeting of the sourpusses! Garfield, the reigning cynical cat of newspapers and TV crosses paths with Grumpy Cat, the internet sensation whose scowl endeared herself to the world. Who's the most sarcastic? Well, he likes lasagna and not much else... and she doesn't even like lasagna. Can these two inhabit the same comic book mini-series, let alone the same planet? You'll find out in a trio of issues written by Mark Evanier and illustrated by Steve Uy. We'd say it's the cat's meow but neither of these cats meows.
In Shops: Aug 02, 2017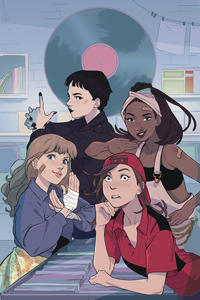 HI-FI FIGHT CLUB #1
BOOM! STUDIOS
Carly Usdin, Nina Vakueya
Film and TV director Carly Usdin (Suicide Kale, RuPaul's Drag Race) teams up with breakout artist Nina Vakueva for a new series that's music to our ears!
New Jersey, 1998. Chris has just started the teen dream job: working at Vinyl Mayhem, the local record store. She's prepared to deal with anything-misogynistic metalheads, grunge wannabes, even a crush on her wicked cute co-worker, Maggie.
But when Rory Gory, the staff's favorite singer, mysteriously vanishes the night before her band's show in town, Chris finds out her co-workers are doing more than just sorting vinyl... her local indie record store is also a front for a teen girl vigilante fight club!
In Shops: Aug 23, 2017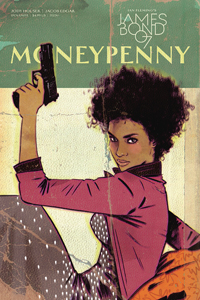 JAMES BOND: MONEYPENNY - ONE-SHOT
DYNAMITE
Jody Houser, Jacob Edgar, Tula Lotay
By writer Jody Houser (Mother Panic, Faith) and new artist Jacob Edgar, a never-before-told mission starring Moneypenny, friend of James Bond, former MI6 field agent and bodyguard of M!
On a 'routine' protection mission, Moneypenny discovers a complicated assassination plot that bears a startling resemblance to a terrorist attack from her childhood. Can she call upon her secret agent skills to stop the plot...?
In Shops: Aug 30, 2017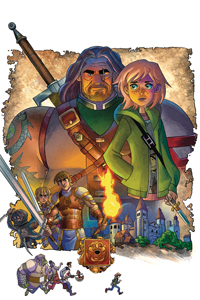 LARKS KILLER #1
DEVILS DUE / 1FIRST COMICS
Bill Willingham, Mark Dos Santos, Jen Bartel
Lark is a runaway living rough on the streets of LA, when suddenly she's transported to an alien world of swords, dragons and magic, where everyone wants her dead. And she likely won't live long enough to find out why! Covers by Jen Bartel, Mark Dos Santos, Paulina Ganucheau, and Kari Lynn Smith.
In Shops: Aug 02, 2017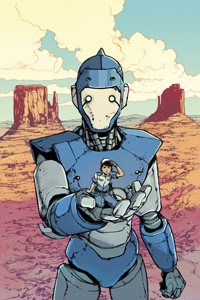 MECH CADET YU #1
BOOM! STUDIOS
Greg Pak, Takeshi Miyazawa
Once a year, giant robots from outer space come to Earth and bond with young cadets from the elite Sky Corps Academy to defend the world from the terrifying aliens known as the Sharg. It's a great honor to be chosen, but this year... well, the wrong kid was picked.
Greg Pak (Totally Awesome Hulk) and Takeshi Miyazawa (Ms. Marvel) team up for an action-packed adventure perfect for fans of Amadeus Cho and Pacific Rim!
In Shops: Aug 02, 2017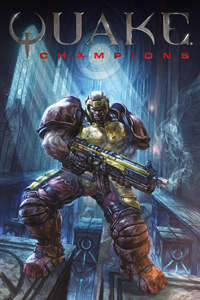 QUAKE: CHAMPIONS #1
TITAN COMICS
Ram V, Alan Quah
Titan comics teams up with Bethesda Softworks to publish brand-new comics based on the best-selling franchise, which lead directly into the upcoming new game Quake: Champions.
The Quake: Champions comic is a direct prequel to the new game and establishes the characters that will feature in the explosive new game!
In Shops: Aug 09, 2017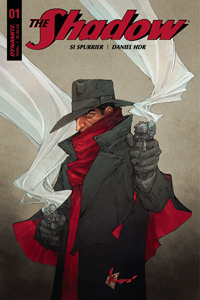 SHADOW #1
DYNAMITE
Si Spurrier, Daniel HDR, Kenneth Rocafort
For the better part of a century the Shadow's sinister laughter brought the chill of fear to evil-doers - but in our modern times, the streets of Manhattan have gone largely silent. But he is not forgotten. Not by the people he's saved. Mary Jerez, is one of those people. The Shadow saved her from a horrifying school shooting. Mary knows all too well what evil lurks in the hearts of men. So when a horribly burnt man - incredibly strong and fierce, despite his terrible injuries - arrives under her care as a resident at the hospital, she believes she knows who he is. Is this mysterious man actually the Shadow, and with Mary's help, will evil-doers again know what it means to fear his terrible justice?
Si Spurrier (X-Force, X-Men: Legacy, Judge Dredd) and Daniel HDR (Superman, Cyborg) bring the pulp icon into modern day in a tale full of deadly intrigue, gun-blazing action and a study of the nature of evil!
In Shops: Aug 09, 2017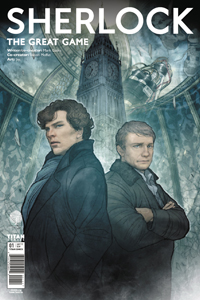 SHERLOCK: THE GREAT GAME #1
TITAN COMICS
Stephen Thompson, Steven Moffat, Mark Gatiss, Jay, Sana Takeda
Manga adaptation of the hit TV show starring worldwide superstars Benedict Cumberbatch (Doctor Strange) and Martin Freeman (The Hobbit)!
In Shops: Aug 09, 2017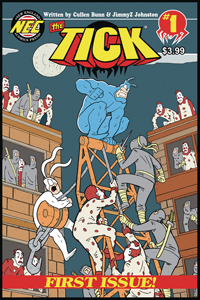 TICK #1
NEW ENGLAND COMICS
Cullen Bunn, JimmyZ Johnston, Douglas Paskiewicz
Amazon is bringing The Tick back to TV this summer! And New England Comics is bringing The Tick back to comics in August with an all-new continuing color series!
Written by Cullen Bunn (Deadpool Kills the Marvel Universe, X-Men: Blue, Harrow County) and drawn by Douglas Paszkiewicz (Arsenic Lullaby), The Tick and Arthur confront the dire menaces of ninjas and murder clowns, while also flashing back to blasts from The Tick's heretofore unexplored past!
Join us for fun as Bunn imprints The Tick with his own creative style of storytelling!
In Shops: Aug 30, 2017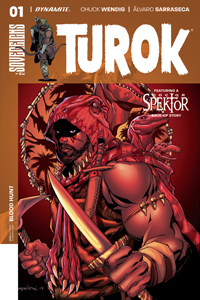 TUROK #1
DYNAMITE
Aubrey Sitterson, Chuck Wendig, Alvaro Sarreseca, Aaron Lopresti
The fascist Saurian soldiers of the Varanid Empire - part dinosaur, part man, all bad news - have seized control of the Lost Valley, and only the mysterious man known as Turok is willing to stand against them! But the all-new Turok only cares about one thing: he's on a quest to track down a missing girl - and she might hold clues as to how the Lost Valley has changed so much! Now Turok must infiltrate a prison camp run by the Varanid Empire in order to get more information about her whereabouts - and beware, any Varanid soldier who gets in his way - because there's a reason they call him the Dinosaur Hunter!
Also: Doc Spektor, Part 2! The story of the all-new master (and we use the term lightly) sorcerer continues... as Doc banishes a demon from an Upper-East Side apartment and commits fraud - all in a day's work!
In Shops: Aug 02, 2017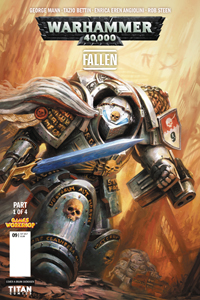 WARHAMMER 40000: FALLEN #1
TITAN COMICS
George Mann, Tazio Bettin, Enrica Eren Angiolini
A brand-new story arc begins!
Baltus and the Dark Angels encounter a squad of chaos-hunting grey knights! Is Sabbathiel close to the evidence she needs... to destroy the Dark Angels forever?
In Shops: Aug 09, 2017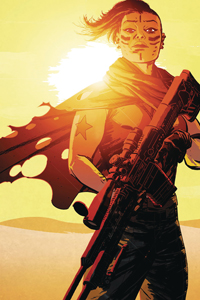 WAR MOTHER #1
VALIANT
Fred Van Lente, Stephen Segovia, Kano
Because you demanded it - war mother returns in a riveting new series! Out of the pages of 4001 A.D., the breakout hero of 41st century charges onward in an high-powered tale of tomorrow from New York Times best-selling writer Fred Van Lente (Archer And Armstrong) and high-octane artist Stephen Segovia (Ninjak, Action Comics)!
Two millennia from today, Earth is not the hospitable home we once we knew. Ravaged by an endless onslaught of war, disaster, and time, the world is littered with desolate badlands, fortified kingdoms, and secretive enclaves where humanity still clings to life... Enclaves like The Grove - Earth's last known repository of scientific knowledge and bioengineered prosperity. Now, under the leadership of the lone protector called War Mother and her sentient sniper rifle, the denizens of The Grove face a critical choice: remain where they are and die, or find a new land and flourish. Can War Mother lead her people out of isolation and reignite the fires of a dying planet? And even if she can locate the distant citadel she seeks, can she fight back the horrors and perverse monstrosities that lurk just beyond her doorstep?
In the footsteps of Rai and Book Of Death, raw power meets tribal warfare as Fred Van Lente and Stephen Segovia forge a modern myth of the near future through the fire-tempered frontier of 41st century Earth for Valiant's next stunning science-fiction showdown!
In Shops: Aug 23, 2017

(GRAPHIC) NOVEL IDEAS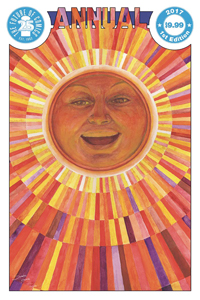 ANNUAL
IMAGE COMICS
Joe Casey, Luke Parker, Nathan Fox, Jim Rugg, Wilfredo Torres, Sonia Harris
Annual is here! Annual is now! Annual is a new-format comic book anthology for the 21st century!
It all starts here: pulp popcorn tale, The Winternational! The Casey / Fox collaboration from Playboy! New-millennium mythology with Jim Rugg! Plus, more all-new material and special features! A once-in-a-year artistic pleasure orgy that you simply can't afford to miss!
In Shops: Sep 27, 2017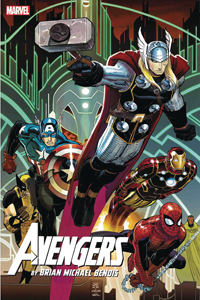 AVENGERS BY BENDIS: THE COMPLETE COLLECTION VOL.1
MARVEL COMICS
Brian Michael Bendis, Alan Davis, Gabriele Dell'Otto, John Romita
Bendis reunites the Big Three as he reassembles the Avengers! If Thor, Captain America and Iron Man can find a way to work together, they may just survive long enough to join Spider-Man, Wolverine and more on a new roster for a Heroic Age! Who will answer the call when Kang the Conqueror strikes from the future? There's worse to come when the Hood makes his move from small-time gangster to big-league bad guy - by hunting the all-powerful Infinity Gems - in a story that will draw in the secretive Illuminati and the not-so-stealthy Red Hulk! Plus, an angry Wonder Man returns, blaming the Avengers for the world's ills. And he's brought his own team of Revengers with him! Fight!
Collecting Avengers: Prime #1-5, Avengers (2010) #1-12 and Annual (2012) #1 and New Avengers Annual (2011) #1.
In Shops: Sep 20, 2017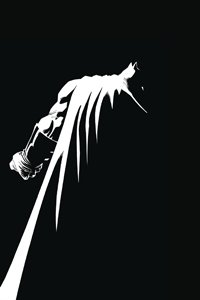 BATMAN - THE DARK KNIGHT III: THE MASTER RACE
DC COMICS
Frank Miller, Brian Azzarello, Klaus Janson, John Romita, Eduardo Risso, Andy Kubert
One of the most highly anticipated sequels of all time is here in Dark Knight III: The Master Race!
In a world gone awry, left in the aftermath of the toppling of Lex Luthor and the apparent death of Batman himself, who will save Gotham City and the rest of the planet against the mysterious Master Race?
This hardcover includes the entire nine-issue series with each issue's minicomic presented at the same size.
In Shops: Sep 13, 2017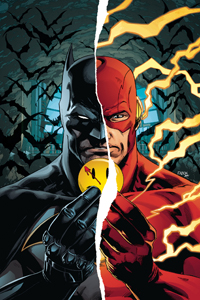 BATMAN / FLASH: THE BUTTON - DELUXE EDITION
DC COMICS
Joshua Williamson, Tom King, Howard Porter, Jason Fabok
The explosive storyline from Batman #21-22 and The Flash #21-22 is collected in a new deluxe edition hardcover!
The Dark Knight and the Fastest Man Alive, the two greatest detectives on any world, unite to explore the mystery behind a certain blood-stained smiley button embedded in the Batcave wall. What starts as a simple investigation turns deadly when the secrets of the button prove irresistible to an unwelcome third party - and it's not who anyone suspects! It's a mystery woven through time, and the ticking clock starts here!
In Shops: Oct 11, 2017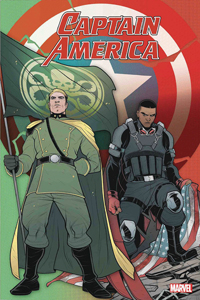 CAPTAIN AMERICA: SECRET EMPIRE
MARVEL COMICS
Nick Spencer, Jesus Saiz, Andres Guinaldo, Sean Izaakse, Joe Bennett, Javier Pina, Elizabeth Torque
In Cap we trust! But when Steve Rogers ushers in the Secret Empire, find out what the new order means for not one but both Captain Americas! As Steve enacts his grand vision, he is forced to confront some of his nearest and dearest. Will Namor, the Sub-Mariner prove to be a staunch ally - or a deadly enemy? And what about the one person Steve cares about the most? Sharon Carter has a fateful decision to make... Meanwhile, a crucial mission draws Sam Wilson out from the shadows - and into the skies once more! Back in the fight, Sam battles to restore sense to a world in chaos! But Hydra has no need for two Caps, and Sam must face his ultimate foe!
Collecting Captain America: Steve Rogers #17-19 and Captain America: Sam Wilson #22-24.
In Shops: Sep 20, 2017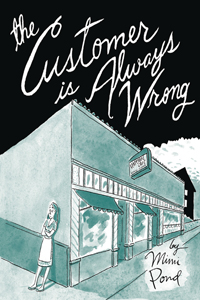 CUSTOMER IS ALWAYS WRONG
DRAWN AND QUARTERLY
Mimi Pond
The Customer is Always Wrong is the saga of a young naïve artist named Madge working in a restaurant of charming drunks, junkies, thieves, and creeps. Oakland in the late seventies is a cheap and quirky haven for eccentrics and Mimi Pond folds the tales of the fascinating sleaze-ball characters that surround young Madge into her workaday waitressing life.
Told in the same brash yet earnest style as her previous memoir Over Easy, Pond's storytelling gifts have never been stronger than in this epic, comedic, standalone graphic novel.
In Shops: Aug 09, 2017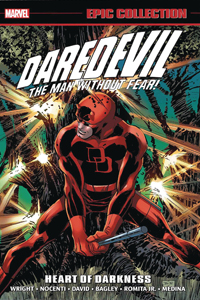 DAREDEVIL: HEART OF DARKNESS - EPIC COLLECTION
MARVEL COMICS
Ann Nocenti, Gerry Conway, Gregory Wright, Mike Baron, Peter David, Rick Leonardi, Mark Bagley, Cam Kennedy, Neil Hansen, Angel Medina, Ron Lim, John Romita
All hell breaks loose! Things really get heated as Daredevil is caught between the diabolical Mephisto and his monstrous son Blackheart! The Man Without Fear and his friends will be forced to face their demons like never before! Are they fated to burn for eternity in the fiery underworld, or can they find their way back home? And what role will the Silver Surfer play? As Atlantis attacks, Daredevil must face... Spider-Man! And Daredevil, the Surfer, Punisher and the Hulk will be stalked by Lifeform! Meanwhile, acts of vengeance puts Daredevil well out of his weight class in a battle against Ultron! Good thing Karnak and Gorgon of the Inhumans are around to lend a hand (and cloven hoof)!
Collecting Daredevil (1964) #271-282 and Annual #5-6 and material from Punisher Annual #3, Incredible Hulk Annual #16 and Silver Surfer Annual #3.
In Shops: Sep 06, 2017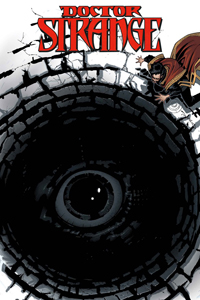 DOCTOR STRANGE VOL.1
MARVEL COMICS
Jason Aaron, Gerry Duggan, James Robinson, Leonardo Romero, Danilo Beyruth, Mike Perkins, Chris Bachalo
Only Doctor Strange can protect our world from the darkness beyond - but every spell he casts comes at a cost! Now witness the full toll taken on Earth's Sorcerer Supreme as the good Doctor wakes up somewhere very odd, nearly naked, sans spellbooks and weapons and with no memory of how he got there... or why all the monsters are chasing him! And as a new visitor to the Sanctum Sanctorum learns that one wrong door can lead to oblivion, a magic circle of Strange's friends and allies is about to face its greatest threat! Dark forces are destroying everything mystical in the Multiverse, and their sights are set on this dimension. The Empirikul are coming. Magic's days are numbered. And Doctor Strange is not ready!
Collecting Doctor Strange (2015) #1-10 and Doctor Strange: Last Days Of Magic #1.
In Shops: Dec 13, 2017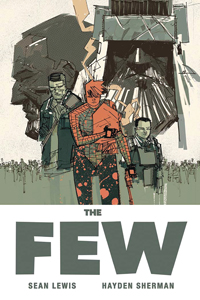 FEW
IMAGE COMICS
Sean Lewis, Hayden Sherman
In an America divided between the haves and the have-nots, Edan Hale is a soldier on the run. Saddled with a gas-mask wearing infant and aided by the very terrorists she was once sworn to hunt, Edan is suddenly a woman without a country in a place where you only survive if you have allies. For fans of George Miller's Mad Max films and Cormac McCarthy's The Road.
This new cult favorite emerges from the mind of Sean Lewis (creator of the critically lauded Saints series) and features the debut of rising star Hayden Sherman.
Collects The Few #1-6.
In Shops: Aug 23, 2017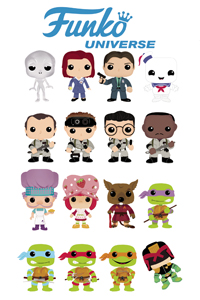 FUNKO UNIVERSE
IDW PUBLISHING
Derek Fridolfs, Caleb Goellner, Troy Little, Charles Paul Wilson, Nico Pena, Various, Nicoletta Baldari
Stories focusing on The Ghostbusters, Teenage Mutant Ninja Turtles, The X-Files, Strawberry Shortcake, and Judge Dredd in the fun and magical Funko Universe!
Your favorite Funko branded characters come to life in brand-new comic book adventures!
The most collectable figures get comic book companions!
In Shops: Sep 13, 2017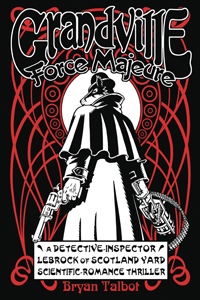 GRANDVILLE: FORCE MAJEURE
DARK HORSE COMICS Bryan Talbot
Wanted for murder and on the run, Detective Inspector LeBrock is the victim of a diabolical scheme engineered by gangland overlord Tiberius Koenig. But LeBrock is a fighter, and now against insurmountable odds, the British Badger risks all to thwart Koenig's plot and save queen, country, and all he loves!
Original graphic novel from the creator of The Adventures of Luther Arkwright and The Tale of One Bad Rat.
Bryan Talbot is an award-winning graphic novel pioneer.
In Shops: Oct 18, 2017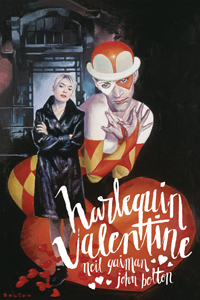 HARLEQUIN VALENTINE - SECOND EDITION
DARK HORSE COMICS
Neil Gaiman, John Bolton
The story of the legendary commedia dell'arte has been beautifully redesigned in a new hardbound edition. When a buffoonish Harlequin offers his heart to the beautiful, oblivious Columbine, neither of them is prepared for the charming surprise that awaits them both!
Gorgeously redesigned new edition!
Back in print for the first time in years!
In Shops: Oct 11, 2017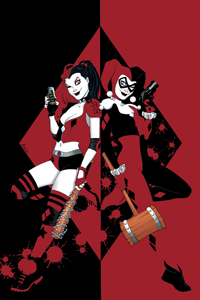 HARLEY QUINN: A CELEBRATION OF 25 YEARS
DC COMICS
Paul Dini, Karl Kesel, Amanda Conner, Jimmy Palmiotti, Rob Williams, Bruce Timm, Jim Lee, Terry Dodson
Twenty-five years? Seriously? Okay, yes, it's true: It's been a quarter of a century since Dr. Harleen Quinzel showed up and stole our hearts, our wallets and our dignity.
Celebrate 25 years of Harley in this new hardcover that guest stars The Joker, Batman, Poison Ivy and many more!
In Shops: Sep 13, 2017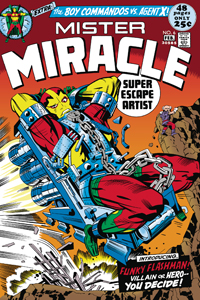 JACK KIRBY'S MISTER MIRACLE
DC COMICS
Jack Kirby, Vince Colletta, Mike Royer
For the first time, DC collects the complete run of Jack Kirby's Mister Miracle in one stand-alone color volume!
Traded as an infant as part of a peace pact between the twin worlds New Genesis and Apokolips, Scott Free grew up in the cruel care of Granny Goodness to become a super escape artist who fights for freedom. Along the way, he battles Darkseid's forces, including Dr. Bedlam, Kanto the assassin, the Female Furies and more, with the help of his assistant, Oberon, and former Apokoliptean enforcer Big Barda.
Collects Mister Miracle #1-18.
In Shops: Sep 20, 2017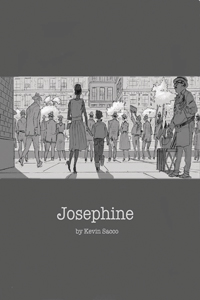 JOSEPHINE
AMAZE INK
Kevin Sacco
In his first work since The Plane Story, Kevin Sacco brings us a wordless Civil Rights-era tale of a young boy with a complicated family life who accompanies his family's domestic - Josephine - from his Upper West Side comforts to her neighborhood haunts in Harlem. This journey subtly imbues the boy with a world view as full of blacks, whites and grays as the story's art. At the heart of this narrative is the bond the boy shares with Josephine - until a sinister plot twist casts a dark shadow on their relationship.
In Shops: Aug 30, 2017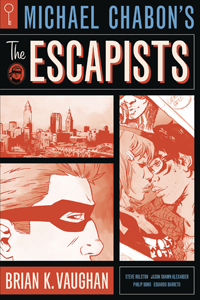 MICHAEL CHABON'S THE ESCAPISTS
DARK HORSE COMICS
Brian K. Vaughan, Jason Shawn Alexander
Inspired by the Pulitzer Prize-winning novel The Amazing Adventures of Kavalier and Clay, this story of three aspiring comics creators with big dreams, small cash, and publishing rights to one forgotten Golden Age hero - the Escapist - is Brian K. Vaughan's love letter to his chosen medium. The lives of creators Max, Denny, and Case - latter-day versions of Joe Kavalier and Sam Clay - are brilliantly woven together with the world of their creations.
Now available in an affordable softcover in a larger format.
In Shops: Oct 11, 2017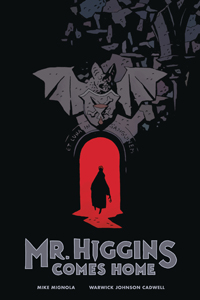 MR HIGGINS COMES HOME
DARK HORSE COMICS
Mike Mignola, Warwick Johnson
Preparations begin at Castle Golga for the annual festival of the undead, as a pair of fearless vampire killers question a man hidden away in a monastery on the Baltic Sea. The mysterious Mr. Higgins wants nothing more than to avoid the scene of his wife's death, and the truth about what happened to him in that castle. However, these heroic men sworn to rid the world of the vampire scourge inspire Higgins to venture out and to end the only suffering he really cares about-his own.
This sendup of classic vampire stories sees Mignola teaming with British artist Warwick Johnson Cadwell (Solid State Tank Girl, No.1 Car Spotter) for an original graphic novel as outlandish as The Amazing Screw-On Head.
In Shops: Oct 18, 2017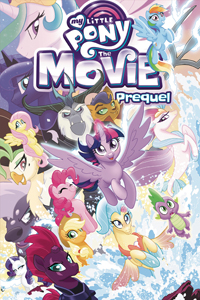 MY LITTLE PONY: MOVIE PREQUEL
IDW PUBLISHING
Ted Anderson, Andy Price
All-new original tie-in to the movie! This fall My Little Pony: The Movie hits theaters, and this prequel mini-series is your first look at the fantastic adventure to come!
Danger looms over Equestria as a new villain debuts! Learn about the threats that await as Twilight Sparkle, Pinkie Pie, Rainbow Dash, Fluttershy, Applejack, and Rarity prepare to face their greatest challenge yet!
Featuring new characters who will make their screen debut in the film!
In Shops: Sep 27, 2017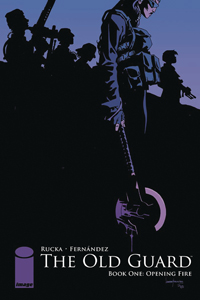 OLD GUARD - BOOK 1: OPENING FIRE
IMAGE COMICS
Greg Rucka, Leandro Fernandez
Collecting the critically acclaimed miniseries by Greg Rucka and Leandro Fernandez.
Old soldiers never die... and some of them don't even fade away. Cursed with immortality, Andromache of Scythia and her comrades-in-arms ply their trade for those who can find - and afford - their services. But in the 21st century, being immortal is a difficult secret to keep, and when you live long enough, you learn that there are many fates far worse than death.
Collects The Old Guard #1-5.
In Shops: Aug 30, 2017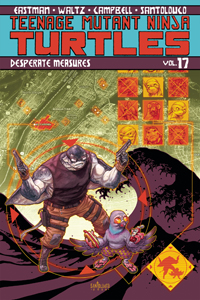 TEENAGE MUTANT NINJA TURTLES VOL.17: DESPERATE MEASURES
IDW PUBLISHING
Tom Waltz, Kevin Eastman, Sophie Campbell, Mateus Santolouco
Alopex is alone, her psyche reeling from Kitsune's mind control. With Raphael and Nobody searching for her, will she be able to find her way back to the side of good? Plus, the government's hunt for mutants begins in earnest and their unconventional tactics will see the Teenage Mutant Ninja Turtles hounded like never before! No mutant is safe!
Collects issues #66-70.
In Shops: Sep 06, 2017
BIFF'S BIT
OLD BUT NEW FROM DC
My reading tastes are rooted in the period from the 1960s up to 1999 and I enjoy dusting down old issues of Batman, Green Lantern, Daredevil, Avengers, Fantastic Four and Master Of Kung Fu for a good, long, nostalgic read. I find this particularly pleasing at the moment as I have finally completed my Master Of Kung Fu collection with the acquisitions of Giant Size Master Of Kung Fu #3 (in which we discover that Dr. Petrie was not killed by Shang Chi and is still alive!) and Giant Size Spider-Man #2 (starring Shang Chi). It has taken me thirty years to get hold of these two beauties.
The long preamble leads me to DC and the solicitations of Black Racer And Shilo Norman Special #1, Darkseid Special #1, Manhunter Special #1, New Gods Special #1, Newsboy Legion And Boy Commandos Special #1 and Sandman Special #1 (Jack Kirby Sandman). These gems feature modern takes with original material backing them up, which gives the reader the ability to decide which is best, old or new. There is also a new Mister Miracle twelve-issue series starting. This will be a very modern look and the blurb reads "You might say Scott Free has everything... so why isn't it enough? Mister Miracle has mastered every illusion, achieved every stunt, pulled off every trick - except one. He has never escaped death. Is it even possible? Our hero is going to have to kill himself if he wants to find out." Sounds like just the wild and wacky type of idea that Jack Kirby would come up with.
Which to choose? All if money allows.
OLD BUT NEW FROM IMAGE
In 1984, just three years into my retailing career, a comic came out that excited myself and all my customers - Mage: The Hero Discovered - from a new creative talent, Matt Wagner. The publisher, Comico, no longer exists, but both Matt and his title have gone on from strength to strength. Now, eighteen years after the last series - Mage: The Hero Defined - Image are publishing Mage: The Hero Denied. The original series were beautifully drawn with a slight cartoon feel and wonderful black inks. Magic, mystery and humanity were all wrapped up in an uplifting tale of endeavour against evil. To say that I am excited by this third and final series finally seeing print is an understatement.
If you have money left after buying any of the Kirby books, please try this one too.
OLD BUT NEW FROM MARVEL
Not to be outdone, Marvel have a series of one shots pitching original heroes either alongside or against their newer incarnations. Look out for Generations: Banner Hulk and Totally Awesome Hulk #1, Generations: Hawkeye and Hawkeye #1, Generations: Phoenix and Jean Grey #1, Generations: Unworthy Thor and Mighty Thor #1 and Generations: Wolverine and All-New Wolverine #1. As a self confessed lover of all things Thor there is an obvious choice for me!
As ever, there is so much more available each month from a plethora of companies - IDW, Dynamic Forces, Fantagraphics, Oni Press and Valiant to name just a few favourites. These days I find there to be so much good looking material, there's not enough time or money to ingest everything I would like to!
There have been hours and hours of comment on the atrocity in Manchester in May and the following, I feel, sums up my emotions...
Enjoy the June sunshine and in light of the Manchester Arena atrocity in May, we can defeat terrorism by smiling and retaliating with friendship and humanity.

Graphic Novel Top 20 Chart: May 2017
May's best-selling graphic novels include Moonshine, Lady Mechanika, Harley Quinn, Batman, Flash, Dragon Ball, Star Wars, Deadpool and Roughneck
Show me the Graphic Novel Top 20 Chart