This week's titles are due to hit shelves on Wednesday, 26th September. Featured in this week's comics are the following…
BATMAN INCORPORATED #0

DC Comics
Batman, Incorporated wants you! Batman has a war to fight, but first he must recruit an army to combat the menace of Leviathan. See how The Dark Knight assembled his lieutenants!
TALON #0

DC Comics
A new series featuring the Court of Owls' unstoppable killing machine! Meet Calvin Rose, the only Talon ever to escape the grasp of the Court of Owls. This former assassin just wants to live a normal life…but that's impossible, since he's being hunted by his former masters!
HAPPY #1 (OF 4)

Image Comics
Meet NICK SAX – a corrupt, intoxicated ex-cop turned hit-man, adrift in a stinking twilight world of casual murder, soulless sex, eczema and betrayal. With a hit gone wrong, a bullet in his side, the cops and the mob on his tail, and a monstrous child killer in a Santa suit on the loose, Nick and his world will be changed forever this Christmas. By a tiny blue horse called Happy…
MEMORIAL HC VOL 01

IDW Publishing
Memorial is the story of Em, a young woman who arrives at a hospital in Portland, Oregon, with no memory of her past. A year later, she has rebuilt her life, only to find her existence thrown into turmoil after she inherits a magical shop. Em is drawn into a supernatural conflict between beings that not only represent, but are fundamental elements of the universe itself.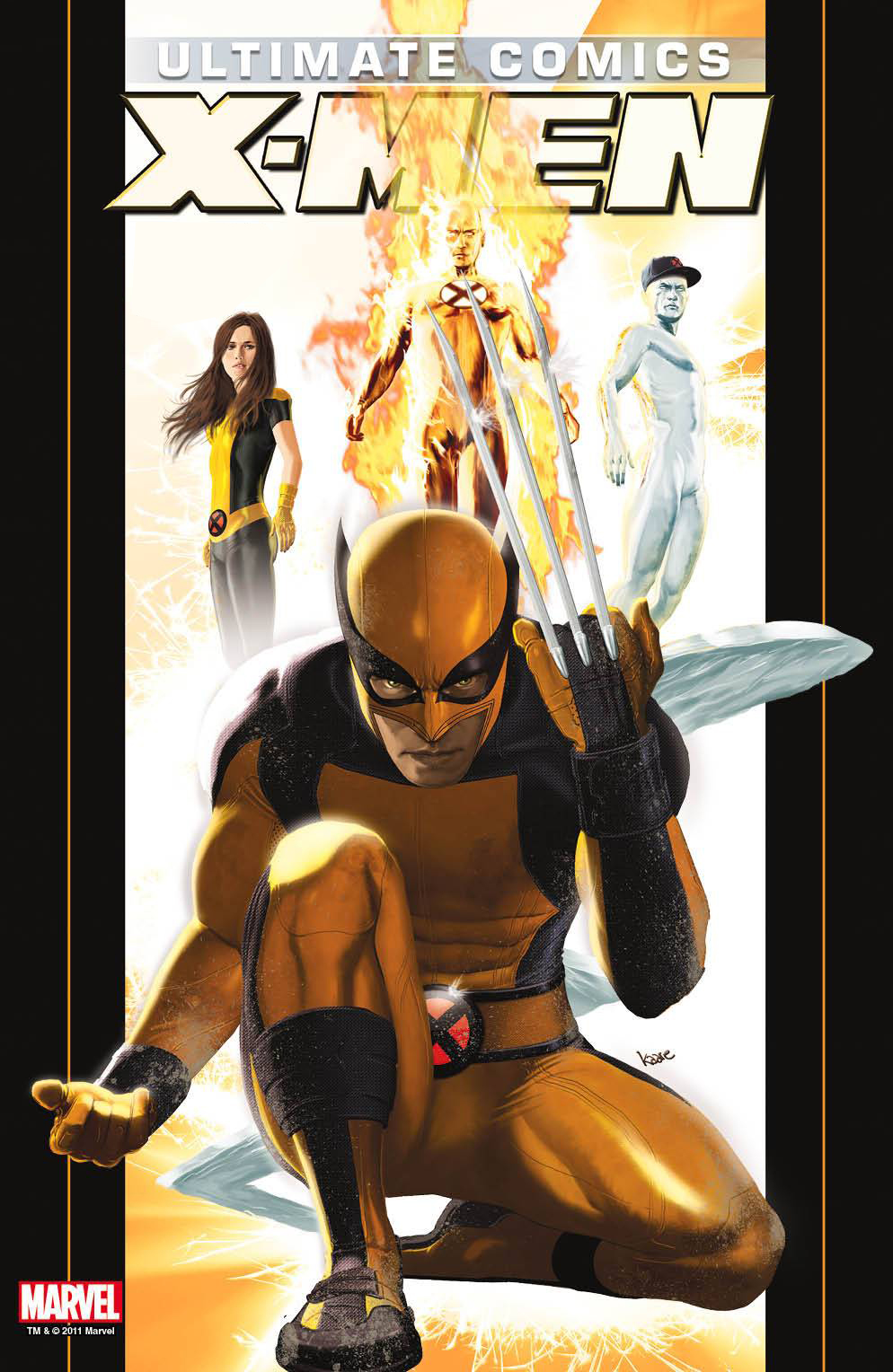 ULTIMATE COMICS X-MEN BY NICK SPENCER TP VOL 01

Marvel Comics
The human race has taken drastic steps to solve "the mutant problem" in the aftermath of Magneto's Ultimatum: An executive order to shoot unregistered mutants on sight. Prison camps. And worse. Mutantkind is scattered and hiding. Iceman and Kitty Pryde have taken refuge with the Human Torch in the subterranean Morlock tunnels. Karen Grant and Ultimate X are on the run. Quicksilver has taken the offensive, brokering a deal with none other than the president. But when the world discovers the true history of the X-gene, the decades-old secret threatens to destabilize the planet – and the divide between mankind and mutantkind grows wider than ever before! It's a brave, new world for the X-Men. Will they survive the opening salvo? Collecting ULTIMATE COMICS X-MEN (2011) #1-6.
X-MEN LEGACY #274

Marvel Comics
In the aftermath of AvX, Rogue and Magneto are reunited! And he's got an offer for Rogue that may just leave her speechless…
Full Listing
AMAZE INK
BEAR TP VOL 01 IMMORTAL (MR)
DARK HORSE
2 INCH DOMO QEE MYSTERY BOX NEON SERIES
ANGEL & FAITH #14 REBEKAH ISAACS VAR CVR
ANGEL & FAITH #14 STEVE MORRIS CVR
AVATAR LAST AIRBENDER TP VOL 03 PROMISE PART 3
AXE COP PRESIDENT O/T WORLD #3
BPRD HELL ON EARTH RETURN O/T MASTER #2 (OF 5)
CAMILLA DERRICO NO ORDINARY LOVE BUST
CONCRETE TP VOL 01 DEPTHS (NEW PTG)
DRAGON AGE THOSE WHO SPEAK #2 (OF 3)
GOON #42
MIND MGMT #5
STAR WARS DARTH MAUL DEATH SENTENCE #3 (OF 4)
DC COMICS
ABSOLUTE GREEN LANTERN SINESTRO CORPS WAR HC
ALL STAR WESTERN #0
AMERICAN VAMPIRE #31 (MR)
AMERICAN VAMPIRE #31 VAR ED (MR) Ratio (1-10)
AMERICAN VAMPIRE HC VOL 04 (MR)
AMERICAN VAMPIRE TP VOL 03 (MR)
AQUAMAN #0
AQUAMAN #0 VAR ED Ratio (1-25)
BATMAN #8 2ND PTG
BATMAN INCORPORATED #0
BATMAN INCORPORATED #0 BLACK AND WHITE VAR ED Ratio(1-100)
BATMAN INCORPORATED #0 COMBO PACK
BATMAN INCORPORATED #0 VAR ED
BATMAN THE DARK KNIGHT #0
BATMAN THE DARK KNIGHT #0 VAR ED Ratio(1-25)
BEFORE WATCHMEN OZYMANDIAS #3 (OF 6) (MR)
BEFORE WATCHMEN OZYMANDIAS #3 (OF 6) COMBO PACK (MR)
BEFORE WATCHMEN OZYMANDIAS #3 (OF 6) VAR ED (MR) Ratio(1-25)
DC COMICS SUPER HEROES WONDER WOMAN BUST
FLASH #0
FLASH #0 VAR ED Ratio(1-25)
FLASH TP VOL 02 THE ROAD TO FLASHPOINT
FURY OF FIRESTORM THE NUCLEAR MEN #0
I VAMPIRE #0
JUSTICE LEAGUE #12 2ND PTG
JUSTICE LEAGUE DARK #0
LOBO PORTRAIT OF A BASTICH TP NEW PTG
NATIONAL COMICS ROSE AND THORN #1
NEW DEADWARDIANS #7 (OF 8) (MR)
PHANTOM LADY #2 (OF 4)
RED LANTERNS #0
SAGA OF THE SWAMP THING TP BOOK 02 (MR)
SAVAGE HAWKMAN #0
SHOWCASE PRESENTS AMETHSYT TP VOL 01
SUPERMAN #0
SUPERMAN #0 VAR ED Ratio(1-25)
SUPERMAN FAMILY ADVENTURES #5
TALON #0
TALON #0 VAR ED Ratio(1-100)
TEEN TITANS #0
TEEN TITANS #0 VAR ED Ratio(1-25)
VOODOO #0
VOODOO TP VOL 01 WHAT LIES BENEATH
IDW PUBLISHING
ARCHIE BEST OF HARRY LUCEY HC VOL 02
DAVE STEVENS STORIES & COVERS HC
FINE & PRIVATE PLACE #1 (OF 5)
GASOLINE ALLEY HC VOL 01
GI JOE A REAL AMERICAN HERO #182
HAWKEN #6 (OF 6)
HCF 2012 TMNT #1 TRICK-OR-TREAT ED
JOE KUBERT TARZAN OF THE APES ARTIST ED HC
MAGIC THE GATHERING SPELL THIEF #3
MAGIC THE GATHERING SPELL THIEF #4
MARS ATTACKS #4
MEMORIAL HC VOL 01
NEXT MEN HC VOL 03
POPEYE #5
SKIPPY HC VOL 01 COMPLETE DAILIES 1925-1927
SNAKE EYES & STORM SHADOW #17
STAR TREK TNG DOCTOR WHO ASSIMILATION #5
STAR TREK TNG DOCTOR WHO ASSIMILATION TP VOL 01
TEENAGE MUTANT NINJA TURTLES ONGOING #14
TEENAGE MUTANT NINJA TURTLES ONGOING TP VOL 03 SHADOWS
TRANSFORMERS MORE THAN MEETS EYE ONGOING #9
IMAGE COMICS
DANCER #5
DEBRIS #3 (OF 4) (MR)
ELEPHANTMEN #43 (MR)
HACK SLASH #18 CVR A MERHOFF (MR)
HACK SLASH #18 CVR B MERHOFF (MR)
HACK SLASH TP VOL 01 FIRST CUT NEW PTG
HACK SLASH TP VOL 02 DEATH BY SEQUEL NEW PTG
HAPPY #1 (OF 4)
HAPPY #1 (OF 4) ALLRED VAR CVR
INVINCIBLE #95
MIND THE GAP #5 CVR A ESQUEJO & OBACK
MIND THE GAP #5 CVR B CHEN
NEAR DEATH TP VOL 02
PROPHET #29
SKULLKICKERS #18
SPAWN ORIGINS TP VOL 16
SUPER DINOSAUR #14
YOUNGBLOOD #74
MARVEL COMICS
AMAZING SPIDER-MAN #694
ANITA BLAKE VH TP CIRCUS OF DAMNED BOOK 03 SCOUNDREL (MR)
ASTONISHING X-MEN #54
BLACK PANTHER MAN WITHOUT FEAR TP FEAR ITSELF
CAPTAIN AMERICA AND BLACK WIDOW #637
CAPTAIN MARVEL #2 2ND PTG MCGUINNESS VAR
CAPTAIN MARVEL #4
DAREDEVIL BY BRUBAKER AND LARK ULT COLL TP BOOK 03
DEADPOOL #61
FEAR ITSELF TP UNCANNY X-MEN
FF #22
FURY MAX #6 (MR)
GAMBIT #3
HIT-GIRL #3 (OF 5) (MR)
HIT-GIRL #3 (OF 5) JOCK VAR (MR) Ratio(1-25)
HIT-GIRL #3 (OF 5) JRJR SKETCH VAR (MR) Ratio(1-50)
INCREDIBLE HULK #14
INVINCIBLE IRON MAN #525
JOURNEY INTO MYSTERY #644 BURNS
MARVEL UNIVERSE ULTIMATE SPIDER-MAN #6
MARVEL ZOMBIES DESTROY HC
MARVELS AVENGERS AVENGERS INITIATIVE DIGEST TP
MIGHTY THOR BY MATT FRACTION PREM HC VOL 03
MMW INVINCIBLE IRON MAN TP VOL 02
MMW INVINCIBLE IRON MAN TP VOL 02 DM VAR ED 45
PUNISHER #16
SECRET AVENGERS #31
SPACE PUNISHER #3 (OF 4)
SPIDER-MAN LIZARD PREM HC NO TURNING BACK
TAKIO #3
ULTIMATE COMICS ULTIMATES #16 UWS
ULTIMATE COMICS X-MEN BY NICK SPENCER TP VOL 01
WINTER SOLDIER #11
WOLVERINE #313
WOLVERINE #313 ART ADAMS VAR Ratio(1-30)
WOLVERINE AND X-MEN #17
WOLVERINE AND X-MEN BY JASON AARON PREM HC VOL 03 AVX
X-MEN #36
X-MEN LEGACY #274
X-MEN WAR MACHINES TP
X-TREME X-MEN #4
ONI PRESS INC
WASTELAND TP VOL 07
TOP COW
DARKNESS #101 SIGNED SILVESTRI & HAUN CVR (MR)
WITCHBLADE #160 CVR A CHRISTOPHER
WITCHBLADE #160 CVR B BERNARD & BENES