This week's titles are due to hit shelves on Wednesday, 2nd January.
Featured in this week's comics are the following…
★ PICK OF THE WEEK ★
NEW AVENGERS #1

MARVEL COMICS
To prevent the collision of our universe with another, the Illuminati, led by the Black Panther, must assemble NOW! It's the most powerful and brilliant team in the Marvel Universe–The Black Panther, Iron Man, Doctor Strange, Black Bolt, Mister Fantastic, Namor the Sub-Mariner and The Beast–against an infinite legion of parallel realities.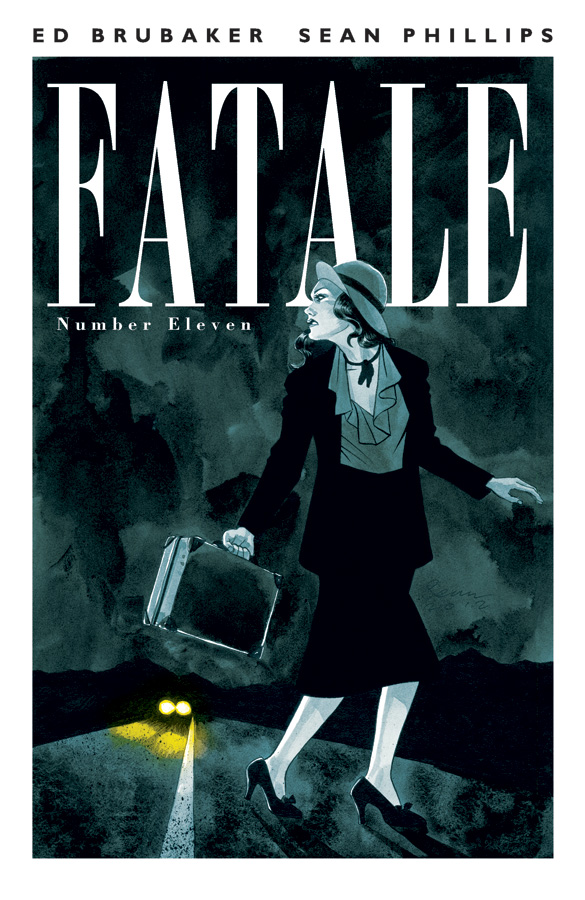 FATALE #11

IMAGE COMICS
The first of four standalone Fatale Flashback issues, and a perfect place for new readers to jump on board. Welcome to 1930s California, a hard place to be for a girl on the run. Witness Josephine's early days with the Femme Fatale curse, and see some of her elusive secrets revealed.
PUNK ROCK JESUS #6

DC VERTIGO
In this thrilling conclusion to the acclaimed miniseries, Chris and the Flak Jackets head to Jerusalem, the last stop on their world tour. But in this final concert, will the punk messiah rise above the protests from the world's three major religions, or will he take matters into his own hands?
ADVENTURE TIME: FIONA AND CAKE #1

BOOM! STUDIOS
Join Cake the Cat and Fionna the Human in this totally algebraic new adventure, written and drawn by Fionna And Cake creator and Adventure Time storyboard artist Natasha Allegri! When Fionna rescues a feral flame boy from a pack of wild fire lions, it starts her on a quest she'll never forget… Don't miss out on this sure-to-be insanely popular new Adventure Time mini-series!
INVINCIBLE #99

IMAGE COMICS
"The Death Of Everyone" continues!
Invincible vs. Dinosaurus for the fate of the world! Could this be the end of Mark Grayson?!
VAMPIRELLA STRIKES #1

DYNAMITE ENTERTAINMENT
Fearful that her monstrous nature is taking control, Vampirella takes solace in some extreme violence, and conversation, all topped off with a nice glass of Merlot, in a Boston tavern overrun by the demonic in the first part of this six issue story. Living in a world of growing supernatural threats, Vampirella never knows what she will be facing from one moment to the next, but what she finds waiting for her in her Boston Brownstone when she returns from a night of hunting is the most unexpected of all. Angels of Heaven sent by God… and they want Vampirella to work for them.
FATALE BOOK 2: THE DEVIL'S BUSINESS

IMAGE COMICS
The second arc of Image's new hit collected just in time for new readers to jump on board with issue 11!
Full Listing
HERO WORSHIP #6 (OF 6)
HERO WORSHIP #6 (OF 6) HEROIC ORDER INCV CVR Ratio-1:3
HERO WORSHIP #6 (OF 6) WRAP CVR
NIGHT O/T LIVING DEAD AFTERMATH #3 (MR)
NIGHT O/T LIVING DEAD AFTERMATH #3 GORE CVR (MR)
NIGHT O/T LIVING DEAD AFTERMATH #3 TERROR ORD INCV CVR Ratio-1:3
NIGHT O/T LIVING DEAD AFTERMATH #3 WRAP CVR (MR)
ADVENTURE TIME #1 HOUGHTON WRAP VAR
ADVENTURE TIME #1 SDCC GET A SKETCH CVR
ADVENTURE TIME #2 FRANK BECKY VAR
ADVENTURE TIME #3 BUSCEMA VAR
ADVENTURE TIME #3 DEFORGE VAR
ADVENTURE TIME #4 SCOTT C VAR
ADVENTURE TIME #4 WARD VAR
ADVENTURE TIME #5 KOLCHALKA VAR
ADVENTURE TIME #6 HIPP VAR
ADVENTURE TIME #6 WOLFHARD VAR
ADVENTURE TIME #7 ANNABEL VAR
ADVENTURE TIME #7 FRANCO VAR CVR
ADVENTURE TIME FIONNA & CAKE #1 (OF 6) MAIN CVR
ADVENTURE TIME MARCELINE SCREAM QUEENS #1 SDCC GET A SKETCH
HYPERNATURALS #1 SDCC EXCLUSIVE CVR
HYPERNATURALS #7 MAIN CVR
PEANUTS #1 (OF 4) SDCC EXCLUSIVE CVR
PLANET O/T APES CATACLYSM #5 MAIN CVR
SUPURBIA ONGOING #1 2ND PTG
HELLBOY IN HELL #2
47 RONIN #2 (OF 5)
BUFFY THE VAMPIRE SLAYER WILLOW WONDERLAND #3 (OF 5) LARA VAR
BUFFY THE VAMPIRE SLAYER WILLOW WONDERLAND #3 (OF 5) MACK CVR
COLDER #3 (OF 5) (MR)
STAR WARS PURGE TYRANTS FIST #2 (OF 2)
ALL STAR WESTERN #15
AMERICAN VAMPIRE #34 (MR)
ARROW #2
BATMAN BEYOND UNLIMITED #11
BATMAN INCORPORATED #6
BATMAN INCORPORATED #6 BLACK & WHITE VAR ED Ratio-1:100
BATMAN INCORPORATED #6 COMBO PACK
BATMAN INCORPORATED #6 VAR ED
BATMAN INCORPORATED TP
BATMAN THE DARK KNIGHT #15
BATMAN THE DARK KNIGHT #15 VAR ED Ratio-1:25
FLASH #15
FLASH #15 VAR ED Ratio-1:25
FURY OF FIRESTORM THE NUCLEAR MEN #15
GREEN LANTERN HC VOL 02 REVENGE OF THE BLACK HAND
GREEN LANTERN TP VOL 01 SINESTRO (N52)
HARD TIME TP VOL 02 SIXTEEN
I VAMPIRE #15
JOE KUBERT PRESENTS #3 (OF 6)
JUSTICE LEAGUE DARK #15
JUSTICE LEAGUE INTERNATIONAL TP VOL 02 BREAKDOWN
LOT 13 #3 (OF 5) (MR)
PUNK ROCK JESUS #6 (OF 6) (MR)
RED LANTERNS #15 (RISE)
RED LANTERNS #15 VAR ED (RISE) Ratio-1:25
SAVAGE HAWKMAN #15
SUPERMAN #15
SUPERMAN #15 VAR ED Ratio-1:25
SUPERMAN FAMILY ADVENTURES #8
TALON #3
TALON #3 BLACK AND WHITE VAR ED Ratio-1:100
TALON #3 VAR ED Ratio-1:25
TEEN TITANS #15 (DOTF)
TEEN TITANS #15 VAR ED (DOTF) Ratio-1:25
DAMSELS #1 2ND PTG
DAMSELS #4
FLASH GORDON ZEITGEIST #8
QUEEN SONJA #33
THUNDA #5
VAMPIRELLA STRIKES #1 CVR A TURNER
VAMPIRELLA STRIKES #1 CVR B FINCH
VAMPIRELLA STRIKES #1 CVR C MANARA
VAMPIRELLA STRIKES #1 CVR D JOHNNY D
VAMPIRELLA STRIKES #1 SUBSCRIPTION PHOTO VAR
VAMPIRELLA TP VOL 03 THRONE OF SKULLS
WARLORD OF MARS DEJAH THORIS #20 (MR)
COBRA ONGOING #20
COMPLETE CHESTER GOULDS DICK TRACY HC VOL 14
DANGER GIRL GI JOE #5 (OF 5)
DUNGEONS & DRAGONS FORGOTTEN REALMS HC VOL 01
GODZILLA HALF CENTURY WAR #4 (OF 5)
MARS ATTACKS POPEYE (ONE SHOT)
MY LITTLE PONY FRIENDSHIP IS MAGIC #2
STAR TREK ONGOING #16
TRANSFORMERS PRIME RAGE O/T DINOBOTS #2 (OF 4)
TRANSFORMERS PRIME SEASON 2 TP VOL 01
TRANSFORMERS ROBOTS IN DISGUISE ONGOING TP VOL 02
WOODWORK WALLACE WOOD 1927-1981 HC
BLACKACRE #1 2ND PTG (MR)
BLACKACRE #2 (MR)
DARKNESS #109 (MR)
FATALE #11 (MR)
FATALE TP VOL 02 DEVILS BUSINESS (MR)
GLORY #31
GREAT PACIFIC #2 2ND PTG (MR)
GREAT PACIFIC #3 (MR)
HACK SLASH TP VOL 11 MARRY F*CK KILL
HARVEST #5 (OF 5) (MR)
I LOVE TROUBLE #1 2ND PTG (MR)
I LOVE TROUBLE #2 (MR)
INVINCIBLE #99
INVINCIBLE #99 OTTLEY VAR CVR
MANHATTAN PROJECTS #8
NOWHERE MEN #1 2ND PTG
PROPHET #32
YOUNGBLOOD #75 CVR A LIEFELD & CAPPROTTI
YOUNGBLOOD #75 CVR B LIEFELD & MCFARLANE
YOUNGBLOOD #75 CVR C LIEFELD
YOUNGBLOOD #75 CVR D OTTLEY
YOUNGBLOOD #75 CVR E PEREZ
ALL NEW X-MEN #5 COIPEL VAR NOW Ratio-1:50
ALL NEW X-MEN #5 NOW
DAREDEVIL END OF DAYS #4 (OF 8)
DAREDEVIL END OF DAYS #4 (OF 8) MACK VAR Ratio-1:25
DARK TOWER GUNSLINGER PREM HC MAN IN BLACK
FURY MAX #8 (MR)
IRON MAN #5 CHEUNG VAR NOW Ratio-1:50
IRON MAN #5 NOW
IRON MAN #5 PAGULAYAN DESIGN VAR NOW Ratio-1:25
MARVELS IRON MAN 3 PRELUDE #1 (OF 2)
MONSTERS INC #2 (OF 2)
MORBIUS LIVING VAMPIRE #1 BLANK VAR NOW
MORBIUS LIVING VAMPIRE #1 MCGUINNESS VAR NOW Ratio-1:50
MORBIUS LIVING VAMPIRE #1 NOW
MORBIUS LIVING VAMPIRE #1 YOUNG VAR NOW
NEW AVENGERS #1 BLANK VAR NOW
NEW AVENGERS #1 CAMPBELL SKETCH VAR NOW Ratio-1:150
NEW AVENGERS #1 CAMPBELL VAR NOW Ratio-1:100
NEW AVENGERS #1 EPTING VAR NOW Ratio-1:50
NEW AVENGERS #1 NOW
NEW AVENGERS #1 YOUNG VAR NOW
NOVA CLASSIC TP VOL 01
OZ DOROTHY AND WIZARD IN OZ GN TP
PUNISHER NIGHTMARE #1 (OF 5)
RED SHE-HULK #61 NOW
RED SHE-HULK #61 WILLIAMS VAR NOW
ROAD TO OZ #4 (OF 6)
STAND TP VOL 05 NO MANS LAND
ULTIMATE COMICS SPIDER-MAN #19
VENOM #29