Just in time for the bank holiday, we have June's Illuminations showcasing the major publisher's brand new series debuting in August.
There is also a look at Batman: Knightfall in 'History Books', staff picks, 'Novel Ideas' and the always insightful 'Biff's Bit'.
Take a gander and download below: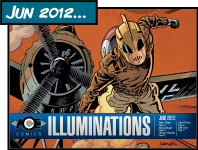 Previous issues are available here.