The April Previews Order Form is now available as a spreadsheet csv file for you to download and view!
Amongst the recommended items this month are…
SUPERMAN UNCHAINED #1
SCOTT SNYDER | JIM LEE
DC COMICS
ITEM CODE: 457/0107
When thirteen satellites fall from the sky in one day, the logical suspect is Lex Luthor-even though he's still locked up in prison! But a stranger question remains: If Superman didn't stop the last satellite from falling, who did? There's an mystery hidden where even Superman can't see it-Can The Man of Steel drag a decades-old secret into the light?
Don't miss the debut of this red-hot new series from two of comics' brightest superstars: Scott Snyder and Jim Lee!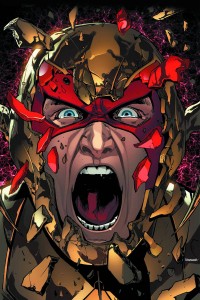 AGE OF ULTRON #10AI
MARK WAID | ANDRE ARAUJO
MARVEL COMICS
ITEM CODE: 457/0594
One of Marvel's most classic characters, Hank Pym, stands at the crossroads!
Faced with a dilemma only he can solve, Pym gambles his past and his future! Some men are beyond redemption! By story's end, Hank Pym will have an entirely new role in the Marvel Universe!
UNCANNY #1
ANDY DIGGLE | AARON CAMPBELL
DYNAMITE ENTERTAINMENT
ITEM CODE: 457/0996
Six billion skill sets. One last chance.
Weaver is unique, or so he thinks. Born with an uncanny ability, he can steal other people's skills – their memories, abilities, and expertise – for a limited time. A man with a power like that could change the world; but as a professional gambler, con-man, and thief-for-hire, Weaver prefers to look out for number one. That is, until he finds himself drawn into a dangerous game of international intrigue where the rules keep changing, the players are hidden… and the first thing he stands to lose is his life. And maybe, just maybe, he isn't so unique after all…
THE JOKER 1/6-SCALE FIGURE
SIDESHOW COLLECTIBLES
ITEM CODE: 457/2349
Inspired by classic comic portrayals, including his 1988 appearance in the fan favorite, 'The Killing Joke', The Joker Sixth Scale figure was designed and crafted with an incredible attention to detail. Two heads are included, each capturing different eerie and unsettling expressions of the Clown Prince of Crime's deranged deviousness. Clothed in a perfectly plum, impeccably tailored and trademark suit, and accompanied by a vast array of diabolical accessories including playing cards, straight razor, dynamite and a revolver, Batman's arch rival is ready to wreak havoc and mayhem on the citizens of Gotham City. Display base included.
There is a wealth of comics, books, magazines, clothing, toys, statues, games and more available. If you're interested in getting hold of anything on the list, use the contact form below with the order numbers and descriptions of the items you want. We can then set you up with a FREE Advance Order Account and you can place any Previews orders with us from now on!