May's Previews catalogue is now available to read through and we have a spreadsheet csv order form with UK prices for you to download and fill in!. There is a wealth of comics, books, magazines, clothing, toys, statues, games and more available. If you're interested in getting hold of anything in the catalogue, just follow the steps…
Step One: Have a look through the catalogue textfile.
Step Two: Download the order form (ACE Order Form no.470).
Step Three: Indicate the items you want in the csv order form and attach it to a return email or fill in the contact form at the bottom of the page with the order numbers and descriptions of the items you want.
After these steps have been completed, we can set you up with a FREE Advance Order Account. Once we have taken your payment details, you will be able to place any Previews orders with us from now on!
Please note the cut-off date for placing orders from Previews #308 is 30th May 2014..
Previews' recommendations are listed below. If we have the item available for subscription in our online shop you'll be able to add it to your basket using the relevant buttons…
LOW #1
Rick Remender | Greg Tocchini
IMAGE COMICS
ACE ITEM CODE: 470/0566
In the far distant future, the sun's premature expansion has irradiated Earth, sending humanity to the lowest depths of the seas, hidden within radiation-shielded cities, while probes scour the universe for inhabitable worlds to relocate to. After tens of thousands of years, a single probe returns, crashing on Earth's surface, a now-alien place no human has seen for many millennia.
Frequent collaborators Rick Remender (Black Science, Uncanny Avengers) and Greg Tocchini (Last Days of American Crime, Uncanny X-Force) dive into an aquatic sci-fi/fantasy tale following two teams from the last remaining cities undersea as they race to the most unexpected alien world of all-the surface of Earth.
Special introductory issue features 30 full pages of painted art!
GRAYSON #1
Tim Seeley | Mikel Janin | Andrew Robinson
DC COMICS
ACE ITEM CODE: 470/0156
Dick Grayson. Former sidekick. Former Super Hero. Former dead man. And now… agent of Spyral?!
A thrilling new chapter of Dick Grayson's life begins in this new, ongoing series. It's a super-spy thriller that will shock you and prove one thing: You might think you know Nightwing – but you don't know Dick.
ROCKET RACCOON #1
Skottie Young
MARVEL COMICS
ACE ITEM CODE: 470/0797
All-new, in-continuity series! As defenders of the cosmos go, Rocket Raccoon has faced his fair share of galactic battles. He's been a hero to the weak, a champion of good, a protector of the innocent, a heartthrob to the many intergalactic female species and now–a raccoon on the run?! ( I'm sorry, I'm sorry, a "formidable-and-expert-Guardian" on the run. Rocket is NOT a raccoon, okay?) Rocket's high-flying life of adventure and heroism may soon be a thing of the past when he becomes a wanted man-and the authorities are not the only one on his tail! (We'll definitely be overusing that pun!).
Superstar creator Skottie Young brings his A-game as writer and artist on the series we've been waiting decades for. Because let's be real, this is the only Guardian of the Galaxy you actually care about. Am I right?
£29.99
DC COMICS CLASSIC EDITION MONOPOLY
HASBRO
ACE ITEM CODE: 470/3076
The fast dealing property trading game gets a classic DC comics make over in this limited edition DC Comics Classic Monopoly! The perfect gift for comic book fans and game players alike.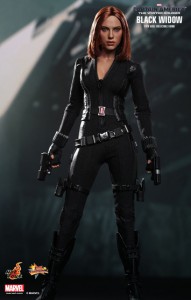 £225.00
BLACK WIDOW – CAPTAIN AMERICA: WINTER SOLDIER 1/6 SCALE ACTION FIGURE
HOT TOYS
ACE ITEM CODE: 470/3033
One of S.H.I.E.L.D.'s greatest female spies, Black Widow, is back in action with Captain America in 'Captain America: The Winter Soldier'! Hot Toys presents the Black Widow 1/6 Scale Collectible Figure. The movie-accurate collectible is specially crafted based on the image of Scarlett Johansson as Black Widow in the film. Featuring a newly developed head sculpt with straight brownish-red real fabric hair, newly designed costume made with multiple materials, detailed weapons and accessories, you won't want to miss the chance to add this spy to your shelves!