December's Previews Order Form is now available to read through and we have a spreadsheet csv order form with UK prices for you to download and fill in!
First have a look through the catalogue textfile.
Then download the order form (ACE Order Form no.465).
Previews' recommendations are listed below…
JUSTICE LEAGUE #28
Geoff Johns | Ivan Reis | Joe Prado
DC COMICS
ACE ITEM CODE: 465/0202
"Forever Evil" continues! With the Justice League gone, new heroes continue to rise up throughout the DC Universe! The Crime Syndicate tried to kill him, but now Cyborg is back to settle the score – and with him are The Metal Men!
TOMB RAIDER #1
Gail Simone | Nicolas Daniel Selma | Juan Gedeon | Daniel Dos Santos
DARK HORSE COMICS
ACE ITEM CODE: 465/0059
Superstar writer Gail Simone picks up Lara Croft's story where the smash hit Tomb Raider game left off-in a new ongoing comics series! Following the game acclaimed for its bold and sophisticated new vision, this series launches Lara Croft on the formative adventures that will change her life forever! The official continuation of Lara Croft's story! The 2013 video game sold over 3.5 million copies!
WOLVERINE #1
Paul Cornell | Ryan Stegman
MARVEL COMICS
ACE ITEM CODE: 465/0609
Wolverine no more? After the events of "Killable", Wolverine has something to prove. Before he can take on Sabretooth again, he'll need to build himself back up, get better and stronger than he's ever been…but it's not as easy as he thought, and he'll soon find himself turning to other means of revenge when the normal channels don't seem to be working fast enough. Can he fight back his demons, or is this the beginning of a Wolverine who's gone to the dark side?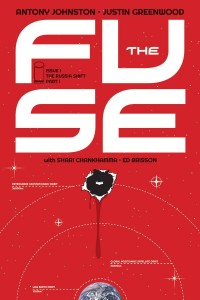 FUSE #1
Antony Johnston | Justin Greenwood
IMAGE COMICS
ACE ITEM CODE: 465/0485
"The Russia Shift," Part One—Working homicide 22,000 miles up on an orbiting energy platform, in a five-mile-long jury-rigged steel city stuffed with a half million people, with no help from your so-called colleagues back on Earth, is more than tough…it's murder! Cynical, foul-mouthed veteran Antony Johnston (Umbral, Wasteland, Daredevil) gets partnered with fresh-faced idealist Justin Greenwood (Wasteland, Resurrection) for a new crime series with attitude! Murder, mayhem, and mystery—22,000 miles straight up.
GODZILLA CLASSIC 1954 VINYL BUST BANK
DIAMOND SELECT TOYS
ACE ITEM CODE: 465/1817
A Diamond Select Release! Is he monster, or hero, or both? This 10-inch bank of the city-destroying and alien-fighting lizard called Godzilla is based on his appearance in the 1989 movie Godzilla vs. Biollante! Cast in sturdy vinyl, the bank features a coin slot in his back, as well as an access door in the base. Sculpted by Gentle Giant Studios!
There is a wealth of comics, books, magazines, clothing, toys, statues, games and more available. If you're interested in getting hold of anything on the list, use the contact form below with the order numbers and descriptions of the items you want, or add your completed copy of the csv file to an email. We can then set you up with a FREE Advance Order Account and you can place any Previews orders with us from now on!
Please note the cut-off date for placing orders from Previews #303 is 23rd December 2013.