November's Previews Order Form is now available to read through and we have a spreadsheet csv order form with UK prices for you to download and fill in!
First have a look through the catalogue textfile.
Then download the order form (ACE Order Form no.463).
Previews' recommendations are listed below…
DEADLY CLASS #1
Rick Remender | Wesley Craig | Lee Loughridge
IMAGE COMICS
ACE ITEM CODE: 464/0407
It's 1987. Marcus Lopez hates school. His grades suck. He has no money. The jocks are hassling his friends. He can't focus in class, thanks to his mind constantly drifting to the stunning girl in the front row and the Dag Nasty show he has tickets to. But the jocks are the children of Joseph Stalin's top assassin, the teachers are members of an ancient league of assassins, the class he's failing is "Dismemberment 101," and his crush, a member of the most notorious crime syndicate in Japan, has a double-digit body count.
Welcome to the most brutal high school on Earth, where the world's top crime families send the next generation of assassins to be trained. Murder is an art. Killing is a craft. At King's Dominion High School for the Deadly Arts, the dagger in your back isn't always metaphorical, nor is your fellow classmates' poison.
Join writer Rick Remender with rising star Wesley Craig (Batman) and legendary colorist Lee Loughridge (Fear Agent) to reminisce about the mid-1980's underground through the eyes of the most damaged and dangerous teenagers on Earth.
SERENITY: LEAVES ON THE WIND #1 (OF 6)
Zack Whedon | Georges Jeanty | Karl Story | Laura Martin | Daniel Dos Santos
DARK HORSE COMICS
ACE ITEM CODE: 464/0031
Zack Whedon and Georges Jeanty continue the story of Mal Reynolds and the crew of the Serenity in this all-new limited series set in the aftermath of the Serenity theatrical film!
Malcolm Reynolds's crew shook the 'verse to its core when they laid bare the crimes against humanity undertaken by their sinister government-the Alliance. Always outlaws, Mal, a very pregnant Zoe, new pilot River Tam, and the other surviving crew members are in greater danger than ever. Meanwhile, everyone is asking the same question…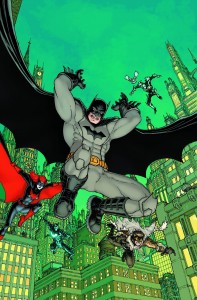 DETECTIVE COMICS #27 (GOTHTOPIA)
John Layman | Jason Fabok | Greg Capullo | Various
DC COMICS
ACE ITEM CODE: 464/0175
DC Entertainment presents this mega-sized issue featuring an all-star roster of Batman creators past and present!
Don't miss a modern-day retelling of The Dark Knight's origin by the incredible team of writer Brad Meltzer and artist Bryan Hitch! Plus, all-new stories by Scott Snyder and Sean Murphy, Peter J. Tomasi and Guillem March, Paul Dini and Dustin Nguyen, Gregg Hurwitz and Neal Adams and more!
Also in this issue, John Layman and Jason Fabok kick off the new storyline "Gothtopia"! It's a bright, shiny, happy place where dreams come true… as long as you don't look at things too closely.
THE X-FILES: CONSPIRACY #1 (OF 2)
Paul Crilley | John Stanisci | Miran Kim
IDW PUBLISHING
ACE ITEM CODE: 464/0294
The event of the year begins here! When The Lone Gunmen discover Internet files from future, they learn that a plague will soon wipe out most of humanity. With Agents Mulder and Scully working one lead, the Gunmen must spring into action and investigate several urban legends: a group of ghost-hunters, mutant turtles that live in the sewers, shape-changing alien robots, and a vengeful spirit from beyond the grave!
DC COMICS DESIGNER SERIES 1: GREG CAPULLO – BATMAN ACTION FIGURES
DC COLLECTIBLES
ACE ITEM CODE: 464/0284 (BATMAN), 464/0285 (TALON), 464/0286 (NIGHTWING), 464/0287 (RIDDLER)
Based on the designs from the best-selling artist of Batman, Greg Capullo, comes the first wave in an all-new Designer Series from DC Collectibles.
Greg Capullo quickly established himself as one of the defining Batman artists with 2011's Batman #1, and this spring his unique and moody interpretations of Gotham City's heroes and villains are yours to collect with the first wave of the DC Comics Designer Action Figures! Four figures — Batman, Nightwing, a Talon, and The Riddler — are adapted from Capullo's artwork and given three-dimensional form by DC Collectibles, making these 6 3/4″ tall figures some of the most detailed, most articulated, and most dynamic Batman figures on the market!
There is a wealth of comics, books, magazines, clothing, toys, statues, games and more available. If you're interested in getting hold of anything on the list, use the contact form below with the order numbers and descriptions of the items you want, or add your completed copy of the csv file to an email. We can then set you up with a FREE Advance Order Account and you can place any Previews orders with us from now on!
Please note the cut-off date for placing orders from Previews #302 is 29th November 2013.