You can almost smell the fresh comic paper as we reveal all of the key new series beginning in January 2013, via our Illuminations webzine!
As well as the lowdown from DC, Marvel, IDW, Image, Dark Horse, et al, we have some great recommendations, a look at (possibly) the best Star Wars graphic novel so far AND Biff's Bit too!
Click the link below to open the pdf, then you can read online or save it to your desktop for later perusal!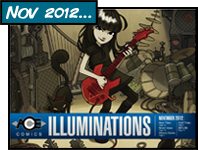 Older issues of Illuminations are available to download here.