Six month's down the line and it's new Illuminations time.
This month get a look at DC's massive New 52 Issue #0 event along with all the other major publishers' series beginning in September, plus a host of great new graphic novels and collected editions, staff picks, the Walking Dead and Biff's bit.
Happy reading…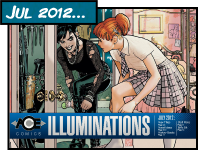 Previous issues are available here.