Fancy a look at the new series debuting this November? Well strap your peepers open as we've got a brand new issue of Illuminations…
Featured this month are all the number ones and annuals from the major players (43 in total!) set to arrive in November, plus a grand selection of recommended reading in 'Novel Ideas', 'History Books' focuses on Judge Dredd (new IDW series begins in November too!) and there's 'Biff's Bit' and his selection of titles to pick up as well. Download below and enjoy all 3.56MB's worth!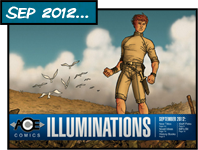 Older issues of Illuminations are available to download here.