The brand new Illuminations is now available to download online.
In it you will find all of the new series debuting this coming March, inlcuding Wolverine, Judge Dredd: Year One, Mignola's Sledgehammer and the hotly-tipped Age Of Ultron. In addition, there's a smattering of recommended graphic novels, a look at Preacher: Gone To Texas, Staff Picks and Biff's all-important Bits.
Just the remedy on a chilly January weekend to get you all excited about the prospect of the papery joy to come! Click below and download…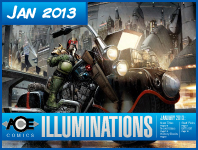 Older issues of Illuminations are available to download here.