Check out May's Illuminations for all of the major publishers' brand new series shipping this July.
A bumper pack this month as Avatar, Boom! and Valiant have been added to the list of publishers. It also features a look at Daredevil: Born Again in 'History Books', some great staff picks for your perusal, graphic novels and collections to pique your interest in 'Novel Ideas' and the perennial 'Biff's Bit'.
Take a gander and download below: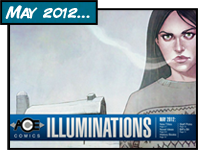 Previous issues are available here.