The latest issue of Illuminations, our free monthly webzine that showcases upcoming new series and one-shots, is now available to download and read.
Illuminations #338 – What's inside?
Featured Titles
The WildStorm #1
Ellis, Davis-Hunt (DC)
A troubled woman, barred by her employer from continuing her research, walks miserably through New York City. It takes her a moment to notice that everybody else is looking up. A man has been thrown from the upper floor of the Halo skyscraper. And that woman – Angela Spica, sick from the transhuman implants she's buried in her own body – is the only person who can save him. New York Times best-selling writer Warren Ellis (Transmetropolitan, Red, Planetary) returns to DC to curate Jim Lee's WildStorm world, with this debut issue resetting the WildStorm universe with new iterations of Grifter, Voodoo, the Engineer, Jenny Sparks and others.
Star Wars: Darth Maul #1
Bunn, Ross, Albuquerque (Marvel)
Bred on hate, fear, and anger… steeped in the ways of darkness… and trained to kill. Darth Maul's time as apprentice to Darth Sidious has long been cloaked in shadows, but at last we will reveal his tale of revenge. From writer Cullen Bunn (Deadpool Kills The Marvel Universe, Wolverine) and artist Luke Ross (Star Wars: The Force Awakens, Hercules) comes a tale of rage unleashed as Darth Maul prepares for his first encounter with the Jedi.
Highlander: American Dream #1
Ruckley, Mutti, Gironi (IDW)
The cult-classic franchise makes its triumphant return! In the thirty years since its release, Highlander has inspired a cult following and numerous spinoffs with its epic clashes between powerful immortals. Now, The American Dream follows Scottish swordsman Connor MacLeod as he navigates through the American Civil War and 1950s Manhattan toward The Gathering in 1986. Reunite with familiar faces, such as Connor's secretary Rachel, and meet new immortals, such as Osta Vazilek, but remember… there can be only one!
The Visitor: How And Why He Stayed #1
Mignola, Roberson, Grist (Dark Horse)
In 1944 Hellboy was conjured in a ceremony meant to give Hitler the ultimate occult weapon. Fortunately, Professor Trevor Bruttenholm was there to witness, and to guide Hellboy to become the greatest paranormal detective in the world. But Bruttenholm wasn't the only witness to Hellboy's arrival. A visitor was there, sent to kill the Beast that had been prophesied to kill us all. What the visitor saw, and why he stayed his hand, leads to the most mysterious Hellboy spinoff yet…
Jim Henson's Power Of The Dark Crystal #1
Spurrier, Matthews, Matthews, Lee (Boom!)
In celebration of the 35th anniversary of Jim Henson's The Dark Crystal, return to the world of Thra in an official sequel to the beloved fantasy film. Discover an all-new race of creatures called Firelings that live in a realm near the planet's core, based on official character designs by Brian Froud. Thurma is a young Fireling tasked with stealing a shard of the Dark Crystal to restore power to her realm. Along the way she'll befriend the young Gelfling Kensho, bring back the Skeksis and Mystics, and embark on one incredible adventure.
Novel Ideas
Our selection of sixteen recommended graphic novels include the following top reads:
Seven To Eternity Vol.1
Providence: Act 1
Revolution: Heroes
Hellboy: Into The Silent Sea
Snotgirl Vol.1
Mighty Morphin Power Rangers: Pink Vol.1
Death Of X
Zatanna By Paul Dini
Biff's Bit
"…As I write this, there are just six days to Christmas Day. In my retail world this is the busiest time of the year and gets even busier after Christmas. We only close on Christmas Day and Boxing Day and then it is retail heaven/mayhem again as young and old converge on our excellent emporium to find the present they really wanted. A few are lucky and get just what they need as anyone that stops and asks me, or any of the ACE staff, will get advice backed up with decades of experience. This isn't just ego, it is justified up by the miniscule amount of returns we get!…" – excerpt
Top 20 Graphic Novel Chart
November's best-selling graphic novels including Sandman: Overture, Detective Comics, New Suicide Squad, DC: Rebirth, Doctor Strange and more!
Hit the image below to open the pdf…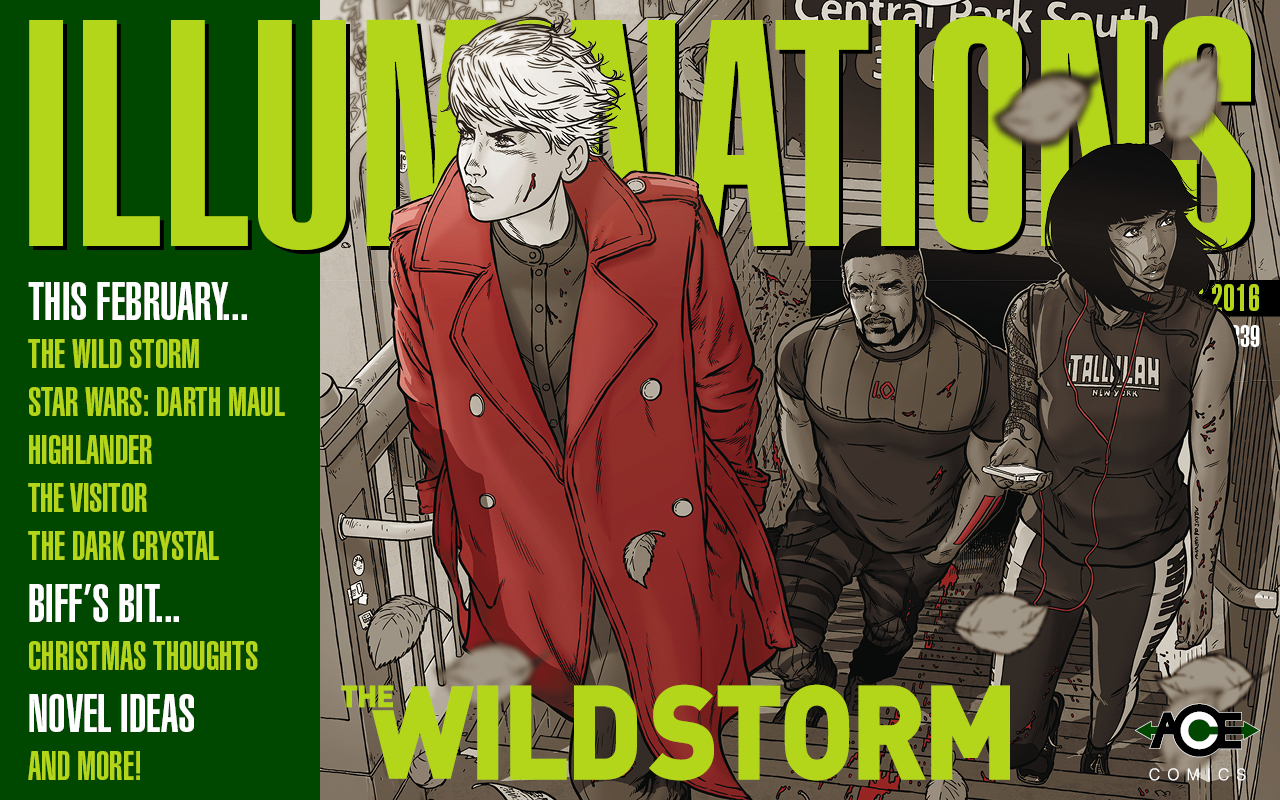 Visit our Illuminations page, for previous issues.