Halloween is arriving a few days early at ACE Comics this year. On Saturday, October 26th, we're celebrating this most hellish of holidays in a number of nefarious ways…
JUST ANNOUNCED… 50p BACK ISSUE SALE
In conjunction with everything else happening on Saturday for Halloween 2013, the ACE stores in Colchester and Southend will be holding a 50p BACK ISSUE SALE on selected comics!
FREE COMICS
As part of Halloween Comicfest, we will be giving away scarily good Halloween comics and mini-comics! They will be limited to 6 comics and 4 mini-comics per family.
Here are some of the titles you might find on the shelf…
SKYWARD: INTO THE GRIM
Jeremy Dale
ACTION LAB ENTERTAINMENT
No synopsis.
SONIC THE HEDGEHOG
Ian Flynn | Ryan Jampole | Various
ARCHIE COMICS
It's a Halloween SONIC fest! Just in time for the launch of the newest smash-hit SEGA video game Sonic Lost World (on sale 10/22), comes the official comic book prequel comic available for the first time anywhere for Halloween Comic Fest 2013! Hitch a ride alongside the truest, bluest hedgehog around as this timeless video game icon takes on the newest baddies to burst onto the scene: the Deadly Six, and of course the evil Dr. Eggman! Hot off the heels of the titanic, Sonic/Mega Man: Worlds Collide summer blockbuster, Sonic comics have never been hotter! Now is your chance to check out the next big thing from the one and only "blue blur"!
SOULFIRE: GENESIS
Michael Turner | Various
ASPEN MLT
No synopsis.
DISENCHANTED
Simon Spurrier | German Erramouspe
AVATAR PRESS
Welcome to Vermintown! Disenchanted is a stunning new webcomic from writer Simon Spurrier that will be collected twice per year, following the model of Freakangels. This is the perfect chance to get in on the ground floor and be prepared to be swept into an immersive World of forgotten secrets anchored by a spectacular web site at www.disenchantedcomic.com!
Nobody gives a crap about the little people any more. Once they were the mainstay of folklore: goblins, leprechauns, pixies and fey. But now? Dispossessed, forgotten, doubting even their own traditions, they've trickled into Vermintown: a vast and vile city of a million inch-tall malcontents. Sprawling through an abandoned subway station deep beneath London, here myth has given way to sleaze, drugs, gangland violence and interracial hatred. Vermintown is where magic went to die.
Written by Simon Spurrier (X-Men Legacy, Crossed: Wish You Were Here), with art by German Erramouspe (Night of the Living Dead), Disenchanted is an urban thriller slipping a rusty blade between the shoulders of the familiar fairytale. What do you do when nobody believes in you?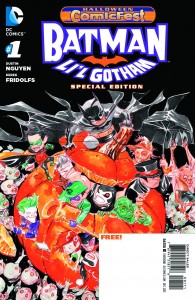 BATMAN: LIL GOTHAM #1
Derek Fridolfs | Dustin Nguyen
DC COMICS
Just in time for Halloween, fans of all ages can get this FREE special edition of the critically acclaimed series featuring art by Dustin Nguyen! In this issue, Robin needs Batman's help to learn the true meaning of Halloween. Plus, on Thanksgiving, Batman and Robin join the families of Gotham City around the table for a holiday feast – and birds of a feather flock together to stage a march against the city led by The Penguin!
BATMAN: THE LONG HALLOWEEN #1
Jeph Loeb | Tim Sale
DC COMICS
Just in time for Halloween, fans can get this FREE first chapter of the critically acclaimed graphic novel that pits a young Batman against a killer who only murders on holidays. Can The Dark Knight discover the killer's identity before he strikes again?
CARTOON NETWORK SUPER SAMPLER
Robbie Busch | Man Of Action | Mark Chiarello | Various
IDW PUBLISHING
Three sample stories of the heavy hitters in IDW's brand-new Cartoon Network line-up! First up, the Powerpuff Girls take on "The Big Green Monster," then Samurai Jack finds himself in a game of "Double Dutch Death Valley," and finally Ben 10 gets into a bull fight in "Olé."
THOR: GOD OF THUNDER #1
Jason Aaron | Esad Ribic
MARVEL COMICS
Throughout the ages, the gods of the Marvel Universe have been vanishing, their mortal worshippers left in chaos. Now, the Mighty Thor follows a trail of blood that threatens to consume his past, present and future selves. The only hope for these ravaged worlds lies with the God of Thunder unraveling the gruesome mystery of the God Butcher!
ULTIMATE SPIDER-MAN ADVENTURES #1
Man Of Action | Dan Slott | Ty Templeton | Nuno Plati
MARVEL COMICS
Straight from the hit Disney XD show comes "The Comic Book You Can't Miss Out On"! By Day, he's Peter Parker, mild-mannered high school student. But by night, he's the ultimate in super heroics – Spider-Man – and he's just the beginning of a super-hero universe! And now, with a special code for a free digital edition, it's easier than ever to Share Your Universe with young Marvel readers in your life!
UZUMAKI
Junji Ito
VIZ
Kurouzu-cho, a small fogbound town on the coast of Japan, is cursed. According to Shuichi Saito, the withdrawn boyfriend of teenager Kirie Goshima, their town is haunted not by a person or being but by a pattern: uzumaki, the spiral, the hypnotic secret shape of the world. It manifests itself in everything from seashells and whirlpools in water to the spiral marks on people's bodies, the insane obsessions of Shuichi's father and the voice from the cochlea in our inner ear. As the madness spreads, the inhabitants of Kurôzu-cho are pulled ever deeper into a whirlpool from which there is no return!
ZOMBIE KID DIARIES
Fred Perry | David Hutchinson
ANTARCTIC PRESS
Despite being a zombie, Bill Stokes has become quite good at maintaining his mediocre grade point average, keeping a low profile, and gaining online notoriety as a top competitor in the pro-gaming world. But now, Bill's dad is back! Released on legal technicalities from his insurance fraud sentence, Dad's out to get even with Mom and Bill for exposing his schemes! How is Bill going to keep his and Mom's zombie-ness from being revealed to the world?
ADVENTURE TIME
VARIOUS
BOOM! STUDIOS
Magic Man is being a giant meanie! All the Princesses wanted was a nice picnic with nothing going on for once, but don't worry! Finn and Jake are here to save the day… or are they? When Magic Man uses his tricks against our favorite heroes, it's up to the Princesses to save the day! This stand-alone issue is definitely a must-have, filled with girl power and emoticons!
ITTY BITTY HELLBOY
Art Baltazar | Franco
DARK HORSE COMICS
A ghost named Rasputin has been spotted! And Hellboy and the B.P.R.D. are going to find out what he's up to. Who is Hellboy anyway? Why does he have such a big hand and what is it used for? Who's weirder, him or his friends? What is the B.P.R.D.? And what does chicken soup have to do with all of it? This and more are answered in the debut issue, where BIG things happen to itty bitty Hellboy! A new kids' comic by the creators of Tiny Titans, Superman Family Adventures, and Aw Yeah Comics!
MY LITTLE PONY: HALLOWEEN EDITION
Katie Cook | Various
IDW PUBLISHING
Relive some of the most fun moments from IDW's first year of My Little Pony! Featuring amazing Pony art, great back-up stories and other rarely seen material! The perfect treat to pick-up for all ages readers this season!
Visit Halloween Comicfest's Comics Page where you can download a preview for some of the comics!
DESIGN A MONSTER COMPETITION
What's always the best way for the Scooby gang to search for clues? …Split up, of course! And while Fred, Daphne and Velma are still looking, Shaggy and Scooby-Doo have found a monster!!
To celebrate Halloween this year, we want you to design the monster that's scaring Shaggy and Scooby-Doo! Simply pick up an entry sheet from your local Ace Comics store, or open the printable version here, then either print it out or save it to your desktop to print later.
Your monster can be as scary or as funny as you like. You can use your creepy colouring skills to colour the picture in and your beastly brains to think up a nasty name and a deadly description!
Return your completed monster picture to your local ACE Comics by 11am on Saturday 26th October, and the best design will win a copy of 'Monster On The Hill' by Rob Harrell, so remember to fill in your contact details!
MONSTER ON THE HILL
ROB HARRELL
TOP SHELF PRODUCTIONS
In a fantastical 1860s England, every quiet little township is terrorized by a ferocious monster – much to the townsfolk's delight! Each town's unique monster is a source of local pride, not to mention tourism. Each town, that is… except for one. Unfortunately for the people of Stoker-on-Avon, their monster isn't quite as impressive. In fact, he's a little down in the dumps. Can the morose Rayburn get a monstrous makeover and become a proper horror? It's up to the eccentric Dr. Charles Wilkie and plucky street urchin Timothy to get him up to snuff, before a greater threat turns the whole town to kindling.
"Really fun, goofy, extremely silly fantasy for readers of all ages, crying out for reviewers and critics to make appalling puns of the 'monstrously good' variety." – Neil Gaiman
"Rob Harrell has jumped the fence from comic strips to graphic novels with ease, and brought with him wit, strong characters, and last minute twists. Funny, original, unexpected. And best of all: excellent monsters!" – Jeff Smith, creator of Bone
We will be displaying as many entries as we can in-store after the event, as well as uploading them to our website and Facebook page!
So get your pencils out, pronto!
GET ZOMBIFIED!
After a successful visit to our Colchester store earlier this year, horror make-up meister Clive Double is returning for the morning on October 26th to once again transform the locals into the living dead!
For just £5, you can become a walking, talking corpse – just be aware you might frighten the staff when returning your library books like this!
The process takes a little while, so to ensure your slot, you can use our contact form to book your place.