A second slew of hot, variant cover comic books have made it onto the ACE Comics eBay store.
All of the comics below have a starting bid of just 99p!
Why not stick a bid on today? You could end up with a rare issue for next-to-nothing!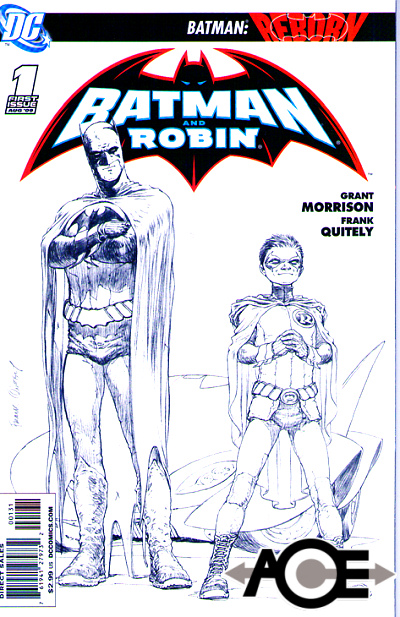 Batman and Robin #1 Sketch Variant Cover (1:250)
(Auction Closes: 02 Sep, 2012 19:44:32 BST)
"Batman Reborn" begins here! With the reunited team of Grant Morrison and Frank Quitely (ALL-STAR SUPERMAN, WE3, New X-Men), this first issue kicks off a 3-part story arc that can't be missed! The new Dynamic Duo hit the streets with a bang in their new flying Batmobile as they face off against an assemblage of villains called the Circus of Strange. They also tackle their first mission investigating a child who's been abducted by the mysterious Domino Killer. But will everything go smoothly? And who exactly are the new Batman and Robin? The newest era of The Dark Knight begins here!
Batman – The Return One Shot Finch Sketch Cover (1:200)
(Auction Closes: 02 Sep, 2012 20:04:24 BST)
The event of the year is here! Bruce Wayne made his long journey back through the timestream in RETURN OF BRUCE WAYNE, Dick Grayson and Damian uncovered important secrets in BATMAN & ROBIN, Gotham City's bravest heroes made their mark in BRUCE WAYNE – THE ROAD HOME…and now it's time for BATMAN to return! What happens to Dick Grayson now that the 'real' Batman is back? How will Bruce Wayne handle a reunion with his son, Damian? This special one-shot bridges two exciting eras of The Dark Knight and sets up a surprising new status quo that's just on the horizon. Featuring the talents of Batman mastermind Grant Morrison and superstar artist David Finch providing interior art, this issue is a can't-miss for comics fans!
Bid on Ebay here
Batman – The Return Of Bruce Wayne Sketch Cover (1:200)
(Auction Closes: 02 Sep, 2012 19:45:50 BST)
Superstar writer Grant Morrison tackles his most ambitious project to date with THE RETURN OF BRUCE WAYNE, a special six-part series that chronicles the return of the original man behind Batman's cape and cowl! Each issue spans a different era of time and features the dynamic artwork of one of today's artistic juggernauts, starting with Chris Sprouse (TOM STRONG) on this extra-sized issue #1.
Blackest Night #1 Ivan Reis Sketch Cover (1:250)
(Auction Closes: 02 Sep, 2012 19:10:27 BST)
Geoff Johns and Ivan Reis raise the dead in the most anticipated comics story of the year! Throughout the decades, death has plagued the DC Universe and taken the lives of heroes and villains alike. But to what end? As the War of Light rages on, the prophecy of the Blackest Night descends upon us, with Hal Jordan and the Green Lantern Corps at the center of it all.
Don't miss this 8-issue epic taking the DCU beyond the grave!
Bid on Ebay here
Blackest Night #3 Ivan Reis Sketch Cover (1:100)
(Auction Closes: 02 Sep, 2012 19:15:25 BST)
As the dead attack in full force, Green Lantern is faced with an impossible decision and the scattered remains of the Justice League suffer a terrible loss. Who can stop the Black Lanterns? Why are they rising? And how can the Spectre help?
Superman #700 Black and White Variant Cover
(Auction Closes: 02 Sep, 2012 20:39:36 BST)
DC Comics proudly presents the 700th issue of SUPERMAN, a 56-page extravaganza, full of tales celebrating the Man of Steel's past, present and future! First up is a story by the man who actually killed Superman, Dan Jurgens! Then James Robinson brings his epic run on the title to a close with a touching story that brings Superman back to Earth after his time on New Krypton.
Bid on Ebay here
Wonder Woman #14 DC Nation RRP Edition
(Auction Closes: 02 Sep, 2012 20:15:40 BST)
An electrifying new era begins for the world's greatest superheroine! Gail Simone (BIRDS OF PREY, SECRET SIX) joins the phenomenal art team of Terry and Rachel Dodson for what promises to be one of the most exciting Wonder Woman stories ever told!
What exactly is The Circle, and what deadly secret do they hold about Diana's birth? What familiar face from Wonder Woman's past returns with a mission to spy on Special Agent Diana Prince? Why is the Department of Metahuman Affairs on a collision course with the wounded remnants of the Society of Super-Villains? You won't want to miss any of this story that spans the globe and shakes Diana to her core!
Bid on Ebay here