Get a good look at the brand new series from DC, Marvel, Image, IDW, Dark Horse and more beginning in December 2012 in this month's Illuminations!
There are Marvel NOW! debuts for the Avengers and Cable, while DC have the first comics from the brand new TV show Arrow and a Tarantino adaption!
As well as all the new series, you'll find some great recommendations from Biff and Ed, a halloween-themed 'History Books' and the perennial 'Biff's Bit'.
It's all yours for FREE!
Just click on the link below to open up the pdf, then read online or save it to your desktop for safe-keeping!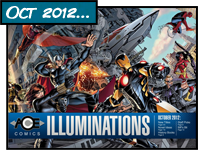 Older issues of Illuminations are available to download here.